By

In his first rehab game with Triple-A Scranton, Joba Chamberlain allowed two ground ball singles in a scoreless inning of work. He got a ground ball to second, a fly out to left, and a fly out to right while throwing nine of 12 pitches for strikes. Depending how Joba and his strained right oblique feel tomorrow, he could be activated off the DL as soon as Thursday. · (8) ·
The first place New York Yankees just got their 40-homer outfielder back.
As expected, Curtis Granderson was activated off the DL earlier today, adding some thump and much-needed depth to the lineup. As an added bonus, he is shifting to left field as the Yankees look to optimized their defense by keeping Brett Gardner in center. I can't imagine Granderson is happy about that, especially in his free agent year, but I'm guessing we won't hear a peep out of him. Dude is a total pro. Here's the lineup that will face right-hander Felix Hernandez…
CF Brett Gardner
DH Vernon Wells
LF Curtis Granderson
1B Lyle Overbay
SS Jayson Nix
3B Chris Nelson
And on the mound is left-hander CC Sabathia.
Little chilly, but otherwise the weather in New York is wonderful. Tonight's game is scheduled to start at 7:05pm ET and can be seen on YES. Enjoy.
Kevin Youkilis Update: Youkilis (back) is still limited to light workouts in Tampa, basically playing catch and fielding grounders hit right at him. Doesn't sound like he is close to returning at all.
Mark Teixeira Update: Teixeira (wrist) continues to take batting practice in addition to running and fielding drills. He's been doing that for a few days now, but there is no word on when he will be able to begin playing minor league games.
Alex Rodriguez Update: A-Rod (hip) is hitting in the batting cage and sprinting, but nothing more. He still has a long way to go, obviously.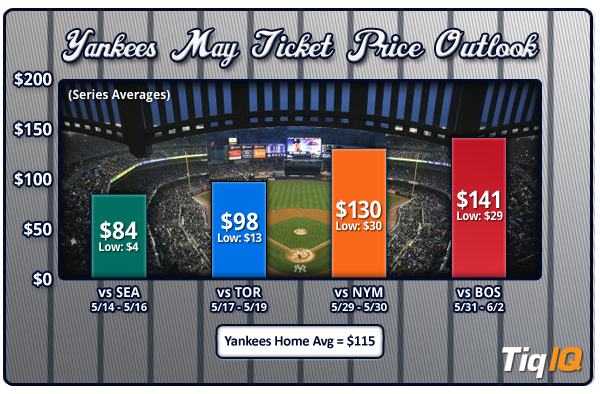 By Dan Groob, TiqIQ
After rattling off five consecutive wins on the road, the New York Yankees find themselves in familiar territory — first place in the AL East. The Yankees return to New York for a six-game homestand at Yankee Stadium to take them through the weekend. The Yankees will open the homestand with a three-game set against the Seattle Mariners, the third lowest scoring team in all of baseball. Runs will likely be scarce in Tuesday's series opener, as Yankees ace CC Sabathia takes the hill against Felix Hernandez.
Aiding the cause for the Yankees will be the likely return of outfielder Curtis Granderson, who has been on the disabled list all season long due to a broken forearm suffered when he was hit by a pitch in Spring Training. Granderson will add some pop to a Yankees lineup that led all of Major League Baseball in home runs last year by a whopping 31 taters, but has slipped to fifth in his absence this season.
Despite the series opening pitching matchup of aces and the presumed return of Granderson to the Yankees lineup, ticket prices for the Mariners series are among the lowest priced tickets at Yankee Stadium this season. According to TiqIQ, the Yankees tickets for this series carries an average price of $84, 27% below the season home average of $115.
All three games of the Mariners series check in at average prices between $82 and $86, with Wednesday evening's contest being the highest priced, and Thursday's the lowest. Tickets to get in the Stadium on Tuesday or Wednesday are available for as little as $3, while Thursday carries a get-in price of just $4.
Home Avg: $115
5/14 vs Mariners: $85/$3
5/15 vs Mariners: $82/$3
5/16 vs Mariners: $86/$4
Series Avg: $84 (27% below season avg)
Following the three game set against the Mariners, the Toronto Blue Jays come to town for a three-game set of their own. The Blue Jays also visited Yankee Stadium for a four-game series back in April, which the Yankees swept. With the Blue Jays struggling a bit in the early going, and playing well-below expectations, all three games of these series also check in with average ticket prices below the Yankees home season average.
Friday night is the least expensive ticket of the bunch, averaging just $83 with a get-in price of $13. Saturday and Sunday are both 1:05pmET matinees, and carry slightly higher average ticket prices of $107 and $111, with get-in prices of $17 and $16, respectively. The series as a whole checks in with an average ticket price of $98 dollars, 15% below the Yankees home season average.
5/17 vs Blue Jays: $83/$13
5/18 vs Blue Jays: $107/$17
5/19 vs Blue Jays: $111/$16
Series Avg: $98 (15% below season avg)
Following the six-game homestand, the Yankees will hit the road for eight games before returning home to close out May against the New York Mets and Boston Red Sox.
As is to be expected against these two teams, the next homestand will carry a ticket price premium to the season average. The Mets set checks in at an average ticket price of $130, a 13% premium to the season average, while the Red Sox series holds an average ticket price of $141, a 23% premium to the season average. It's a good bet to check out and buy Yankees tickets from the official Yankees Ticket Exchange for the homestand.
5/29 vs Mets: $132/$31
5/30 vs Mets $129/$30
Series Avg: $130 (13% above season avg)
5/31 vs Red Sox: $143/$33
6/1 vs Red Sox: $140/$30
62 vs Red Sox: $139/$29
Series Avg: $141 (23% above season avg)
By

The Yankees have officially activated Curtis Granderson off the 15-day DL, the team announced. In a corresponding move, Vidal Nuno to optioned down to Triple-A. That's no surprise after yesterday's start rendered him unavailable for at least the next three days. The fresh Brett Marshall remains with the team as the long man for the time being. · (70) ·
Am I the only Yankees fan with an irrational dislike of the Mariners? I guess it dates back to the 1995 ALDS, but it's really ramped up in recent years with the Cliff Lee non-trade and Michael Pineda's shoulder injury. On the bright side, Seattle has won just seven of 18 games at the new Yankee Stadium.
What Have They Done Lately?
The Mariners have actually been playing pretty well of late. They just took two of three from the free-falling Athletics and have won three of their last four games. They've also won six of their last nine and nine of their last 13 to bring their season record to 18-20 with a -20 run differential.
Offense
To no one's surprise, the Mariners are a below-average offensive club. They've scored just 3.6 runs per game this year, and their team 94 wRC+ is a bottom ten mark in the game. Seattle's only injured position player is CF Franklin Gutierrez (127 wRC+), who visits the DL on an annual basis these days. He's out with a hamstring problem.
Manager Eric Wedge's two best offensive players are CF Michael Saunders (144 wRC+) and 3B Kyle Seager (129 wRC+), and they usually bat first and second. Wedge doesn't mess around. Offseason additions DH Kendrys Morales (118 wRC+) and OF Mike Morse (110 wRC+) anchor the middle of the lineup, but OF Jason Bay (131 wRC+) will get a prime batting order spot against southpaws.
Seattle's trio of disappointing young positions players includes former Yankee C Jesus Montero (64 wRC+), who splits time behind the plate with C Kelly Shoppach (139 wRC+ in limited time). 1B Justin Smoak (99 wRC+) has been less awful than usual, but 2B Dustin Ackley (55 wRC+) has made up for it. SS Robert Andino (22 wRC+) is playing everyday over defensive whiz SS Brendan Ryan (-5 wRC+). OF Endy Chavez (71 wRC+) and former Yankee OF Raul Ibanez (80 wRC+) round out the everyday roster.
Starting Pitching Matchups
Tuesday: LHP CC Sabathia vs. RHP Felix Hernandez
Did you know the Yankees haven't played a series against the Mariners without seeing King Felix since 2009? That's a span of ten series, and they've face him in every single one. That's kinda annoying. The 27-year-old Hernandez has been as good as ever this year, pitching to a 1.53 ERA and 2.16 FIP through eight starts. His strikeout (8.59 K/9 and 25.3 K%), walk (1.23 BB/9 and 3.6 BB%), and ground ball (50.6%) rates are all outstanding. It seems silly to say, but as Jeff Sullivan wrote recently, Felix has made the jump from thrower to pitcher. His three fastballs — four-seamer, cutter, sinker — all sit in the low-90s, and his all-world array of offspeed pitches include an upper-80s changeup, a mid-80s slider, and a low-80s curveball. The Yankees have seen Hernandez plenty over the years, but as you know, he usually dominates them.
Wednesday: RHP Phil Hughes vs. RHP Hisashi Iwakuma
Believe it or not, the Mariners actually have two aces this year. Iwakuma, 32, has pitched almost as well as Felix this year (1.74 ERA and 2.80 FIP), his second in MLB after spending last season as a swingman. His peripheral stats are excellent as well — 8.88 K/9 (26.7 K%), 1.39 BB/9 (4.2 BB%), and 41.5% grounders — so it's not all smoke and mirrors. That said, his .198 BABIP won't last forever. Iwakuma's four-seamer and sinker sit in the upper-80s, and his top offspeed offering is a mid-80s splitter that falls off the table. He'll also throw low-80s sliders and slow-70s curveballs. The Yankees saw Iwakuma twice last year, both times as a starter. He held them to one run in five innings the first time, then got tagged for four runs in five innings the second time.
Thursday: LHP Andy Pettitte vs. RHP Aaron Harang
Harang, 35, is no longer the strikeout heavy workhorse he was during his prime with the Reds. He's bounced from the Dodgers to the Rockies to the Mariners these last six weeks or so, but he's only thrown a pitch for Seattle in 2013. Harang has been awful so far, putting up a 7.30 ERA (5.14 FIP) in five starts despite strong strikeout (8.39 K/9 and 20.7 K%) and walk (1.82 BB/9 and 4.5 BB%) numbers. The problem is his 35.8% ground ball rate and 2.19 HR/9 (15.8% HR/FB). These days Harang will sit in the upper-80s with his two- and four-seamer, and he throws the former roughly twice as often as the latter. A low-80s slider is his top secondary pitch, but he'll also throw the occasional low-80s changeup and mid-70s curveball. Believe it or not, Harang has never faced the Yankees. I get that he was a career NL guy prior to being traded to the Mariners, but he's been in the show for 12 years now. You'd think he would have run into them during interleague play at some point.
Bullpen Status
The Mariners were off on Monday for travel, so their bullpen is as fresh as can be this time of year. Closer RHP Tom Wilhelmsen (2.56 FIP) is one of the best least talked about relievers in the game, and setup men LHP Oliver Perez (3.76 FIP), RHP Carter Capps (4.72 FIP), and LHP Charlie Furbush (4.05 FIP) all rack up a ton of strikeouts. RHP Yoervis Medina (1.44 FIP in limited time) and LHP Lucas Luetge (2.64 FIP in limited time) handle the middle innings while former Yankee RHP Hector Noesi (2.67 FIP) is saddled with long relief duty.
Despite yesterday's doubleheader, the Yankees are in pretty good shape bullpen-wise. Both David Robertson and Mariano Rivera had the day off, but they've also pitched in four of the last six days. Giving them the proverbial one extra day would be neat. If the Yankees send down one of their extra arms to clear a roster spot for Curtis Granderson, I'm guessing they would keep the fresh and available Brett Marshall and demote Vidal Nuno. I guess we'll find out. Check out our Bullpen Workload page for recent reliever usage. For the latest and greatest on the Mariners, I recommend Lookout Landing and U.S.S. Mariner.
By

Via Ben Badler (subs. req'd): The Yankees are the "most likely landing spot" for Dominican outfield prospect Leonardo Molina once this year's international signing period opens on July 2nd. They have $1.18-1.88M to spend internationally this summer, depending on whether there is free agency or an international draft.

Molina, who has no relation to the Puerto Rican-born catching trio, is the top prospect in the Dominican Prospect League and one of the best athletes available this year. He is listed at 6-foot-2 and 170 lbs., and Badler says he's a "plus-plus runner with a strong arm, giving him the tools to be an excellent defender in center field once he refines his routes." Molina offers good bat speed from the right side but he needs to refine his swing a bit to tap into his offensive potential. He can't sign until he turns 16 on August 1st, but is likely to land a seven-figure bonus once eligible. · (36) ·
We're not even half way through the 2013 season — seems like a perfect opportunity to discuss Phil Hughes' looming contract situation! The once-heralded prospect from California reached The Show back in 2007. Six-hundred and seventy-five innings (and several injuries) later, he's amassed a career 4.40 ERA (4.25 FIP), which equates to a cumulative 10.1 WAR according to FanGraphs. In terms of peripheral stats over the course of his career, he's struck out 7.62 per nine, walked 2.82 per nine, and surrendered 1.27 homeruns per nine. With that said, he's only 26 year's old and seems to be heading in the right direction (though his last start wasn't wonderful). This season, he's pitched to a 4.43 ERA which is actually just a touch over his 4.15 FIP. His strikeout and walk rates have been better than his career norms so far, and with any luck, his HR/9 rate will end up closer to his career norm than the inflated rate we witnessed all last season.
So here's the rub. The Yankees have the option of proposing a qualifying offer to him after this season. Should they go that route, Hughes would remain in pinstripes for another season at a salary in the neighborhood of roughly $13-15M.  This would delay his free agency for another year should he accept the offer (and would presumably qualify the Yankees for a supplemental first round draft pick if he chooses to take services elsewhere).  Subsequently, if Hughes reached free agency in 2015, he'd be potentially competing for another contract against guys like Chad Billingsley, Clayton Kershaw, Justin Masterson, or Max Scherzer among  others — obviously, the list of potential free agents can and probably will change rather drastically as teams attempt to retain their players between now and then (complete 2015 list here).
The Yankees could forgo the qualifying offer altogether after this season and let Phil simply test the free agent market — which would probably be in Phil's best interest financially.  2014 brings a mediocre group of free agents that includes notable names such as Tim Lincecum, Matt Garza, Roy Halladay, Dan Haren, Jon Lester (who has a $13M club option), Colby Lewis, Shaun Marcum, and Josh Johnson. Lincecum and Halladay seem to have lost a lot of their star power (due to declining ability and injuries), and I'd be surprised to see Lester's option does not get picked up. I'd also be surprised to not see Johnson, Garza, and maybe even Shields get traded (and extended) before then, which would all of a sudden makes that list a lot less interesting.  Depending who else is available on the market will heavily influence Hughes' perceived value.
Or, the Yankees could take an alternate and perhaps more desirable path, and buy out Hughes' 2014 season in addition to a few more with an extension.  Technically, the Yankees could also try to trade Phil before this decision has to be made, but seeing as though they'll likely not be sellers by the deadline, I just don't see this happening, nor do I think they would get a ton in return anyway.  On the one hand, the Yankees face a perilous rotation situation next season.  Pretending Michael Pineda is healthy and effective (and that alone may prove to be an excercise in absurdity), that leaves the Yankees with … well, it leaves them with CC Sabathia and Pineda.  After that, it's some combination of David Phelps, Ivan Nova, and not much else.  I'd love to believe Manny Banuelos could be in the mix, but that's probably waaay to optimistic given his rehab timetable and overall progress.  Maybe Hopefully Andy Pettitte and/or Hiroki Kuroda are coaxed into another year in pinstripes, but that is not a garauntee by any means given their age and vocalized interest in retirement.
On one hand, having Hughes in the mix would certainly make the rotation a bit more digestable on paper, plus it's comforting to know what weaknesses you have in a player rather than finding out down the road what baggage someone else brings.  On the other hand, there are the talks about an austerity budget which poses a definite financial dilemma, and might be the biggest contributing factor as to why the Yankees may pass on Hughes (along with others) altogether.  To be absolutely clear, I hope the Yankees elect to bring Hughes back – not because he has become the wunderkind that was advertised throughout the minors, but because I think he's a younger alternative to many of the options out there, and honestly just about as effective at this point.  To Hughes' credit, he has also shown occasional capacity to be more than just a back-of-the-rotation type of arm.  Also, I don't necessarily envision the Yankees acquiring another headline-caliber pitcher — the Sabathias of the world are hard to come by after all, but who knows.
So let's say for a moment that the Yankees roll the dice on Phil and offer him an extension.  What might that contract look like?  When asked this very question during Thursday's RAB Live Chat, I whimsically answered five years, $50M.  In retrospect, that price seems a bit conservative – though the number of years seems realistic enough.  Really, that's the price I would want the Yankees to pay, although I would definitely not complain with a four year, $52M agreement similar to Edwin Jackson's.  In actuality, I'd be surprised if it didn't cost more though.  Perhaps five years, $60M seems more plausible.  At that rate, Hughes would still have some legitimate wealth, and wouldn't completely break the bank for the Yankees (not to mention the contract would still include his peak years).  For what it's worth, we've also seen guys like Jered Weaver sacrifice a few dollars to stick around with a team he's comfortable with, and maybe Hughes would do the same for the Yankees (though that's not necessarily the norm nor would I expect it).
Interestingly enough, Baseball-Reference's comparitive list of pitchers' performance most similar by age includes Kyle Kendrick and John Lackey.  Kendrick isn't really useful for contract comparisons as he's basically going through the same process himself.  Lackey could make for an interesting discussion though.  If Hughes performs very well for the remainder of the season (especially if the pitchers market becomes increasingly scarce), an inflated contract could become more likely.  In his final year with the Angels, Lackey was making $10M.  Boston rewarded him with a five-year, $82M salary.  This is also similar to the deal that Anibal Sanchez received from the Tigers (though his included a club option).  Both of these contracts are probably "best case" scenarios for Phil — but they are still within the realm of plausible.  After all, how many times have we seen a team overpay a guy for whatever reason.  Also, other organizations may not worry as much about his fly ball tendancies if their stadium is more pitcher friendly.
Conversely, if Hughes has a really disappointing season from here on out, he could end up with an offer closer to Rickey Nolasco, say, a three-year, $36M pact — or, a few years to re-prove himself at a standard rate.  Given the premium placed on pitching, the fact that teams have money to spend and Hughes' favorable age, I'd bet he lands a contract closer to Lackey before I'd bet on one similar to Nolasco — though my guess is he'll fall somewhere in between, ultimately ending up slightly above Edwin's arrangement.  In any event, the Yankees have some tough decisions to make.  Whatever they ultimately do, I'm sure it'll be scrutinized heavily.  In the meantime, what would you do?
Which contract should the Yankees offer Phil Hughes?
By

11:36pm: On Twitter, Granderson said he is on his way to New York. Still nothing official about him coming off the DL, but the writing is on the wall.

8:34pm: In his latest minor league rehab game with Triple-A Scranton, Curtis Granderson went 1-for-3 with a single to right-center and a walk. He flew out to center and right in his other two at-bats. Granderson played six innings in left field and was removed for a pinch-runner after the walk, the first time he played fewer than eight innings during his rehab assignment. Add in Brennan Boesch's recent demotion, and all signs point to the Grandyman rejoining the Yankees on Tuesday. That is not yet official, of course. · (18) ·
RHP Gabe Encinas has been placed on the DL, according to Josh Norris. He saw the doctor about his mystery ailment yesterday. RHP Luis Niebla has been bumped up from Extended Spring Training to fill the Low-A Charleston roster spot.
Triple-A Scranton (3-2 loss to Gwinnett)
2B-3B David Adams: 1-4, 1 BB
LF Curtis Granderson: 1-3, 1 BB — had a tiny bit more on him earlier
DH Zoilo Almonte: 1-4, 1 R, 1 K
3B-LF Ronnie Mustelier: 0-4, 1 K — hasn't exactly forced them to call him up, eh?
CF Melky Mesa: 2-4, 1 R, 1 HR, 2 RBI — eight hits in his last 16 at-bats (.500) with two doubles and a homer
LHP Nik Turley: 6 IP, 2 H, 1 R, 1 ER, 3 BB, 4 K, 1 WP, 4/6 GB/FB – 53 of 90 pitches were strikes (59%) … pretty good Triple-A debut, but he's one up for one start and will head back to Double-A Trenton before his next start
RHP Graham Stoneburner: 2 IP, 2 H, 1 R, 1 ER, 0 BB, 0 K, 4/1 GB/FB — 21 of 27 pitches were strikes (78%)
RHP Sam Demel: 1 IP, 1 H, 1 R, 1 ER, 0 BB, 1 K, 1/1 GB/FB — half of his 12 pitches were strikes
I think a reasonable goal for any doubleheader is a split, and that's exactly what the Yankees got during their one-day, two-game trip to Cleveland. They traded shutouts with the Indians, leaving town on the heels of a 1-0 loss and 7-0 win.
Game One: Offense Gets Mastered, Son
The key to beating right-hander Justin Masterson is loading the lineup with left-handed hitters. They came into the game with a .317 wOBA against him this year and .349 for his career, compared to .258 and .276 by right-handed batters, respectively. Joe Girardi put six lefties in his starting lineup, including five in the first five spots, but they responded by going a combined 2-for-21 with two walks against the Cleveland starter. Brett Gardner had a bunt single and Brennan Boesch a ground ball bleeder through the infield. That was it.
The Yankees' best chance to score came in the second inning, when the bottom of the order loaded the bases with two outs on a walk and two infield singles. The recently-acquired Alberto Gonzalez struck out to end the threat though, and Masterson went on to retire 21 of the final 25 men he faced. He struck out nine, got eleven ground balls, and recorded 23 of his 27 outs on the infield. The Yankees didn't even hit a ball hard until about the sixth inning. Tip your cap, Masterson was excellent. The Bombers were lucky Terry Francona didn't send him back out there to start Game Two.
Game One: Phelps Pays For His Mistake
David Phelps had an effective and really uneven outing. Jason Kipnis took him deep for a solo homer two batters into the game — Michael Bourn was incorrectly called out at second on a stolen base attempt one batter prior, so it could have easily been a two-run shot — and he seemed to be behind pretty much every batter for the first four or so innings. In fact, he fell behind in the count to 13 of the first 18 men he faced. That's really, really bad.
To his credit, Phelps settled down. He retired ten of the final dozen batters he faced, throwing a career-high 115 pitches thanks to seven strikeouts and five walks in 6.2 innings. New York's starters have a knack for battling through tough starts, but I don't know if that's a character/competitiveness thing or a teachable skill. Either way, I'm sure watching veterans like CC Sabathia, Hiroki Kuroda, and Andy Pettitte do it time after time has rubbed off on Phelps. He was shaky at times against the Indians, but at the end of the day he surrendered just one run in 6.2 innings. Can't ask for more.
Game Two: Numbero Nuno
It's fitting Vidal Nuno's first career big league start came against the team that originally drafted — and soon thereafter, released — him. The 25-year-old left-hander was making his first start in three weeks and first appearance of any kind in two weeks, and he responded by firing five scoreless innings against an Indians team that came into the day with a 120 wRC+, the highest in baseball by a wide margin.
Nuno did exactly what you expect a finesse left-hander to do: he worked quickly and used all sorts of different pitches. PitchFX says he used five different pitches in fact, four at least ten times each, yet he failed to record even a single swing and miss. Didn't cost him though. Nuno threw a first pitch strike to 17 of 21 batters and, at least until he visibly ran out of gas in the fifth, was going right after hitters quickly and aggressively all afternoon. Nuno allowed three singles and three walks against five strikeouts and in his first MLB start, squeezing through the minimum five innings needed for his first career win.
Game Two: RailRiders Lead The Big Inning
The second game mirrored the first game in terms of offense, at least for the first six innings. Not a whole lot happened. The Yankees took a quick one-run lead in the first inning thanks to some defensive funny business, and the score remained 1-0 until they broke things open in the seventh. That rally was started by a pair of recently recalled Triple-A Scranton/Wilkes-Barre RailRiders.
Corban Joseph, who was up for the day as the 26th man, started the inning with his first career big league hit. It was a solid single to left-center that he hustled into a double, and two batters later Austin Romine doubled him in with a line drive to left. That was a big insurance run at the time, but not so big overall because the Yankees scored another five runs in the frame. Jayson Nix and Vernon Wells had RBI singles while Lyle Overbay doubled in two (off a lefty!). To think, the second batter of the inning tried to sacrifice bunt. That breathing room was much appreciated considering David Robertson and Mariano Rivera were likely unavailable due to their recent workloads.
Leftovers
Despite having two kids starting both ends of a doubleheader, the bullpen came through the day in pretty good shape. Boone Logan was only one of Joe Girardi's trusted late-inning arms to pitch, and he struck out the only man he faced in Game One. Preston Claiborne threw a perfect inning in that game, then Adam Warren picked up his first career save with four scoreless frames in relief in Nuno. He's the first Yankee with a four-inning save since … Derek Lowe last August. Not that long ago. The bullpen is now up to 22 consecutive scoreless innings, by the way.
Robinson Cano went 1-for-9 during the doubleheader and is very much in "swing at everything" mode right now. Here's proof. Yikes, Robbie. Gardner went 1-for-8 with four strikeouts, the bunt single, and a walk in the two games. He was the only Yankee without a hit in Game Two and is also in a "swing at everything" rut as well. Nix, Wells, and Gonzalez were the only players with two hits on the day, though Gardner, Overbay, and Joseph reached base twice as well.
Joseph, who sat on the bench for two days earlier this year, started the first game at first base and the second at second. He looked fine at first, making a number of nice scoops and starting a 3-6-1 double play. Second base didn't go as smoothly, including one ball thrown into the dugout. As per the 26th man rules, Joseph has to go back to Triple-A before the next game.
The Yankees are now 22-4 when holding their opponents to four runs or less than this year, and all four losses are shutout losses. They improved to 4-0 immediately following a shutout loss with the Game Two win. Six wins and 16 total runs allowed (!) on the eight-game road trip has to be considered a huge success.
The Indians gave Mariano Rivera a gold Enter Sandman record from the Rock and Roll Hall of Fame between games, and it's easily the best gift he's received during his farewell tour. Easily.
Box Score(s), WPA Graph(s) & Standings(es)
ESPN is the place for up to the minute standings. MLB.com has the box score and video highlights of Game One while FanGraphs offers some other stats.

Source: FanGraphs
As for Game Two, here are the MLB.com and FanGraphs links. Box score, video highlights, nerd stats, etc.

Source: FanGraphs
Up Next
One day in Cleveland is enough. The Yankees are heading home to the Bronx and will welcome Jesus Montero and the rest of the Seattle Mariners to town for a three-game series. CC Sabathia and Felix Hernandez kick things off in the Tuesday night opener. Check out RAB Tickets if you want to catch the battle of aces.