By

Keith Law posted his first mock draft today (subs. req'd), and he has the Astros taking Oklahoma RHP Jonathan Gray with the first overall pick. He says they figure to try to work out a pre-draft deal with the former Yankees draft pick for less than what it would take to sign Stanford RHP Mark Appel, then spread the savings around on later picks. Law expects the Cubs to take Appel second overall. I doubt he gets beyond that pick.

The Yankees have three first round picks, and Law has them selecting Stanford OF Austin Wilson (26th overall), Oklahoma HS C Jon Denney (32nd), and Arizona HS SS Dustin Peterson (33rd). Wilson was a big name a few years ago, but he wound up on campus and was expected to be a top ten pick before suffering a stress reaction in his elbow. He's a tool shed who needs some work. Denney, who has been connected to New York before, is an offense-first catcher while Peterson a solid athlete who is likely to remain on the middle infield.

Law says the Yankees have been heavily connected to high school players with these top three picks, and that's not surprising. Scouting director Damon Oppenheimer loves toolsy prep players. He does mention the team would love to see a top college arm fall into their laps with one of these picks, however. · (16) ·
By

Via Shannon Drayer: The Mariners have scratched Aaron Harang from tonight's start with a stiff lower back. The Yankees will instead face their former teammate, right-hander Hector Noesi. The 25-year-old was awful last season (5.82 ERA and 5.53 FIP in 106.2 IP), but he's been better out of the bullpen so far this year (3.86 ERA and 2.70 FIP in 9.1 IP). · (3) ·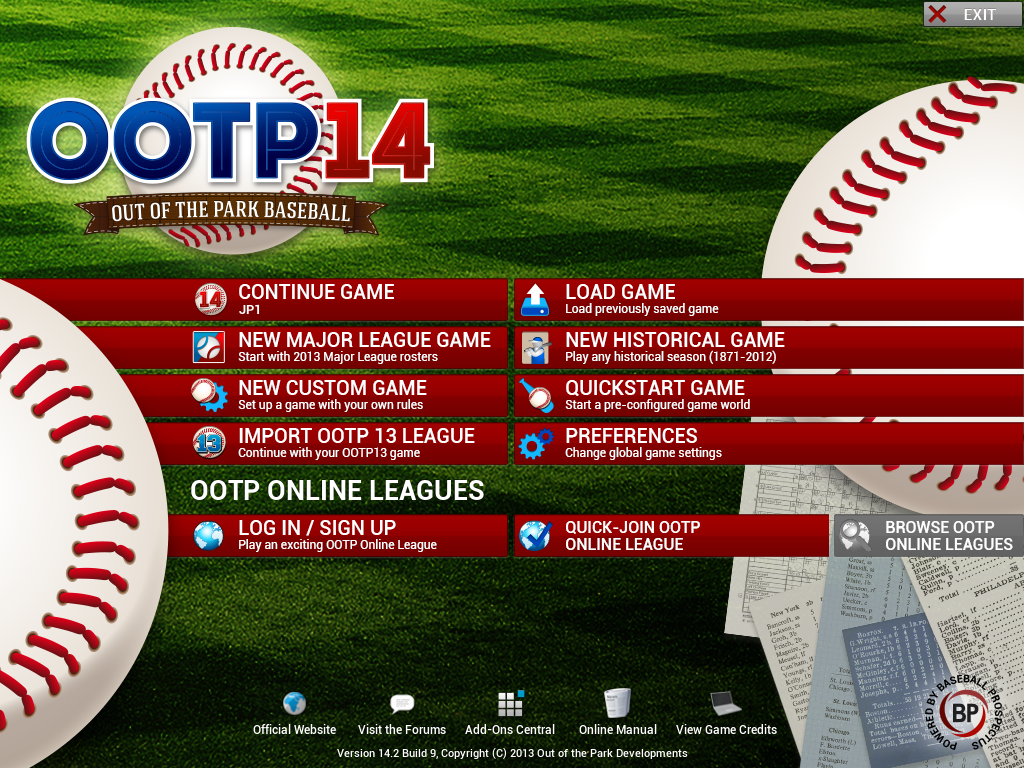 (click all images for larger views)
Since my birthday falls a few weeks after Opening Day, I'm frequently treated to early baseball-related gifts. My parents, for instance, renew my MLB.tv subscription every year in early March. My future wife, since she works at a video game store, pre-orders me MLB The Show. While I've gotten plenty of use out of MLB.tv this year, the copy of The Show has collected plenty of dust. As of this writing I haven't played it in at least a month, probably more.
A friend of mine puts it best when he says, "Baseball and video games but not baseball video games." I might have disagreed a few years ago, but in the recent past I've grown tired of The Show. The games take forever to play, and it takes a certain endurance to get through a season. Even then, once you do get through a season the off-season stuff — the stuff that nerdy baseball fans like me are supposed to enjoy — is full of flaws. There is little joy in building a team in The Show.
For years I'd heard about a computer-based baseball simulation engine called Out Of The Park Baseball. I never bought it, though, mostly because I already had The Show or the 2K game or MVP. Why spend money on a second baseball video game, especially one where you can't actually play the games? Yet the curiosity always lingered. So last year, seeking a way to kill time before bed, I bought a version for my iPad. It definitely kept me occupied in times of boredom, so when the folks at OOTP offered me a review copy of their full computer-based program this year I jumped on the opportunity.
What baseball fans will love about OOTP is its attention to detail. You take charge of a major league franchise and are tasked with managing its entire system, from the majors down to an international complex. Each team's owner has a personality, which affects budgets and other concerns. In other words, you have guidelines within which you must operate, just as a real-life GM would. The result is a game that should keep armchair GMs satisfied for hours on end.
Complete rosters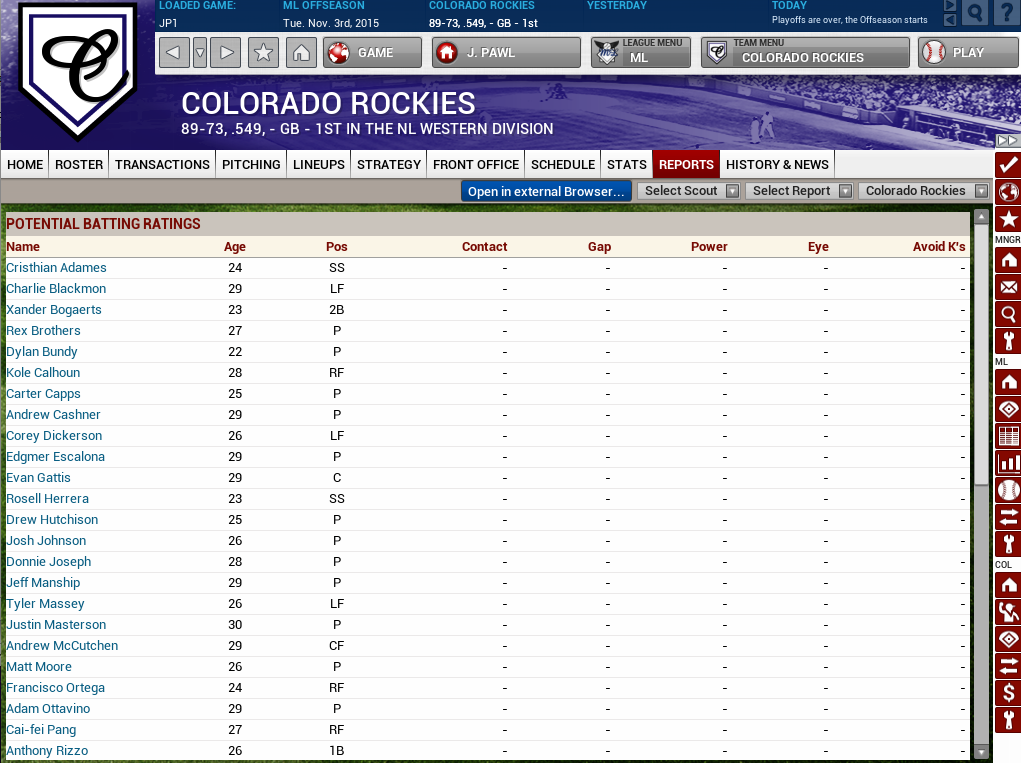 MLB The Show is practical with its rosters. Each organization has a major league team and two minor league levels, with a reserve of players dubbed A-level. That's fine and good, since the emphasis in The Show is actual gameplay. In OOTP you take charge of hundreds of players at every level of the minors, and the minor league levels are quite accurate. You'll have a AAA, AA, A+, A, short-season A, and Rookie ball teams (though there doesn't appear to be much of a differentiation between A+ and A).
Throughout the season you'll have to promote and demote these players, accounting for their performances, their morales, and their potentials. If that seems like a gargantuan task, it certainly is. Thankfully, you can also modify your settings and let the computer take over many of those tasks. Letting the computer take care of the day-to-day lineups at both the MLB and minor league levels will save you plenty of time and frustration. As long as you control who is on the roster, that's usually enough.
Subjective ratings
OOTP rates its players on what amounts to a scale of 1 to 10, representing their rating with stars. Half a star is really a rating of 1, and five stars is a rating of 10. Each player has both an actual talent rating and a potential rating. Both are subject to change at any time, which is pretty realistic. After all, a player with a 10 potential who doesn't pan out will see his potential decline. But a player with a two-star actual rating and a 10-star potential could be a future star.
What stands out in OOTP is the subjectiveness of the ratings. Each team has a scouting director, and ratings are based on that specific person. You can toggle between your scouting director's ratings and OOTP's internal ratings, but it's not as though OOTP's ratings are the "true" ratings. This essentially means that your scouting director is the most important aspect of your organization. Find a good one and you'll uncover hidden gems around the league and trade for them on the cheap. Employ a poor one and you'll grow frustrated that your five-star potential player is hitting .200 in AA.
Personnel and front office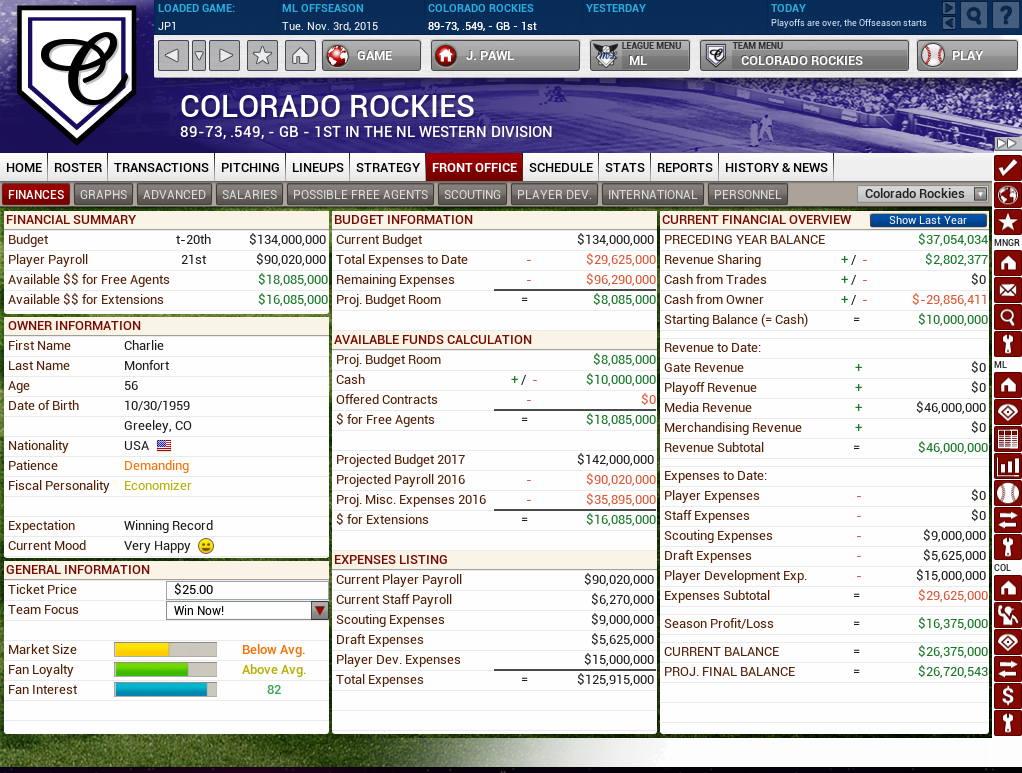 Just as in the bigs, you have to hire coaching staffs at every level of the minors. These coaches all have different ability ratings: teach hitting, teach pitching, and teach fielding, in addition to handle veterans, handle rookies, and handle players. Pick the wrong personnel and you can ruin player development and performance. Given the long process of finding personnel actually interested in working for your minor league teams, this can be maddening. (See nitpicks below.)
While you don't do everything a GM does, you do have full control of baseball operations. This means setting scouting budgets, working within your given budget, and keeping tabs on basically every aspect of the organization. And make no mistake: just because you win doesn't mean your owner will increase your budget. For two straights seasons my owner had expectations of a mere winning record. In both seasons I made the playoffs. The results? Budget increases of under $200,000.
On the franchise level you can also set your team strategy. This includes overview stuff, like favoring prospects or veterans, offense or defense, etc. You can also set strategy for nearly every aspect of in-game play. This goes into ridiculous detail, letting you set strategy for innings 1-3, 4-6, and 7-9 in nine different trailing or leading scenarios. Want a manager that plays it by the SABR book? You can make sure that he does that at every juncture.
(Almost) Realistic trade engine
In many sports video games, you can trade quantity for quality. Throw in enough mediocre players and a team will trade you a star. Anyone who played MVP 2004 knows this; you can assemble an All-Star team in that game with little effort by trading two or three meh players for Albert Pujols. In OOTP there is still a level of quantity for quality, but it's not nearly as egregious.
There is no way you can get a four-star player, for instance, without including a three-star player or a five-star prospect. Even then, you'll have to throw in more. One feature I love is the "make this work now" button. Click it, and the computer will run through your roster and find players the computer will accept. But don't expect that to be some scrub. Almost always it will be a player of high ability or potential, at least in the computer's eyes. Every once in a while you might get lucky and they'll choose a player that they like but your scouting director does not.
You can also choose to shop around your players. That searches the league and finds one-to-one offers for the player. In very few instances will you find a good deal here, but it's a quality starting point. It at least shows what teams might be interested, and the kinds of players they're willing to sacrifice. Just don't try to pry a four-star starter from a team in win-now mode, or try to dump an expensive player on a team in rebuilding mode. The computer takes that into account, too.
Draft and international free agents
The OOTP engine handles the MLB draft and international signing period pretty accurately. In early June you'll draft from the created pool of amateur talent. Each player has a certain bonus demand, sometimes slot but more often a quite higher number. Teams have to work within their draft pool budgets, and players tend not to sign unless you meet their demands.
The international process can be a huge pain in the ass. Again, you're dealing with your scouting director's subjective ratings, and very few of the available players have high potential (both from your scouting director and OOTP's ratings). That means a ton of teams compete for the top talent, almost always pushing the top players' bonuses above your international budget. And yes, there are penalties for exceeding your pool, so if you make that big signing this year you're limited the next year.
(Not to mention, you'll get weeks of emails letting you know that another team made a better offer. So you go in and top that offer, only to be notified a day later that you have to increase it again. This goes on for weeks, sometimes into mid-August.)
Reports galore
At almost any time you can get a report on any aspect of your franchise or league. Looking for the top minor league systems? That's an easy option in the league menu. You can go quite further, though, and assess the strength of each team's system. The report takes seriously three minutes to generate, but it lets you know where every team ranks at every position.
The two most useful reports, in my mind, are the Minor League Report and the Player Development Report. The former runs through all of your minor league rosters and provides quick-take stats and notes. The notes let you know if a player is over his head or due for promotion. The latter lets you know about changes in your players' abilities and potentials. It comes out a few times a year, and it can be a frustrating experience. No one wants to see their five-star first-round draft pick drop to a four-star potential. But it's better to know that and have a better understanding of your organization.
Realistic injuries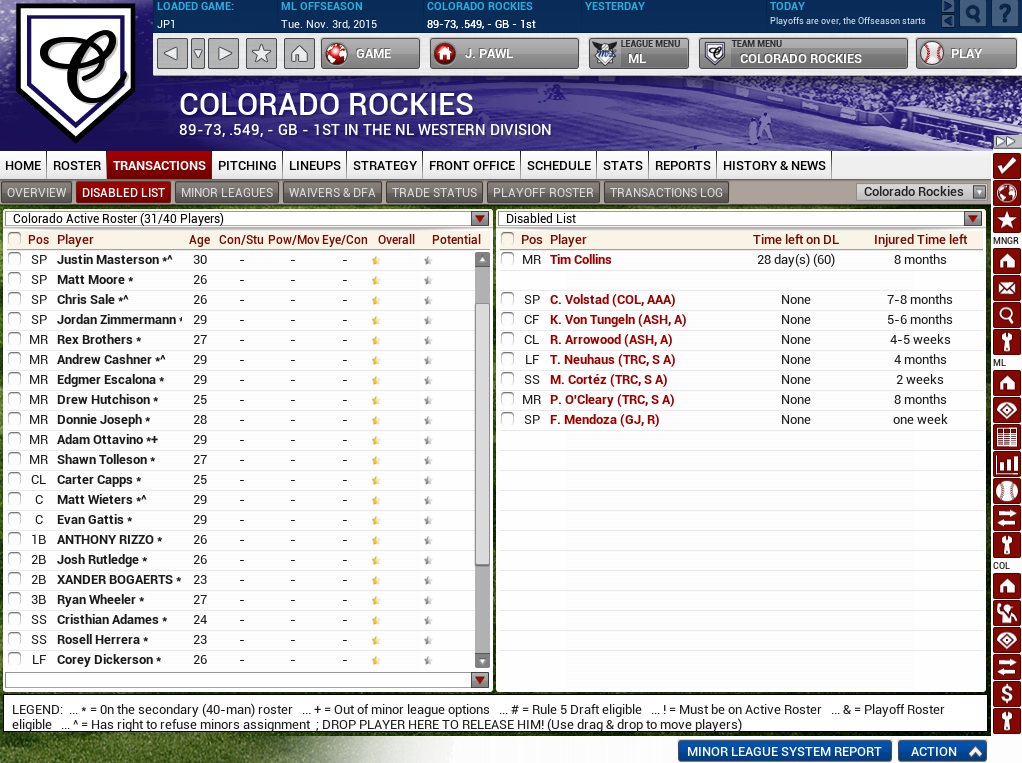 I needn't pontificate on injuries to Yankees fans. In the past two years in particular we've seen nearly every starter on both sides of the ball land on the disabled list.* Chances are you won't see every starter on your OOTP team hit the DL, but if my experience is any indication you will have to deal with at least a dozen DL trips every year. In many instances those will be 60-day DL trips, and if they occur in late in the year they certainly can wrap around into the next season.
* Robinson Cano, Russell Martin, Boone Logan, Rafael Soriano, Nick Swisher, and Ichiro Suzuki are the only starters of consequence who avoided the DL in the last two years. Swisher, if I remember correctly, missed some time with nagging injuries last year. Phil Hughes did technically start this season on the DL, though he didn't really miss a start. Note, too, that only two of those players have spent all of 2012 and 2013 with the Yanks.
In my second season two starters required Tommy John surgery. The worst injury, though, I blame on my future wife. One moment she was playfully mocking me for "playing with my ones and zeroes team." The next moment my ace starter went down with a torn something or other, putting him out nine months — meaning the playoffs and a sizable chunk of the following season.
Nitpicks
A game with such attention to detail sets a perhaps unrealistic level of expectations. There are a number of small quarrels I've had with the game playing through my three seasons. Clearly they weren't deal breakers for me, but I'd have enjoyed it a bit more if I had these little features.
Lineup and rotation suggestions. If you want to get through some seasons and rebuild a team, you pretty much have to let the computer set your daily lineups and pitching rotation. It's not a big deal for the most part. The computer tends to put your best hitters in the middle of the lineup. Yet there are some instances when I want to bench a certain player, or swap pitchers in the rotation and bullpen. But as long as the computer controls those aspects, you can't do that. That means you have to either deal with the computer's lineups, or else control lineups and rotations manually, which will slow down your season.
Computer trade proposals. It's great that the computer can initiate a trade with you. Ideally, it opens up opportunities to improve your roster. But the computer proposes the most outlandish trades. They're all incredibly one-sided, to the point where you don't even want to negotiate. No, I won't trade you two five-star prospects for your three-star third baseman making $15 million per season.
Minor league personnel. Need to fill your short-season A hitting coach position? Good luck. It doesn't appear that the available personnel is listed in any particular order, so you never know which coaches aren't willing to work for that particular level — and the lower the level the smaller the pool of willing coaches. You have to click five or six times to see if the coach is even willing, so it can be incredibly frustrating to find coaches for all of your teams.
Ridiculous detail
This review already sits at over 2,000 words, and I could probably go on for another 6,000 describing every aspect of the game. Honestly, 2,000 words is a few too many, but I feel strongly enough about OOTP that I'll let it stand. The overall notion is that the game brings ridiculous, and mostly accurate, detail to the game. You're in control to a degree I've never seen from any baseball simulation engine.
The attention to detail can be straining at times. You'll spend a lot of time tinkering when you really just want to get on with your season. And if you're like me, you'll have to put down the game for a week because you're just tired of so much control. But if you're like me you'll also come back to the game after that week away. It's just too addictive.
You can buy OOTP Baseball 14 for Windows, Mac, or Linux. It costs $39.99.
Don't look now, but the Yankees bullpen has been really good of late. Before Brett Marshall bit the bullet last night, they amassed the fifth highest cumulative WAR (1.8) in Major League Baseball — trailing only the Rockies, Tigers, White Sox, and Twins. Over 133.2 innings, the Yankees relief core has produced a 9.42 K/9 rate, surrendered only 2.53 BB/9 and 0.95 HR/9, complimented by a 3.33 ERA (3.24 FIP / 3.18 xFIP). Let's take a look at some of the big contributors.
It all begins and ends with Mo
After missing most of the 2012 campaign, Mariano has returned with a vengeance. He's already accumulated 16 saves (with no blown opportunities). His velocity has primarily sat in the 88-92 mph range, while his patented cutter continues dominate. To say right handed batters have had slightly more success against The Sandman would be true (.307 wOBA). However, to say that any batter has been generally successful overall against Mo this season would be false (.205 wOBA overall). When the ninth arrives, so does Mo, without compromise and in vintage form.
Girardi's (setup) crew
The road to Mo is also pretty well paved. David Robertson has embraced his duties as the official set up man while Joba Chamberlain has handled the seventh fairly effectively (prior to injury). I really can't get enough of Robertson either. Even though he occasionally puts me on edge with his Houdini act, his strikeout rate is certainly prolific (11.02/9). What's more, 55.6% of his first pitches are thrown for strikes, and interesting enough, batters have swung at more pitches outside of the strike zone (33.3%) then they have in the past against him (career 25.2 O-Swing%) so far. As for Joba, his 6.75 K/9 and 5.79 BB/9 peripherals aren't quite where you'd like them to be overall. However, prior to straining his right oblique, Joba had been looking increasingly comfortable on the mound. More importantly, his velocity seems to be right where it should be considering he isn't all that far removed from Tommy John surgery.
Behold! The obligatory LOOGY
After pitching in 80 (!) games last season, I was pretty confident Boone Logan was going to be toast this season. I was thinking back to the days of Joe Torre when guys like Paul Quantrill, Tanyon Sturtze, Tom Gordon and Scott Proctor had their arms basically turned into mush. Early on this season, it sure appeared to be heading in that direction too. Give old Boone credit though. He has pitched in 10.1 innings, and managed a 2.61 ERA (3.79 FIP, 2.39 xFIP) with a 10.45 K/9 rate. That'll do. Curiously, for a guy who's primary function is to get left handers out, he's actually shown more of a reverse split (.352 vs. 349 wOBA). I suspect this more of a byproduct though of a small sample size, and will probably normalize over the course of the season.
The other guys
The Yankees have also found productivity from some of the less recognizable names. Mike gave Adam Warren his due yesterday. Preston Claiborne has also done a great job on the mound in limited opportunity. Anecdotally, the kid looks composed out there, and because of it I tend to have an irrational calm every time he's pitches. He hasn't shown very much in the strike out department (5.14 K/9), but he's done a good job of not giving up free bases (no walks). Claiborne has also demonstrated a willingness to use a slider and a changeup in addition to his fastball, which I personally appreciate.
Overall, Cashman has done a pretty good job of piecing together quality bullpens over the past several seasons, which is important as it seems to be an increasingly specialized (and valued) part of the game. I think it's worth acknowledging that a fair portion of the team's success this season can also be attributed to the bullpen given the current roster construction.
That was ugly. Every team goes has a few of this disaster starts each year, but that doesn't make them any easier to swallow. The Mariners mopped the floor with the Yankees on Wednesday night, beating them 12-2.
AwPhil
This was definitely not one for the Phil Hughes career highlight reel. He became the sixth Yankees starter to allow at least seven runs in one inning or less this century, joining Bartolo Colon, Chien-Ming Wang, Mike Mussina, Jaret Wright, and Orlando Hernandez. I guess he's in good company at least, outside of Wright. Tiny consolation price.
Anyway, Hughes was ridiculously awful. Rockets all over the field, including a grand slam into the bullpen by former Yankee Raul Ibanez. He faced ten hitters and eight reached base — six hits and two walks. Twenty-three of 36 pitches were strikes, but who really cares. Phil had nothing. Less than nothing, actually. You don't give up seven runs and record two outs with good stuff.
Debut Night
David Adams and Brett Marshall became the fourth and fifth players to make their big league debut with the Yankees this season, joining Preston Claiborne, Vidal Nuno, and Corban Joseph. That seems like an awful lot of big league debuts for one season, especially for a veteran-loving club like the Yankees, doesn't it? This was only the 40th game of the year as well. I wish I knew a way to look that up.
Adams went 1-for-4 with a solid two-strike single to center for his first big league hit, plus he played a pretty good third base. Made a few tough plays and all the routine ones. Marshall, meanwhile, really took one on the chin, surrendering five runs on nine hits in 5.2 innings. He walked five and struck out one, throwing only 56 strikes out of 108 total pitches (52%). Everyone gets a mulligan in their big league debut in my book, but I can't imagine this is what he had in mind. With Joba Chamberlain ready to be activated off the DL, I have to think Marshall will be sent back to Triple-A Scranton on Thursday.
Leftovers
The Yankees scored their two runs on solo homers, one by Vernon Wells and one by Chris Stewart. Lyle Overbay was the only player with multiple hits, and he spent the last three innings resting on the bench. Robinson Cano did the same, but he went hitless and is mired in a little 9-for-41 (.220) slump. That dates back to the Athletics series. The only other player in the lineup who failed to get a was … wait for it … Ichiro Suzuki. He's in an 0-for-20 slump and hitting .238/.281/.331 (57 wRC+) on the year.
Preston Claiborne chipped in 2.1 scoreless innings between Hughes and Marshall, allowing just a ground ball single while striking out two. He's been very impressive so far. Infielder Alberto Gonzalez was on the mound for the final defensive out, but I'm not going to lie, I wanted to see Ichiro pitch. That would have been fun. Wells played second base for that one-third of an inning and didn't have to make a play.
Marshall allowed a two-run homer to Ibanez in the fifth, ending a 28.1-inning scoreless streak by the bullpen. That's pretty damn impressive. Ibanez has three homers in the two games; you think he misses Yankee Stadium at all?
Box Score, WPA Graph & Standings
Sad graph is sad. MLB.com has the box score and video highlights, FanGraphs some more stats, and ESPN the updated standings. Embedded Yankee Freddy Garcia helped the Orioles lose to the Padres, so the Yankees remain atop the AL East by two full games. It's May 15th though, little too early to worry about that stuff.

Source: FanGraphs
Up Next
Same two teams will wrap up this three-game series on Thursday night. Andy Pettitte vs. Aaron Harang is your pitching matchup for the rubber game. RAB Tickets is the place to go for any last minute deals.
Triple-A Scranton (12-11 loss to Toledo)
2B Corban Joseph: 1-3, 2 R, 1 RBI, 3 BB, 1 K
RF Thomas Neal: 3-4, 2 R, 1 BB, 1 K — quietly hitting .329/.385/.402
LF Zoilo Almonte: 2-5, 2 R, 1 2B, 3 RBI — six hits in his last 13 at-bats (.462)
3B Ronnie Mustelier: 2-6, 1 R, 1 2B, 3 RBI, 1 E (fielding)
CF Melky Mesa: 1-5, 1 2B, 1 RBI, 4 K, 1 E (throwing)
RHP Chris Bootcheck: 3 IP, 8 H, 8 R, 8 ER, 2 BB, 4 K, 3/1 GB/FB — 44 of 76 pitches were strikes (58%) … the Chris Bootcheck Regression Tour is very much underway
RHP Cody Eppley: 1 IP, 3 H, 2 R, 2 ER, 0 BB, 2 K, 0/1 GB/FB — 18 of 23 pitches were strikes (78%)
The Yankees had a new (new-ish, anyway) left fielder last night, now they have a new third baseman. The team has called up David Adams, as expected, and he is in the starting lineup at third base. Rumor has it he will get an opportunity to play the hot corner on an everyday basis — everyday for the injury-prone Adams is four or five times a week — while Kevin Youkilis is out, which means another two or three weeks. Maybe longer. Youkilis hasn't done much rehab work in Tampa yet. Here's the lineup the Yankees are throwing at right-hander Hisashi Iwakuma…
DH Vernon Wells
1B Lyle Overbay
3B David Adams
And on the mound is the 2010 All-Star Game loser, right-hander Phil Hughes.
Tonight's game will begin a little after 7pm ET, and it can be seen on YES. Enjoy.
By

May 15th: Done deal, both the NHL and the Yankees have officially announced it. The first game (Rangers-Devils) is scheduled for 12:30pm ET on Jan. 26th (Sunday), the second (Rangers-Islanders) for 7:30pm ET on Jan. 29th (Wednesday).

April 16th: Katie Strang has confirmed the NHL is planning on two outdoor games at Yankee Stadium next season, with the three locals participating: Rangers-Devils (Jan. 26th) then Rangers-Islanders (Jan. 29th). The deal is expected to be finalized soon.

April 10th: Via Helen Elliot: Yankee Stadium is the "preferred venue" for an outdoor NHL game on January 26th of next year. The NHL is hoping to play three outdoor games next winter — the scheduled Winter Classic in Michigan plus two others. Dodger Stadium is the favorite to land the third game.

The Yankees have been trying to lure the Winter Classic — the NHL's annual marquee/cash cow event — to the Bronx since the new Yankee Stadium opened in 2009, but scheduling conflicts with the Pinstripe Bowl have prevented it from happening. The Pinstripe Bowl contract doesn't expire until 2015, but the Winter Classic is usually played right around New Year's. The tentative late-January schedule of this game could make it possible. Either way, I'm totally there if it happens. (h/t Ryan Dadoun) · (17) ·
By

3:59pm: Yep, Nelson has been designated for assignment. He had a nice little two weeks in pinstripes, specifically going 8-for-26 (.308) at the plate in the last seven games. Nelson was always just a stopgap until Adams could be called up.

3:45pm: The Yankees have officially called up infielder David Adams, the team announced. No word on the corresponding roster move just yet — they need to make both a 25-man and 40-man move — but I'm guessing it'll involve Chris Nelson. They're completely redundant.

Adams, who turns 26 today, hit .316/.407/.490 (155 wRC+) with three homers in 26 games for Triple-A Scranton this year. They Yankees couldn't call him up any sooner because of some silly roster rules, but he is expected to get a chance to play everyday with Kevin Youkilis on the DL. Adams started his career as a second baseman but shifted over to third in the second half last year, exactly when Alex Rodriguez had his hand broken by a pitch. · (47) ·