By

For years we've seen comparisons drawn between new Yankee Jacoby Ellsbury and entrenched Yankee Brett Gardner. Naturally, people speculated that the Yankees might trade the latter, given their $153 million commitment to the former. "Absolutely not," according to an ESPN NY source. The source further speculated that both will bat atop the order, which might mean an ego hit for Derek Jeter (though Jeter could presumably hit second against lefties). It's certainly an interesting approach, both atop of the order and in the outfield. Much of the success, I imagine, rests on the power that Mark Teixeira, Brian McCann, Alfonso Soriano, and hopefully Robinson Cano, generate behind these guys. · (167) ·
With focus on Jacoby Ellsbury and his new $153 million contract, the Yankees acquired another player last night. As many of us slept or vented our feelings about Ellsbury, the Yankees were working on a deal with Kelly Johnson. It's a mere $2.75 million for one year, or about 1.8 percent of Ellsbury's contract. But Johnson could be the kind of player the Yankees need to help round out their big-name roster.
During his tenure with the Rays last year, we got a glimpse at Johnson's versatility. When he came up with the Braves in 2005 he played left field, but after he returned from Tommy John surgery in 2007 (more on that in a moment) he seemed entrenched at second base. That's where he played for most of the next six seasons, until he hit free agency. When he signed with the Rays, though, he divided his time among four positions: 50 games started in LF, 14 at 2B, 12 at 3B, and 2 at 1B in addition to 18 at DH. That's the kind of multi-positional player the Yankees have needed for years.
To date the Yankees have signed three free agents, and all three bat from the left side of the plate. That might seem odd for a team that got the league's worst production from right-handed hitters in 2013. But Johnson can hold his own against same-handed pitchers. For his career he displays no real platoon split, and has actually OPS'd about 10 points higher against left-handed pitching. In recent years he's performed better against righties; last year he hit all 16 of his homers against righties, though he did have a .337 OBP against lefties.
Johnson's greatest attribute might be his durability. After missing the 2006 season after undergoing Tommy John, he's spent just one stint on the DL, missing 17 games in 2009 with wrist tendonitis. Other than that he's missed just a few games here and there with nagging injuries, although that has totaled just 11 games, not counting his DL stint, since the start of 2007.
One other interesting tidbit about Johnson is his increased production with runners in scoring position. His career OPS jumps from .762 overall to .808 with runners in scoring position — and he matched that .808 OPS with RISP last season.* As friend of RAB Tommy Rancel notes, this might be due to Johnson's pull tendency. While, as we've seen with Mark Teixeira and others, teams will shift the infield on guys like Johnson, they're less able to do that with runners in scoring position. The extra gaps give him enough room to knock through some ground balls.
*Even better, he hit only 3 of his 16 homers with RISP, and another 4 with a runner on first. In other words, he produced runs from nothing, and additionally knocked in runners with singles, 21 of them, with ducks on the pond. That seems like an ideal distribution to me. Homers are always welcome, and HR with RISP can often mean many runs, but singling in scoring position runners while hitting bases empty homers does have a certain intuitive value.
As long as the Yankees have signed Johnson as a guy who can play different positions on different days, the relationship should work. Johnson has proven himself versatile and durable over the years, traits the Yankees certainly must value after 2013. His ability to hold his own against both lefties and righties means he can reasonably play both sides of the platoon. If, on the other hand, Cano leaves and Johnson becomes his replacement, the Yankees have a lot more work to do. But that was the case with or without Johnson. At least with him they have someone who can competently play the position.
The Yankees made their second huge splash of the offseason last night, landing Jacoby Ellsbury with a seven-year contract worth $153M that could wind up paying him $169M thanks to an eighth year club option. He still has to take a physical and all that before the deal becomes official, but apparently that could happen as soon as today. Here are some thoughts while we wait for things to wrap up.
1. Might as well come right out with it: I am not a fan of the signing at all. Don't get me wrong, Ellsbury is a very good player when he's healthy and he will be an enormous upgrade next season, but the Yankees are paying him like he's an elite player and I just don't see it. His one truly elite skill is stealing bases and best base-runners in the game provide maybe one win of value with their legs (Ellsbury was at ~1.2 WAR base-running in 2013). That's nothing. His glove is very good but the net defensive upgrade from Ichiro Suzuki (who I assume is losing his starting outfield spot as a result of the signing) to Ellsbury is small. The offense isn't anything special at all, especially when you treat that 2011 season like the giant outlier it is. Ellsbury is a ~.350 OBP leadoff guy who will hit single-digit homers. That ain't elite. That's pretty good. Ellsbury is going to help the Yankees a ton in the short-term but there's no way I view him as a $150M+ player. Not even close.
2. As for Yankee Stadium boosting Ellsbury's power output, yes it will help some. There will inevitably be a fly ball or two that sneaks over the wall each summer that otherwise would have been caught for an out, just like some of those routine fly balls turned into doubles thanks to the Green Monster over the last few years. Ellsbury is not the kind of hitter who can really take advantage of the short right field porch though. He's a classic speedster, hitting the ball on the ground and using his legs. He also does most of his hitting the opposite way to left: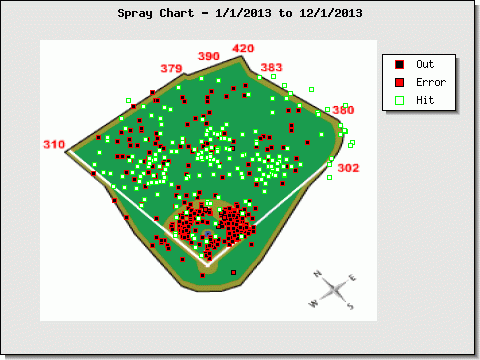 Going the other way is not a bad thing. The Yankees could use someone who can hit for a relatively high average, but be careful not to make the blanket assumption that his power output will improve just because he's a left-handed hitter moving into Yankee Stadium. Ellsbury would have to change his hitting approach to seem meaningful uptick in power and … no. Stick to what works. The idea of having two powerless hitters in the outfield full-time is not appealing at all, especially if they can't retain Robinson Cano.
3. Speaking of Cano, you know all that talk about holding a hard-line with him? Pretty worthless right now. Refusing to budge off that seven-year, $165M-ish offer after bending over backwards to give Ellsbury all that money is borderline insulting. Cano's the far superior player and he's the homegrown star. He deserves more. A lot more. Maybe his rookie agents will botch these negotiations and the Yankees can bring him back at something far below fair value, but the team set the market by giving the second best free agent that huge contract. The gap between Cano and Ellsbury is a lot bigger than the gap between Ellsbury and the third or fourth best free agent and he should look to be paid accordingly. The Yankees might be trying to put the pressure on Robbie but I think there's a chance they'll wind up pushing him away, and if they lose him after spending all this money on Ellsbury and Brian McCann … I would not be pleased. Losing an actually elite player after giving a non-elite player elite player money would really suck.
4. The plan to get under the $189M luxury tax threshold is obviously not happening. I mean, I guess it still could if Alex Rodriguez gets suspended for the entire 2014 season, but that's pretty much the only way it happens. It seems like the Yankees decided to spend as if A-Rod is getting banned for the year and if he doesn't, oh well, then they'll go over the limit. It's hard not to notice the timing –  his appeal hearing ended on a Thursday and the McCann deal was struck on Saturday. Maybe the Yankees know something is up. I guess the plummeting television ratings and overall decline in attendance could have spooked them into changing course as well. Either way, staying under the luxury tax limit almost certainly isn't going to happen after the Yankees spent the last two years making sure they had as much flexibility under the threshold as possible.
5. This is worth exploring further in a full post, but the Bombers are going to be very vulnerable against left-handed pitchers next season if Mark Teixeira and Derek Jeter don't rebound. Ellsbury and McCann have noticeable platoon splits and Brett Gardner's been up and down against lefties through the years. Their best weapon against southpaws right now is Alfonso Soriano, but it's pretty much him and him alone until Cano re-signs and Jeter and/or Teixeira show they're healthy. The AL East isn't a lefty heavy as it once was but there's still David Price, Matt Moore, Jon Lester, and maybe Felix Doubront to contend with. Another right-handed bat (Mark Reynolds?) or two is a necessity, and no, Vernon Wells doesn't count.
On the same day they officially announced the Brian McCann signing, the Yankees made their second huge signing of the offseason (and it wasn't Robinson Cano). New York has agreed to a seven-year contract worth $153M with former Red Sox outfielder Jacoby Ellsbury. That's a $21.9M luxury tax hit. The deal is pending a physical and includes both a club option for an eighth year that could push the total value to $169M and a full no-trade clause. Jon Heyman and Mark Feinsand originally broke the news.
Ellsbury, who turned 30 in September, is the 18th player to receive a $150M+ deal in baseball history. It's the third largest contract ever given to an outfielder, behind the identical eight-year, $160M contracts signed by Manny Ramirez and Matt Kemp prior to 2001 and 2012, respectively. The Yankees will forfeit their next highest draft pick to sign Ellsbury — either their second rounder or the compensation pick they receive when Cano, Hiroki Kuroda, or Curtis Granderson signs elsewhere. Their first rounder was already surrendered for McCann.
In 134 games and 636 plate appearances this past season, Ellsbury hit .298/.355/.426 (113 wRC+) with 31 doubles, eight triples, and nine homers. He hit 32 homers in that giant outlier of a season in 2011 but has otherwise never managed double-digit homers in a single season. The short right field porch will help Ellsbury's power output somewhat but not a ton unless he changes his approach — he's a classic speedster who hits the ball on the ground (50.8% grounders) and slashes it the other way to left field. After seeing what's happened with Mark Teixeira, let's hope those approach changes are not made. Stick what what earned him that huge contract.
Ellsbury is baseball's premier base-stealer, going 52-for-56 (!) in stolen base attempts in 2013. He provides both bulk steals and tremendous efficiency. I don't think it's unreasonable to say he figures to be the team's best base-stealing threat since Rickey Henderson. Surprisingly, Ellsbury is not all that great at taking the extra-base (first-to-third on a single, etc.), doing so only 42% of the time this past season. That's roughly league average. I suspect that's at least somewhat attributable to funky orientation of Fenway Park, especially in left field. Outfielders can play shallower and prevent runners from taking that extra base. Ellsbury has a 70-steal season to his credit (2009) but I'm not sure if that will ever happen again.
In addition to being a great base-stealer, Ellsbury is a high-end defensive center fielder who has graded out exceptionally well in UZR (+29), DRS (+23), FRAA (+18), and Total Zone (+19) over the last three seasons. His arm is awful though, legitimately Johnny Damon-esque. The Yankees will play Ellsbury in center and shift Brett Gardner back into Yankee Stadium's spacious left field while Alfonso Soriano moves to right, a position he has never played as a professional and doesn't really have the arm for. Runners are going to be going first-to-third on Soriano like crazy. Outside of Ellsbury in center, the outfield alignment is a bit of question at the moment. The team could always sign another outfielder and make Soriano the full-time DH.
Injuries have been an issue for Ellsbury over the years. He missed 144 games in 2010 with fractured ribs suffered after colliding with a teammate and then missed 88 games in 2012 with a right shoulder injury after a fielder landed on him while sliding into second. Ellsbury played through a foot fracture this past September and some kind of left hand injury in the postseason. He had an MRI after the season but I'm not sure what the tests revealed. Ellsbury has played in only 384 of 648 possible games over the last four seasons so the Yankees will really have to check him out — the ribs, shoulder, foot, hand, everything — during the physical.
Obviously, given his time with the Red Sox and as an important player on two World Series winning teams, there is no concern about how Ellsbury will handle New York. The spotlight won't be anything new to him. He's a career .301/.361/.414 (104 wRC+) hitter in 38 postseason games, in case you're wondering. The Yankees have placed a renewed emphasis on makeup and work ethic in recent years and I'm sure that is an especially serious consideration with a contract of this season. There are no concerns about Ellsbury in that department. He knows the big market/super high expectations routine by now.
The Yankees had their worst offense since 1991 this past season and have made two pretty huge upgrades in McCann and Ellsbury already this winter. McCann replaces one of the game's least productive catching situations while Ellsbury essentially replaces the mess New York had in right field last year. I have to think the signing moves Ichiro Suzuki and/or Vernon Wells that much closer to the chopping block, so hooray for addition by subtraction. Even though they still need to figure out third base and take care of the Cano situation, the Yankees need to start focusing on their pitching staff. They still need to dig up two starting pitchers and a reliever or three. Ellsbury did not exactly come at a reasonable price, but will he will be an enormous upgrade next season and should give the club another few years of high-end production in center.
Late last night, the Orioles traded Jim Johnson to the Athletics for Jemile Weeks in what was essentially a salary dump. Baltimore is up against their payroll limit and he was slated to make close to $11M next year, so now they have some flexibility. I feel like Johnson moving to the AL West is going to legitimately cost the Yankees a win next year. He always seemed to cough up close games to New York — he's blown four of his last nine save chances against them and also took a loss after entering a tie game — and they will need every win they can get to get back into the postseason. Tough loss for the Bombers.
Here is your open thread for the evening. Both the Islanders and Nets are playing, but that's pretty much it. You're on your own for entertainment. Talk about whatever. Go nuts.
Update: Lookee here: Jeff Passan of Yahoo! reports that the Yankees are showing interest in Anderson, and that he's expected to be dealt next week at the Winter Meetings. Though given the flurry of recent activity, especially involving the A's, it doesn't appear anyone is waiting for the yearly conference to conduct their business.
While improving the offense appears to dominate the Yankees' free agent agenda early this off-season, the pitching staff still presents a number of issues. Brian Cashman said he had to find 400 innings, meaning two reliable starters, this off-season. They could get 180 or so of those innings if Hiroki Kuroda accepts their offer, but they still have a huge number of innings to fill and not many attractive options on the free agent market.
The trade market looks fairly thin as well, yesterday's deal involving Doug Fister notwithstanding. David Price might become available, but the Yankees don't have the pieces to land him even if the Rays deigned to trade him within the division. Beyond that, it's difficult to identify a team willing to part with an impact starter (except maybe the Red Sox, which is out of the question). That leaves the free agent market, which could inflate given the lack of trade options. Does anyone want Matt Garza for four years and $60 million, or to give up on a draft pick for the two good years Ubaldo Jimenez has produced in his career?
Make no mistake: the Yankees absolutely need two reliable starters this off-season. Getting cute with rotation construction will only compound the issue as the season wears on. Yet two reliable starters will give the Yankees four definites, including CC Sabathia and Ivan Nova. For his part, Nova has yet to put together a full, effective season, so he remains something of an unknown. Behind him are David Phelps, Michael Pineda, and Vidal Nuno, all unreliable for one reason or another.
It might seem folly to add yet another unreliable arm to the fold, but it might be a gamble the Yankees need to make. This week we've learned that one potentially solid, but unreliable, pitcher has become available. Rumors started early in the off-season that the A's could trade Brett Anderson, and with the addition of Scott Kazmir (two years, $22 million) and Jim Johnson (projected arbitration of around $10 million), they're almost certainly looking to shed Anderson's $8 million salary. In fact, just this morning we learned that the A's are currently discussing an Anderson trade. While the Yankees aren't mentioned, they could be players if Anderson remains on the A's for a few more weeks.
Why it works
Bringing in a wild card like Anderson can work if the Yankees get their 400 additional innings from more reliable sources. In that case they'll have Phelps, Pineda, and Nuno to battle for the fifth spot. Still, given the utter uncertainty of that group, why not add a guy who can perform considerably better than the typical fifth starter on a first-division team?
Despite a poor 2013 outing, Anderson has produced a 3.81 ERA during the parts of his five seasons in the majors (109 ERA+). His strikeout numbers haven't been particularly impressive, but he has displayed good control a a decent ability to keep the ball in the park (though at Oakland Coliseum). Before he came up Baseball America rated him the No. 7 prospect in the game, a potential he's shown signs of fulfilling, if it weren't for that one big issue.
Injuries have plagued Anderson throughout his career. He spent 96 days on the DL in 2010 with elbow problems, and then underwent Tommy John surgery in the middle of 2011. Even after he returned in late 2012 he got hurt, finishing the season on the DL with an oblique strain. In 2013 he suffered an ankle sprain after a rough start in April, but he did come back to strike out 16 in 12.2 innings out of the pen to close out the year.
Why the Yanks can use a wild card
Again, the entire idea of Anderson is predicated on the Yankees acquiring two other reliable starters. To rely on Anderson for 100 innings might not be the best bet. But it's a bet the Yankees can make, given their current makeup. In fact, if they do find those 400 innings elsewhere, Anderson can be a huge strength.
If the Yankees get two starters, the fifth starter competition is between David Phelps, Michael Pineda, and Vidal Nuno. Phelps is the clear frontrunner before camp even starts, given his experience. At the same time, his value is in his flexibility. The Yanks have shown they can put him in the pen and then have him spot start if the need arises. Given the depletion of the bullpen, he could be valuable in a setup roll, and then come out to make a spot start if needed.
Given Pineda's recovery from shoulder surgery, he likely should start the season in the minors. He could, for all we know, come out guns blazing in camp after a full off-season of healthy recovery. Who knows. But given what we saw from his rehab efforts, that's not something anyone can count on. Consider him the first depth option. Nuno is essentially a depth option, not really a fifth starter on a playoff contender (though he has proven people wrong before).
With Anderson in the fold, the Yankees would have depth they could pull from both the bullpen and the minors. That's the kind of flexibility that allows teams to endure injuries. If Nova isn't as effective as he was in the second half, if they want to give Kuroda a breather (if he re-signs), if Sabathia gets hurt, they'll be somewhat covered with depth.
Why it doesn't work
It's hard to overlook a guy who has missed, on average, more than 100 games per season in the last four years. There are players who start out as injury guys who, as they reach physical maturity, just stop getting hurt. Anderson, who turns 26 just before pitchers and catchers report, is entering the prime years of his career. He could be one of those guys.
Yet even if he is, it might not happen this year. If Anderson continues to get hurt in his age-26 season, but starts staying healthy at age 27, it does little to help the Yankees. If he spends another year mostly on the DL, they're not going to pick up his $12 million option for 2015.
As it stands, he's an $8 million lotto ticket, who will cost the Yankees prospects in addition to the cash. While Oakland might be eager to trade him, they're still not going to take zeroes in return. Anderson could well fit better on a team with more room to experiment, or a team that's not trying to sign a number of big free agents.
Whether the Yankees show interest in Anderson depends on their taste for risk. Obviously they'll first have to address the tangible holes in their rotation. If the A's decide to deal Anderson before they do that, the Yankees have no shot. While they don't have to acquire players in order of need, they certainly want to focus their resources on reliably filling their 400-inning gap. After that, if they have the stomach for the risk, Anderson could be an interesting player to watch. When else does a 26-year-old, left-handed, potential No. 3 starter hit the trade market?
By

Finally, we have the details of Brian McCann's vesting option, courtesy of Joel Sherman. The option for 2019 is worth $15M and vests with 1,000 plate appearances from 2017-2018, 90 games as a catcher in 2018, and if he's not on the DL at the end of 2018. All of those conditions must be met. If the option vests, McCann can void it and become a free agent. For all intents and purposes, he must still be a starting catcher in 2018 for the option to kick in. Pretty sweet deal if you ask me. · (14) ·
By

Via Jeff Passan: The Yankees are taking a hard line with Robinson Cano and will not push their contract offer up to $200M. The two sides met face-to-face several times last week and Robbie's camp asked for a nine-year, $250-260M deal. "They are not going to go to $200M, period," said a source to Passan while Mark Feinsand hears they remain "oceans apart."

The offseason is still relatively young and Cano has yet to receive an offer from another team, at least as far as we know. That could change in an instant. The Nationals could make a push and I won't believe the Dodgers are out of it until Cano signs his next contract. For now, the Yankees and their second baseman are locked in a high stakes game of hot stove chicken. At some point someone will cave — either the team will raise their offer or Cano will lower his demands. I don't think either of those things will happen anytime soon. · (194) ·
By

The Yankees have officially signed Brian McCann to a five-year contract with a vesting option for a sixth year, the team announced. He has passed his physical and all that. "The singular and unwavering desire of this organization is to construct a team each and every season designed to play meaningful baseball deep into October … Our work this offseason has just begun, but we feel this is an important step towards what will be an exciting and rewarding 2014 season for our fans," said Hal Steinbrenner in a statement.

McCann will be introduced at a press conference on Thursday, which will be broadcast on YES. I'm pretty sure it will be their first press conference to introduce a new player since Mark Teixeira Rafael Soriano. Been a while. The 2014 Draft Order page has been updated. · (37) ·
Forty-three players joined the free agent pool at midnight last night — including three Yankees (David Adams, Jayson Nix, Matt Daley) — when the non-tender deadline came and went. Here's the full list. Most non-tendered players are spare parts not really worth carrying on the 40-man roster all winter, but some are legitimate big leaguers whose projected salary had eclipsed their on and off field value.
The Yankees grabbed Russell Martin three years ago after he was non-tendered and last winter they made a play for Nate Schierholtz before he signed with the Cubs. This year they're seeking pitching help, both in the rotation and the bullpen, though the non-tender market very rarely offers quality starting pitchers. Bullpen help is plentiful though, and an interesting crop of relievers became free agents last night. Here's a quick rundown of four newly available bullpen arms who could help New York as they seek a late-inning reliever to pair with David Robertson (and Shawn Kelley).
John Axford
I'm listing these guys alphabetically but it's fitting we start with Axford, who spent 2007 bouncing around New York's farm system before being released, tightening up his mechanics, and having lots of success with the Brewers. Years of hefty saves totals beefed up his salary and the Cardinals walked away rather than pay him upwards of $6M to be a seventh inning reliever in 2014. Not a bad idea given all their young power arms.
Axford, 30, had a 4.02 ERA (4.34 FIP) in 65 innings this past summer. His fastball still sits in the mid-90s and he still backs it up with a nasty curveball that allows him to miss bats (9.00 K/9 in 2013 and 10.82 career) and get an okay amount of ground balls (45.3% in 2013 and 46.9% career). Axford walks a fair amount of guys (3.60 BB/9 in 2013 and 4.05 career) and will occasionally lose the strike zone all together, plus he's very homer prone, especially these last two years (1.34 HR/9 and 18.2% HR/FB). When he makes a mistake, it gets hit out of the park. That's not exactly a desirable trait for a late-inning reliever.
I think there's a good chance another club will offer Axford — who will remain under team control as an arbitration-eligible player through 2016, by the way — a closing job, which could put the Yankees at a disadvantage unless they promise him the ninth inning over Robertson. The homer problems are very scary but outside of Grant Balfour, Joe Nathan, and Brian Wilson, I'm not sure there's a better combination of power stuff and late-game experience out there. The Yankees signed Axford as an undrafted free agent back in the day, so they know him pretty well and there's some kind of relationship already in place.
Ronald Belisario
After missing the 2011 season due to drug-related visa problems, the 30-year-old Belisario has been workhorse in Don Mattingly's bullpen. He's pitched to a 3.24 ERA (3.36 FIP) in 139 innings over the last two years while relying on a heavy mid-90s sinker that has gotten a ground ball 62.8% of the time. The sinker doesn't really miss bats (7.60 K/9) and location can be an issue at times (3.69 BB/9), but at least he keeps the ball in the park (0.39 HR/9 and 9.2% HR/FB) and can hold his own again lefties (.320 wOBA against). Like Axford, Belisario would remain under team control as an arbitration-eligible player through 2016, though he figures to come much cheaper as a non-former closer. I was surprised to see the Dodgers non-tender him (that makes me wonder what they know that everyone else doesn't) but Belisario a versatile and durable reliever, and that's something every team needs.
Ryan Webb
I've always liked Webb, who is a classic "the results don't match the stuff" guy. His low-to-mid-90s two-seamer runs all over the place and his low-80s slider looks like it should miss bats, but batters have consistently squared him up. Since landing with the Marlins three years ago, Webb has a 3.34 ERA (3.50 FIP) in 191.1 innings with a very good ground ball rate (56.0%) but unimpressive strikeout (6.07 K/9) and walk (3.15 BB/9) rates. His platoon split is manageable (.321 wOBA against lefties and .296 against righties). Pitching coach Larry Rothschild has a history of improving strikeout rates, so maybe he could help Webb turn that nasty stuff into better results. At worst, he's a decent middle reliever, but I think the 27-year-old has some untapped potential and is something of an upside play.
Wesley Wright
With Boone Logan likely leaving as a free agent, the Yankees figure to cast a wide net and target a bunch of lower cost players to compete for the lefty reliever spot. Wright, 28, is a pure specialist, holding lefties to a .228/.313/.342 (.296 wOBA) line in his career while righties have tagged him for a .263/.356/.500 (.367 wOBA) line. His strikeout (10.42 K/9) and ground ball (55.3%) rates against same-side hitters are very good despite a soft upper-80s fastball and low-80s slider. Wright has been around for a while and figures to get a guaranteed contract somewhere, and that might not jibe with what New York wants to do at this position. I get the sense they'll add some pieces via waivers and minor league deals and see what happens in camp between Cesar Cabral, David Huff, and whoever else. If they are willing to sign someone to a low cost big league deal, Wright could be the guy.
* * *
Some of the big name non-tenders like Andrew Bailey (shoulder capsule) and Daniel Hudson (Tommy John surgery twice in the last 17 months) come with major injury concerns and aren't expected to be healthy enough to pitch until the second half of the season at the earliest. Given the nature of their injuries, I think 2015 is a more realistic target for a return. Others like Tommy Hanson and Dan Bard are too far removed from consistent success to warrant anything more than a minor league contract at this point. Everyone loves a good reclamation project, but the Yankees need healthy players who can actually help them come Opening Day right now given the state of the roster. Once they've brought in a few of those, they'll be in better position to roll the dice on guys with something to prove.