We've got 15 questions in the mailbag this week. Remember to use the RABmailbag (at) gmail (dot) com email address to send us anything throughout the week. Questions, comments, links, whatever.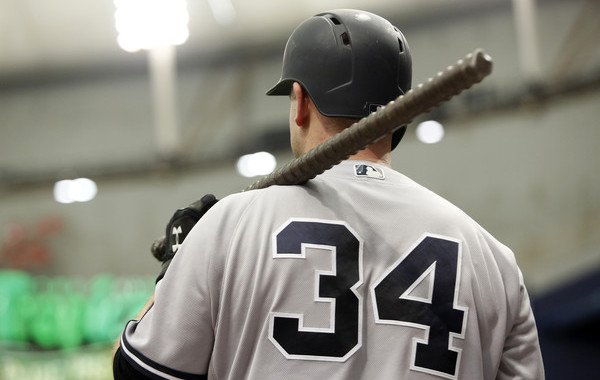 Chris asks: Do you think the White Sox could be a potential landing spot if the Yankees want to trade McCann? Obviously, McCann would need to waive his no-trade clause. The White Sox seem intent on competing and really need a catcher.
Interesting. I hadn't thought about that. Chicago's catching depth chart is capital-U Ugly. Look at this, from the team's official site:
Alex Avila signed a one-year deal last offseason and will become a free agent after the World Series. Omar Narvaez hit .239/.291/.314 (74 wRC+) between Double-A and Triple-A and isn't ranked among the team's top 30 prospects according to MLB.com. Kevan Smith is a 28-year-old rookie who hit .219/.291/.399 (98 wRC+) while repeating Triple-A this season. So yeah, the ChiSox need catching.
Brian McCann would certainly fit with the White Sox given their roster and needs. Would he accept a trade to Chicago? Who knows. McCann might not even know right now. The bigger question is what can the ChiSox send to New York? McCann for David Robertson crossed my mind, but I think you need more back. I've said this before, but I wouldn't trade McCann for the sake of trading him. Having two starting caliber catchers is quite a luxury.
If the White Sox want McCann, I'd focus on Carlos Rodon. The Yankees can (and would have to) add pieces to make it work, but that's the guy I'd focus on. A young lefty starter with five years of team control and upside. McCann would be massive upgrade behind the plate for the ChiSox and he'd bridge the gap nicely to Zack Collins, a catcher and their first round pick this year. Outside Rodon, I'm really not sure what else Chicago has to offer. I'm not trading McCann for two or three Grade-B prospects.
Paul asks (short version): Cashman said: "Ultimately, we know when the dust settled, when it's all said and done, the 2016 season did not achieve the stated goal, which was the first get to the playoffs and try to compete for a championship in October." Am I reading too much into him saying the objective is playoffs first, then -compete- for a championship?
Yes, you're reading too much into it. Based on Brian Cashman's tone during his press conference, it was clear winning the World Series is the priority, and getting to the postseason is step one. Both Cashman and Joe Girardi were asked whether the "World Series or bust" mentality has to change as the Yankees go through this rebuild transition, and both emphatically said no. While I understand the merits of a full blown Astros style tear down, I do appreciate the Yankees refusing to be an abject embarrassment on the field. This past season was their worst in a long time, and they still won 84 games. We're spoiled.
P.J. asks: With basically all of the "expensive" contracts off the books after the 2017 season. What are the chances that the Yankees might be willing to eat a portion of what's remaining on Ellsbury's deal $65MM+/- to move him?
I don't know what the chances are, but I do think the Yankees would be more receptive to eating money to move Jacoby Ellsbury once they shed some more payroll. Mark Teixeira is gone this year, and next year CC Sabathia and Alex Rodriguez's contract will be gone too. Maybe Masahiro Tanaka as well. With all that money going away, eating say $10M to $15M a year to move Ellsbury may be more palatable. There will only be three years left on his contract after next season too, so they might not have to eat $65M. It might only be $30M.
Michael asks: If Gardner gets traded this off season, who do you think starts in left to start 2017?
My guess is the Yankees would go with Aaron Hicks and Mason Williams in some sort of timeshare, with Rob Refsnyder and Tyler Austin getting a look out there in Spring Training for show. Clint Frazier is the obvious long-term solution out there, though eventually Ellsbury is going to have to move to left — a move is inevitable, center field is a young man's position, not somewhere you stick a guy in his mid-30s — so it's possible Frazier could end up in center long-term with Ellsbury in left. Frazier has the speed for center. To start next year though, Hicks and Williams with a little Austin and Refsnyder mixed in is my bet.
Dan asks: If the Yanks trade away a veteran bat, what do you think of them going after Moss or Valbuena? Both have lefty pop and position versatility. They shouldn't cost that much, and probably won't have have a QO attached.
Either guy could work. Both can play first base, but Luis Valbuena has the advantage of being able to play third base. Poorly, but he can play it. Brandon Moss can play the corner outfield spots, and while that's not nothing, the Yankees are pretty well covered there. Here are their 2016 numbers:
Valbuena: .260/.357/.459 (123 wRC+) with 13 homers, 12.9% walks, 23.7% strikeouts
Moss: .225/.300/.484 (105 wRC+) with 28 homers, 8.4% walks, 30.4% strikeouts
Valbuena only played 90 games this season because of a hamstring injury, otherwise he would have cleared 20 homers rather easily. He doesn't have Moss' power, but he's a better all-around hitter because he makes more contact and draws more walks. Valbuena's on-base ability would be a welcome addition to a lineup that needs more OBP.
Part of me thinks the Astros will slap the qualifying offer on Valbuena. The crop of free agent third basemen is so bad — it's basically Justin Turner and that's it — that there could be quite a bit of competition for Valbuena. He'd give the Yankees protection at the corner infield spots and another DH option. Could be a nice fit. I really have no idea what it'll cost to get him though. Chances are more than you think. That's a good rule of thumb these days.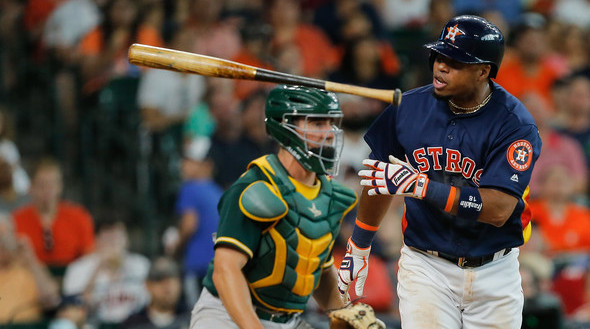 Pounder asks: Ian Kennedy. I know his contract is a financial mine field, should we consider trading for him?
Kennedy will turn 32 in December (we're all old and going to die soon) and he had a nice year with the Royals, pitching to 3.68 ERA (4.67 FIP) in 195.2 innings. He's owed $62.5M through 2020 and he can opt-out next offseason. Doing so would leave three years and $49M on the table. I think you have to assume he won't opt-out right now. You have to plan for that money to be on the books.
Anyway, I'm going to say no to Kennedy because he's such an extreme fly ball pitcher. He had a 33.2% ground ball rate this season and his career rate is 37.4% in over 1,400 innings. This is who he is. The Yankees have a chance to field a pretty good defensive outfield next season, but the big concern is home runs. Kennedy had a 1.52 HR/9 this past season. It was 1.66 HR/9 the year before. Only once in the last five years has he had a sub-1.20 HR/9. Put him in Yankee Stadium and it could get ugly. I don't see Kennedy as a fit because his fly ball tendencies and the ballpark don't mix.
Doug asks: Tyler Austin.What do you see for his Yankee future? After his walk-off I think he struck out 10-11 times in a row? I saw him getting pull happy and he didn't touch a ball. He missed everything by 4-10 inches while trying for left field. Joe sat him for two weeks and he came back with his opposite field stroke!
Last year at this time Austin was a non-factor. Now he at least has a chance to be part of the Yankees going forward. I think we learned two things about Austin during his relatively short big league time: his opposite field power is very real, and he should be limited to first base defensively. You can run him out there in right field if necessary, but he's not an everyday option out there. He looked rather Trumbo-esque in right.
I see Austin as a good role player, not a cornerstone piece. He complements Greg Bird well at first base and he could also get at-bats at DH. Play him at first base everyday and Austin will probably leave you wanting more. Play him, say, half the time or two-thirds of the time, and he could really help. I guess that makes him a Mark Reynolds type? Less power, fewer strikes, but same general role. It'll be interesting to see how Austin and Bird co-exist at first base next season.
Dan asks: I was just reading the MLB.com prospect page and noticed that Vicente Campos in No. 3 on their list (!!!). Is the Dbacks farm system really that bad or did we really overpay for Tyler Clippard?
No, their farm system is really that bad. Probably the worst system in baseball besides the Angels. I don't remember where Campos ranked on the Yankees' list before the trade, but it was in the 20s somewhere. That was before the trade deadline moves beefed up the farm system too. Campos got called up in September and threw a handful of innings for the Diamondbacks before suffering a fracture in his elbow. He needed surgery and will miss eight months. Brutal. Poor guy has really good stuff, but he can't stay on the field. At least he's on the Major League disabled list and will pick up service time and big league salary while rehabbing next year.
Frank asks: How much say do the Yankees have in how much their players play in AZ? One would think they'd want Bird to play everyday to get AB's. And is Tebow stealing AB's something other teams would get upset about – or are they just happy ESPN is covering the team because he is playing?
Total control, essentially. Each Arizona Fall League team includes prospects from five MLB organizations, and those organizations get together ahead of time and pick positions. They negotiate the roster spots and then pick players accordingly. The Mets had a starting outfield spot and used it on Tim Tebow. He's not taking at-bats away from players in other organizations. I'm sure the Yankees lobbied hard for a first base/DH spot for Greg Bird's rehab. It's not like the Yankees sent Gleyber Torres to the AzFL and hope he'll get time at second base. They already knew that spot is open when they picked him for the roster.
Tom asks: What do you think about trading Headley, moving Castro to third, and signing Utley?
Eh. Two or three years ago I was in favor of acquiring Chase Utley, when the Yankees were cycling through guys like Brian Roberts and Stephen Drew. Utley will be 38 in December and while he still plays super hard and gives a quality at-bat, he basically stopped hitting in May. I'm talking .236/.292/.381 (83 wRC+) after June 1st. Can't hit lefties either (27 wRC+). Chase Headley is a better player at this point. I'd sign Utley as an emergency stopgap only. I wouldn't trade Headley to make room for him.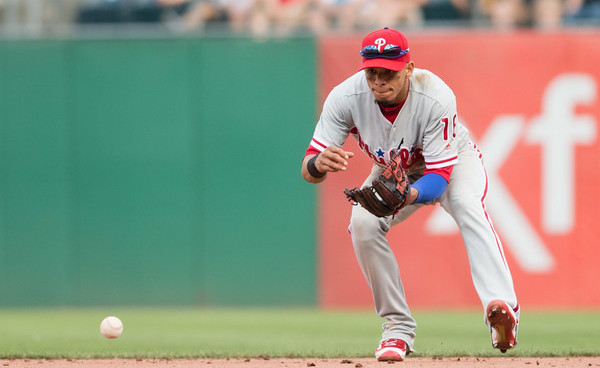 Torrey asks: I saw an article recently about how Cesar Hernandez is the type of young, improving player the Yankees should target. He doesn't hit for much power but he has good contact skills, gets on base, has speed and seems like a good number 2 hitter. Would be fit with the Yanks? If so, what do you think it would take to acquire him?
Hernandez is a nice little player and one of the league's best kept secrets. The 26-year-old switch-hitter put up .294/.371/.393 (108 wRC+) batting line with lots of walks (10.6%) and not an excessive amount of strikeouts (18.6%) in 2016. Add in quality second base defense and the guy was a +3 WAR player in 2016. (+4 WAR per FanGraphs.) He's not going to hit for power. That's the biggest knock against him.
The Yankees could put Hernandez at second — he has shortstop skills but lacks the arm for the left side of the infield — and slide Starlin Castro to third, where I think he'd do well. That'd allow them to flip Headley elsewhere. I'm not sure what the Phillies would want for Hernandez, but he'd give the Yankees some much-needed on-base ability in addition to improved up-the-middle defense. I like the idea. I doubt the Phillies will give him away cheap though.
Mike asks: I have three Rule 5 questions: 1) If a team loses a player in the draft can that team withdraw their remaining eligible players from the draft? 2) And if the team cannot remove their eligible players but have lost a player in the draft can that team move a player from the eligible list to their 40 man roster, thus "saving" at least one player from the draft? 3) Can a team with a full 40 man roster draft a player in the Rule 5 pool if they lost a player in the draft and their roster is then at 39?
Consider this a quick Rule 5 Draft primer. Here are the answers to Mike's questions:
No. There's no limit to how many players you can lose. The Yankees lost four players in the 2008 Rule 5 Draft, for example (Reegie Corona, Zach Kroenke, Jason Jones, Ivan Nova).
No. If the player is not added to the 40-man roster by the deadline, usually November 20th, he's eligible for the Rule 5 Draft. You can't add him later.
No. You can't lose a player off your 40-man roster in the Rule 5 Draft. Only non-40-man players are eligible. If you have open 40-man spots, you can pick a player. If not, then you can't.
Generally speaking, college players from the 2013 draft and high school/international kids signed in 2012 are Rule 5 Draft eligible this offseason. If those guys are not on the 40-man roster, they can be picked in the Rule 5 Draft. This is a way to give players an opportunity in the big leagues. The MLBPA doesn't want teams to be able to stash guys in the minors forever.
John asks: The Giants. While their system is thin, could they have (reasonably) put together a MLB/MiLB package for Chapman or Miller that you would have preferred over the deals the Yankees did make?
Sure, if they were willing to trade Joe Panik or one of the Brandons (Crawford or Belt). That wasn't going to happen, obviously. The Giants actually had five players on Baseball America's midseason top 100 prospects list, but all five were on the back half of the list. Give me quality over quantity. I'd rather get one top notch prospect like Frazier or Torres (plus stuff) than two second tier guys (plus stuff). Riskier? Sure. But the Yankees have prospect depth already. Give me the upside.
Travis asks: With the Giants losing because of the bullpen implosion and the fact they wouldnt part with Panik for Miller, I wonder if the Yankees could get the Giants to part with Panik plus others for Betances?
I assume the Giants are just going to throw money at their bullpen this offseason. Why trade Panik for Dellin Betances when you could sign Aroldis Chapman or Kenley Jansen or Mark Melancon? San Francisco is a high payroll team — they've been top five or six in payroll for several years now — and they have a lot of money coming off the books this winter (Jake Peavy, Angel Pagan, Sergio Romo, Santiago Casilla, Javier Lopez). Spending big for a closer doesn't figure to be an issue. There's always room for another great reliever in the bullpen, but I'd be surprised if the Giants parted with Panik to make it happen. They're smart. The ninth inning meltdown the other night won't push the front office to make a knee-jerk move.
Bobby asks: I'm confused about what teams owe guys who are up for arbitration. If the Yankees cut Eovaldi, for example, are they on the hook for anything or because he hasn't signed a free agent deal does he have nothing guaranteed to come his way?
They don't owe him anything. Nathan Eovaldi, like most pre-arbitration and arbitration-eligible players, was on a one year contract that expires after the end of the World Series. The Yankees control his rights for next season, that's why he won't become a free agent, but they figure to non-tender him because he's going to miss 2017. Players signed to multi-year contracts are owed the balance of their contracts if they're released. Guys on one-year deals have nothing coming to them.