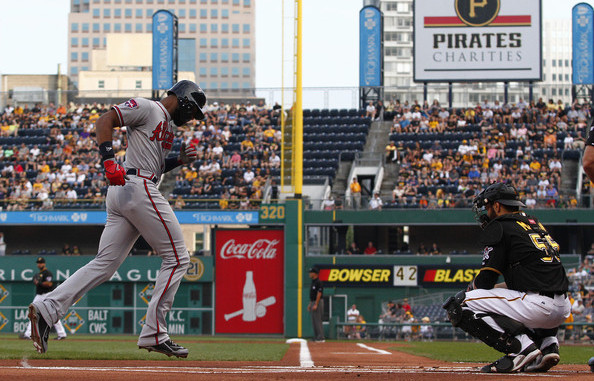 Yesterday was the busiest day of the offseason so far but the Yankees were not directly involved with anything. Every move in baseball indirectly impacts every other team in some way though, plus one of New York's division rivals made a major addition, so it's not like yesterday's two moves don't matter to the Yankees. Anyway, here are some miscellaneous thoughts:
1. I think the Jason Heyward trade makes a potential Justin Upton to the Yankees trade much less likely. (To be clear, that was never rumored, I just hoped and prayed it would happen.) That doesn't mean there's no chance of it happening, but it was a long shot to begin with, and the odds just got even longer. Braves quasi-GM John Hart has made it clear he's seeking pitching this winter and the Yankees don't have much of that to give up. One year of Heyward cost four years of Shelby Miller, and I assume Upton will be similarly priced. Unless the Bombers are willing to part with Michael Pineda, I can't see it. (Aside: Am I the only one who thinks the Cardinals giving up on Shelby Miller, who they shopped aggressively last offseason, is a red flag? Miller wasn't all that good this year and St. Louis knows pitching. They might have serious concerns about his long-term outlook.)
2. The Russell Martin signing is a pretty nice upgrade for the Blue Jays, who finished only one game behind the Yankees in 2014. Martin's probably never going to hit like he did this past season again — he put up a .290/.402/.430 (140 wRC+) line for the Pirates this year — but he had a 99 wRC+ from 2011-13 and is an exception defensive catcher. Toronto's backstops had an 87 wRC+ in 2014 and were terrible at throwing out base-runners (only 20%) and framing pitches. Martin is an upgrade in every way for them and that hurts the Yankees' chances of contention going forward. Don't get me wrong, Martin's not a bargain, the Blue Jays paid top dollar to get him — five years and $82M, more or less Brian McCann's deal — but an upgrade is an upgrade, and the Jays made what should be a significant one yesterday.
3. The Cubs had been pursuing Martin before he agreed to sign with Toronto and I suppose that could put them in the trade market for a catcher. They have a decent backstop in Wellington Castillo, so it could be they will go forward with him and were only pursing Martin because they think so highly of him. If they are in the trade market for a catcher, the Yankees could offer John Ryan Murphy as part of a package for an infielder, but he wouldn't be the centerpiece. I highly, highly, highly doubt there's a McCann deal to be made. Chicago was reportedly offering Martin four years and $64M, which is approximately what's left on McCann's deal (four years and $68M), but McCann wasn't all that good this past season and Martin was. McCann's no-trade clause would be an obstacle as well. Maybe the Cubbies really like Murphy. Otherwise I expect them to go after a lower priced veteran catcher if they pursue one at all.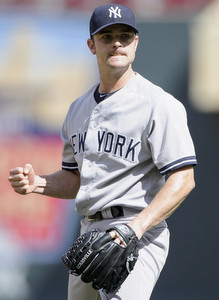 4. For whatever reason, I am not at all confident the Yankees will re-sign David Robertson. I'm probably still scarred from Robinson Cano leaving last year. That was a bit different though. The Mariners made it very easy to say goodbye to Robbie with that contract. Something tells me Robertson will get a pricey but not insane contract the Yankees should totally match or beat, but won't. I've got this terrible feeling that it will all play out similar to Martin's free agency a few years ago. He hits the market, the Yankees talk about having interest in re-signing him, then bam, he agrees to contract with another club before New York even makes an offer. I dunno, maybe I'm just paranoid. Re-signing Robertson seems like a such an obvious move yet it hasn't happened yet and that worries me.
5. So, with Martin and Victor Martinez signed, the Yankees are currently slated to have the 17th overall pick in next June's draft. That is obviously still subject to change pending the other nine unsigned qualified free agents (including Robertson). The Yankees last picked that high back in 2005, when they took Oklahoma high school shortstop C.J. Henry with the 17th overall selection. Before that, you have to go all the way back to the 1993 draft to find the last time they picked that high. (The Yankees took Florida high school righty Matt Drews 13th overall in 1993.) I think the Yankees will keep their first rounder this offseason but that could always change in a heartbeat. Ownership could decide to sign Nelson Cruz out of the blue a la Rafael Soriano or something. That said, it's not unrealistic to think the Yankees could end up with a top 15 draft pick in 2015. All it takes is two more qualified free agents changing hands, and I would bet on Hanley Ramirez and Max Scherzer wearing something other than a Dodgers and Tigers jerseys next year, respectively.
Update: I should note that because of protected picks, the Yankees will only climb into the top 15 if the Rays, Marlins, Padres, Braves, and/or Brewers forfeit picks to sign free agents. Possible but unlikely.
6. Thursday is the deadline for teams to set their 40-man rosters for the upcoming Rule 5 Draft. The Yankees have four open spots on the 40-man but could easily open a few more by jettisoning Zelous Wheeler, Esmil Rogers, David Huff, and/or Eury Perez. Among the team's Rule 5 Draft eligible players this winter are Matt Tracy, Mark Montgomery, Cito Culver, Angelo Gumbs, Mason Williams, Kyle Roller, Danny Burawa, Tyler Austin, Branden Pinder, and Zach Nuding. Austin is the only one I feel 100% confident the team will protect, though I also expect the Yankees to protect two or three of those bullpen arms. Maybe Pinder and Burawa. Adding Williams to the 40-man just feels like something the Yankees would do too. They've been … let's so proactive at protecting former top prospects in recent years, like Jose Campos last year. Williams has done nothing to earn a 40-man spot, but he was arguably the top prospect in the organization two years ago. If another team wants to see if he can stick as a fifth outfielder, fine, let them. I have no reason to think he can. The Yankees have those four open 40-man spots and I think they'll use all of them, which means they'll have to open other spots when they make moves later in the offseason.