By

Via Kyodo: The Hiroshima Carp are still undecided whether they will post ace right-hander Kenta Maeda this offseason. "We have the right. We would like to let him go, but based on his production this year it will be difficult," said owner Hajime Matsuda, referring to Maeda's disappointing year. Maeda recently told reporters in  Japan that he would prefer to play for the Yankees or Red Sox next year.

Maeda, 26, had a 2.56 ERA and a 154/40 K/BB in 179 innings this past season, and all reports indicate he is not on par with guys like Masahiro Tanaka and Yu Darvish. He's more of a mid-to-back of the rotation arm. This could be posturing on Matsuda's part — remember, the Rakuten Golden Eagles said they were unsure they would post Tanaka last winter — though I'm not sure what they'll gain. The maximum release fee is $20M and it seems they'll get that easily despite Maeda's substandard year. Either way, I don't expect the Yankees to get involved if the bidding reaches $100M to $120M as speculated. · (33) ·
Yesterday we looked at the Yankees' five biggest hits of the season, so now it's time to turn around and look at their five biggest outs. Not offensively, defensively. These are the most important outs the pitching staff and the defense recorded this past season. Again, we're going to use win probability added (WPA) because it's nice and easy. Perfect? No. Good for an exercise like that? You bet.
Unlike big hits, big outs are a little less dramatic. Watching an outfielder catch a fly ball or a second baseman field a routine grounder isn't as exciting as watching a hit fall in and someone run around the bases in a big spot. But outs are important too, and given all the close games the Yankees played this year, they had more than their fair share of important outs. Here are the 2010 and 2012 biggest outs posts. I guess I never did one for 2011 and 2013. I'm such a slacker.
t-5. May 9th: Warren, McCann team up for strike 'em out, throw 'em out double play (video, 1:27-1:35)
t-5. August 7th: Shane Greene gets Victor Martinez to bang into twin killing (video above, 0:51-0:59)
Once again, we have a tie for fifth place. And, technically, each one of these plays involves two outs because they're double plays, but we'll count them as one to make life easy. The Yankees led the May 9th game against the Brewers by the score of 4-2 in the seventh inning when Masahiro Tanaka allowed back-to-back one-out singles. In came Warren, who helped escape the inning by fanning Overbay, his ex-teammate. Jordan Schafer was running on the pitch and McCann threw him out. Beautiful. A little less than three months later, Greene had runners at the corners with one out in the sixth inning against the Tigers. The Yankees were nursing a 1-0 lead at a time when they were weren't scoring a whole lot of runs. Martinez, who finished third in MLB with a 166 wRC+ this season, jumping on an 0-1 sinker and banged into an inning-ending 4-6-3 double play. Both double plays were worth +0.19 WPA.
4. May 11th: Warren strikes out Overbay (no video)
Same series, same matchup, different game. In the series finale in Milwaukee, the Yankees and Brewers were tied at 5-5 in the bottom of the ninth after Mark Teixeira clubbed a game-tying solo homer off Francisco Rodriguez in the top half. Overbay stepped to the plate with a runner at third and one out after Rickie Weeks doubled and moved to third on a wild pitch. All Overbay needed to do was hit the ball in the air and the game was over. Instead, Warren threw him five straight changeups (!) and got him to swing through three of them for the big strikeout. There's no easily accessible video anywhere but I assure you it looks like almost every other "left-handed batter swinging over a right-handed changeup" you've ever seen. The strikeout was the second out of the inning and it registered +0.20 WPA, but ultimately it didn't matter. Two pitches later, former Yankee Mark Reynolds singled through the left side of the infield for the walk-off win. Wah wah.
3. July 29th: David Robertson gets Adrian Beltre to fly out
This was either the best worst game or the worst best game of the season. I can't decide. The Yankees were up 1-0 after one inning. Then they were down 3-1 after three innings. Thanks to a seven-run sixth and a two-run seventh, they had a nice 10-4 lead. Then the Rangers scored four runs in the bottom of the seventh to make it 10-8, but that was fine, the Yankees scored two more in the top of the eighth to stretch their lead to 12-8. Texas scored a run in the eighth and the Bombers took a 12-9 lead into the ninth.
Robertson started the ninth with a strikeout (cool!) before Leonys Martin slapped a one-out single (no!). Then Robinson Chirinos drew a walk to bring the tying run to the plate. Yuck. Rougned Odor moved the runners up with a ground out, then Robertson walked Shin-Soo Choo to load the bases because that's pretty much the only thing Choo does. Elvis Andrus followed with a single to center, scoring Martin and pinch-runner Dan Robertson to cut the lead to 12-11. Alex Rios drew a walk to reload the bases and set things up for Beltre. Robertson did get ahead in the count 0-2 on Beltre, but three straight balls followed. Bases loaded, two outs, bottom of the ninth, full count … and Beltre unloaded on an inside fastball. I thought it was gone off the bat. I really did. Instead, Brett Gardner retreated in left, turned back towards the infield, and caught the routine fly ball for the 27th out. Ex-frickin-hale. That fly ball was worth +0.27 WPA.
2. August 3rd: Robertson gets lucky
They say it's lucky to be better than good, but sometimes you have to be both. The Yankees and Red Sox were playing one of their typical ESPN Sunday Night Games, which meant a back and forth game with a lot of runs that somehow resulted in a one-run game in the ninth. This time the Yankees were on the good end of that one-run lead. Robertson came in to protect an 8-7 lead and immediately walked the leadoff man — light-hitting rookie catcher Christian Vazquez — on four pitches. Not ideal.
Luckily for Robertson, the Red Sox and Chase Headley bailed him out. Brock Holt sliced a hard line drive to left field, but Headley was perfectly positioned and snared what looked like a double into the corner off the bat. Pinch-runner Mookie Betts took off on the pitch, so Headley was able to double him off first base easily. The twin-killing was worth +0.28 WPA. Robertson got Dustin Pedroia to ground out weakly to second base to end the game as the next batter, preserving the win. He's pitched his way out of so many jams over the years. About time the defense paid him back.
1. August 7th: Robertson get a double play from Miggy
That's right, two of the Yankees' five (well, six, really) biggest outs of 2014 came in the same game, in the span of about four innings. Greene made that 1-0 lead stand up through eight innings, but Joe Girardi send him back out for the ninth and he allowed a first pitch leadoff single to Ian Kinsler. That ended Greene's afternoon and brought Robertson into the game.
Once again, Robertson walked the first man he faced, though this time it was a good hitter (V-Mart) on five pitches instead of a bad hitter on four. Miguel Cabrera, who was not in the starting lineup that day due to his various nagging injuries, came off the bench to pinch-hit for J.D. Martinez. Even with those injuries, it was not exactly a comfortable situation. Robertson left a fastball out over the plate to Cabrera, but he hit the top of the ball and grounded it back up the middle. Second baseman du jour Brendan Ryan fielded it cleanly, stepped on second for the force, then fired to first for the double play. Here's the WPA graph:

Source: FanGraphs
That little spike in the ninth inning is the walk to V-Mart and the double play. The double play ball was worth +0.31 WPA, which is pretty ridiculous for a pair of outs. It takes a lot to record a high WPA on a defensive because the odds are always in favor of an out being made. Kinsler moved to third on the play and was stranded there when Don Kelly lined out softly to Ryan to end the game as the next batter. No surprise that Robertson was on the mound for the three (really five) biggest outs of the year. His job is to get precisely those outs.
This is your open thread for the rest of the evening. The Royals and Orioles should be wrapping up Game Four of the ALCS right about now (on TBS), and later tonight the Giants and Cardinals will play Game Four of the NLCS (8pm ET on FOX Sports1). None of the local hockey or basketball teams are playing. Talk about the two LCS games or whatever else is on your mind right here.
By

Wednesday: The Yankees will indeed interview Magadan for the hitting coach job, according to King. He was scheduled to be in New York today for the interview. It's unclear when Davis will interview for the position.

Tuesday: According to John Hickey, the Yankees will interview Athletics hitting coach Chili Davis for their vacant hitting coach position. Davis confirmed he'll soon travel to New York for the interview. He was mentioned as a candidate for the job recently. The 54-year-old Davis has been Oakland's hitting coach since 2012, and before that he was a minor league hitting instructor with the Dodgers and Red Sox. He played 19 years in the big leagues and finished his career with the Yankees from 1998-99.

The Yankees are also talking to Rangers hitting coach Dave Magadan about the position, according to George King and Joel Sherman. "I have been called about that, it's in the preliminary stages and that's all I can say about it," he said. Magadan, 52, has been Texas' hitting coach since 2012. He held the same job with the Padres (2003-06) and Red Sox (2007-11) in the past. Magadan played 16 years in the show, including his first seven with the Mets. Both he and Davis are well-regarded around the game and that's pretty much all I know about their coaching skills. · (182) ·
At this time last year, we were all exciting about penciled Ivan Nova into the 2014 rotation. His 2011-13 seasons were filled with ups and downs — including send-downs to Triple-A Scranton and call-ups to MLB — but he pitched very well in the second half last season and was a bright spot as the team faded from postseason contention. Nova had a 2.59 ERA (3.30 FIP) in his final 15 starts and finished the year with a 3.10 ERA (3.47 FIP) in 139.1 innings.
Nova, along with Hiroki Kuroda, was supposed to be a rock in Joe Girardi's rotation this year. CC Sabathia was coming off the worst season of his career and no one really knew what to expect from Masahiro Tanaka and Michael Pineda. Nova came to camp guaranteed a rotation spot for the first time of his career and, in fact, the Yankees even started him in the third game of the season, ahead of the high-priced Tanaka. That was as much about easing Tanaka's transition as it was a vote of confidence in Nova.
In retrospect, that first start of the season was a sign something was not right. Nova held the Astros to two runs in 5.1 innings but it was a brutally tough outing — he walked five batters, struck out one, threw 47 of 88 pitches for strikes (53%), and got only one swing and miss. He labored against a bad team all night. Next time out, the Orioles clobbered Nova for seven runs on ten hits in only 3.2 innings. With a Game Score of 16, it was the third worst start of his career.
It looked like the bad version of Nova had returned. The guy who had a 5.02 ERA (4.60 FIP) in 2012 and earned midseason demotions to Triple-A in both 2011 and 2013. Then, right on cue, Nova threw a gem, holding the Red Sox to two runs in 7.1 innings. He struck out four, got 14 ground ball outs, and threw 67 of 97 pitches were strikes (69%). Nova did allow eight hits and had to battle for those 7.1 innings, but it was a strong start and what we all wanted to see after those two ugly outings to start 2014.
Nova's fourth start of the season wound up being his last and it was a total disaster. The Rays battered him at Tropicana Field, scoring eight runs on eight hits in only four innings of work. Four of those eight hits left the yard and another was a double. Tampa Bay squared Nova up with ease. It was ugly. Girardi came out of the dugout not to pull his right-hander because of ineffectiveness, but with the trainer because there was a sign of injury. Here is Nova's final pitch of the 2014 season: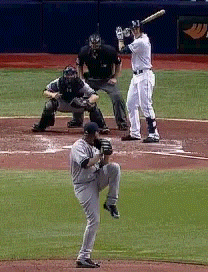 That little shake of the arm after the pitch is what got Girardi's attention and forced Nova out of the game. He went for a series of tests and opinions and they all showed the same thing: a partially torn ulnar collateral ligament in his elbow. Not a complete tear but large enough that Tommy John surgery was recommended. He underwent his elbow reconstruction on April 29th.
Nova finished the season with an 8.27 ERA (6.91 FIP) in four starts and 20.2 innings, but the numbers don't really mean much of anything. He could have been pitching with soreness or pain in his elbow all year — Nova tried to talk Girardi into staying in the game in Tampa, so he's not one to give up the ball easily — which certainly could have hurt his performance. Heck, Nova could have been pitching with the partial tear and not even have known it. There might have been no soreness or anything until that last pitch.
A few weeks ago we heard Nova has started a throwing program and is right on schedule with his rehab. He obviously has a long way to go before rejoining the team, and both Girardi and Brian Cashman have said they won't be aggressive and try to get Nova back as quickly as possible. They're going to let him rehab at his own pace, which makes sense. Far too many pitchers (Brandon Beachy, Kris Medlen, Cory Luebke, Jarrod Parker, Jonny Venters, etc.) needed a second Tommy John procedure in recent months to push him.
This was a lost year for Nova, who still has yet to have a full season in the Yankees rotation, from start to finish. He won't have that full season next year either giving the time of his injury, which means the 2016 season will be his only chance to be a full-time starter all year before qualifying for free agency. The injury hurt the team and it was also a big blow to Nova at an important point in his career. This year was a great chance for him to cement his place in the future of the Yankees going forward. Baseball ain't fair sometimes.
By

Baseball America's look at the top prospects in each minor league continued on Wednesday with the Triple-A Intentional League, the last list relevant to the Yankees. The list is free, the scouting reports are not. Pirates OF Gregory Polanco, Red Sox IF/OF Mookie Betts, and Indians SS Francisco Lindor fill the top three spots. Triple-A Scranton didn't have a ton of top prospects this year, though 2B Rob Refsnyder did made the list at No. 13.

"Refsnyder's short, powerful stroke from the right side is polished, and when combined with a keen batting eye, he projects to hit for average and get on base at a high rate," said the write-up while noting Refsnyder "lacks fluidity and must improve his double-play pivot skills." One scout said he is "a work in progress, but the bottom line is he can hit." The 23-year-old Refsnyder hit .300/.389/.456 (137 wRC+) with 19 doubles and eight homers in 77 games for the RailRiders after a midseason promotion from Double-A Trenton. I'm pretty confident we'll see him at second base sometime next year.

Other League Top 20s: Double-A Eastern League, High-A Florida State League, Low-A South Atlantic League, Short Season NY-Penn League, Rookie Gulf Coast League. · (153) ·
Even though the Yankees fell short of the playoffs this past season, they still had a bunch of memorable moments during the regular season. Big hits, specifically, and I think we can all agree Derek Jeter's walk-off single in his final game at Yankee Stadium was the most memorable hit of the year and maybe of the last 20 years. It was that amazing. I'm going to remember that hit for the rest of the my life.
But was that one of the most important hits of the season? Not really. The Yankees had already been eliminated from postseason contention at that point and the win didn't mean anything in the standings. In this post we're going to look at the team's biggest hits of the season using win probability added (WPA), a nice quick and dirty way to measure how much an event (hit, out, etc.) improves the club's chances of winning. Jeter's walk-off single clocked in at +0.31 WPA, meaning it improved their chances of winning 31%. That's high but not exactly mind-blowing.
Like every other stat, WPA is not perfect. It lacks context, such as the pitcher, the batter, postseason race position, all sorts of stuff. A division winning walk-off homer against Craig Kimbrel would have the same WPA as a walk-off homer against Esmil Rogers on April 2nd. That's alright though, I'm only putting this list together for fun and I don't intend to present it as some kind of detailed analysis. Here are the biggest hits posts for 2011 and 2012. Apparently I didn't do one last year. My bad.
t-5. May 6th: Brian Roberts homers off Ernesto Frieri (video above)
t-5. May 24th: Jacoby Ellsbury homers off Zach Putnam (video)
t-5. July 9th: Ellsbury homers off Vinnie Pestano (video)
Tied for fifth are three nearly identical homers — they're all solo shots in the ninth inning or later of a tie game on the road, giving the Yankees the lead. Same situation and same result for all three (extra innings are effectively the same thing as the ninth inning), hence the identical WPAs. Roberts ambushed a first pitch fastball from Frieri for his first homer of the season — this was right around the time it looked Roberts like could still hit a little and be useful — while Ellsbury clobbered a hanging changeup from Putnam and a hanging slider from Pestano. The three homers each checked in at +0.42 WPA.
4. September 4th: Mark Teixeira homers off Koji Uehara
After coming out of the gate strong and hitting homeruns left and right, Teixeira slumped big time in the second half. He went deep just five times after the All-Star break. His second to last homer of the season was this game-tying solo shot in the bottom of the ninth off a busted Uehara, who was in the middle of a stretch in which he allowed ten runs on 14 hits (four homers) in 4.2 innings. Uehara threw a two-strike splitter than didn't split and Teixeira clobbered the 81 mph nothingball left out over the plate. The homer was worth +0.44 WPA. Chase Headley followed with a walk-off homer later in the inning, as I'm sure you remember.
3. June 30th: Roberts homers off Joel Peralta
This is the token "huh, I don't remember that" hit of the five biggest hits list. I did remember it after watching the video though, which was nice. I wonder how much baseball I've forgotten over the years. A lot. Probably some cool stuff too. Anyway, Peralta's pitch was very similar to the Frieri pitch from earlier, a fastball down and in, the kind of pitch left-handed hitters can golf out to right. And that's exactly what Roberts did, golfed it out to tie the game in the bottom of the ninth. This one measured +0.47 WPA. Fun fact: the Yankees lost this game anyway. Jose Ramirez allowed a run in the top of the tenth and that was that. Losing the game in which you received your third biggest hit of the season by WPA is the most 2014 Yankees thing ever.
2. September 11th: Chris Young homers off Jake McGee
Alright, now we're talking. Those game-tying and go-ahead homers on the road were cute, but now it's time for the very big hits. The ones that turned a multi-run deficit into a win with one swing of the bat. First up is Chris Young's three-run walk-off homer against the Rays. He hit it a few pitches after Headley took a fastball to the chin. I know you remember that. Here's the WPA graph:

Source: FanGraphs
Young gets credit for the big hit, but this inning was set up by Headley's chin and Ichiro Suzuki's double to right field, which put the tying run in scoring position with one out. McGee seemed to stay away away away to every hitter after hitting Headley, and sure enough the pitch Young hit out was a fastball up in the zone and on the outer half. He got to it with his long swing and drove it out for the walk-off three-run homer, turning a 4-2 deficit into a 5-4 win with one swing. The WPA on this one: +0.72. That's huge. Bigger than the team's biggest hit in 2013, 2012, 2011, 2010 (tied for biggest), and 2009. But only the second biggest this year.
1. June 20th: Carlos Beltran homers off Zach Britton
Surely you knew this was number one, right? It was probably the most memorable non-Jeter moment of the season. The Yankees had just won three straight and seven of their last nine games, and it felt like they were finally starting to build some momentum at midseason. Ubaldo Jimenez of all people shut them down that night, and Britton inherited a 3-1 lead in the ninth.
Brett Gardner led the inning off with a single, but quick outs by Jeter and Ellsbury put the Yankees on the ropes. Teixeira drew a walk and pushed Gardner into scoring position, then Brian McCann drove him in a bloopy little bloop to center. The tying run was in scoring position and the winning run was on base. Britton, an extreme sinkerballer, was up in the zone all inning, and Beltran was able to work him into a favorable 3-1 count.
You know what happened next. Britton left another pitch up and Beltran hooked it into left for a walk-off three-run homer. To the WPA graph:

Source: FanGraphs
Yep. Beltran's homer clocked in at +0.84 WPA, which is off the charts. It was not only the team's biggest hit of the season, it was the biggest Yankees' hit (by WPA!) since Jason Giambi hit this walk-off homer against B.J. Ryan in June 2008. That video didn't work for the longest time and MLB.com finally fixed it. I'm so happy. That one registered +0.89 WPA, which is also nuts. Between Young and Beltran, the Yankees received two of their biggest hits of the last seven years in 2014. Those homers than turn an imminent loss into a win don't come around all that often.
Here is your open thread for the evening. The Giants and Cardinals are wrapping up Game Three of the NLCS at this very moment (on FOX Sports 1), and later tonight the Royals and Orioles will play Game Three of the ALCS (8pm ET on TBS). The Knicks are playing a preseason game and all three hockey locals are playing regular season games. Talk about any of that stuff and more right here.
By

Via Jon Heyman: The Astros have hired Trey Hillman to be their new bench coach. Hillman returned to the Yankees last offseason and spent this year as a special assistant in the player development system. He was a coach in the minor league system from 1990-2001 and was considered a candidate to replace the retiring VP of Baseball Ops Mark Newman, but Heyman says Hillman wanted to get back in uniform and on the field. Between Newman's retirement and both Hillman and Gordon Blakeley leaving, there's been a lot of change in the front office these last few weeks. · (50) ·
By

Rays GM Andrew Friedman has left the team to take over as the Dodgers president of baseball operations, both teams announced. After years of building annoyingly good teams on a tiny budget, Friedman will now have the largest payroll in the game at his disposal. Of course, now he has actual expectations too. Team president Matt Silverman will replace Friedman and I have no doubt the Rays will continue to be a thorn in the Yankees' side going forward. They weren't a one-man show all these years. · (128) ·