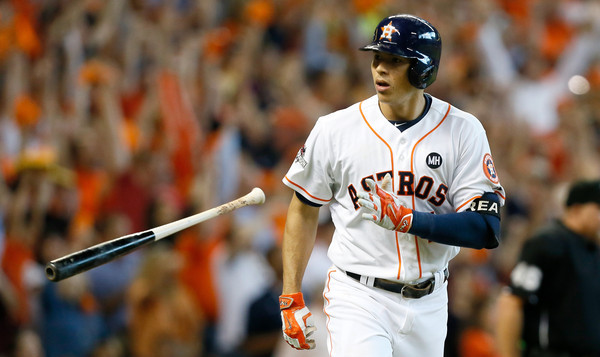 Monday night, Astros shortstop Carlos Correa was named the 2015 AL Rookie of the Year, the BBWAA announced. He received 17 of 30 first place votes. Indians shortstop Francisco Lindor was second in the voting and Twins third baseman Miguel Sano was a distant third. The full voting results are at the BBWAA's site.
Correa, 21, hit .279/.345/.512 (133 wRC+) with 22 homers and 14 steals in 99 games after being called up in June. He led all AL rookies in homers and slugging percentage, among other things. Lindor, who received the other 13 first place votes, actually edged Correa in WAR (4.6 to 4.1) but he didn't have the same power numbers, and much of that 4.6 WAR came from defense.
No Yankees received a Rookie of the Year vote this season. Correa and Lindor were in the top two spots on nearly every ballot, leaving the third spot for all other rookies. Luis Severino was New York's only chance at a Rookie of the Year vote and it didn't happen. Greg Bird didn't play nearly enough games for serious consideration. So it goes.
Cubs third baseman Kris Bryant was named NL Rookie of the Year unanimously. The Manager of the Year award will be announced Tuesday night. Joe Girardi is not a finalist but he has received at least one Manager of the Year vote every year since 2009.
The Yankees do not have any major awards finalists this year. I'm sure one or two guys receive down ballot votes though.