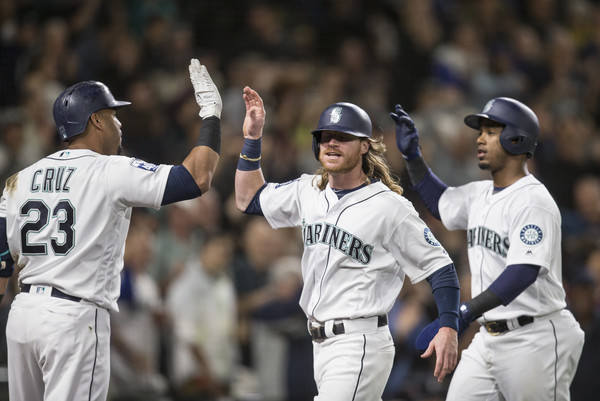 The Yankees have played staggeringly mediocre baseball since the All-Star break, splitting a four-game set with the Red Sox and dropping two of three to the Twins. Their lead for the second Wild Card spot stands at just half a game as a result, so the reinforcements could not have come at a much better time. Unfortunately, our first extended look at Todd Frazier, Tommy Kahnle, and David Robertson will come on West Coast time, as the Yankees visit Seattle for four games.
The Last Time They Met
It has been almost a year since the Yankees faced the Mariners, as the two teams last met in August of 2016. The Yankees took two of three by a combined score of 15-8, moving to 66-61 in the process. Some notes from the series:
Gary Sanchez and Starlin Castro hit two home runs apiece in the first game, but it wasn't enough as they lost 7-5. Anthony Swarzak took the loss and a blown save that day, allowing two inherited runners to score on a three-run home run by Mike Zunino. And, no, going with Swarzak didn't make much sense at the time, either.
Sanchez was at the height of his August powers in that series, going 6 for 11 with 3 HR, 3 BB, and 0 K.
CC Sabathia had one of the best starts of his season in the second game, going 7 strong and allowing 3 hits, 1 run, and 1 walk, while striking out 7.
Check out Katie's Yankeemetrics post for more fun facts.
Injury Report
The Mariners have battled the injury bug all year, with key players like Jean Segura, James Paxton, Mitch Haniger, Felix Hernandez, Drew Smyly, and Hisashi Iwakuma all spending time on the disabled list. They're approaching full strength, but Smyly is done for the year, and there's no real timetable for Iwakuma's return.
Their Story So Far
Seattle is essentially the perfect .500 team – they're 48-48 with a +1 run differential. They're 5-1 since the break, which includes a series victory over the Astros this week. The Mariners offense has been the driving force behind the team's limited success, and it currently ranks 6th in the majors in wRC+ and 8th in runs scored. They currently have 8 regulars or semi-regulars with a wRC+ of 100 or better, and their back-up catcher (93 wRC+) and fourth OF (90 wRC+) aren't all that bad, either. In short, their lineup is almost always strong from top to bottom.
Their starting pitching has been less than stellar, though. Paxton has performed like a top of the rotation starter when healthy, with a 3.05 ERA (132 ERA+), 10.3 K/9, and 3.0 BB/9 in 94.1 IP. The pickings are fairly slim after that, with a mishmosh of average to well below-average guys making up the rest of the rotation. The declining Hernandez is their second-best starter right now, and he's sitting on a 4.20 ERA (101 ERA+) in 55.2 IP, for comparison's sake, and the group as a whole has a 4.79 ERA – good for 22nd in baseball.
For more on the Mariners, I recommend checking out Lookout Landing.
The Lineup We Might See
Injuries have force manager Scott Servais to tinker with his lineup quite a bit, but he seems to prefer this configuration when everyone's available:
Jean Segura, SS
Ben Gamel, LF
Robinson Cano, 2B
Nelson Cruz, DH
Kyle Seager, 3B
Danny Valencia, 1B
Mitch Haniger, RF
Jarrod Dyson, CF
Mike Zunino, C
The Starting Pitchers We Will See
Thursday (10:10 PM EST): RHP Luis Severino vs. RHP Felix Hernandez
Three years ago, Felix Hernandez was one of the best pitchers in baseball. Two years ago, he saw a dip in velocity, and an overall drop-off in production, but remained comfortably above-average. Last year, his velocity backed-up again, and his numbers slipped even further into average territory (and his 4.63 FIP suggested that he was actually lucky). And this year, he's simply rather average. His strikeouts and walks went in the right direction, but he's more hittable and more gopher-ball prone than ever before, and his fastball no longer has much bite to it. This is what a decline looks like.
Hernandez focuses on four pitches nowadays – a low-90s fastball, a low-90s sinker, a mid-80s change-up, and a low-80s curve. He'll mix in a mid-80s slider, as well, but that is oftentimes shelved unless something else isn't working.
Last Outing (vs. CHW on 7/15) – 5.0 IP, 6 H, 3 R, 0 BB, 5 K
Friday (10:10 PM EST): LHP CC Sabathia vs. RHP Andrew Moore
The 23-year-old Moore was a second-round pick back in 2015, and he made his big league debut last month, going 7 IP and allowing 3 ER in a victory over the Tigers. His scouting report isn't terribly exciting, as he's a command/control type with a back-of-the-rotation ceiling, but he also qualifies as a "high floor" type due to his ability to limit walks and soak innings. It's not a sexy profile by any stretch, but it feels an awful lot like the type of rookie that has plagued the Yankees in years past.
Moore is a four-pitch guy, with a low-90s fastball, low-80s slider, low-80s change-up, and mid-70s curveball. He's earned praise for his change-up, which I've seen graded as high as a 60 on the 20-80 scale.
Last Outing (vs. CHW on 7/16) – 3.0 IP, 6 H, 5 R, 0 BB, 1 K
Saturday (9:10 PM EST): RHP Masahiro Tanaka vs. LHP Ariel Miranda
The Mariners acquired Miranda at last year's trade deadline in a straight-up swap for Wade Miley, and it has paid dividends thus far. The 28-year-old Cuban has thrown 165.2 IP in 30 games for the Mariners, posting a 4.07 ERA (100 ERA+) along the way. His underlying numbers aren't awe-inspiring (6.9 K/9, 3.1 BB/9, 5.30 FIP), but he's managed to stay healthy and mostly effective this year (97 ERA+), which is a boon for a team that has needed 13 starting pitchers already.
Miranda mostly utilizes three pitches – a low-90s fastball, a mid-80s change-up, and a low-80s splitter. That splitter is his best pitch, with a whiff rate just shy of 20%, and a batting average against of just .190.
Last Outing (vs. HOU on 7/17) – 5.2 IP, 6 H, 5 R, 1 BB, 4 K
Sunday (4:10 PM EST): RHP Luis Cessa vs. RHP Sam Gaviglio
The 27-year-old Gaviglio is the second rookie the Yankees will face this weekend, having made his debut on May 11. He was a fifth round pick way back in 2011, and his journey to the show may best be described as methodical – he spent three years bouncing between Double-A and Triple-A, and always seemed to be the "next guy up;" it just took a long time for that need to arise.
Gaviglio is a pure junkballer. His fastball tops out in the upper 80s, and he complements it with a low-80s slider, low-80s change-up, and a curve in the upper-80s. His margin for error is razor thin, as his strikeout rate is a well below average 15.4%.
Last Outing (vs. HOU on 7/18) – 6.0 IP, 8 H, 5 R, 2 BB, 3 K
The Bullpen
The Mariners bullpen has been right around average in most respects this year, with its ERA, K%, BB%, and WPA all falling between 13th and 20th in the majors. That might be a bit misleading, though, as the bullpen's overall numbers are dragged down by folk that are primarily used in mop-up situations. Edwin Diaz has been solid as the closer (134 ERA+, 12.9 K/9, 3.9 BB/9), and the late-innings trio of Nick Vincent, Tony Zych, and Steve Cishek is formidable. They also have Marc Rzepcyznski in a traditional LOOGY role – LHH are batting .171/.227/.244 in 45 PA against him this year.
It is worth noting that the bullpen has been stretched thin since the break. They've been called upon for 22.1 IP in six games, and Diaz and Vincent were both needed yesterday.
Yankees Connection
It's all but guaranteed that we will see three former Yankees during this series. Seeing Robinson Cano in another uniform still saddens me, and I'll have to suffer him starting everyday against the Yankees. I don't think we need to recap his fantastic career in pinstripes.
Ben Gamel was a 10th round pick by the Yankees in 2010, and he was in the organization up through last August, when he was sent to the Mariners for Juan De Paula and Jio Orozco. It was a roster crunch that made sense at the time (and still does), but Gamel has done his damnedest to make Cashman and Co. look bad. He's batting .319/.373/.444 (125 wRC+) with 5 HR and 3 SB in 309 PA as a regular in LF/RF, and he has shown no signs of slowing down.
And old friend James Pazos is there, too. He was drafted by the Yankees in 2012, and he tossed 8.1 subpar IP (84 ERA+, 1.50 K/BB) for the team between 2015 and 2016. He was dealt to the Mariners for Zack Littell this off-season, and he's been very effective in their bullpen this year, with a 124 ERA+ in 36.2 IP. Littell, for his part, has been awesome in the Yankees system – he has a 1.71 ERA in 105.1 IP between High-A and Double-A.
Who (Or What) To Watch
Ben Gamel's flowing locks.