Got eleven questions for you in the mailbag this week. Send us questions through the "For The Mailbag" form in the sidebar at any time. I know it doesn't look like the question goes through, but trust me, it does. We're working on that.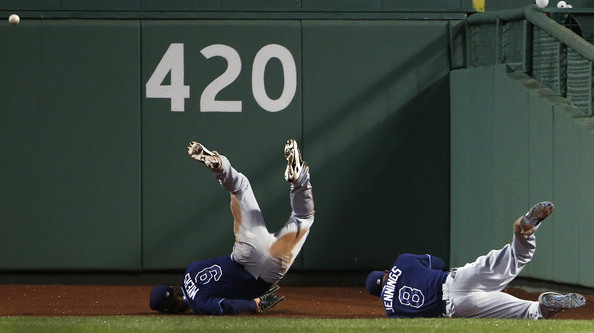 Chris asks: Will the Padres seemingly all in, do you think some sort of Wil Myers for Brett Gardner deal makes any sort of sense? Looks like the Padres could use a genuine CF.
I don't think the Padres would go for that. They've made it clear they're seeking power bats and are willing to live with shaky defense to get it. In theory Gardner would make a lot of sense for San Diego's roster because they lack both a true leadoff hitter and a true center fielder, but I don't think they'd flip Myers to get him. The Yankees would have to sweeten the pot quite a bit. Some of the shine is off Myers now but he's still a just turned 24-year-old with a career 105 wRC+ and 19 homers in 175 big league games with five years of team control remaining. That's really valuable.
Neil asks: Did the Yankees re-sign Slade Heathcott?
Heathcott hasn't signed anywhere yet. This might be a wait-and-see situation. He had season-ending knee surgery in June and is probably still rehabbing. The Yankees probably want to see him at 100% before committing and Heathcott probably wants to be at 100% to see what offers come along. A team just might decide he's worth a 40-man roster spot if he's fully healthy and looks good in workouts later this offseason.
Joe asks: Would the Yankees have received a compensatory draft pick had they offered Kuroda a qualifying offer and rejected it to pitch in Japan?
Nope. The player has to sign a Major League contract with one of the other 29 MLB clubs in order to receive the compensation draft pick. Also, if the player signs a minor league deal and is called up before the draft, his old team gets the draft pick. Basically, to get the pick, he player has to be in MLB with one of the other 29 teams at some point before the next year's draft. Japan or Korea or Taiwan or wherever else doesn't count.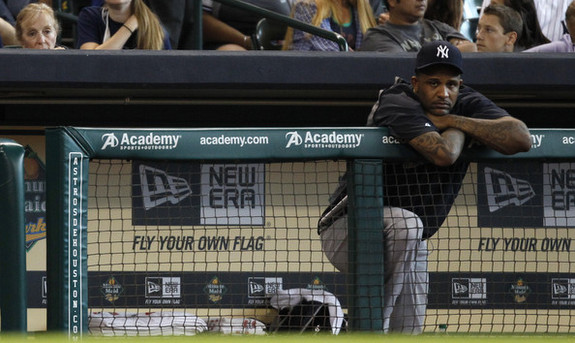 P.J. asks: Would designating CC Sabathia for assignment at the end of the 2015 season mean the Yankees are NOT obligated to pay his vesting year option when they release him?
I don't know the answer to this, but I'm guessing they'd still be on the hook for the option. The option vests if Sabathia isn't on the DL with a shoulder injury at the end of 2016, doesn't spend more than 45 days on the DL with the shoulder injury in 2016, and doesn't make more than six relief appearances due to a shoulder injury in 2016. Technically none of those things would happen if they release him, right? So wouldn't the option vest? It's a substantial amount of money ($25M) and I'm guessing Sabathia and the MLBPA would dig and fight that one.
Sid asks: Do you any scenario in which A-Rod and/or Mark Teixeira and/or CC are traded, what kind of return would they fetch? Assuming the Yanks are eating the majority of the salaries?
Nope. I think Teixeira has the most trade value of those guys and it's pretty close to zero. Even if the Yankees eat all the money. Yes, I know Adrian Gonzalez and Prince Fielder and a bunch of other guys were traded with a ton of money left on their contracts, but they were much younger and more productive than Teixeira, A-Rod, and Sabathia. The Yankees are stuck with those three, but at least now we are starting to see the light at the end of their contract tunnels.
Mark asks: Do you think the Yanks have glossed over Rob Refsnyder's lousy defense at 2B in all but making him the starter next year? Not sure about you, but I'm worried the fickle NY media and win-now fan base will turn on him quickly if he makes a few bad errors early on.
No, I think they're very aware of Refsnyder's defensive issues and are either willing to live with them or believe he is improving rapidly. That and they believe he has the makeup to handle any scrutiny. Besides, if Refsnyder comes up and struggles next year, either at the plate and/or in the field, he's unlikely to be the center of attention. People are going to be focused on Didi Gregorius replacing Derek Jeter, on Masahiro Tanaka's elbow, on Carlos Beltran's rebound, and, of course, on A-Rod. Refsnyder might just fly under the radar.
P.J. asks: Does Jose Pirela have minor league options left in case the Yankees go with Refsnyder for the last roster spot?
Pirela was added to the 40-man roster for the first time in September — remember the Yankees called him up only after Martin Prado's appendectomy abruptly ended his season — so he has all three minor league options remaining. They can send him to the minors no questions asked next year. That said, Pirela is already 25. If the Yankees have to consider optioning him down in a few years during his age 28 season, he's probably not worth his roster spot anyway.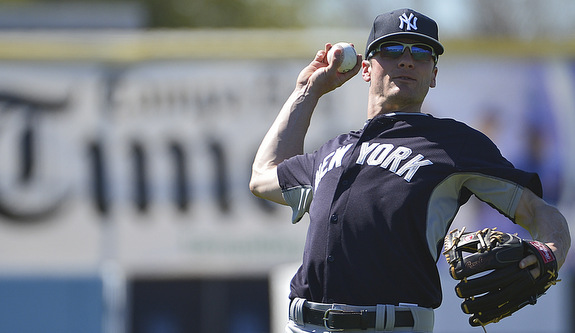 Chris asks: Brendan Ryan doesn't have a place on the roster anymore as he hits lefties even worse than Didi. Would the Yankees be better served flipping his cheap contract for a PTBNL or release him, and use Pirela as the utility infielder? The projections have Pirela and Didi both being far more valuable than replacement level Ryan.
Like it or not, the Yankees do need Ryan because he is capable of playing shortstop on an everyday basis at the MLB level. He can't hit a lick, but he can play the position, which Jose Pirela and others like Nick Noonan and Jonathan Galvez can not. I agree that Pirela would be more valuable than Ryan in a vacuum, but Pirela can't play short regularly, and the Yankees need someone who can do that if Gregorius gets hurt or stinks. Maybe they could slip Ryan throughout outright waivers and stash him in Triple-A — if he refuses the assignment, he'd forfeit the rest of his contract, and I doubt he walks away from a guaranteed $3M — but I doubt they risk it. Ryan's the 25th man on the roster and he does serve a purpose.
Daniel asks: Wouldn't it be best if the Yankees held off on the QO FA's this year, did the best they could this season with what they have, and then load up next offseason? I am salivating at the thought of adding Jordan Zimmermann, Justin Upton, Johnny Cueto, and Ian Desmond.
Aside from the ownership-mandated Rafael Soriano signing, the team's M.O. seems to be loading up on qualified free agents in one offseason to lessen the draft pick blow. So, rather than giving up their first rounder each year to add one qualified free agent, they sacrifice their first, second, and third draft picks in one offseason. Next offseason looks to be as good a free agent class as any to employ that strategy — I think the Yankees are going to go hard after Doug Fister next year, he's excellent but figures to a smaller contract than Cueto and Zimmermann, plus they drafted him once upon a time (sixth round in 2005), so he presumably has some supporters in the organization — though it's worth noting there is very little money coming off the books after the 2015 season. Chris Capuano and Chris Young. (Update: Garrett Jones too. Forgot about him.) That's it. The Yankees won't be able to go on a big spending spree without pushing payroll into the $250M+ range, which they might be willing to do since Teixeira and Beltran come off the books after 2016.
Grayson asks: What's Jacob Lindgren's future with the Yanks look like now that New York has signed LH Andrew Miller and traded for LH Justin Wilson? I thought Lindgren would be a lock for a lefty bullpen role. He rose fast through the system and the Yanks would have max years of team control, how do you see it playing out?
This is a question that only gets asked about left-handed pitchers. If Miller and Wilson and Lindgren (and the just acquired Chasen Shreve) were all right-handed, no one would worry about how they all fit on the roster. Miller is no lefty specialist, he can get both righties and lefties out and will be expected to do that next season. He just happens to throw lefty. Lindgren projects to be the same type of pitcher. If these guys are among the seven best bullpen arms in the organization, they'll be in MLB. Their handedness isn't much of a concern. They aren't normal lefties. I expect Lindgren to start the year with Triple-A Scranton and get called up at some point during the summer. The Yankees didn't draft a pure reliever with their top pick last year to not fast track him to MLB. The plan hasn't changed.
Joe asks: Assuming this is A-Rod's last contract, do any rules prohibit the Yankees from extending him for more years with same money owed to ease the luxury tax penalty? For example, if A-Rod is owed $100M over four years then could the Yankees sign him for $100M for ten years or would the MLBPA go bananas?
MLB frowns upon blatant luxury tax circumvention and this would qualify. There's no other reason for the Yankees to extend Alex Rodriguez's contract. (MLB could simply not approve the contract if they think the team is trying to beat the luxury tax.) Also, the union doesn't like players restructuring their contracts without getting something in return, like a raise or a no-trade clause or something like that. Maybe the MLBPA wouldn't care in this case since, you know, A-Rod sued them, but they probably wouldn't want to set a precedent. The Yankees are already well over the luxury tax threshold. I'm guessing they'd rather suck it up and pay the extra luxury tax these next three years than be stuck with Alex for any longer than that.