In their last seven games at Rogers Centre, the Yankees are 0-7 and have been outscored 38-7. Total domination. They were handed a 3-0 loss by the Blue Jays on Saturday to put any postseason hopes on life support. The Yankees stink right now. Thank goodness there's only a week left in the season.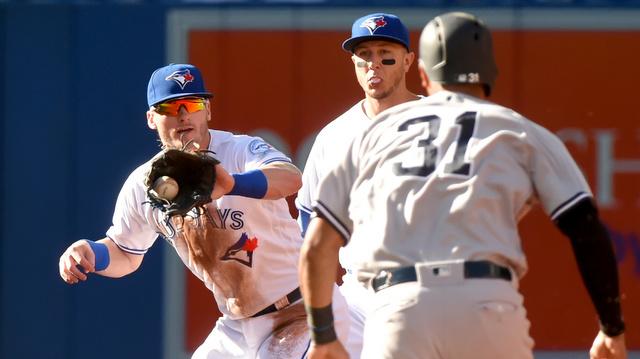 Twenty-Seven & Counting
No, not World Series titles. Innings without a run. The Yankees have not scored a run since Donovan Solano's two-run home run in the ninth inning of Wednesday's game against the Rays. They've been shut out in back-to-back-to-back games for the first time since 1975. Basically, when Gary Sanchez doesn't hit a home run(s), this team doesn't score. Weak at-bats up and down the lineup.
The Yankees had three hits Saturday afternoon: Aaron Hicks poked a ground ball single through the left side of the infield in the second inning, Ronald Torreyes drove a triple into the right-center field gap in the eighth inning, and Brett Gardner sliced an opposite field single in the ninth inning. That's it. In the biggest at-bat of the game (for the Yankees), pinch-hitter Billy Butler struck out against Jason Grilli with Torreyes at third to end the eighth.
Aside from the three hits, the only other hard-hit ball I remember was Brian McCann's grounder in the second inning, which of course went for a 3-6-3 double play. The Yankees drew three walks (Gardner, McCann, Solano), and of the 30 batters they sent to the plate Saturday, seven hit the ball out of the infield in the air. Give Marcus Stroman credit, he was excellent, but these last few days have been a complete and total tank job by the offense.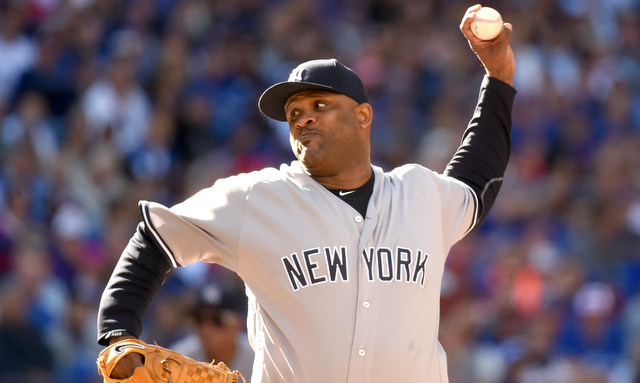 Carsten Charles in Charge
The Yankees need a great pitching performance to have any chance to win these days, and CC Sabathia gave them seven tremendous innings Saturday afternoon. No runs, three singles, three walks, and one double. That's it. Sabathia didn't strike out many, only two, but he also continued to limit hard contact and miss barrels. The cutter has been a huge addition. He's been able to prevent hitters, especially righties, from leaning out over the plate.
Sabathia's biggest jam came in the second inning, which Jose Bautista started with a leadoff double. A walk by Russell Martin followed, and Sabathia then fell behind in the count 3-1 to Troy Tulowitzki. Only three of his first 12 pitches that inning were strikes. Luckily Tulowitzki banged into a double play, and after a walk to Melvin Upton, Dioner Navarro popped up harmlessly to shallow center field. Disaster averted.
After that messy second inning, Sabathia retired 15 of the final 18 batters he faced, and two of the three baserunners came in the same inning. The Blue Jays had one baserunner in CC's final four innings, and that was a one-out walk by Edwin Encarnacion in the sixth. Sabathia now has a 2.57 ERA in his last seven starts and 42 innings. The Yankees have been shut out in three of those seven starts.
Bad Matchups
The inevitable Tyler Clippard home run regression has come. He gave up the game-winning home run to Hanley Ramirez last Sunday, and on Saturday afternoon, he allowed the game-winning three-run homer to Bautista. Clippard got two quick outs to start the eighth inning, but a single by Josh Donaldson and a walk by Encarnacion brought Bautista to the plate, and you can't throw him a 91 mph 2-0 fastball here: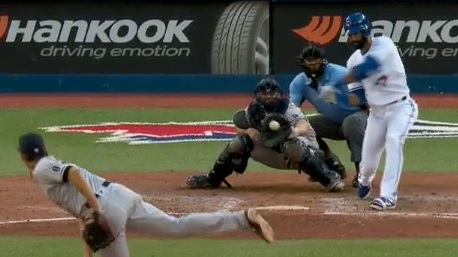 Clippard's the eighth inning guy and he's going to pitch the eighth inning, but he's such an extreme fly ball pitcher that using him against the middle of the lineup is always going to be a dicey proposition, especially with his stuff fading at this point of his career. Using Clippard against the middle of the order burned Joe Girardi against the Red Sox last weekend and again Saturday. Hopefully Girardi's a little more judicious with Clippard's usage next year and doesn't simply assign him an inning (lol nope).
Leftovers
The Yankees have now been shut out 13 times this season, which is their most since being shut out 15 times in 1990. They've somehow been shut out seven times in their last 31 games despite Sanchez's awesomeness. Three hits and three walks Saturday, and half their baserunners were erased on a caught stealing (Gardner) and two double plays (McCann, Torreyes).
And finally, the Royals mounted a miraculous five-run comeback in the ninth inning to beat the Tigers earlier Saturday, so they're tied with the Orioles for the second wildcard spot as of this writing. The Yankees are four games back. Their tragic number is a mere five.
Box Score, WPA Graph & Standings
Go to ESPN for the box score and updated standings, and MLB.com for the video highlights. Here are our Bullpen Workload and Announcer Standings pages. Here's the all too familiar LPA graph:

Source: FanGraphs
Up Next
The Yankees and Blue Jays will play the third of these four games Sunday afternoon. That's a regular ol' 1pm ET start. Michael Pineda and Marco Estrada are the scheduled starters. Offense optional.