Only eight questions in the mailbag this week because the postseason is keeping us all busy around here. You can send all your questions to RABmailbag (at) gmail (dot) com.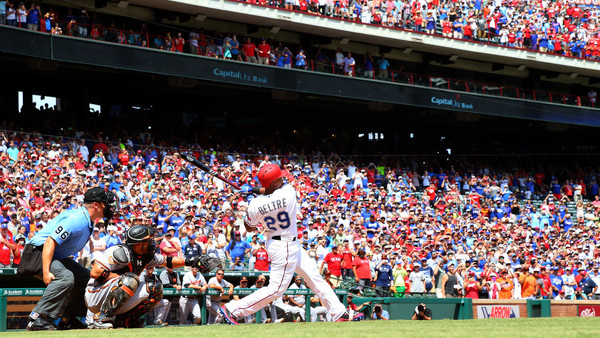 Zach asks: Sounds like there is some talk of a rebuild next year for the Rangers. If that's the route they go, does it make sense for the Yankees to go after Beltre? Only 1 year left on his contract, but at 18 million. He would be a great bridge to either Torres or Andujar, and still seems very productive. What would it take to get him and how could his salary vs. the luxury tax implications play out?
It would. Absolutely. Adrian Beltre is one a one-year contract, so it's not a long-term commitment, and he remains a very productive player. He hit .312/.383/.532 (138 wRC+) with 17 homers and great strikeout (13.4%) and walk (10.0%) rates in 94 games this season. Beltre's no longer the defender he was in his prime, but he remains very good at the hot corner. And he's a Grade-A clubhouse dude. A great fit in every way.
As far as I'm concerned, the only real worry here is age. Beltre will turn 39 in Spring Training and it could always go south in an instant at that age. It did for Carlos Beltran this year. We've seen it happen to Mark Teixeira, Alex Rodriguez, and Alfonso Soriano in recent years. The fact he's on a one-year deal mitigates risk, and he'd be an upgrade at third base without blocking Miguel Andujar or Gleyber Torres or whoever. I think it's worth the risk.
What would it cost? Eh, it's hard to say. Would a Beltran-esque package get it done? One top prospect (Dillon Tate) plus some secondary pieces (Nick Green Erik Swanson)? Remember, prices tend to be a little higher at the trade deadline because teams are more desperate. There's not as much urgency in the offseason, for the buyer or seller. I would be surprised if the Rangers moved Beltre, but if they're open to it, I'd want the Yankees to make a call. He's fit well.
Lou asks: When it comes time for the adds and subtracts for the 40 man what are the survival chances of Shreve, Holder, Heller, Mitchell, Gallegos and Herrera? We know what free agents automatically will be coming off but amongst this group is where the bulk of the 40 man space will come.
I think Bryan Mitchell and Ronald Herrera are gone for sure. Mitchell will be out of minor league options next season and it's difficult to see him sticking in the big leagues, so I think he gets the axe. Herrera missed a bunch of time with injury this year and fringy up-and-down arms with injury issues will have a tough time keeping a 40-man roster spot in this organization.
Chasen Shreve is in the same boat as Mitchell in that he'll be out of options next season, so he can't be sent to the minors without passing through waivers. Lefties who have experienced some MLB success always have a high likelihood of being claimed. I could see the Yankees keeping Shreve as long as possible this offseason, but if they need a spot at some point, he'll get the heave ho. I don't think Jonathan Holder or Ben Heller are going anywhere. They're optionable depth pieces and, in Heller's case, he has a chance to be a real bullpen contributor.
Daniel asks: It seems like almost every player on the Yankees this year can fit into this statement, "He is putting up good numbers, and remember he missed a month of the season." Gregorius, Sanchez, Chapman, Castro, Bird, Pineda, Sabathia, Hicks. Ellsbury, Austin, Holliday, and Tanaka all spent time on the DL this year. I know every team has its injuries, but where do the Yankees stand in terms of number of days players have been on the DL?
Believe it or not, the Yankees were near the bottom of the league in days lost to the disabled list this season. That surprised me. I guess all those little one month stints don't add really add up. They're not as bad as losing, say, two pitchers to season-long injuries in Spring Training. Here's the days lost to the disabled list leaderboard:
1. Dodgers: 1,789 days
2. Blue Jays: 1,765 days
3. Rays: 1,735 days
4. Padres: 1,674 days
5. Red Sox: 1,664 days
…
MLB Average: 1,085 days
…
23. Yankees: 861 days
…
30. Cubs: 234 days
All things considered, the Yankees were relatively healthy compared to the rest of the league. I suppose it's better to lose several players for a few weeks here and there rather than lose two or three players for long stretches of time. Well, no, not necessarily. It depends on the players. Either way, the Yankees were in the bottom third of the league in games lost to the disabled list in 2017.
Steve asks: Obviously this will depend on how the offseason plays out, but what's your preference on how to use Chad Green next year? Back as a starter or leave him as lights out setup man?
Reliever all the way. Some guys are just built for the bullpen and that's Green. He doesn't have much of a changeup at all — he threw nine changeups all season — and he's an extreme fly ball pitcher (26.4% grounders this year). As good as Green has been, I don't think he has the tools to turn a lineup over multiple times, especially in a hitter friendly home ballpark. Keep him right where he is, let him air it out with that fastball for two innings at a time, and enjoy having one of the best relievers in baseball rather than a meh back-end starter.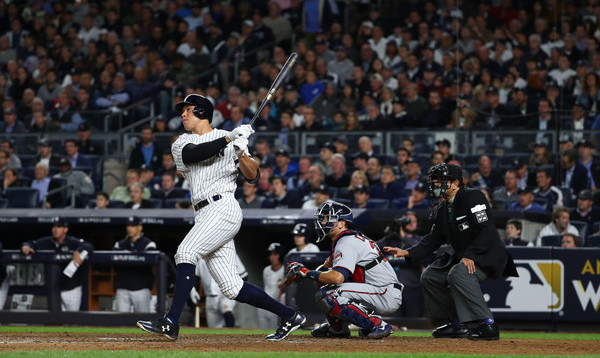 Andrew asks: Where does Aaron Judge's 2017 rank on the all-time list of "true outcomes" (home runs, strike outs, and walks) by a player in a single season?
It sure is up there, alright. Here's where Judge ranks in the various three true outcome single-season leaderboards:
Strikeouts: 208 (tied for 6th all-time)
Walks: 127 (tied for 28th)
Home Runs: 52 (tied for 28th)
Three True Outcomes Total: 387 (tied for 1st)
Three True Outcome Rate: 57.1% of plate appearances (3rd)
The 387 walks plus homers plus strikeouts is tied with Mark McGwire, who also had 387 true outcomes in 1998 (155 strikeouts, 162 walks, 70 homers). Only Joey Gallo this season (58.6%) and Jack Cust in 2007 (58.2%) had a higher percentage of their plate appearances end in a walk, homer, or strikeout among players with enough plate appearances to qualify for the batting title. Walks and strikeouts can be boring. Dingers? Never.
Ed asks: Which players currently in the Yankees System do you envision as future core players?
I guess that depends how you define core player, isn't it? I'm a big Andujar fan, though I'm not sure he's a "build around this guy because someday he'll be one of the five best players on a championship caliber team" player. That to me is a core player. A key contributor to a championship caliber club. Torres absolutely has franchise core player potential. Beyond him? Eh, not sure if anyone else in the system fits that description. Maybe Estevan Florial? Keep in mind that within the last 18 months or so, the Yankees graduated several core caliber players from the system in Judge, Gary Sanchez, and Luis Severino (and Greg Bird?). Aside from Gleyber, the best young players in the organization with core potential are currently in the big leagues serving as core players. That's cool. I'd rather them be in the show producing than in the minors being talked about as potential impact players.
Dan asks: Is it possible that Luis Severino has hit a wall after pitching a career high in innings?
Of course. I have no idea whether that is the case, but it's certainly possible. Severino has thrown 193.1 innings this season between the regular season and postseason, which is easily a career high. He threw 151.1 innings last season and set his previous career high with 161.2 innings in 2015. He's already 30 innings over his previous career high. Of course he could be wearing down. I think his dud Wild Card Game start was more about being amped up and overthrowing more than anything, though I suppose he could've been overthrowing to compensate for what he feels is arm strength lost to fatigue. Severino was great in September (2.10 ERA and 3.17 FIP) even with his tough start against the Twins a few weeks ago. With a young pitcher above his previous career high in innings, it's always possible he's going to hit a wall soon. I don't think Severino is there yet.
Steve asks: During playoff games, what happens to players who were not selected for the 25-man roster? I assume they are not allowed to sit in the dugout during games. Do they hang out in the clubhouse and watch the game on TV? Sit in the stands? Stay home?
They are allowed to remain in the dugout during games. We saw Clint Frazier and Tyler Wade in the dugout at various points during the broadcast last night. They're not on the roster but they could still be added any day as an injury replacement, so they stay with the team and continue to work out and taking batting practice and all that. Not every player is kept around in the postseason — teams do send some players home to cut down on the size of their traveling party — but basically anyone with a realistic chance of being added to the roster stays with the team, and they are allowed in the dugout during games.