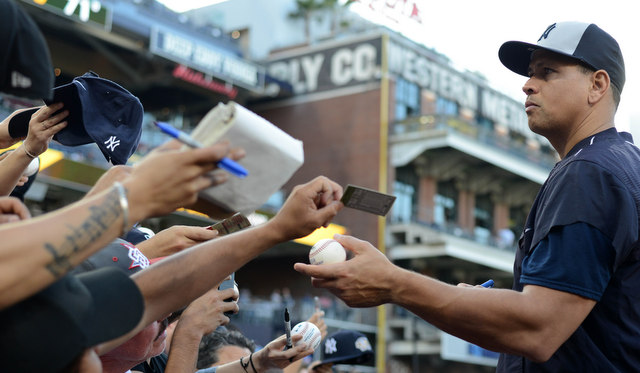 Last night the Yankees made a spirited ninth inning comeback attempt, scoring four runs in the final inning to turn a 7-2 deficit into a 7-6 loss. A loss is a loss, but at least they showed some fight, you know? Three days ago the Yankees had that massive ninth inning comeback against the Rangers too. If nothing else, this team is going down swinging. They still have that Fighting Spirit.
But you know what's better than a ninth inning comeback? Not trailing in the ninth inning! Good teams don't come from behind to win all the time. Good teams are ahead all the time. The Yankees play from behind an awful lot these days, which makes getting back into the postseason race that much more difficult. Scoring first, which the Yankees have not done in their last eight (!) games, would be cool tonight. Here's the Padres' lineup and here's the Yankees' lineup:
The weather is surely lovely in San Diego tonight. The weather is never not nice in San Diego. Tonight's game will begin a little after 10pm ET and you can watch on FOX Sports 1 only. Not YES, not MLB Network, not even regular old FOX. FOX Sports 1 only. Enjoy the game, nerds.
Injury Update: Conor Mullee has been placed on the 15-day DL with a hand injury, the Yankees announced. He left last night's game with of a weird feeling in his fingers. Mullee went for tests for Thoracic Outlet Syndrome, which thankfully came back negative. That's serious stuff. Chad Green took his spot on the roster. Green is making the spot start tomorrow.