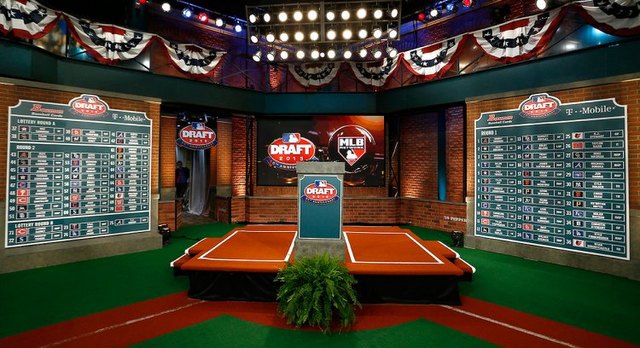 The college season started a week or two ago, which means soon it'll be time to ramp up our 2016 draft coverage. Until then, here are some scattered draft notes.
Draft order final: Yankees picking 18th overall
The 2016 draft order is final now that Ian Desmond has signed with the Rangers. All 20 qualified free agents are off the board. The Yankees went into the offseason with the No. 22 pick but managed to move up to No. 18 as teams forfeited picks to sign qualified free agents. Moving up four spots is pretty sweet. The Yankees picked James Kaprielian 16th overall last year, and prior to that, they hadn't picked as high as 18th since taking C.J. Henry with the No. 17 pick in 2005.
We recently learned the Yankees will have a $5,768,400 draft pool this year, though that will increase a bit because they have since moved up a spot thanks to the Yovani Gallardo signing. Last year the No. 18 pick had a $2,333,800 slot value. It should be a little larger this year. The Yankees neither gained nor lost any picks to free agent compensation this winter. Their first pick is 18th overall, then they don't pick again until 62nd overall, their second round pick. Here are MLB.com's top 50 draft prospects if you want to start looking at possible targets. Our Draft Order page has the complete draft order.
High schoolers permitted to use agents
Last month, the NCAA announced high school baseball players will be permitted to use agents without losing their college eligibility. An agent can negotiate with a team on the player's behalf before the signing deadline, then the player must sever ties with the agent to retain NCAA eligibility. In the past high schoolers who were found to have used an agent were declared ineligible by the NCAA.
Chalk this one up to common sense. High schoolers — and college kids, for that matter — have been using agents for years. They simply called them "advisors" to skirt the NCAA's rules. It's unrealistic to expect a high school kid to negotiate a contract worth thousands and sometimes millions of dollars with a pro baseball team. Hopefully the NCAA lets their athletes hire agents soon too. This shouldn't change much with the draft — it's not like high schoolers suddenly have more leverage or anything — but at least now kids can be open about their representatives.
MLB Scouting Bureau being restructured
According to Michael Lananna, the Major League Baseball Scouting Bureau is being restructured under director Bill Bavasi, who took over in 2014. The MLBSB has essentially acted like a 31st team in that they have their own scouts who put together scouting reports and follow lists for draft prospects each year. All of that information is then shared with the 30 clubs.
Going forward, the MLBSB will move away from scouting current year draft prospects and instead focus on identifying prospects in future draft classes. The info will be shared with the 30 teams so they can scout and evaluate the prospects themselves. The Bureau will also take on an administrative role and compile high-quality video and medical information for draft prospects.
"(Clubs) seem to prefer earlier identification on younger players, guys eligible for '17, '18, '19, as early as we can possibly identify them, without reports, without evaluation," said Bavasi. "We'll hunt the guys who are eligible in subsequent years and just identify them as guys clubs should look at, and then clubs will go out and evaluate them and form their own opinions on guys."
The MLBSB is also going to ramp up their involvement internationally, specifically in Europe and Asia. "There's more of a growth situation in Europe and Asia and Australia and Africa, and so I'm more focused on raising the level of the game there and making sure that we're tracking down the players there," he said. That may be another indication MLB is pushing for an international draft.