By

12:16pm: Buster Olney (subs. req'd) says the Rays are prepared to trade Price "right now," though no deal is imminent. He is very much on the market.

12:00pm: Via Marc Topkin: The Yankees were among several teams to have high level/additional scouts watch David Price's start last week. The southpaw struck out 12 while allowing two runs in eight innings against the Astros. He has double-digit strikeouts in four straight starts. Tampa has the worst record in all of baseball and figures to sell off some pieces before the trade deadline next month.

Price, 28, has pitched to a 3.81 ERA (3.02 FIP) with an absurd 133/23 K/BB in 16 starts in 115.2 innings this season. He'll earn $14M this year and remain under team control as an arbitration-eligible player next year. The Yankees need another starter and the fit is obvious, right? Price isn't just an ace-caliber performer, but he's also AL East tested and a proven workhorse. Would the Rays trade him within the division? I'm guessing yes if the price is right (pun unintended). Do the Yankees have the pieces to meet that price (pun intended)? · (92) ·
Prior to last night's drubbing at the hands of the Blue Jays, Chase Whitley had been a pleasantly surprising contributor in the wake of the rotation injuries. He rarely took the ball deep into games, but he went into Monday night with a 2.56 ERA (2.70 FIP) in 38.2 innings across seven starts. That's really good. That he got roughed up so much in Toronto and still owns a solid 4.07 ERA (3.16 FIP) in 42 innings tells you how good he was before last night.
Whitley, of course, did not become a full-time starter until the very end of last season, when he made a handful of spot starts for Triple-A Scranton. Last night was his 22nd career professional start since being drafted in 2010. That's all. This guy was a third baseman for most of his college career and a full-time reliever in the minors as recently as ten months ago, which makes his pre-Monday success as an MLB rotation member that much more impressive.
Therein lies something of a problem. Because Whitely has been a reliever for most of his life, he has never spent a full season as a starter and dealt with that type of workload before. The season is not even halfway over and Whitely is already rapidly approaching his career-high in innings pitched. Here is his career innings breakdown:
| | Total | MLB | MiLB | Playoffs | Other |
| --- | --- | --- | --- | --- | --- |
| 2014 | 68.1 | 42 | 26.1 | ? |  ? |
| 2013 | 67.2 | 0 | 67.2 | 0 |  0 |
| 2012 | 86.2 | 0 | 84.1 | 2.1 |  0 |
| 2011 | 107.2 | 0 | 91 | 0 | 16.2 (Az Fall League) |
| 2010 | 105.2 | 0 | 36.1 | 3.1 | 66 (college) |
Whitely has already thrown more innings this year than last year, mostly because he spent the first seven weeks of 2013 on the disabled list with an oblique problem. He'll probably surpass his 2012 innings total before the All-Star break and his career-high innings total — which was set three years ago now — either late next month or in early August, barring injury or something.
I'm sure you're all familiar with the "Verducci Effect" and the concept of controlling a young pitcher's workload in an effort to reduce future injury risk. It's common sense and teams do it every single year. The idea of a 30-inning year-to-year increase being the magic number is a little outdated, but there is definitely a point when a workload increase becomes too much. That usually applies to pitchers younger than Whitley, who turned 25 less than two weeks ago.
Because he was not a top prospect — remember, Whitley went undrafted in the Rule 5 Draft just last December — and there is a pretty strong likelihood he is currently enjoying the best stretch of his career, I'm not concerned about monitoring Whitley's workload to reduce future injury risk. That's not to say the Yankees should run him into the ground, they do still have a responsibility to try to keep him healthy, but he isn't as much of a priority as someone like, say, Ian Clarkin or Luis Severino. That's just baseball.
My biggest worry about Whitley's workload is plain ol' fatigue. He might just run out of gas sometime in the second half, when he approaches 130 or 140 or 150 or whatever number of innings. We don't know when or even if it will happen. But, just looking at him as a guy who has thrown more than 100 innings in a season twice in his life, it's not unreasonable to think he'll hit a wall at some point. Whitley's never started for an extended period of time before and he's about to enter uncharted workload waters.
In a perfect world, the Yankees would use off-days to skip Whitley's starts (or at least push them back a few days) whenever possible to help keep him fresh. They could call up a sixth starter for the day and skip one of his starts that way. They could even give him a little two-week vacation on the disabled list; that's another way they could control his innings and try to keep him fresh later in the season. The Yankees can't do any of that though because they're stretched so thin for pitching. They don't have that sixth starter to call-up and they need to use off-days to give their other pitchers an extra day whenever possible as well.
CC Sabathia will face hitters in a live batting practice session today and is expected to pitch in a minor league rehab game this weekend, but he is still several weeks away. Michael Pineda can't even get healthy enough to play catch these days, so the Yankees should just forget about him. If he manages to get healthy and pitch at some point, wonderful. But don't count on him. A trade? That seems inevitable, but it doesn't seem like it will happen anytime soon. Once it does happen, Vidal Nuno (the obvious candidate to lose his rotation spot) can be used as a spot starter to give Whitley occasional rest.
Right now, Whitley is pitching well as a starter and the Yankees should ride that out as long as possible. He's a young guy and he's big and strong (listed at 6-foot-3 and 215 lbs.), plus he has what looks like a relatively low-effort delivery to me, so maybe he'll be able to hold up deep into the season. That would be awesome. Whitley is at risk of hitting a wall in the second half though, only because he has never really started before and his workload is going to be pushed far behind his previous limits. It's just another reason the Yankees need to add a starter and soon.
Once again, the Yankees were on the wrong end of a blowout. They dropped Monday's series opener to the Blue Jays by the score of 8-3, and the game wasn't as close as the score indicates. Toronto scored the same number of runs in this game that they did during the entire three-game series in the Bronx last week.
Ace Eighth Starter Whitley
Well, it was bound to happen eventually, right? Chase Whitley had been a revelation for the Yankees coming into Monday's start, pitching like a borderline ace on a strict pitch count. Then he allowed eight runs on eleven hits and three walks in 3.1 innings against the Blue Jays. It was seven-zip through two innings and ten of the first 15 batters Whitley faced recorded hits. Some were hit right on the screws, others were ground balls with eyes. All were hits and all led to runs. He was fooling no one.
The Blue Jays were the first team to see Whitley twice in his young MLB career — they faced him just last week, so it was a fresh look — and while that certainly may have contributed to the onslaught, Whitley made some truly some awful pitches. Everything was out over the heart of the plate, especially his changeup, and a changeup right down the middle is a batting practice fastball. Here are the locations of the hits allowed, courtesy of Brooks Baseball: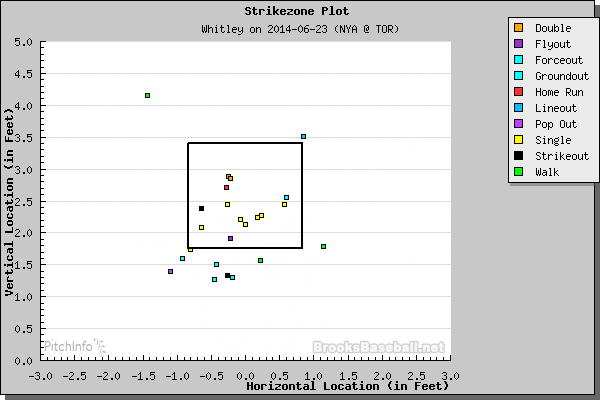 Everything was over the plate and great hitting team like Toronto will make pitchers with less than stellar stuff like Whitley pay when they're not on the corners. He came into the game with a 2.56 ERA and a 1.03 WHIP on the season and left with a 4.07 ERA and a 1.29 WHIP. Statistical corrections aren't always pretty. What can you do, sometimes pitchers get roughed up and that's what happened to Whitley for the first time in his career. Welcome to the show, kid.
Garbage Time
The Blue Jays scored the same number of runs in the second inning (six) that the Yankees scored in their previous 34 innings before plating two meaningless runs in the ninth. I mean, Whitley could have twirled a gem and he still probably would have lost. All the run scoring hits by Yangervis Solarte and Kelly Johnson did in the ninth inning was pretty up the run differential. The club's four base-runners in the ninth equaled their total from the first eight innings. Too little, too late. The game was over at that point.
Mark Teixeira hit a solo homer literally off the top of the center field wall in the fourth inning for what looked like was going to be their only run. At least he continues to swing the bat well. Brendan Ryan, Ichiro Suzuki, and Carlos Beltran also had hits while Brett Gardner and Frankie Cervelli drew the only walks. The Yankees didn't have a runner reach second base until the ninth inning. This team is no fun to watch whenever Masahiro Tanaka or Dellin Betances are not on the mound. Joyless baseball.
Leftovers
Big ups to David Huff for soaking up 3.2 innings (61 pitches) in long relief despite throwing 25 pitches on Sunday and 20 pitches on Friday. He allowed two walks, one infield single, and zero runs. Huff helped move this game along. The pace was really dragging there for a while. Shawn Kelley struck out three and allowed an infield single in his inning of work. He looked way better than he had in any other outing since coming off the DL.
Ryan made a really nice defensive play in the seventh inning, ranging to his right and diving to snare a hard-hit ground ball. He turned around and fired a strike to first base to get the out despite being off balance. It was pretty rad. Ryan almost made another really nice play ranging to his left behind second base later in the inning, but the throw was off-line and pulled Teixeira off the bag.
The Yankees allowed at least eight runs for the third time in their last eight games. The good news is that the Yankees are getting blown out so regularly this month that eventually Joe Girardi will have no choice but to let Ichiro pitch.
Box Score, WPA Graph & Standings
For the box score and video highlights, head over to MLB.com. FanGraphs has some additional stats and ESPN has the up to the minute standings. The Orioles won, so the Yankees are now in sole possession of third place. They look the part.

Source: FanGraphs
Up Next
David Phelps and Mark Buehrle will be on the mound Tuesday night, in the second game of this three-game series. It would be nice if the Yankees were on the other end of a laugher for once.
Got a bunch of notes to pass along:
In case you missed it earlier, LHP Manny Banuelos was placed on the Double-A Trenton DL with blisters. Not the first time he's had them, probably won't be the last. Between the blisters and the arm fatigue a few weeks ago, Banuelos has not been able to get stretched out beyond three innings.
According to Matt Eddy, the Yankees signed Lewis-Clark State RHP Mike Noteware and Thomas SS Tyler Palmer as undrafted free agents. OF Mikeson Oliberto and OF Cody Grice were both released, according to Eddy and Nicholas Flammia.
Check out Mike Newman's firsthand scouting report on RHP Luis Severino. The first few clicks are free but eventually it falls behind a paywall. Newman pegs Severino as a future number two starter (which is really good!).
Triple-A Scranton (5-4 loss to Pawtucket)
LF Jose Pirela: 2-4, 2 R, 1 HR, 1 RBI
C John Ryan Murphy: 1-4, 1 R, 1 2B, 2 K, 1 E (throwing)
CF Zoilo Almonte: 0-3, 1 BB, 1 K
3B Scott Sizemore: 0-4
1B Kyle Roller: 2-4, 1 R, 1 HR, 1 RBI, 2 K — had been in a little 7-for-33 (.212) slump
SS Zelous Wheeler: 0-2, 1 BB, 1 K
DH Austin Romine: 0-4, 1 K
PH Rob Refsnyder: 0-1, 1K — pinch-hit with the bases empty and two outs in the bottom of the ninth
LHP Jeremy Bleich: 4.2 IP, 7 H, 5 R, 5 ER, 3 BB, 5 K, 6/0 GB/FB — 56 of 88 pitches were strikes (64%)
RHP Heath Bell: 2 IP, 1 H, 0 R, 0 ER, 1 BB, 3 K, 3/0 GB/FB — 18 of 27 pitches were strikes (67%)
The Yankees won four of six games at home last week, but the homestand ended on a sour note with the two losses to the Orioles. That's in the past now. The Yankees have a golden opportunity in front of them in Toronto this week. They can not only move closer to first place in the AL East, they can take it over outright. That would require a sweep (and the Orioles losing at least one game to the White Sox), but it's doable. They swept the Jays in the Bronx just last week.
Either way, sweep or no sweep, this is an important series for the Yankees. Taking over the top spot in the division is the best case scenario but they could just as easily fall further back in the standings if the offense doesn't wake up. The scored one run in their final 18 innings against the Orioles this weekend. They have to do a better of job of getting runners home when they get on base, and maybe even whack some extra base hits. Once upon a time this club had a man in scoring position even when the bases were empty. Here is the Blue Jays lineup and here is the Yankees lineup:
It's nice and sunny with very few clouds in Toronto this evening, so the Rogers Centre roof should be open. First pitch is scheduled for 7:07pm ET and you can watch on YES. Enjoy the game.
All-Star Voting Update: Derek Jeter continues to lead the All-Star fan voting at shortstop. He's got a nice 400k vote lead with about a week to go in the voting. No other Yankees are in position to start the game. Here are the current AL results and here's the ballot.
Mark Teixeira is back in the lineup tonight after leaving yesterday's game because he took a pitch to the left foot. The Yankees dodged a bullet there. Here are some injury updates to pass along, courtesy of Dan Martin, Jorge Castillo, Marly Rivera, and Nick Peruffo:
Michael Pineda (shoulder) is fully expected to begin a throwing program this coming weekend, according to Joe Girardi. They are "pretty confident" the extra week of rest will knock out the lingering "trace" of inflammation. "Our doctors felt (another MRI) won't be necessary. It's a fairly minor amount of inflammation in there compared to what it was. Another week should be plenty sufficient," said the skipper.
Ivan Nova (Tommy John surgery) is running and lifting light weights, but he won't start throwing until late-August or September. That's normal, his rehab is right on schedule so far. "I got to go outside and run a little bit," he said. "I'm still two months away (from throwing). I still have a ways to go."
Carlos Beltran (elbow) is currently throwing from 120 feet with no significant discomfort. He was expected to begin throwing to the bases over the weekend, and if that went well, they would come up with a plan and a firm timetable to get him back into right field.
Manny Banuelos (blisters) has been placed on the Double-A Trenton DL. He had some blister issues several years back. Banuelos missed most of 2012-13 with elbow problems, including Tommy John surgery.
The following is a guest post from long-time reader Sung-Min Kim, who you can follow on Twitter at @SungMinKim116.
As many of us know, the Yankees are set to pour a lot of money into international signings come July 2nd. The reports say they already have come to an agreement with three big-name prospects in Latin America and there is possibly one more coming from Korea. On Tuesday, it was reported that 18-year old SS prospect Hyo-Jun Park will sign with the Yankees and it sounds official — his parents have quipped on it as well. What does this signing mean and what kind of talent is he?
In terms of the Asian market, the Yankees have a richer history with signing Japanese and Taiwanese players, but not much with Koreans. In the 2004-05 offseason, the team was actually strongly linked to LHP Dae-Sung Koo (who, by the way, was a beast in KBO in the 90's and did a decent job in Japan as well. At the age of 44, he was the saves leader in the Australian league in 2013-14) and reportedly came to an agreement, but the lefty ended up signing with the Mets and this ended up happening. Before the 2010 season, the team signed veteran RHP Chan-Ho Park, who had rejuvenated his career as a reliever, but he proved to be ineffective (5.12 FIP in 35.1 IP) for the Bombers and was DFA'd within few months.
Well, the reports strongly indicate that the Yanks are an official announcement away from sealing Park as their farm commodity. The bonus amount is reported to be around $1 to $1.2 million and the team is ready to supply Park a good amount of accommodation for his adjustment to the new culture, including a full-time translator, a "hotel-quality dormitory," etc. He would be the first Korean IFA ever to sign with the Yankees.
As a junior of the Yatap High School of Kyung-gi province, the shortstop is tearing the cover off the ball in the Gogyo Yagu Jumal League (high school weekend league), hitting for a .467/.614/.967 slash line in 44 plate appearances in 10 games. Out of his 14 hits, 7 of them are extra-base hits with three homers. Considering that Park's been considered a cream of the crop tier prospect since his sophomore year, when he hit .371/.475/.557 with 1 HR, his offensive performance so far this year has put him into a formidable prospect status. Another note about his power performance is that he's done it all with a wood bat in a league that banned the use of aluminum bats back in 2004. Also, he has shown a good eye throughout his high school career. For example, during his freshman year, even when he hit for only .256 avg., he managed a .468 OBP. So far in 2014, he has a 13-to-4 BB-to-K ratio in 10 games.
Garnering attention since his sophomore year, a lot of Korean scouts have pegged Park as the possible No. 1 overall pick of the 2015 KBO Draft. At this point, it's unlikely any KBO team will choose Park. Back in 2006, the Kia Tigers selected RHP Young-Il Jung, who had already generated strong ML interest, and the righty ended up signing with the LA Angels and the Tigers ended up wasting their 1st-round pick. The team with the first pick on the upcoming KBO Draft, the KT Wiz (an expansion team that will make its debut in KBO next season), has already announced their first two picks they received as an expansion team (RHP Sung-Moo Hong and RHP Kwon Joo). Many speculate that had Park not maintained a strong connection with the Yankees, the shortstop would have been the Wiz's pick.
According to this article, before this winter Park looked forward to being selected in the KBO draft. "I was approached by the Yankees during the sophomore year of high school," Park said, "my parents liked the idea of going to ML but I wasn't sure what to expect so I declined their offer at the time." Park's decision changed when he trained in Los Angeles over this past winter. "I played with American players few times then and I felt they had better power and basics," said Park, "despite all that, I felt that I played very well against them, so I started to feel confident about (playing in America in the future)."
The Yankees were not the only team that showed an interest in Park. The San Diego Padres reportedly made a $1 million offer and their scout said that "(in his sophomore year) Park was a $500K-worthy player and after I saw him in Los Angeles, he was more of a $1 million-worthy talent." The Padres are not alone. According to Chi-Hoon Lee, Park's agent, seven ML teams, including the Yankees, have shown interest in the shortstop, but the link also states the Yankees are Park's sole priority.
The $1.2 million bonus is not as high as what the Yanks are giving to few other IFA signees but it's still a lot of money. In fact, it rivals the top-tier annual salary of KBO. The highest-paid player of the league, 1B Tae-Kyun Kim, is set to receive $1.403 million for 2014. For another point of reference, OF Hyung-Woo Choi, a 30-year old proven offensive commodity, gets paid only $421K for 2014 season. A 18-year old prospect Park has a chance to receive 3x the money that an offensive star Choi is – who is hitting for a 1.074 OPS so far this season. It is suffice to say that the amount is too good to easily pass up on.
The biggest Korean IF prospect to have signed with an ML team prior to Park is SS Hak-Ju Lee for the Rays farm system. Park has gotten comparisons to Lee for both his offensive and defensive game. This would have been a more thrilling thought last year, before Lee tore his ACL while hitting for 225 wRC+ for the Durham Bulls in AAA level. He has yet to find his offensive groove so far this season (73 wRC+) but he is still only a 23-year-old in AAA and have some time to work himself into position to be a future SS for the Rays. Lee was signed by the Cubs as a 17-year-old back in 2008 with a $1.15 million bonus. Park may get around that figure (or a little more). In six minor league seasons, Lee has hit for a .285/.360/.380 line overall.
Here's MLB.com's scouting report on Park – he ranks #12 in the overall list (also the site misspelled his name as "Hyu-Jun Park").
Scouting Grades: Hit: 60 | Power: 45 | Run: 60 | Arm: 55 | Field: 60

Park and his teammates from Yatap High School in South Korea spent more than a month in the United States playing against top high school teams from California earlier this year. There's a real possibility the young infielder will get a chance to see a lot more of the country in the near future.

A legitimate shortstop prospect, Park has the tools to stay at the position as he develops. What's more, some scouts think he has the potential to be above average in every facet of the game, except for power. That said, there's the belief that he could still hit at least 10 home runs when he gains strength. He can also spray the ball to all fields.

Scouts view him as a good defender with solid fundamentals and compare him to Tampa Bay infield prospect Hak-Ju Lee. Park has been scouted heavily by the Yankees.
Based on what I hear about Park, the scouting grades and report sound about right. Personally, I'd like to see Park fill out his frame and have a better power display than projected (because power is sexy), but he's still projected to show plus hit, run and field tools. If his high school slash lines are any indication, he also has some plate discipline.
Of course, the tools translating in pro ball are all big ifs. He could develop as well as Lee or he could be a costly flop like Kelvin De Leon. The odds for the latter is much bigger than the former — especially considering the cultural adjustment and language issues — it won't be an entirely smooth ride for Park. Rangers OF Shin-Soo Choo is the main example of a Korean position player who enjoyed success after years of toiling in the minors and going through cultural and language adjustment as a teenager. However, for every Shin-Soo Choo, there are a bunch of failed prospects who never adjusted to the American lifestyle and English language and returned to their home country.
Lee started out at a low-A level instead of any short-season leagues and, according to reports, Park may start at the same level as well. The shortstop himself said he wants to be a ML regular in "three years" but I think it will take longer. The tools and the hype are there. Will he be the next Shin-Soo Choo or the next Carmen Angelini? Too early to speculate what will he be like in 3-4 years, but as a Korean and a Yankees watcher (who wanted to see Choo sign with the Yankees over the offseason), I'm looking forward to seeing his development in the system.
For the second time in a week, the Yankees and first place Blue Jays will meet for three games, only the scene shifts from the Bronx to Toronto. Much like last week, this series is pretty important by late-June standards. The Yankees could leave Canada in first place if things go well. They swept the Jays at home last week but lost two of three at Rogers Centre back in April.
What Have They Done Lately?
The Blue Jays lost two of three to the Reds in Cincinnati over the weekend, and they had to rally back from eight runs down for the one win. Toronto has lost eleven of their last 15 games overall and they come into the series 42-35 with a +25 run differential. They lead the Yankees (and Orioles) by 1.5 games in the AL East.
Offense
Manager John Gibbons watches over one of the best offenses in baseball, which averages 4.67 runs per game with a team 111 wRC+. They did lose both 3B Brett Lawrie (98 wRC+) and OF Jose Bautista (168 wRC+) to injury on Sunday, however. Lawrie had a finger broken by a Johnny Cueto pitch while Bautista left the game with a hamstring problem. He is having an MRI today to determine the extent of the damage. SS Jose Reyes (94 wRC+) is day-to-day with sore knee and IF Maicer Izturis (78 wRC+) is done for an extended period of time with a torn knee ligament. They're pretty banged up.
Even with all those injuries, Gibbons can still build his lineup around the trio of OF Melky Cabrera (128 wRC+), 1B Edwin Encarnacion (159 wRC+) and DH Adam Lind (157 wRC+). Melky has a 19-game hitting streak against the Yankees and is hitting .346/.378/.679 with six homers during that stretch. 3B Juan Francisco (135 wRC+) has been good in a platoon role and OF Colby Rasmus (118 OPS+) just came off the DL last week. Francisco figures to see more playing time with Lawrie hurt.
The Jays are currently carrying three catchers in former Yankee C Dioner Navarro (79 wRC+), C Erik Kratz (73 wRC+), and C Josh Thole (91 wRC+ in limited time). Thole is basically R.A. Dickey's personal catcher. That's all. IF Munenori Kawasaki (53 wRC+) and UTIL Steve Tolleson (99 wRC+ in limited time) round out the bench. Toronto's going to have to make at least one roster move today to replace Lawrie and may need to make another depending on Bautista's test results.
Pitching Matchups
The Blue Jays are scheduled to start the same three pitchers this week that they started in New York last week thanks to a spot start over the weekend. Dickey had a minor groin injury, so they simply called up a sixth starter on Friday and pushed everyone back a day.

Monday: RHP Chase Whitley (vs. TOR) vs. RHP Marcus Stroman (vs. NYY)
Stroman, 23, has a 5.14 ERA (3.69 FIP) in 28 innings covering four starts and five relief appearances this season to start his MLB career, though his walk (1.93 BB/9 and 4.7 BB%) and ground ball (51.5%) rates are excellent. His strikeout (7.39 K/9 and 17.8 K%) and homer (0.96 HR/9 and 10.0 HR/FB%) numbers are closer to league average. Lefties (.419 wOBA) have hit him much harder than righties (.307 wOBA) so far. The Long Island raised Stroman uses a mid-90s four-seamer and a low-90s cutter to set up his mid-80s slider, mid-80s changeup, and low-80s curve. He held the Yankees to two runs last week, but they worked him hard and forced him to throw 98 pitches in only 3.2 innings.
Tuesday: RHP David Phelps (vs. TOR) vs. LHP Mark Buehrle (vs. NYY)
The 35-year-old Buehrle is off to a fantastic start (2.32 ERA and 3.45 FIP) that is due almost entirely to his miniscule homerun rate (0.45 HR/9 and 4.6 HR/FB%). His strikeout (5.27 K/9 and 14.3 K%), walk (2.50 BB/9 and 6.8 BB%), and ground ball (42.0%) rates are right in line with his career averages through 15 starts and 100.2 innings. Buehrle has no left/right split but he has been better on the road (.270 wOBA) than at home (.338 wOBA) this year. As always, he works in the mid-80s with his four-seamer, two-seamer, and cutter, mixing in some upper-70s changeups and low-80s curves to keep hitters (even more) off balance. Buehrle allowed three runs (two earned) in six innings against the Bombers last week.
Wednesday: RHP Hiroki Kuroda (vs. TOR) vs. RHP Drew Hutchison (vs. NYY)
Hutchison, 23, has been rock solid following his return from Tommy John surgery, posting a 3.86 ERA (3.90 FIP) in 15 starts and 86.1 innings. His strikeout (7.61 K/9 and 20.2 K%), walk (2.81 BB/9 and 7.5 BB%), homer (1.04 HR/9 and 9.3 HR/FB%), and ground ball (36.7%) numbers are all good. Not great but not awful either. Lefties (.328 wOBA) have been a bit more successful against the Hutchison than righties (.302 wOBA), though he's been far better on the road (.266 wOBA) than at Rogers Centre (.439 wOBA). A low-90s fastball is his main pitch and he throws it a lot, more than 60% of the time. Sliders and changeups in the mid-80s round out the repertoire. The Yankees scored six runs in 3.1 innings off Hutchison back in April, then managed four runs in 4.1 innings against him last week.
Bullpen Status
Despite Dickey's groin issue, he was able to give the team 7.2 innings in the losing effort yesterday. RHP Sergio Santos (5.04 FIP) was the only reliever used and he threw all of two pitches. Gibbons' bullpen is pretty fresh. RHP Casey Janssen (1.68 FIP) is the closer, and with LHP Brett Cecil (2.28 FIP) on the disabled list, LHP Aaron Loup (3.31 FIP) is the primary late-inning lefty.
The rest of the bullpen includes RHP Chad Jenkins (4.77 FIP), RHP Dustin McGowan (4.65 FIP), RHP Todd Redmond (3.16 FIP), and LHP Rob Rasmussen (5.08 FIP in limited time). There really aren't any clearly defined roles at this point outside of Janssen in the ninth. Gibbons just sorta rides the hot hand in the late innings. You can check up on the Yankees' bullpen at our Bullpen Workload page, and for everything you need to know about the Blue Jays, head over to Drunk Jays Fans.
Update (2:15pm): The Blue Jays officially placed Lawrie on the 15-day DL and sent Kratz to Triple-A. OF Anthony Gose and OF Kevin Pillar were called up in corresponding moves. No word on Bautista's test results just yet, but the fact that they called up two outfielders suggests he will miss a few games.
Record Last Week: 4-2 (22 RS, 25 RA)
Season Record: 39-35 (297 RS, 327 RA, 33-41 pythag. record)
Opponents This Week: @ Blue Jays (three games, Mon. to Weds.), Thurs. OFF, vs. Red Sox (three games, Fri. to Sun.)
Top stories from last week:
Please take a second to answer the poll below and give us an idea of how confident you are in the team. You can view the interactive Fan Confidence Graph anytime via the nav bar above, or by clicking here. Thanks in advance for voting.
Given the team's current roster construction, farm system, management, etc., how confident are you in the Yankees' overall future?
Triple-A Scranton (5-4 win over Pawtucket)
1B-LF Jose Pirela: 0-3, 1 R, 1 BB, 1 SB
2B Rob Refsnyder: 2-3, 2 R, 1 HR, 1 RBI, 1 BB, 1 K – first Triple-A homer
CF Zoilo Almonte: 1-4, 1 RBI
3B Scott Sizemore: 2-3, 1 BB, 1 K, 1 E (fielding, throwing)
DH Kyle Roller: 0-4, 2 R, 1 K
RF Zelous Wheeler: 2-4, 1 K
C Austin Romine: 1-3, 1 2B, 2 RBI, 1 PB — started the day game after a night game
RHP Shane Greene: 5 IP, 6 H, 4 R, 3 ER, 1 BB, 5 K, 9/3 GB/FB — 63 of 97 pitches were strikes (65%) … hasn't pitched well at all this year when there was plenty opportunity at the MLB level
SwP Pat Venditte: 3 IP, zeroes, 1 K, 4/2 GB/FB — 20 of 30 pitches were strikes
RHP Danny Burawa: 1 IP, 2 H, 0 R, 0 ER, 0 BB, 2 K, 1/0 GB/FB — 17 of 26 pitches were strikes (65%)