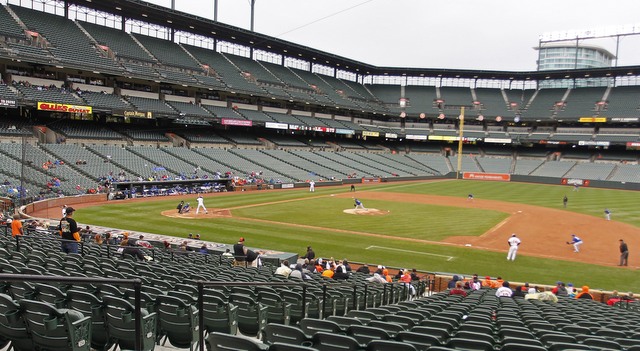 Thanks to last night's rainout, the Yankees and Orioles will play two games today. It's a split admission doubleheader, which makes for a very long day at the ballpark. Thankfully the Yankees already clinched a postseason berth and don't need to play with a ton of urgency today.
That said, home field advantage in the wildcard game is still on the line, and it would be nice to get that clinched as soon as possible. All it takes is one win or one Astros loss. You can't count on the latter happening — Houston demolished the Diamondbacks last night, I'm talking 21-5 — so taking one of these two games today would be appreciated.
We're going to use this game thread for both games. I'll bump it up to the top of the site for the nightcap when the time comes. Here is the Orioles' lineup and here is the Yankees' lineup for the first game:
It rained all night and most of the morning in Baltimore, but it's supposed to stop right around first pitch. There are some scattered showers expected throughout the day. It looks like they'll get both games in. It won't be pretty, but they'll get them in. The first game will begin a little after 12pm ET and you can watch on YES. Enjoy.
Update (6:30pm ET): Here is the O's lineup and here is the Yanks' lineup for game two of the doubleheader:
1B Greg Bird
2B Rob Refsnyder
3B Brendan Ryan
RHP Luis Severino
The weather hasn't changed much since this afternoon. Just a little colder now. There is some rain in the forecast but not until later tonight, around midnight or so. Shouldn't be a problem for the game. First pitch is scheduled for a little after 7pm ET and you can watch on YES. Enjoy.