The 10,000th win in franchise history will have to wait. The Yankees no-showed on offense again — they've now scored 22 runs in their last eight games — and the result was Monday night's 5-1 loss to the Red Sox. Boston beat the Yankees at their own game with a bunch of homers.
Classic Nova
I thought Ivan Nova had his best sinker of the season in this game. The pitch averaged a healthy 93.9 mph but it wasn't just the velocity. It was running all over the place as well. On more than one occasion Nova seemed to throw a sinker right down the middle and let the natural movement take it off the plate for a swing and miss. He got 15 of those.
That doesn't mean Nova dominated, however. He pitched in and out of jams all night — the Red Sox made two outs on the bases in the first inning, including one at the plate with the infield in — which has always been a Nova trademark. The Red Sox burned him with two two-out two-run homers. Travis Shaw hit one in the sixth, then Jackie Bradley Jr. did the same in the seventh. Both meatballs. Two of the few sinkers that didn't sink.
With any luck, this will be Nova's final start of the regular season. Maybe he starts Game 162 after they clinch a postseason spot or something, but no more meaningful games. Masahiro Tanaka will rejoin the rotation Wednesday and there's no reason Nova should be considered for the postseason rotation. He was demoted to the bullpen two weeks ago and that's where he belongs.
This game was classic Nova. A giant tease who looks great at times but always seems to leave the mound with four runs on the board. Tommy John surgery just gave him an excuse.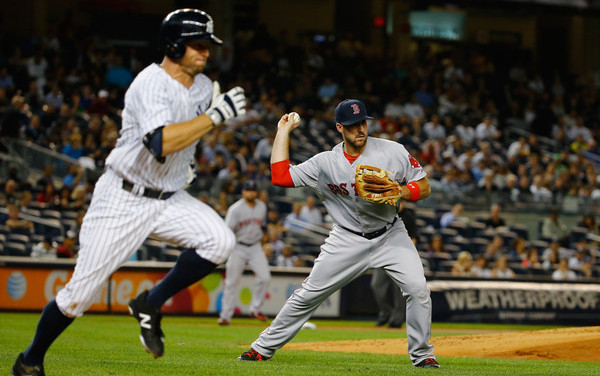 Missed Chances
Boy the Yankees were all over Eduardo Rodriguez early Monday night. Six of the first eleven men they sent to the plate reached base, yet they only scored one run because they kept playing for one run. So … mission accomplished? Jacoby Ellsbury's leadoff ground-run double in the first was followed by Brett Gardner's sac bunt. Gardner almost certainly did that on his own. Joe Girardi never calls for bunts that early.
Anyway, Ellsbury scored on Alex Rodriguez's sac fly deep to right field. Carlos Beltran and Chase Headley followed with back-to-back singles before Greg Bird stuck out. Three hits and four hard-hit balls in the inning, but only one run. That's what they played for. In the second, Didi Gregorius popped up an awful bunt after John Ryan Murphy started the inning with a single. It was as bad a bunt as you'll see. Didi can do a lot of things on the field. Bunting is not one of them.
The Yankees loaded the bases later that inning on a walk (Ellsbury) and a Dustin Pedroia error (Gardner), but A-Rod struck out with the bases loaded. So six of the first eleven Yankees reached base with some other hard-hit balls mixed in. Rodriguez wasn't fooling anyone — he gave up another single and some more rockets in the third inning — so who knows what happens without those bunts. Never bunt, hit dingers. Words to live by. Especially during Nova starts.
Predictably, the Yankees never mustered much after those early chances. Rodriguez retired 13 of the final 16 batters he faced and the Yankees had just two runners reach second base after the second inning. That was Rob Refsnyder in the fourth, who singled and moved up on a ground out, and Murphy's leadoff double in the ninth. Murphy was their only runner to make it as far as third base after the second inning. He moved up on Refsnyder's fielder's choice and was later stranded.
Somehow Gregorius was the only starter without a hit. Murphy was the only starter with two hits. The other seven starters had exactly one hit. Ellsbury and Murphy had doubles and the rest of the hits were singles. Ellsbury and Didi drew the only walks. The game was there for the taking in the first two innings, the Yankees didn't take advantage, and that was that. That's happened way too often of late.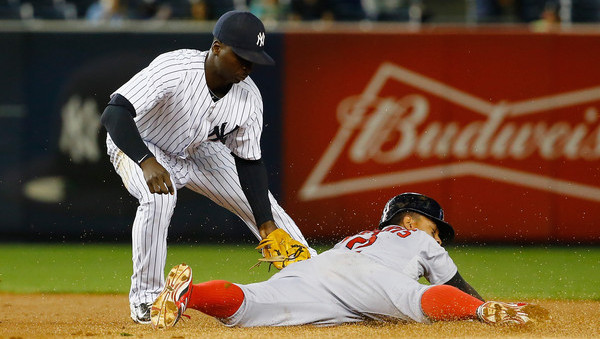 Leftovers
I can't remember ever seeing a runner flat out miss first base while going down the line, but Ellsbury did it in the fourth inning. He hit a weak tapper back to the mound that Rodriguez bobbled before firing to first. Ellsbury beat the throw but missed the bag. His foot was an inch or two short. Also of note: Murphy hit a line drive Bradley ran down, but he didn't realize it, so he stood at second thinking it was a double.
Nova went seven innings but don't worry, Girardi still managed to use five relievers. Andrew Bailey got one out, Chris Capuano got two outs, Caleb Cotham got two outs, James Pazos got no outs, and Nick Rumbelow got one out. Cotham allowed a solo homer for the fifth run. September Girardi is unbearable. Someone take all these relievers away from him.
Box Score, WPA Graph & Standings
Here are the box score and video highlights for Monday's game, and here are the updated standings and postseason odds for the season. The magic number to clinch a postseason spot remains three as of this writing and the tragic number in the AL East is down to two. Here are our Bullpen Workload and Announcer Standings pages, and here's the loss probability graph:

Source: FanGraphs
Up Next
The Yankees and Red Sox are just getting started. They'll play game two of this four-game set Tuesday night, when Michael Pineda and Wade Miley get the ball. RAB Tickets can get you in the door for any of the team's three remaining regular season home games.