The losing streak has hit six. The Yankees have also lost 14 of their last 18 games. They skipped right over mediocrity and went straight from good to awful, apparently. The Yanks dropped Tuesday's series opener 4-1 to the Orioles and once again looked bad at literally everything. Pitching, hitting, defense, base-running, you name it. They're doing nothing right.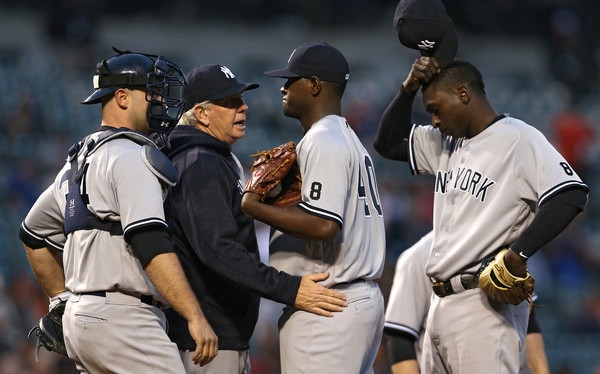 Two Errors, Two Dingers
I'd like to go back and rewatch this game because holy cow, Luis Severino missed the target on seemingly every pitch. He did bury a few sliders down in the zone in the first inning — elevating sliders has been a problem — but after that he was all over the place. Severino missed up in the zone at times and by the full width of the plate at others.
The first run Severino allowed — it came five pitches after the Yankees took a 1-0 in the top of the second — came on a long Mark Trumbo solo homer. Trumbo is known to mash dingers, so that's going to happen, but look where Brian McCann wanted the pitch and where it ended up: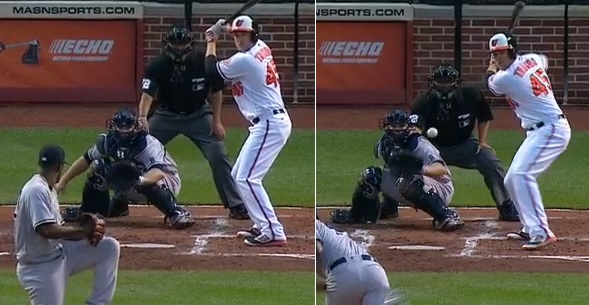 Not even close. McCann wanted it down and away and the pitch was up and in. The same thing happened on Trumbo's second homer, a two-run shot that gave the O's a 4-1 lead in the fifth. McCann wanted the pitch in one spot and Severino missed his location by no small margin: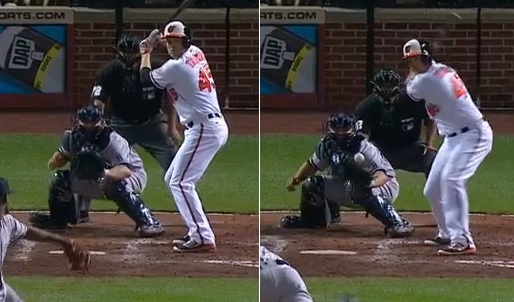 Severino did not miss his spot as much as he missed on Trumbo's first homer, but he still missed and put it in a hittable location. It seems like this has been a consistent problem for Severino this year. He's missing the target and not by an inch or two. He's not even in the same quadrant.
The Orioles scored a run between Trumbo homers and it was the result of Severino's second error of the night. The two errors were identical: Mark Teixeira fielded a ground ball, flipped to Severino covering first, and he dropped the ball because he was looking down for the base before making the catch. He was able to wiggle out of trouble the first time, but not the second.
Ryan Flaherty hit the grounder to Teixeira with two outs in the fourth, and Jonathan Schoop chugged all the way around to score from second on Severino's drop. Schoop just never stopped running. By time Severino picked up the ball and realized Schoop was heading home, it was too late to make a play at home. Flaherty's grounder would have ended the inning and kept the game tied. Instead the O's took a 2-1 lead.
(Teixeira put his arm around Severino and offers some words of encouragement following the second error. That was nice to see.)
Severino finished the night having allowed four runs (three earned) on five hits and two walks in six innings. He struck out four. Four of those five hits were for extra-bases: Trumbo went deep twice and both Schoop and Manny Machado had doubles. I was encouraged by the sliders Severino was able to locate down in the zone early, but at the end of the day, he wasn't all that good. The kid is sitting on a 6.31 ERA and a 4.44 FIP in 25.2 innings. Yuck.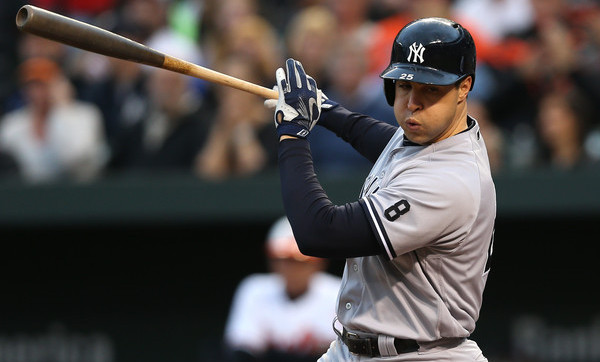 The Offense Disappears (Again)
So it turns out Sunday's seven-run outburst was an aberration. The Yankees were held to one run Tuesday night even though they put eleven guys on base against Chris Tillman and various relievers. They had seven hits, but only one went for extra bases. That was Brett Gardner's first inning double. He was stranded, of course. They also drew four walks. Three were leadoff walks too.
The Yankees scored their only run despite their best RISPFAIL efforts. McCann drew a four-pitch walk to start the second, then Carlos Beltran followed with a single. Starlin Castro banged into a double play, his fourth of the season, which threw a wrench into the rally. Didi Gregorius salvaged things with a two-out, two-strike single up the middle after Tillman threw him three straight curveballs.
Believe it or not, the Yankees went down 1-2-3 only once in this game. That happened in the seventh inning, when Tillman ended his night by striking out the side. He fanned six of the final 13 batters he faced. The Yankees put the leadoff man on base four times and didn't even advance the runner two of the four times. That is: bad. This team isn't doing anything right at the moment.
Leftovers
In case you missed it earlier, Alex Rodriguez left the game with a right hamstring injury. He hurt himself running out a fifth inning ground out. A-Rod is going for an MRI tomorrow. We'll see what it says. If nothing else, an A-Rod injury would presumably open the door for a young player like Aaron Hicks to get more playing time.
McCann (single, two walks), Gardner (double, walk), and Beltran (two singles) all reached base twice. Gregorius, Jacoby Ellsbury, and pinch-hitter Dustin Ackley each had a single. Teixeira drew a walk as well. Chase Headley took another 0-for-4. They can't keep running him out there. Give him a few days on the bench, at least.
Kirby Yates and Johnny Barbato came out of the bullpen and retired all six men they faced. Barbato fanned two in his perfect inning. Yay? Barbato's been struggling of late, so it was good to see him come in and blow some hitters away. He's looked a little rough over the last week or so.
And finally, the six-game losing streak is the longest since a six-gamer last May, which I completely forgot about. Prior to that the Yankees had not lost six straight games since 2011, when they had both a six-game losing streak and a seven-game losing streak in the same season.
Box Score, WPA Graph & Standings
Head on over to ESPN for the box score and updated standings, and MLB.com for the video highlights. Also make sure you check out our Bullpen Workload and Announcer Standings pages, because they're there and they exist. Here is the loss probability graph:

Source: FanGraphs
Up Next
The three-game series continues Wednesday night at Camden Yards. CC Sabathia and young right-hander Tyler Wilson is the scheduled pitching matchup.