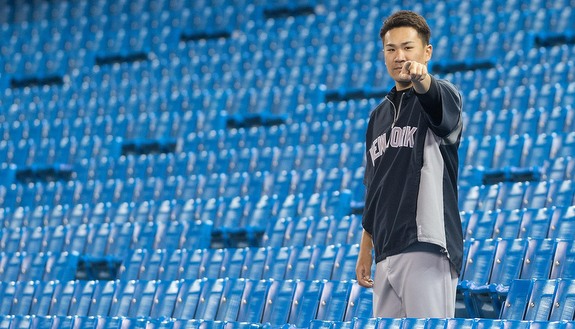 I had kinda forgotten just how much Masahiro Tanaka consumed the offseason last year. The Yankees lost Robinson Cano and signed Brian McCann, Jacoby Ellsbury, and Carlos Beltran as free agents, yet there were more words written about Tanaka than any other player. Even more than Alex Rodriguez, believe it or not. Here's a quick timeline of how all this Tanaka stuff went down:
The Yankees had reportedly been scouting Tanaka for years and years, but he didn't really jump into our consciousness until last May, and it wasn't until last November that the Tanaka Watch became a day in, day out thing. Those 10-12 weeks or so from November until he signed in January felt a lot longer.
When Tanaka first arrived in Spring Training, it was a total spectacle. There were throngs of Japanese and American media following his every move, watching every pitch as he played catch or threw a bullpen session. Tanaka struggled to keep up with the rest of the pitchers during their early running drills — "Just the running part, that was really hard for me today. I actually didn't know that I was going to run this much," said Tanaka to reporters — and it was written about everywhere, mostly because everyone was looking for the first sign of failure from a guy who went 24-0 in Japan last year.
Tanaka made his Grapefruit League debut on March 1st and it was thrilling. He struck out three — one on his fastball, one on his slider, one on his splitter — in two scoreless innings and said afterwards he "was nervous, but it was a good nervous." Tanaka made five appearances in Spring Training, allowing five runs on 15 hits in 21 innings. He struck out 26 and walked three. It was only Spring Training, yes, but he looked every bit as good as advertised. The splitter was filthy, the slider was underratedly filthy, the fastball was more than  enough, and he threw a ton of strikes. Like, so many strikes.
The Yankees felt it was necessary to lower expectations and take some pressure off Tanaka as he adjusted to a new league and a new country, which is why Brian Cashman said he projected him as a number three starter at the outset of Spring Training. Tanaka opened the season in the fourth spot in the rotation behind stalwarts CC Sabathia and Hiroki Kuroda and perpetual "hey, maybe this will be the year he puts it all together" candidate Ivan Nova. Here is the very first batter Tanaka faced in MLB:
That … didn't go according to plan. Tanaka settled down though, holding the Blue Jays to three runs (two earned) on six hits in seven innings. He struck out eight and walked zero. Tanaka made his Yankee Stadium debut a few days later and allowed three runs in seven innings against the Orioles. All three runs came on a Jonathan Schoop homer. That guy is really annoying. Tanaka struck out ten and walked one — his first walk came against the 41st batter he faced on the season.
The first two starts were a little up and down but the flashes of excellence were there. Tanaka's splitter was just ridiculous, one of the most devastating offspeed pitches I've ever seen. He was also missing bats with other pitches, pounding the zone, and showing the poise and competitiveness the Yankees raved about after they signed him. Reports compared his makeup to Hideki Matsui and it showed on the mound. Tanaka is a straight up cold-blooded assassin. Never gives off the impression of excitement or disappointment. Stone-faced.
Tanaka's coming out party, if you want to call it that, was his third start of the season, at home against the Cubs. He struck out ten, walked one, and allowed two infield singles in eight shutout innings. Total domination. Tanaka's next start came up in Fenway Park — he was originally supposed to miss that series (by the Yankees design) but a rainout forced him to pitch — and he more or less had his way with the defending World Series champs:
From that game against the Cubs until early-July, Tanaka was arguably the best pitcher in baseball. He made 14 starts during that cherry-picked stretch and had a 1.95 ERA (2.98
FIP
) with 109 strikeouts and 17 walks in 101.2 innings. Opponents hit only .214/.253/.355 against him during that stretch. Those 14 starts included one shutout and three complete games, one more than countryman Yu Darvish has in his three MLB seasons.
In his first 16 starts of the season, Tanaka struck out double-digit batters five times and walked more than one batter only four times. He completed at least six full innings of work in all 16 of those starts and at least seven full innings ten times. I think my favorite game in that stretch was his four-hit shutout of the Mets in Citi Field, though striking out eleven Mariners in Safeco was pretty awesome as well. Tanaka's worst of those 16 starts came against the Cubs in Wrigley Field. He allowed four runs (three earned) in six innings through a steady rain and that isn't even that bad of a start.
On the morning of his July 3rd start against the Twins, Tanaka had a 2.10 ERA (2.94 FIP) in 16 starts and 115.2 innings on the season. He then had what was his worst start of the year at the time, allowing four runs on nine hits in seven innings against Minnesota. Tanaka struck out a career-low three batters while allowing a career-high nine hits. (Career meaning MLB career, obviously). It looked like just a blip on the radar, one of those starts every pitcher goes through, but unfortunately there was a little more going on under the hood, if you will.
Five days later, the Indians pounded Tanaka for five runs on ten hits in 6.2 innings, including a pair of homers. Right after having his worst MLB start against the Twins, Tanaka topped it and had an even worse start. Tanaka complained of discomfort in his right forearm/elbow after the game in Cleveland and was sent for tests. He was placed on the 15-day DL the next day and an MRI showed a partial tear of his ulnar collateral ligament. Tanaka actually apologized for his injury:
"As recently announced from the team, I will be going through some treatment and rehab on my injured elbow over the next several weeks. I give everything I have every time I take the ball. With that, I also know that there will always be a risk of injury when playing this game that I love. Right now I feel that the most important thing for me is to keep my head up, remain focused on the task at hand and devote all my energy into healing the injury in order to come back strong.

"I want to apologize to the Yankees organization, my teammates and our fans for not being able to help during this time. I accept this injury as a challenge, but I promise to do everything I can to overcome this setback and return to the mound as soon as possible."
Tanaka was personally examined by three doctors — Yankees team doctor Chris Ahmad, Dodgers team doctor Neil elAttrache, and Mets team doctor David Altchek — and his test results were also sent to Dr. James Andrews for review. All four doctors agreed that because the UCL tear was so small, Tommy John surgery was not necessary and Tanaka should rehab the injury. So, rehab he did. The best case scenario had him back on the mound in six weeks.
After receiving a platelet-rich plasma injection in his elbow, Tanaka rested for three weeks before beginning a throwing program. He started with 25 light tosses on flat ground before stretching it out and throwing off a mound. Eventually he reintroduced breaking balls and splitters. Tanaka faced hitters in live batting practice as part of his rehab for the first time on August 23rd, then he graduated to simulated games. A minor setback — Tanaka hit a wall during his rehab and was fatigued, though tests all came back clean — halted his progress for a week in late-August and early-September before he continued the throwing program.
On September 21st, two and a half months after the start against the Indians, Tanaka returned to the rotation and held the Blue Jays to one run on five hits in 5.1 innings. He struck out four and didn't walk anyone. The Yankees had him on a strict 70-pitch count but otherwise he could have completed the sixth inning and maybe even the seventh as well. There were some obvious signs of rust, most notably his fastball location, but otherwise Tanaka will pretty damn good for a guy who had partially torn elbow ligament.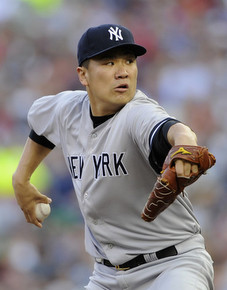 Tanaka's next and final start of the season was a total disaster. The Red Sox B-team clobbered him for seven runs (five earned) on seven hits and two walks in 1.2 innings in the 161st game of the year. It was ugly and no, neither the defense nor the bullpen (both inherited runners scored) helped him any, but Tanaka wasn't fooling anyone. Boston's hitters were on everything he threw and it was disconcerting given his elbow. It was definitely not what anyone wanted to see heading into the offseason.
But, most importantly, Tanaka said his elbow felt fine both during and after the start. He chalked it up to being just one of those games. There were more than a few people who questioned the team's handling of his rehab and letting him come back to make two meaningless starts at the end of the season, but if the doctors signed off and declared him healthy, what are they supposed to do? The extra rest wasn't going to help him any, the elbow is as healthy as it was going to get. If Tanaka was going to completely blow out his UCL and need Tommy John surgery, the Yankees wanted to see if it would happen in September rather than next April. (It could still happen in April, obviously.)
All told, Tanaka finished the season with a 2.77 ERA (3.04 FIP) with excellent strikeout (9.31 K/9 and 26.0 K%) and walk (1.39 BB/9 and 3.9 BB%) rates in 20 starts and 136.1 innings. His ground ball rate was strong (46.6%) but Tanaka did show he is a little homer prone (0.99 HR/9 and 14.0 HR/FB%), which isn't surprising given his home ballpark and willingness to pitch up in the zone. Out of the 149 pitchers to throw at least 100 innings in 2014, only Clayton Kershaw (14.1%) and Francisco Liriano (13.6%) had a higher swing-and-miss rate than Tanaka (13.4%).
Tanaka was legitimately ace-like when healthy. Unfortunately, he's not really healthy now. More than a few pitchers have pitched with a partial UCL for several years, Adam Wainwright and Ervin Santana (still has it!) most notably, but once a ligament starts to tear, it's only a matter of time before it fully goes. Hopefully the Yankees and Tanaka can avoid the knife for another few years because, as we saw this summer, the guy is a top 20 starter in baseball. Maybe even top ten. He was that good. The injury put a damper on what was otherwise a wildly successful MLB debut for Tanaka, who made the baseball and cultural adjustments looks easy.