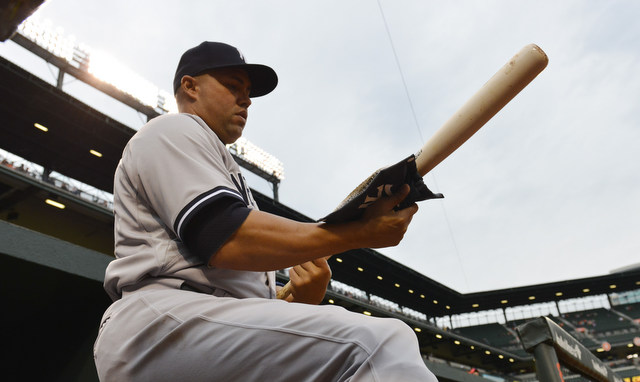 Following last night's 1-for-4 against the Rays, Carlos Beltran is now hitting a weak .167/.227/.283 (34 wRC+) with a 30.3 K% in 66 plate appearances so far this season. He didn't hit in Spring Training either (.225/.289/.275) and is now up to 111 total plate appearances since returning from offseason elbow surgery. Anecdotally, Beltran's at-bats the last few days have looked worse than his at-bats at the start of the season a few weeks ago.
Beltran's utter lack of production is a problem the Yankees can't ignore and moving him down in the lineup only helps so much. Unlike Derek Jeter last season or Jorge Posada a few years ago, the Yankees have no real connection to Beltran. He's not a legacy Yankee or anything like that. But he is signed through next season at $15M annually and that creates a major dilemma. This problem isn't going to go away after the season.
An unproductive veteran outfielder is, unfortunately, nothing new for the Yankees. Last season Alfonso Soriano was a drain on the offense after being so excellent in the second half of the 2013 season. The year before that it was Vernon Wells, who turned back into the Angels version of Vernon Wells after a pretty awesome month of April. Soriano was cut loose in mid-July and Wells managed to last the entire season before being released in the offseason.
Wells was under contract for 2014 but the Yankees were only responsible for $2.4M of his $21M salary. The Angels were on the hook for the rest, and eating $2.4M is nothing. Soriano was still owed about $2.5M at the time of his release and again, that's nothing to a team like New York. The Cubs were paying the bulk of his $18M salary last year. Those pills were relatively easy to swallow. On the other hand the Yankees owe Beltran $2.5M per month during the regular season this year and next.
The money leaves the Yankees in a very uncomfortable spot. They almost certainly will not release Beltran and I totally get it. I don't think you'll find an owner in baseball who is willing to eat that much money to make a player go away three weeks into year two of his three-year contract, especially when it's a player a) with Beltran's track record, and b) who maybe just needs more time to get right following offseason surgery. (The Josh Hamilton situation is a huuuge outlier.)
A trade seems impossible even if the Yankees are willing to a ton of money. (And I mean a ton of money.) Not only is Beltran not all that desirable to other teams as a fake right-fielder/DH who can't hit, he also has a full no-trade clause and has expressed a very strong desire to wear pinstripes throughout his career. I doubt he would agree to waive his no-trade protection to go elsewhere. That's his right. No one forced the Yankees to give Beltran the no-trade clause.
So, with a trade pretty much off the table, the Yankees are left with three realistic options. One, they could release Beltran, which seems unlikely for the reasons outlined above. Two, they could continue to play him lower in the lineup and hope he finds his groove as he gets further away from elbow surgery, even if he's nothing more than a left-handed platoon partner for Chris Young. And three, the Yankees could bench Beltran and reduce his playing time to almost nothing.
What I think will happen is a combination of two and three — Beltran will continue play regularly but gradually start to see his playing time decrease if he shows no signs of turning things around. Joe Girardi has already reduced Beltran's playing time — he's started only six of the last ten games — but he could reduce it even more, especially with Young playing so well. Maybe Beltran will end up playing only two or three out of every ten games or something along those lines.
Benching Beltran only fixes part of the problem though. He's still tying up a roster spot, and since he no longer offers defense or base-running at this point of his career, Beltran doesn't bring anything to the table in a reduced role. All he has to offer is leadership, basically. That's all. And Beltran is reportedly an excellent clubhouse guy, especially helping young Latin American players, so the leadership angle is not negligible. As a bench player he would have less on-field value than Garrett Jones, however.
"I think you don't lose perspective that so many players — personally, I went through it and I was never close to the hitter Carlos was — there are months that are tough," said the perpetually optimistic Joe Girardi to Chad Jennings yesterday. "The important thing is that you continue to send him out there and understand that he's going to turn it around and be a big part of our offense."
The Yankees have been able to rack up some wins despite Beltran's lack of production early this year, so while he's been a problem, it hasn't derailed the team yet. This isn't something the Yankees can brush under the rug though. Beltran is the weak link in a lineup with a few other black holes. The Yankees have little recourse aside from swallowing Beltran's contract to cut him loose, and I just can't see it happening anytime soon. The team as little choice but to hope Beltran starts hitting and soon.