A few years ago, the Yankees were pretty much the only team that figured out how to beat Pedro Martinez: you couldn't. You just had to wait him out and take care of business against the bullpen. That's exactly how the Yankees beat Felix Hernandez and the Mariners on Tuesday, keeping the game close and going to work late for a 4-3 win.
Shut Down By Felix
It wasn't a question of whether Felix Hernandez would shut the Yankees down, just how embarrassing it would be. The right-hander came into this start with a 3.08 ERA (~3.92 FIP) in 14 career starts against the Bombers, including a 1.13 ERA (~2.46 FIP) in five starts at the new Yankee Stadium. He stayed true to that form and limited New York to just one run in six innings, striking out eight. Felix left the game due to some kind of injury — the trainer came out to visit him during his final inning and he was shown flexing his left leg. He threw 97 pitches and surely had enough left in the tank for another frame.
The Yankees did have some opportunities against Hernandez, however. They had runners at first and second with one out in the first, a runner at third with one out in the third, and runners at first and second in the fourth. Those opportunities resulted in zero runs. It wasn't until Lyle Overbay doubled into the right field corner with two outs in the sixth that they scored their first run, and they got lucky the ball didn't hop over the fence for a ground rule double. It hit off the very top of the wall and stayed in the field of play, allowing the runner to score from first. Felix wasn't super duper sharp, but the Yankees really couldn't touch him.
Three-Reliever, Two-Strike Rally
As soon as Hernandez was out of the game, the Bombers went to work. Chris Nelson opened the seventh inning with a solo single to center, then advanced to second on Yoervis Medina's wild pitch. Brett Gardner put runners on first and second with a walk, then Robinson Cano knotted the game at three with a two-run double off the right-center field wall. I thought it was gone off the bat. Following a pair of walks to load the bases, Overbay gave the Yankees the lead with a sacrifice fly to center.
The go-ahead rally stood out for two reasons … well, really one big combined reason: the quality of the at-bats. Nelson, Gardner, and Cano all reached base in two-strike counts, and seven of the eight hitters saw at least four pitches in their at-bats. Five saw at least five pitches. The Yankees really worked the three relievers Seattle manager Eric Wedge used in an attempt to stifle the rally, those classic grind it out at-bats that have defined the team's offense for the last 18 years or so. It's not the first time they've put together a come from behind rally like this this year.
Leftovers
CC Sabathia wasn't particularly sharp but he wasn't bad. Just okay. The ten strikeouts were matched by the ten hits allowed, including a run-scoring double by Michael Saunders and a two-run homer by former Yankee Raul Ibanez. Those hits accounted for the three Mariners runs and were also the first two extra-base hits Sabathia allowed to left-handed hitters this year. Three runs (two earned) in 6.1 innings is fine for most pitchers, but CC ain't most pitchers.
David Robertson and Austin Romine combined to create a mess in the eighth, as the former walked the leadoff man on four pitchers before the latter got cute and tried to cut down the lead runner on a sacrifice bunt. Everyone was safe. Robertson pulled off a Houdini act and escaped the jam with a strikeout and a line drive double play, which really should be created to the coaching staff and Jayson Nix for his perfect positioning. Mariano Rivera tossed a flawless ninth for his 16th save in 16 chances. He got a gift strike three call to end the game.
Curtis Granderson's first game of the season was mostly uneventful. He grounded into a double play, grounded back to the pitcher, struck out, and walked to load the bases in the seventh. He looked fine in left field as well, though he didn't have any real tough plays. Ibanez hit a solid line drive out his way, but nothing that required a dazzling play. First day back went well enough.
Weird game for Overbay, who made two defensive miscues and ran into a defensive obstruction. The first bad defensive play was a simple ground ball to first that he flipped to Sabathia instead of taking himself, allowing Ibanez to beat out the infield single. The second was another simple ground ball that he just muffed, leading to the unearned run. Overbay was then ruled safe at first in the fourth inning when Hernandez stood in the baseline on a play at first. He was originally called out before the umpires conferenced and (correctly) awarded him first base. Standing in the baseline is a no-no. Weird day for Lyle.
The Yankees have not hit a homer in three games now, their first three-game homerless streak since July 2011. They already have four homerless wins in 2013 after having only seven last year.
I don't remember what inning it was, but that scripted Zoo York/Chad Ortiz (?) bit by the YES booth was just brutal. Where's the remote, I'm going to put on the Mets for the next few minutes bad. Let us never speak of that again.
Box Score, WPA Graph & Standings
MLB.com has the box score and video highlights, FanGraphs some other stats, and ESPN the up to the minute standings. Both the Red Sox and Orioles blew leads and lost on Tuesday, so the Yankees now lead the division by a full two games. They also have the most wins (25) in baseball.

Source: FanGraphs
Up Next
Same two teams on Wednesday night, when Phil Hughes squares off against Hisashi Iwakuma. Check out RAB Tickets if you want to catch the game live. Oh, and apparently the Arrested Development Banana Stand will be at the Stadium from 3:30-8pm ET on Wednesday, so there's another reason to buy a ticket and go.
By

10:42pm: Hafner has tendinitis in the shoulder and is day-to-day. He received a cortisone shot. Joe Girardi said he could return to the lineup as soon as tomorrow, but I'm guessing he'll get at least one more day to rest. Wouldn't be the worst idea.

3:59pm: Travis Hafner will miss at least the next few days with a sore right shoulder. He is heading for a precautionary MRI, but given his injury history, every bump and bruise is a red flag. The 35-year-old is hitting .260/.383/.510 (140 wRC+) overall this year despite slumping hard in May (23 wRC+). Hafner had debridement surgery on his right shoulder back in 2008 and missed time with soreness and inflammation in both 2009 and 2010. · (32) ·
RHP Gabe Encinas' mystery injury is indeed elbow-related, reports Josh Norris. Could be inflammation, soreness, a torn ligament, who knows. He was placed on the DL yesterday.
Triple-A Scranton (10-2 loss to Toledo)
2B Corban Joseph: 0-5, 2 K
3B David Adams: 2-4, 1 K — last day in the minors as he's expected to be called up tomorrow
RF Thomas Neal: 0-4, 3 K
DH Ronnie Mustelier: 1-4
CF Melky Mesa: 2-4, 1 R, 1 K — ten hits in his last 20 at-bats
LF Zoilo Almonte: 3-4, 1 R, 1 2B, 1 RBI, 1 SB — had been in a 7-for-34 (.206) rut
RHP Joba Chamberlain: 1 IP, 2 H, 0 R, 0 ER, 0 BB, 0 K, 1/2 GB/FB — nine of 12 pitches were strikes … had a little more on him earlier
RHP Caleb Cotham: 4 IP, 6 H, 6 R, 6 ER, 2 BB, 3 K, 1 HB, 5/3 GB/FB — 38 of 68 pitches were strikes (59%)
RHP Dellin Betances: 2 IP, 2 H, 1 R, 1 ER, 0 BB, 1 K, 3/0 GB/FB — 18 of 32 pitches were strikes (56%) … second relief appearance so far
LHP Clay Rapada: 1 IP, 2 H, 3 R, 3 ER, 3 BB, 0 K, 1/1 GB/FB — only 15 of 32 pitches were strikes (47%)
By

Left-hander Cesar Cabral, the forgotten injured Yankee, officially started his minor league rehab assignment with a scoreless inning for High-A Tampa tonight. He walked a batter and got two fly ball outs, plus another on the ground. His 30-day rehab window is now ticking and will expire on June 13th.

Cabral, 24, missed all of last season with a fracture in his pitching elbow. He must spend at least 90 days on the 25-man active roster this year as a Rule 5 Draft pick, otherwise he must be placed on waivers and offered back to his original team (Red Sox). Cabral nearly beat out Clay Rapada for the second southpaw spot in the bullpen before the injury last spring, and the Yankees definitely like him based on the way they've talked about him over the last 18 months or so. If Cabral stays healthy during the rehab assignment, they'll have a decision to make one month from today. · (3) ·
By

In his first rehab game with Triple-A Scranton, Joba Chamberlain allowed two ground ball singles in a scoreless inning of work. He got a ground ball to second, a fly out to left, and a fly out to right while throwing nine of 12 pitches for strikes. Depending how Joba and his strained right oblique feel tomorrow, he could be activated off the DL as soon as Thursday. · (8) ·
The first place New York Yankees just got their 40-homer outfielder back.
As expected, Curtis Granderson was activated off the DL earlier today, adding some thump and much-needed depth to the lineup. As an added bonus, he is shifting to left field as the Yankees look to optimized their defense by keeping Brett Gardner in center. I can't imagine Granderson is happy about that, especially in his free agent year, but I'm guessing we won't hear a peep out of him. Dude is a total pro. Here's the lineup that will face right-hander Felix Hernandez…
CF Brett Gardner
DH Vernon Wells
LF Curtis Granderson
1B Lyle Overbay
SS Jayson Nix
3B Chris Nelson
And on the mound is left-hander CC Sabathia.
Little chilly, but otherwise the weather in New York is wonderful. Tonight's game is scheduled to start at 7:05pm ET and can be seen on YES. Enjoy.
Kevin Youkilis Update: Youkilis (back) is still limited to light workouts in Tampa, basically playing catch and fielding grounders hit right at him. Doesn't sound like he is close to returning at all.
Mark Teixeira Update: Teixeira (wrist) continues to take batting practice in addition to running and fielding drills. He's been doing that for a few days now, but there is no word on when he will be able to begin playing minor league games.
Alex Rodriguez Update: A-Rod (hip) is hitting in the batting cage and sprinting, but nothing more. He still has a long way to go, obviously.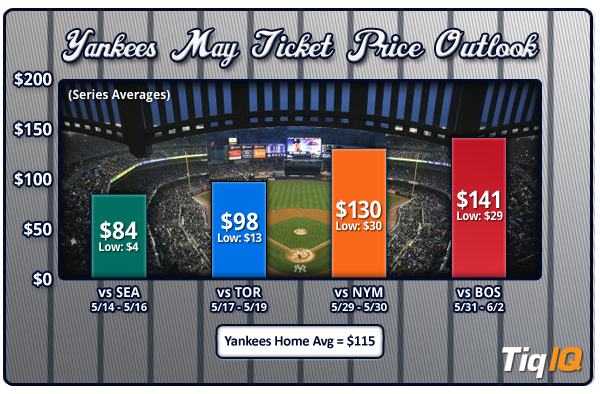 By Dan Groob, TiqIQ
After rattling off five consecutive wins on the road, the New York Yankees find themselves in familiar territory — first place in the AL East. The Yankees return to New York for a six-game homestand at Yankee Stadium to take them through the weekend. The Yankees will open the homestand with a three-game set against the Seattle Mariners, the third lowest scoring team in all of baseball. Runs will likely be scarce in Tuesday's series opener, as Yankees ace CC Sabathia takes the hill against Felix Hernandez.
Aiding the cause for the Yankees will be the likely return of outfielder Curtis Granderson, who has been on the disabled list all season long due to a broken forearm suffered when he was hit by a pitch in Spring Training. Granderson will add some pop to a Yankees lineup that led all of Major League Baseball in home runs last year by a whopping 31 taters, but has slipped to fifth in his absence this season.
Despite the series opening pitching matchup of aces and the presumed return of Granderson to the Yankees lineup, ticket prices for the Mariners series are among the lowest priced tickets at Yankee Stadium this season. According to TiqIQ, the Yankees tickets for this series carries an average price of $84, 27% below the season home average of $115.
All three games of the Mariners series check in at average prices between $82 and $86, with Wednesday evening's contest being the highest priced, and Thursday's the lowest. Tickets to get in the Stadium on Tuesday or Wednesday are available for as little as $3, while Thursday carries a get-in price of just $4.
Home Avg: $115
5/14 vs Mariners: $85/$3
5/15 vs Mariners: $82/$3
5/16 vs Mariners: $86/$4
Series Avg: $84 (27% below season avg)
Following the three game set against the Mariners, the Toronto Blue Jays come to town for a three-game set of their own. The Blue Jays also visited Yankee Stadium for a four-game series back in April, which the Yankees swept. With the Blue Jays struggling a bit in the early going, and playing well-below expectations, all three games of these series also check in with average ticket prices below the Yankees home season average.
Friday night is the least expensive ticket of the bunch, averaging just $83 with a get-in price of $13. Saturday and Sunday are both 1:05pmET matinees, and carry slightly higher average ticket prices of $107 and $111, with get-in prices of $17 and $16, respectively. The series as a whole checks in with an average ticket price of $98 dollars, 15% below the Yankees home season average.
5/17 vs Blue Jays: $83/$13
5/18 vs Blue Jays: $107/$17
5/19 vs Blue Jays: $111/$16
Series Avg: $98 (15% below season avg)
Following the six-game homestand, the Yankees will hit the road for eight games before returning home to close out May against the New York Mets and Boston Red Sox.
As is to be expected against these two teams, the next homestand will carry a ticket price premium to the season average. The Mets set checks in at an average ticket price of $130, a 13% premium to the season average, while the Red Sox series holds an average ticket price of $141, a 23% premium to the season average. It's a good bet to check out and buy Yankees tickets from the official Yankees Ticket Exchange for the homestand.
5/29 vs Mets: $132/$31
5/30 vs Mets $129/$30
Series Avg: $130 (13% above season avg)
5/31 vs Red Sox: $143/$33
6/1 vs Red Sox: $140/$30
62 vs Red Sox: $139/$29
Series Avg: $141 (23% above season avg)
By

The Yankees have officially activated Curtis Granderson off the 15-day DL, the team announced. In a corresponding move, Vidal Nuno to optioned down to Triple-A. That's no surprise after yesterday's start rendered him unavailable for at least the next three days. The fresh Brett Marshall remains with the team as the long man for the time being. · (70) ·
Am I the only Yankees fan with an irrational dislike of the Mariners? I guess it dates back to the 1995 ALDS, but it's really ramped up in recent years with the Cliff Lee non-trade and Michael Pineda's shoulder injury. On the bright side, Seattle has won just seven of 18 games at the new Yankee Stadium.
What Have They Done Lately?
The Mariners have actually been playing pretty well of late. They just took two of three from the free-falling Athletics and have won three of their last four games. They've also won six of their last nine and nine of their last 13 to bring their season record to 18-20 with a -20 run differential.
Offense
To no one's surprise, the Mariners are a below-average offensive club. They've scored just 3.6 runs per game this year, and their team 94 wRC+ is a bottom ten mark in the game. Seattle's only injured position player is CF Franklin Gutierrez (127 wRC+), who visits the DL on an annual basis these days. He's out with a hamstring problem.
Manager Eric Wedge's two best offensive players are CF Michael Saunders (144 wRC+) and 3B Kyle Seager (129 wRC+), and they usually bat first and second. Wedge doesn't mess around. Offseason additions DH Kendrys Morales (118 wRC+) and OF Mike Morse (110 wRC+) anchor the middle of the lineup, but OF Jason Bay (131 wRC+) will get a prime batting order spot against southpaws.
Seattle's trio of disappointing young positions players includes former Yankee C Jesus Montero (64 wRC+), who splits time behind the plate with C Kelly Shoppach (139 wRC+ in limited time). 1B Justin Smoak (99 wRC+) has been less awful than usual, but 2B Dustin Ackley (55 wRC+) has made up for it. SS Robert Andino (22 wRC+) is playing everyday over defensive whiz SS Brendan Ryan (-5 wRC+). OF Endy Chavez (71 wRC+) and former Yankee OF Raul Ibanez (80 wRC+) round out the everyday roster.
Starting Pitching Matchups
Tuesday: LHP CC Sabathia vs. RHP Felix Hernandez
Did you know the Yankees haven't played a series against the Mariners without seeing King Felix since 2009? That's a span of ten series, and they've face him in every single one. That's kinda annoying. The 27-year-old Hernandez has been as good as ever this year, pitching to a 1.53 ERA and 2.16 FIP through eight starts. His strikeout (8.59 K/9 and 25.3 K%), walk (1.23 BB/9 and 3.6 BB%), and ground ball (50.6%) rates are all outstanding. It seems silly to say, but as Jeff Sullivan wrote recently, Felix has made the jump from thrower to pitcher. His three fastballs — four-seamer, cutter, sinker — all sit in the low-90s, and his all-world array of offspeed pitches include an upper-80s changeup, a mid-80s slider, and a low-80s curveball. The Yankees have seen Hernandez plenty over the years, but as you know, he usually dominates them.
Wednesday: RHP Phil Hughes vs. RHP Hisashi Iwakuma
Believe it or not, the Mariners actually have two aces this year. Iwakuma, 32, has pitched almost as well as Felix this year (1.74 ERA and 2.80 FIP), his second in MLB after spending last season as a swingman. His peripheral stats are excellent as well — 8.88 K/9 (26.7 K%), 1.39 BB/9 (4.2 BB%), and 41.5% grounders — so it's not all smoke and mirrors. That said, his .198 BABIP won't last forever. Iwakuma's four-seamer and sinker sit in the upper-80s, and his top offspeed offering is a mid-80s splitter that falls off the table. He'll also throw low-80s sliders and slow-70s curveballs. The Yankees saw Iwakuma twice last year, both times as a starter. He held them to one run in five innings the first time, then got tagged for four runs in five innings the second time.
Thursday: LHP Andy Pettitte vs. RHP Aaron Harang
Harang, 35, is no longer the strikeout heavy workhorse he was during his prime with the Reds. He's bounced from the Dodgers to the Rockies to the Mariners these last six weeks or so, but he's only thrown a pitch for Seattle in 2013. Harang has been awful so far, putting up a 7.30 ERA (5.14 FIP) in five starts despite strong strikeout (8.39 K/9 and 20.7 K%) and walk (1.82 BB/9 and 4.5 BB%) numbers. The problem is his 35.8% ground ball rate and 2.19 HR/9 (15.8% HR/FB). These days Harang will sit in the upper-80s with his two- and four-seamer, and he throws the former roughly twice as often as the latter. A low-80s slider is his top secondary pitch, but he'll also throw the occasional low-80s changeup and mid-70s curveball. Believe it or not, Harang has never faced the Yankees. I get that he was a career NL guy prior to being traded to the Mariners, but he's been in the show for 12 years now. You'd think he would have run into them during interleague play at some point.
Bullpen Status
The Mariners were off on Monday for travel, so their bullpen is as fresh as can be this time of year. Closer RHP Tom Wilhelmsen (2.56 FIP) is one of the best least talked about relievers in the game, and setup men LHP Oliver Perez (3.76 FIP), RHP Carter Capps (4.72 FIP), and LHP Charlie Furbush (4.05 FIP) all rack up a ton of strikeouts. RHP Yoervis Medina (1.44 FIP in limited time) and LHP Lucas Luetge (2.64 FIP in limited time) handle the middle innings while former Yankee RHP Hector Noesi (2.67 FIP) is saddled with long relief duty.
Despite yesterday's doubleheader, the Yankees are in pretty good shape bullpen-wise. Both David Robertson and Mariano Rivera had the day off, but they've also pitched in four of the last six days. Giving them the proverbial one extra day would be neat. If the Yankees send down one of their extra arms to clear a roster spot for Curtis Granderson, I'm guessing they would keep the fresh and available Brett Marshall and demote Vidal Nuno. I guess we'll find out. Check out our Bullpen Workload page for recent reliever usage. For the latest and greatest on the Mariners, I recommend Lookout Landing and U.S.S. Mariner.
By

Via Ben Badler (subs. req'd): The Yankees are the "most likely landing spot" for Dominican outfield prospect Leonardo Molina once this year's international signing period opens on July 2nd. They have $1.18-1.88M to spend internationally this summer, depending on whether there is free agency or an international draft.

Molina, who has no relation to the Puerto Rican-born catching trio, is the top prospect in the Dominican Prospect League and one of the best athletes available this year. He is listed at 6-foot-2 and 170 lbs., and Badler says he's a "plus-plus runner with a strong arm, giving him the tools to be an excellent defender in center field once he refines his routes." Molina offers good bat speed from the right side but he needs to refine his swing a bit to tap into his offensive potential. He can't sign until he turns 16 on August 1st, but is likely to land a seven-figure bonus once eligible. · (36) ·