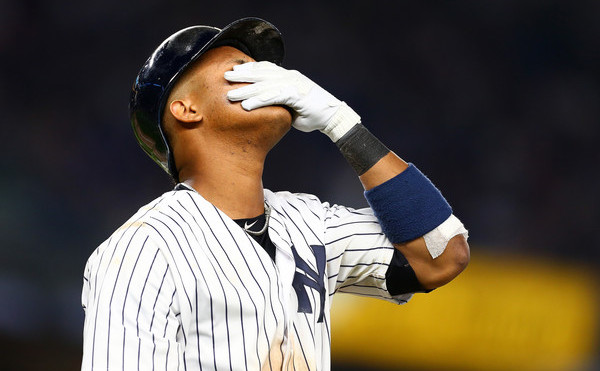 Last night's loss stunk, huh? Bullpen meltdowns are going to happen from time to time. Whatever. I'm more annoyed by the recent lack of offense. The Yankees have scored only 19 runs in their last six games, and only nine runs in their last three games. That's not going to fly. The Yankees are still second in baseball in runs per game (5.53), so they have the ability to score runs. They're just in a little bit of a funk right now.
Prior to this 19 runs in six games stretch, the Yankees scored at least seven runs in their four previous games, and one of those four games came against tonight's opposing starter, Royals righty Jason Hammel. The Yankees scored five runs in six innings against Hammel last week. I could go for a repeat performance tonight. Runs are cool. I like runs. Here is the Royals' lineup and here is the Yankees' lineup:
Not a bad weather day in New York. It was cloudy much of the day, and the same will be true tonight. Cloudy and cool. Tonight's game will start at 7:05pm ET. You can watch on YES locally and MLB Network nationally. Enjoy the game.
Injury Updates: Greg Bird (ankle) continues to progress with his rehab. He is hitting, fielding grounders, running the bases, the whole nine. Joe Girardi said the tentative plan is to send Bird to Tampa on Sunday, have him play in one Extended Spring Training game, then begin a minor league rehab assignment with High-A Tampa. My guess is he'll play a good amount of rehab games to make sure he gets all the way back on track after his miserable start to the season. We might not see Bird until the Yankees come back for their next homestand on June 6th … Aroldis Chapman (shoulder) will see a doctor for a checkup Friday, and if all goes well, he could begin a throwing program Saturday.
HOPE Week: Today the Yankees held an event at the Saturday Night Live studios to help benefit Comedy Kids, an organization started by two young boys who tell jokes to raise money for pediatric brain cancer research. Awesome stuff. Here's a video.