By

Carlos Beltran felt good after swinging a full-size bat earlier today, Joe Girardi told reporters. Beltran took 15 swings from each side of the plate with a fungo bat yesterday. It sounds like the plan is to gradually build Beltran back up — hit off a tee and soft toss, then in a cage, then in regular batting practice, then minor league games — before he rejoins the team. Obviously the bone spur is still in his elbow, so they have to be careful. So far so good though. · (8) ·
Jacob Lindgren | LHP
Background
Lindgren is from Bay St. Louis in Mississippi, which is basically halfway between Biloxi and New Orleans. He did not sign with the Cubs out of high school as their 12th round pick in the 2011 draft, instead following through on his commitment to Mississippi State. Lindgren had a 3.84 ERA with an 89/25 K/BB in 84.1 innings split between the rotation and bullpen his first two years on campus — he missed time with an ankle injury last year after being hit by a comebacker — but this spring he has a 0.88 ERA with a 93/21 K/BB in 51 innings while pitching exclusively in relief.
Scouting Report
Lindgren is not very big — listed at 5-foot-11 and 205 lbs. — but he offers nasty stuff from the left side. His fastball sits in the 93-95 mph as a reliever, and the pitch runs back in on left-handers. Lindgren's sharp mid-80s slider is true out pitch and it has eaten up college hitters this spring. That 16.41 K/9 is no accident. A twisting delivery and somewhat stabbing arm action adds deception and makes the fastball/slider combination play up. Lindgren has all but shelved the curveball and changeup he used as a starter now that he's in the bullpen full-time.
Miscellany
In their latest rankings, MLB.com, Baseball America, and Keith Law (subs. req'd) ranked Lindgren as the 41st, 89th, and 93rd best prospect in the draft class, respectively. He has a chance to do what Paco Rodriguez did for the Dodgers in 2012, going from second round pick to the big league bullpen in a matter of weeks. The Yankees have done a fine job of filling out their bullpen with later round picks in recent years, and while I'm not a fan of taking a pure reliever with a top pick, Lindgren could be someone they grab with their second rounder (55th overall) and fast track to the show. With a bevy of international signings on the horizon, using that pick to get near immediate help for the MLB club is a reasonable strategy.
By

According to George King and Zach Braziller, Michael Pineda threw two innings and 28 pitches in an Extended Spring Training game this morning, his first game action since being placed on the disabled list with a back/shoulder injury. He struck out four and allowed an unearned run on two singles and a walk. Twenty of the 28 pitches were strikes.

The ExST outing does not start Pineda's official 30-day rehab window. That won't happen until he pitches for one of the actual minor league affiliates. King and Braziller say Pineda will likely pitch in another ExST game this coming weekend, so the Yankees are understandably bringing him along slowly despite their rotation needs. He isn't expected to return to the team until mid-June. The most important thing is that he's healthy. · (23) ·
By

MLB released the first update of the All-Star fan voting this afternoon, and both Derek Jeter and Jacoby Ellsbury are among the top vote-getters at their positions. Jeter has received the third most votes overall behind Mike Trout and Jose Bautista, and the gap between him and the next highest shortstop (Alexei Ramirez) is the largest gap between first and second place at any position. Barring injury, Jeter will start the All-Star Game. I'm sure of it.

Ellsbury is a distant third to Trout and Bautista among outfielders. Carlos Beltran is fourth and not all that far behind Ellsbury while Brett Gardner is further down in 11th place. Mark Teixeira is fifth among first baseman, Alfonso Soriano is fourth among designated hitters, and Brian McCann is second among catchers. Along with Jeter, Ellsbury, Trout, and Bautista, the current voting leaders are Miguel Cabrera, Ian Kinsler, Josh Donaldson, David Ortiz, and Matt Wieters. The current voting results are right here. Voting ends at midnight on July 3rd. Here's the ballot. · (47) ·
One very valid criticism of the Yankees is that they simply don't produce enough quality players from the farm system. It has now been seven years since Brett Gardner made his debut, and the second best homegrown position player during that time is Frankie Cervelli at 2.2 fWAR. An injury prone backup catcher. The Yankees do a good job filling out their bullpen and the back-end of the rotation from within, but they haven't produced even an average position player in a long time. It really hurt last year during all the injuries.
Now, obviously the Yankees are the Yankees, and as long as they are the Yankees they will target big names over younger players, even their own young players. They have shown a tendency to favor certain players over others (the teacher's pet, basically) and give them extended opportunities — Gardner, Phil Hughes, and Eduardo Nunez jump to mind — but otherwise a young player needs to do what Robinson Cano did and force the team's hand if he wants to play regularly. That's what Yangervis Solarte did earlier this year, for example.
So far this year, with an assist to Cervelli's latest injury, John Ryan Murphy has emerged as a weapon off the bench. He plays sparingly because Brian McCann's contract guarantees he will play no matter how big his slump, but in limited time the 23-year-old Murphy has gone 14-for-37 (.378) and recorded at least one hit in eight of his ten starts. Despite walking only once, he is seeing 3.7 pitcher per plate appearances and has swung at pitches out of the zone at a league average-ish rate (31.0%). Murphy has shown some semblance of plate discipline, which is not all that common for young players in part-time roles. They tend to come out hacking when they get a chance to play because they want to prove to everyone they belong.
"In my role right now I just have to understand that I have to be ready to play at any time. So even though I'm not playing for the first eight, nine innings or whatever the game was at that time, I still have to be mentally locked in and ready to go," said Murphy to Jorge Castillo recently. "I'm just learning everyday from these guys. It's hard not to. The years on this team and the amount of experience that they have, it'd be dumb for me not to take advantage of this time I have here and learn from these guys."
Usually we say that if a young player isn't going to play everyday at the big league level, he should just go to Triple-A and get regular at-bats. That is true in almost all cases, but I think Murphy and young catchers in general are different. The catcher position is so unique because it's not just hitting and catching the ball, like say an outfielder would. Catchers have to develop a relationship with the pitching staff and pour over scouting reports each series. Every position requires behind the scenes preparation, but catchers have by far the most. It's a tough gig and I don't just mean physically.
Young catchers have the most difficult transition from the minors to the show for that reason. Look at guys like Yadier Molina and Matt Wieters, for example. They were as highly touted as anyone coming up as prospects, but it took them quite a while to adjust to MLB and fully realize their potential. Wieters still hasn't done it, really. Sure, everyone once in a while a Buster Posey breaks the mold, but they are the exceptions. The Yankees brought Jorge Posada along slowly for this reason, to ease the transition with the help of a veteran catcher. Murphy and McCann are the modern day Posada and Joe Girardi, in a sense.
Now, the elephant in the room is Cervelli, who is eligible to come off the 60-day DL on June 12th, two weeks from Thursday. Joe Girardi recently told George King that Cervelli's rehab from a hamstring strain is going well and the expectation is that he will be ready to be activated when eligible. Two weeks and two days is a long time, plus Frankie has a way of getting hurt and staying hurt, so it's tough to count on him. Whenever he is activated though, will the Yankees keep him and send Murphy back to Triple-A? Probably. Is that in the best interests of the team, both right now and into the future? I find it hard to believe.
Like I said, because the Yankees are the Yankees and are always looking to add that next veteran who may or may not put them over the top, Murphy and the team's other young catchers are prime trade bait. The Bombers have been smart to hoard young backstops all these years because they are very hard to find and valuable in trades, at least somewhat. Backup catchers are a dime a dozen — Nick Hundley was just traded for a bad lefty specialist and George Kottaras is on waivers every other week, so I don't think Cervelli would fetch much in a trade at all — but young guys with promise have very real value. A rebuilding club could stick Murphy in their lineup on just about an everyday basis — right now too, not two years down the line — and that is very appealing.
Unlike Austin Romine last year — man did Romine blow a golden opportunity last season, huh? — Murphy has shown the Yankees everything they wanted to see when they called him up following Cervelli's injury. He's hit well and I think he's done well defensively, including his work with the pitchers. I don't have anything to back that up, the pitching staff might hate him for all I know, but Murphy seems to be doing a good job in the non-hitting parts of the game. He broke out in the minors last year and has continued to progress this year. The Yankees haven't had much luck developing homegrown position players lately, but Murphy is helping them win games right now and he looks very much like someone who can help the team long-term.
For the first time in his three big league starts, Chase Whitley completed five full innings of work yesterday afternoon. Usually five innings isn't anything to celebrate, but for a recently converted reliever who had thrown 4.2 and 4.1 innings in his first two starts, five full innings was definitely nice to see. Whitley started the sixth inning as well, though he failed to record an out and the bullpen was pressed into action.
The bullpen has been pressed into action quite a bit of late, especially on the road trip. The Yankees have played three extra innings games on this trip through Chicago and St. Louis, totaling nine additional innings. They've played an extra game on the trip, basically. The Yankees did win all three of those extra innings games thanks to some strong relief work, so there's no complaints there, but all that extra work is starting to tax the bullpen.
Through the first 50 games of the season, the late-inning duo of Adam Warren and Dellin Betances are on pace to throw 94 and 98 innings this year, respectively. Nine of Warren's last 13 appearances have been for multiple innings while Betances has been asked to get more than three outs six times in his last seven appearances. In fact, of his 21 appearances this year, Betances has thrown one inning or less only seven times.
Of course, both Warren and Betances were starters their entire careers up until last season, but throwing 150+ innings in a season while on a five-day routine is much different than throwing 90+ innings when you're pitching every other day in relief or something like that. It's fewer total innings, yes, but they're pitching more frequently as relievers. Warren and Betances have shouldered most of the workload, but the bullpen as a whole has been worked hard this year. Check out the first 50 games of the last few years:
| | Starter IP | Reliever IP | Starter IP / Reliever IP |
| --- | --- | --- | --- |
| 2014 | 289.1 | 165.1 | 1.75 |
| 2013 | 297.2 | 150.1 | 1.98 |
| 2012 | 298.2 | 143.2 | 2.08 |
| 2011 | 302.2 | 145.2 | 2.08 |
The bullpen has already thrown 15 more innings this year than last through 50 games, and roughly 20 innings more than 2011 and 2012. Fifteen innings doesn't sound like much, but we're talking about one extra inning every three games or so. That adds up in a hurry, especially since these Yankees tend to play close games (only 14 games decided by 5+ runs), which means more work for Joe Girardi's primary late-inning guys.
Obviously injuries have a lot to do with this. Shawn Kelley has been out for a while and he would have definitely taken some of those innings away from Betances and Warren. The same applies to David Robertson when he was on the disabled list last month. Losing CC Sabathia and Ivan Nova — two starters the Yankees were able to count on for 6+ innings every fifth day in the not too distant past — to significant injuries has trickled down and added pressure on the bullpen since guys like Whitley and Vidal Nuno aren't innings eaters.
The Yankees will hopefully get Kelley back soon. He played catch yesterday and will do so again in the coming days, reportedly, plus Michael Pineda is on the mend and a few weeks away. (The Yankees were very careful with Pineda early on, but he is still a better bet to get you through five innings than some guys in the rotation right now.) Those two will help lighten the load on the current relievers, at least somewhat. Every little bit will help. It wouldn't kill the offense to break a game open every now and then either.
Girardi's strength has long been his bullpen management, and I can't remember another time when he worked two relievers as hard as he has Warren and Betances these last few weeks. You know he doesn't want to do it — ""We're trying not to kill Betances," said the manager to Chad Jennings yesterday, after Betances threw two more innings — but Kelley's injury and the thinned-out rotation have forced his hand. The Yankees are really pushing the limits of their pitching depth right now.
Until some guys start getting healthy, Girardi will have to rely on Preston Claiborne, Matt Daley and yes, even Alfredo Aceves in higher leverage spots — at least higher leverage than they deserve — to avoid overworking his normal late-inning relievers. The Yankees aren't going anywhere without Betances, Warren, Kelley, and Robertson dominating at the end of games, but at their current pace, Warren and Betances will burn out by August. The rest of the roster has to pick up some slack and give these guys more rest in the coming weeks.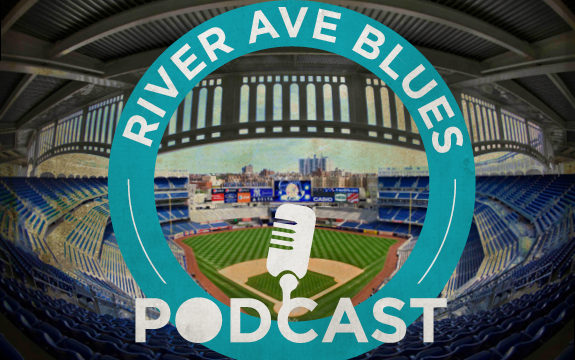 Guest: Will Leitch of Sports on Earth, New York Magazine, and formerly of Deadspin. He's a noted Cardinals fan who talks avidly of the organization.
(Unfortunately, the first 10 or so minutes of the conversation ended up being garbled or nonexistent. So the conversation starts at an, um, awkward position. But it's still a damn good talk.)
Mike and Jay had long weekends, so I'm solo. Thankfully, we got a bunch of questions. That kept me busy for a few minutes. Remember to email in your questions before Friday's show (recorded Thursday night), podcast at riveraveblues.com.
You can also give us a call us at 716-393-5330 and leave a voicemail. We'll play it on air and answer it. It'll feel more radio-like that way.
Podcast: Play in new window | Download (Duration: 27:56 — 12.8MB)

Source: FanGraphs
Monday afternoon's series opener against the Cardinals was not looking so good for a little while. Tie game in the late innings with a shaky and worn out bullpen? That's usually a recipe for a disaster. Instead, the Yankees outlasted their bullpen and rallied for a 6-4 win in 12 innings. Let's recap the Memorial Day victory, for America:
Five Innings: For the first time in his three starts, Chase Whitley completed five full innings of work. He started the sixth inning as well, but a double, a single, and a hit-by-pitch loaded the bases with no outs to end his afternoon. Preston Claiborne (more on this in a bit) allowed two of the three inherited runners to score, so Whitley's final line was three runs on eight hits in five innings. Not great, but it was so much better before that sixth inning. The Yankees need Whitley to start giving them some more length and this was progress.
Strong Bullpen: Aside from Claiborne, who was brought into a real tough situation, the Yankees got some excellent work from their bullpen. Five relievers held the Cardinals to two hits and one unearned run in seven innings, striking out four. Dellin Betances chucked two innings — Joe Girardi said he didn't bring him into the game in sixth because he was his eighth inning guy for the day, more or less — as did Alfredo Aceves, who wiggled out of some trouble with the help of his defense. David Robertson nailed down the save after Derek Jeter's throwing error led to the unearned run. Seven innings of one-run ball from the bullpen? Didn't see that coming.
Strategy!: The Yankees manufactured their first three runs (Jacoby Ellsbury and Kelly Johnson singled in runs, Brett Gardner plated another with a sacrifice fly), but the 12th inning rally was an NL-fueled nightmare. Ellsbury led off with a walk, then moved to second with a steal against Yadier Molina. Lefty specialist Randy Choate plunked Brian McCann, then Yangervis Solarte bunted (!) the runners up despite Choate's massive platoon split. Then, amazingly, Choate intentionally walked the lefty hitting Ichiro Suzuki. I don't get it. At all. Anyway, Brian Roberts singled in the go-ahead run, then Alfonso Soriano (sac fly) and Brendan Ryan (single) brought home insurance runs. What a ridiculous inning.
Leftovers: Roberts was the only Yankee with multiple hits, and the top five hitters in the lineup went a combined 3-for-21 (.143) with two walks … the Yankees went 4-for-9 with runners in scoring position (yay!) but did not have an extra-base hit for the third time on the road trip (boo) … Jeter made the throwing error in the 12th and he almost made another one earlier in the game. Johnson bailed him out with a nice stretch at first.
MLB.com has the box score and video highlights, FanGraphs has some other stats, and ESPN has the updated standings. The Yankees and Cardinals will continue this series on Tuesday night, when hometown guy David Phelps gets the ball against Lance Lynn. Another four-game winning streak would be swell.
Triple-A Scranton (15-8 win over Louisville)
2B Jose Pirela: 3-7, 2 R, 1 SB
LF Ramon Flores: 3-6, 4 R, 2 HR, 2 RBI, 1 BB — three homers in his last four games … the knock on him has always been a lack of power potential, but maybe it's starting to come around
3B Scott Sizemore: 2-6 — got picked off first
1B Russ Canzler: 3-4, 2 R, 1 2B, 2 RBI, 2 BB
DH Kyle Roller: 4-4, 2 R, 2 2B, 1 RBI, 2 BB
C Austin Romine: 1-5, 2 RBI, 1 BB
RHP Shane Greene: 5 IP, 8 H, 6 R, 6 ER, 2 BB, 2 K, 4/3 GB/FB — 50 of 82 pitches were strikes (61%) … considering the state of the MLB staff, it would behoove him to starting pitching well and soon
RHP Danny Burawa: 2 IP, 2 H, 0 R, 0 ER, 0 BB, 3 K, 1/2 GB/FB — 20 of 28 pitches were strikes (71%)
Happy Memorial Day to everyone, especially those who are serving or have served in the armed forces. It's because of you folks that idiots like me get to watch baseball all day and complain about it on a blog. Hope you all enjoyed the day.
Here is your open thread for the rest of the night. MLB Network is airing a game (who you see depends on where you live) plus there will be NBA and NHL playoff games as well. Talk about any of that stuff right here.