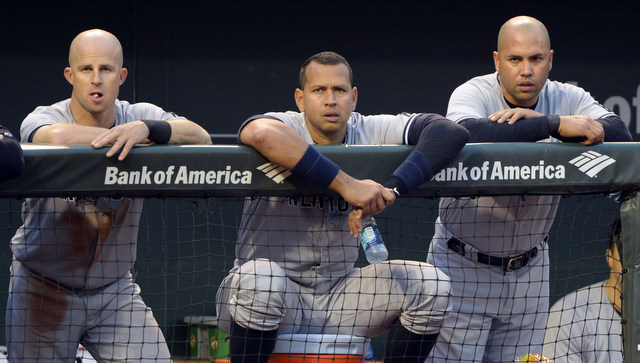 I don't know about you, but I think I've reached the third stage of grief over the Yankees being so unwatchably bad. I've already gone through denial ("It's just a slump, they'll be fine") and anger ("Blow this crapfest up"), and now I'm in the bargaining phase. Just win a game, please? Score some runs, get good pitching, that's all I ask. I'm a simple man. I guess depression and acceptance can't be too far away now. Sigh.
Anyway, the Yankees could really use a win! They have 138 games remaining including tonight, and eventually they need to win one (or, preferably, 80) of them. Even by accident. You'd think they would luck into some hits with men on base or get a random great pitching performance one of these days. Hasn't happened yet though. Each game is better than the next. Here is the Orioles' lineup and here is the Yankees' lineup:
It's cool and cloudy in Baltimore tonight, though there is no rain in the forecast. That's good. I think. Today's game is going to start a little after 7pm ET and you can watch on YES. Try to enjoy.
Injury Update: In case you missed it earlier, Alex Rodriguez was placed on the 15-day DL with a hamstring strain. Lefty James Pazos was called up to fill the roster spot.