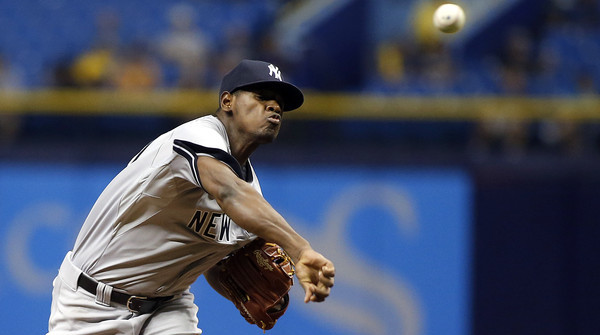 Back in April, if I told that Greg Bird and Luis Severino were getting significant time in August and September, y0u'd likely think that something had gone horribly wrong and the Yankees were no where near contending. Luckily, that hasn't been the case and the Yankees are inching ever-closer to a playoff spot, thanks in large part to the contributions of Bird and Severino.
Severino was pressed into Major League service earlier than anticipated and he's done much better than anticipated. Coming into today's start against the White Sox, he owns a shiny 129 ERA+ and respectable strikeout numbers: 8.8 K/9 and a 23.07% strikeout rate. His walk rates (~10% and 3.8 per nine) and homer rates (15.9 HR/FB% and 1.3 per nine) are a touch high, but that's excusable for a 21-year old in his first big league action. Along with Nathan Eovaldi's post-disaster start stretch, Severino's performance has been the most pleasant pitching surprise for the Yankees in 2015.
One of the biggest problems young starters tend to face is turning a Major League lineup over multiple times during the course of the game. For the most part, Severino hasn't run into this problem. His numbers tend to get better as the game goes on; take that with a grain of salt, though, as the first-time numbers could be skewed thanks to his 9/11 start against the Jays in which he gave up five hits–four for extra bases, including two homers–in the first inning alone. Still his numbers against teams the second and third times he sees them are solid. Severino's three-pitch arsenal helps this, as he has a dynamite fastball, a strong slider, and a developing changeup. In fact, it's that changeup that has helped him be so successful in turning lineups over.
Like most pitchers, Severino throws his fastball the most in any time through the order: 57.65 the first time; 44.88 the second; and 54.82 the third. His changeup, as you can see in the chart/graph, is least utilized each time through the lineup as well: 12.46; 16.17; 16.27. Changeup usage does ramp up slightly from first to second, then stays pretty consistent during the third. The changeup, though, has one interesting result that differentiates it from other pitches; it generates more whiffs-per-swing as the game goes on, whereas the other two pitches see a drop-off in whiff-per-swing, especially the slider.
In fact, of all his pitches, we could argue that the changeup has been Severino's most effective pitch. It has the best whiff/swing rate; the best groundball rate; and the lowest home run rate (0.00!). This could be a result of relative scarcity: he's thrown the pitch least often, so batters may not be used to it and aren't able to do much to it. However, the results on the pitch seem encouraging enough for him to consider trying it more often. This will be dictated by whoever he's facing because an RHP like Severino is less likely to throw a changeup to a lineup full of RHB. Still, given the velocity on the pitch, it acts a bit like a splitter, which is something a pitcher is able to throw to batters of both handedness (see Masahiro Tanaka).
Severino has three pitches, which is key to any pitcher's success–remember all the frustration of A.J. Burnett's two-pitch assault? The next step for him in transitioning to big-time, big-league starter is feeling comfortable and confident enough to throw any pitch in any count to any batter. Given what we've seen so far, Severino's changeup has the potential to be a great pitch; if he can learn to use it more frequently, he'll go from potential great pitcher to great pitcher.