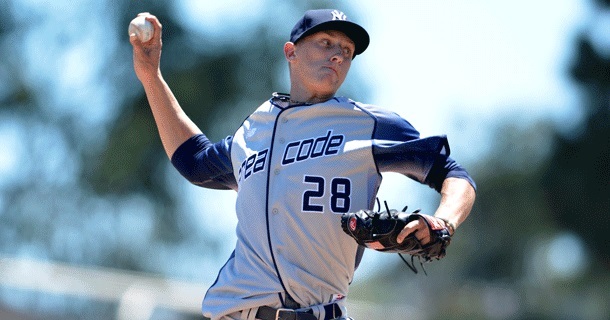 The 2015 amateur draft will begin four weeks from yesterday, and while that is relatively close, it still leaves plenty of time for things to change dramatically. Players could shoot up draft boards, play themselves out of the first round, get hurt, all that stuff. These next few weeks are pretty tense for both the teams and the players. Years of hard work have been leading up to this point. Here are some stray notes with the draft drawing closer and closer.
Broadcast Info Announced
Once again, the first day of the draft will be broadcast on MLB Network this year, MLB announced. The first round, supplemental first round, and second round will be broadcast starting at 7pm ET on Monday, June 8th. A total of 75 picks will be made that night and the Yankees have three of them: 16th, 30th, and 57th overall. The Braves lead the way with five picks on Day One. In past years there were five minutes between picks in the first round and one minute thereafter. I assume that will be the case this year as well.
Thankfully, the Yankees have a scheduled off-day on June 8th this year. I remember a few years ago — I think it was 2008, the year they drafted Gerrit Cole — they were playing the Red Sox the night of the draft and it was impossible to pay attention to both the game and the draft at the same time. This year we'll be able to focus on the draft without worrying about a game. Hooray for that. MLB really should give the draft broadcast a dedicated day, maybe the day after the All-Star Game. Having the draft compete against games means only the diehards are watching.
Baseball Prospectus' Mock Draft v1.0
Chris Crawford at BP posted his first mock draft yesterday (subs. req'd), and he has the Diamondbacks taking New York HS OF Garrett Whitley with the first overall pick. As Kiley McDaniel noted, Arizona seems to be planning to take a player they can sign way below the $8.6M slot so they can use the savings elsewhere. Considering there is no slam dunk, number one overall talent like Stephen Strasburg or Bryce Harper in this draft, that strategy makes sense.
Crawford has the Yankees selecting Pennsylvania HS RHP Mike Nikorak with their first pick, No. 16 overall. Nikorak is the consensus best high school pitcher in the draft and would be a major coup with the 16th pick. I think he ends up going in the top ten somewhere. Crawford notes it "wouldn't be a huge upset to see a (Mike) Matuella or Brady Aiken" land with the Yankees either. Matuella and Aiken were first overall pick candidates coming into the spring before blowing out their elbows and needing Tommy John surgery a few weeks ago.
MLB.com's Mock Draft v1.0
Meanwhile, Jonathan Mayo posted his first mock draft of the season earlier today and he has the D'Backs taking UC Santa Barbara RHP Dillon Tate with the first overall pick. Mayo has the Yankees taking California HS C Chris Betts with that 16th overall selection. The Yankees and a catcher? That's always a safe bet. Betts is a bat first catcher whose best defensive tool is his throwing arm. I've seen him comped to Brian McCann on more than one occasion, which means teams believe his bat will play at just about any position during his peak.
Murray Opts Out Of Draft
Texas HS SS Kyler Murray has opted out of the 2015 MLB draft, he announced on Twitter. Unlike other players who have simply asked teams not to draft them, Murray had MLB remove his name from the draft pool, so he is ineligible to be selected according to Teddy Cahill. Teams couldn't even draft him if they wanted. This kid is pretty serious about college, huh? Not sure why he wouldn't at least listen to offers.
Anyway, Murray will play both baseball and football at Texas A&M and has indicated he hopes to re-enter the draft and play in the big leagues down the road. He was the top two-spot athlete in the draft and a late first round/early second round talent, ranking as the 32nd and 34th best prospect in the draft class by Keith Law (subs. req'd) and MLB.com, respectively. Law said Murray "could very well be the second-best shortstop prospect in this year's draft."
I hadn't seen anything connecting the Yankees to Murray before his decision was announced, but, since he is an elite athlete at an up-the-middle position, Murray figured to at least be on New York's radar. Scouting director Damon Oppenheimer has gone after similar prospects like SS Carmen Angelini, OF Slade Heathcott, 2B Angelo Gumbs, OF Mason Williams, and SS/OF Austin Aune over the years. The Yankees are big on unteachable skills (athleticism, size, power, velocity, etc.) and Murray's athletic ability sure qualifies. He's no longer an option though.