By

6:09pm: According to multiple reports, Hughes received $7.15M. Wow, good for him.

5:31pm: The Yankees and Phil Hughes have avoided arbitration and agreed to a one-year contract for 2013, the team announced. No word on the terms, but MLBTR projected a $5.7M salary. Hughes, 26, will be eligible for free agency next offseason. I wrote about the idea of a contract extension a few weeks ago. · (16) ·
Three years ago, a then 36-year-old Derek Jeter looked dangerously close to being finished. He hit .270/.340/.370 (93 wRC+) across 739 plate appearances in 2010, by far the worst full season offensive performance of his career. The Cap'n rebounded in mid-2011 thanks to some mechanical work with former hitting coach Gary Denbo, and he rode those adjustments to a .316/.362/.429 (117 wRC+) showing last season. It was his best season since 2009 and second best since 2007.
An ankle fracture that may or may not be related to the bone bruise he played on for most of September ended Jeter's season during Game One of the ALCS back in October. He had surgery a few weeks later and his rehab is progressing well based on last week's update. Jeter has yet to do any baseball activities such as swing a bat or field some grounders, but he's riding a bike and running in a pool. So far, so good, so right now he's on track to be ready for Opening Day.
Great players tend to age differently than others, but no matter how iconic he may be, Jeter is 38 years old and Father Time is lurking. The number of full-time shortstops who qualified for the batting title at that age (or older) and managed to be above-average offensively is three, and only one has done it in the last 60 years. That was Jeter in 2012. Factor in the ankle injury, the significance of which should not be downplayed, and I think it's far to say the Yankees captain is more of a question mark now than ever before, even after that disappointing 2010 season.
In a recent Insider-only ESPN piece, Dan Szymborski used his ZiPS system to look at the next three seasons of Jeter's career. The standard disclaimer goes here: projections are not predictions, they're an estimation of a player's true talent level. Szymborski notes that even high-BABIP hitters like Jeter (career .354) tend to fall off rapidly in their late-30s, to the tune of 30+ BABIP points in a single season. Based on that alone, ZiPS measures the Cap'n at .288/.338/.396 next season, which isn't far off from his 2010 effort. That does not factor in the ankle injury, however.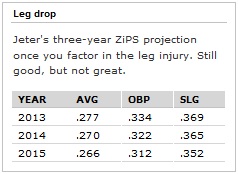 Szymborski notes that players who missed 30 or so days due to a leg injury — which Jeter would have done had he injury occurred in say, June instead of October — tend to underperform projections the following year. When he plugs the leg injury into ZiPS, it spits out a .277/.334/.369 projection for Jeter in 2013. That almost exactly matches his 2010 season, when he was close to 10% below league average. You can see Jeter's ankle-reflecting projections in the table on the right, and they aren't particularly pretty.
The league average shortstop hit .256/.310/.375 (86 wRC+) this past season, and that's atrocious. So the good news is that even an old and somewhat hobbled Jeter projects to be an above-average hitting shortstop for at least the next two years, which, coincidentally, is how long he remains under contract (assuming the player option for 2014 is exercised). The bad news is that those projections are a big step down for the Cap'n, which is not what the Yankees need at a time when they're losing offense in right field and behind the plate. Maybe at DH and third base as well.
Projections are wrong all the time, of course. ZiPS is consistently the best out there on a macro level, but on a micro level there are a ton of hilariously poor misses. The system projected a .280/.347/.393 line for Jeter last season, just as one example. I have no worries about Jeter preparing himself for the season, but I do worry about a potential setback if he pushes himself too hard. Just look at what happened to Andy Pettitte last summer. We all know Derek is going to put the necessary work in, but at some point the clock is going to strike midnight. Maybe it happens in 2013, maybe it happens in 2015. When you add the ankle problem on top of his age, the chances of Jeter's production taking a big step back becomes even greater, and that's one of the last things the club needs right now.
Here is your open thread for this evening. The Nets are playing, but otherwise you're on your own for entertainment. Talk about whatever you like here, enjoy.
By

Per Yahoo! Sports' very own Jeff Passan, the Nationals have signed Rafael Soriano to a two-year deal worth $28 million, and the Yankees will get a supplemental first round draft pick. Although a slow market had many thinking Soriano had erred in exercising his opt-out, Scott Boras exacting two years at $14 million with a vesting option for the third from a team that saw its closer utterly collapse in the 9th inning of Game 5 of the NLDS this year.

With this signing and because Soriano declined a qualifying offer, the Nationals lose their first round draft pick, and the Yanks gain another compensation pick. According to Jim Callis, that would be the 32nd pick of the draft. The draft order could move a bit when Kyle Lohse and Michael Bourn finally ink deals, but for now, it seems as though the Bombers will have around $5 million to spend based on the slotting system. Three late-first round picks will allow the Yanks a nice talent grab at the end. · (153) ·
The official rosters have yet to be released, but right now we know at least four Yankees will participate in the World Baseball Classic in a few weeks: Mark Teixeira (USA), Andy Pettitte (USA), Robinson Cano (Dominican Republic), and Frankie Cervelli (Italy). Since Hiroki Kuroda and Ichiro Suzuki have already declined invitations from Team Japan while CC Sabathia (elbow), Mariano Rivera (knee), and Derek Jeter (ankle) are all coming off surgery, those four guys are likely to be the only Yankees to play in the tournament. I suppose Josh Spence could crack the Australia roster, but he isn't on the 40-man roster and not someone really worth worrying about at this point.
Four years ago, the Yankees had several players participate in the World Baseball Classic, most notably Jeter and Cano. While those two were off representing their countries, the club was a little short on middle infielders in Spring Training and gave some of their minor leaguers extended looks. That's how Ramiro Pena, who had never played above Double-A at that point, wound up playing in 30 of the team's 34 Grapefruit League games that year, receiving the fourth most at-bats of anyone on the team. He hit an okay .277/.329/.338 and flashed serious leather in camp, which was good enough to beat out the veteran Angel Berroa for the utility infielder position on Opening Day. Pena received an opportunity in 2009 and took advantage of it.
This spring, those WBC-created opportunities will belong to Austin Romine and David Adams. Romine, 24, was due to get a long look in Spring Training anyway given the team's current catching situation, but with Cervelli away from the club, he'll get even more at-bats in front of the team's decision makers. Brian Cashman recently said he envisions Romine starting the season in Triple-A, but a strong camp has a way of changing minds. Since Chris Stewart appears to be a lock for one of the two catching spots, it's Romine vs. Cervelli for the other and only one will be with the team in Spring Training. I think it's fair to wonder why Cervelli is playing in the WBC given the big league opening. Maybe not the smartest career decision.
As for Adams, he figures to get plenty of playing time at second base while Cano is away with the DR squad. The Yankees like the 25-year-old enough to have him work at third base late last season and in the Arizona Fall League a few weeks ago, presumably in an effort to increase his versatility in advance of a big league bench job. Adams can't play shortstop and wouldn't work as a true utility infielder, but the Yankees have yet to replace Eric Chavez and he could fill that spot. His primary competition would be Corban Joseph, who is a defensive liability at both second and third. As we saw with Pena a few years ago, the Yankees won't hesitate to skip Adams over Triple-A if he's the best man for the job, something he has a chance to prove in camp.
One other benefit of the WBC — if you can really call it a benefit — is the opening of Pettitte's rotation spot. He'll be getting his work in with Team USA while Ivan Nova and David Phelps have a true Spring Training competition for the fifth starter's spot. Usually when there are multiple pitchers competing for one spot, one winds up pitching in relief of the other in the same game, meaning the starter tends to face big league hitters while the guy coming out of the pen faces the minor league replacements. With Pettitte away from the team, both Nova and Phelps can start every five days for the Yankees and truly compete for the rotation head-to-head with no scheduling or competition weirdness. Things will be a little more fair.
I enjoy the World Baseball Classic as a fan because hey, it's meaningful baseball in March. The tournament itself is pretty meaningless, but I find it fun nonetheless. I do worry about players, especially ones as important to the 2013 Yankees as Cano and Pettitte, getting hurt while playing for other clubs, but it comes with the territory. Some of the absences this March will create some opportunities for young players in camp, specifically Romine and Adams. Both are on the outside of the big league roster looking in now, but there are openings available and a strong few weeks could be the difference between an assignment to Triple-A or a six-figure job in the Bronx.
Three notable rule changes were approved at last week's owners' meetings, and they must now being given the okay by the players' union before they can be officially implemented this coming season. That isn't expected to be much of an issue. Here's the skinny on the changes, courtesy of Jayson Stark…
The Jeff Nelson move, as Michael Kay calls it, will now be considered a balk. That's the ol' fake-to-third, throw-to-first move. A handful of players fall for it each year. MLB can actually implement this without the union's approval, but they'll run it by the players for the sake of labor relations peace.
Coaches and managers will now be allowed to bring interpreters to the mound. That's a pretty big deal and not just for the Hiroki Kuroda's and Hyun-Jin Ryu's of the pitching world. There's an awful lot of young Latin American-born pitchers who have yet to fully grasp the English language out there. Heck, I still haven't grasped it.
Teams can now have a seventh coach in uniform and in the dugout during games. They had been limited to six before. A number of teams are carrying second hitting coaches these days — the Yankees haven't added one yet — and this accommodates them.
Just as a heads up, I'm going to be out of town for most of the week and will be pretty busy in general. Content is going to be a little light for the next few days, though I expect the Yankees to make a major move since I won't be around to write about it. I hope you're all ready for that massive four-team trade that sends Curtis Granderson to the Mariners, Boone Logan to the Nationals, and both Justin Upton and Mike Morse to the Yankees. Imagine that.
Anyway, here is tonight's open thread. Neither of the two basketball locals are in action, so you're on your own as far as entertainment goes. Talk about whatever you like here. Have at it.
Late last week, Justin Upton invoked his no-trade clause to prevent a deal that would have sent him to the Mariners for four players. Those four players were, reportedly, top pitching prospect Taijuan Walker, infield prospect Nick Franklin, and big league relievers Charlie Furbush and Stephen Pryor. I'm not sure why the Diamondbacks pursued a trade with one of the teams on Upton's no-trade clause to the point of agreement without first running the idea by him, but I digress.
Upton, 25, is no stranger around this parts. I've been writing about his as a trade target for years, including several times this offseason. Last we heard, the Yankees were not involved in any talks to acquire him but where willing to meet Arizona's asking price. That first report came back in early-November and obviously things may have changed since then. We do know the Yankees continue to seek a bat though — Hal Steinbrenner said so a few days ago — and Upton obviously fits the bill. Given their tendency to pursue major trades in secret, let's pretend they continue to pursue the younger Upton for our own amusement.
It's not often we find out exactly what it would take to acquire a player in a trade, but that's what we have here thanks to the failed deal with the Mariners. We know Arizona will take an elite pitching prospect, a very good infield prospect, and two big league relievers. Reasonable enough, though I'd argue it's a bit of a bargain since Walker is more likely to never get out of Double-A than be an impact player. We have a frame of reference for a trade, but the problem is the Yankees can't match it. They don't have a pitching prospect remotely on par with Walker — a healthy Manny Banuelos might have been close — nor do they have a top-50-ish infield prospect like Franklin. Every team can match the two relievers part, but few have a Walker and Franklin of their own lying around.
Here's the thing though: the Yankees don't have to match that offer now. The Diamondbacks aren't getting Walker and Franklin and two relievers. They lost some leverage when Upton blocked the trade to the Mariners for two reasons. One, it took a serious bidder out of the equation, so the market has shrunk. Two, the player-team relationship is likely so strained now that they'll have no choice to trade him before Spring Training just to avoid the distractions. That doesn't mean Upton will come cheap of course. It'll still take a four-player package that includes two prospects, but maybe now they're just pretty good prospects instead of elite.
Arizona acquired their shortstop of the future a few weeks ago when they essentially swapped Trevor Bauer for Didi Gregorious, so that position is no longer a focus in Upton trade talks. Franklin is a shortstop, but Baseball America (subs. req'd) recently said "he may fit better at second base because his range, hands and arm are all average." That part of the trade seems to be more about getting the best possible return than filling a specific need anyway. If the D'Backs are hellbent on getting two top-100 prospects back, the Yankees have four to offer in catcher Gary Sanchez and outfielders Tyler Austin, Mason Williams, and Slade Heathcott. None will rank as highly as Walker, but Williams will rank ahead of Franklin while the others won't be far behind. The exact rankings are trivial anyway, the important thing is that New York has the approximate pieces.
Much has been made of Upton's shortcoming in recent weeks because that's what we do nowadays — we focus on what he can't do rather than appreciate him for what he is. Yes, Upton didn't hit on the road this year (84 wRC+), but he's also a 25-year-old right-handed hitter who owns a career .278/.357/.475 (116 wRC+) batting line, draws walks (career 10.1%) and steal bases (18+ in each of the last four years), grades out well defensively, is a year removed from an MVP-caliber effort (139 wRC+), and is signed affordably through 2015. If his left shoulder checks out (he had a labrum issue in 2010 and supposedly it gave him some trouble last year) during the physical, who cares if he didn't hit on the road last season? Players like Upton aren't available that often and sometimes you have to roll the dice.
There has been some speculation that the Yankees don't like Upton's contract, which will pay him $38M over the next three seasons. I assume that has more to do with the plan to get under the $189M luxury tax threshold in 2014 than his salary for 2013, when he's owed just $9.75M. Trading Curtis Granderson to free up payroll space — a popular idea among the fans and MSM, apparently — wouldn't impact 2014 and beyond since he's a free agent next winter. Trading Granderson to make room for Upton would be about 2013. I don't like the idea of using one to replace the other, but if the Yankees don't have payroll space to add Upton for 2013, they probably don't have space for Mike Morse (or Jason Kubel) either. Moving Granderson ($15M) frees up a big chunk of financial room for both Upton ($9.75M) and Morse ($6.75M), assuming the team can find another $1.5M in the couch cushions somewhere. Upton and Morse would be better than the Grandyman and some free agent DH, at least in theory.
Anyway, this Upton stuff gives me a bit of an Alex Rodriguez circa 2003-2004 vibe. A-Rod was rumored to be available all winter and eventually the Rangers reached an agreement with the Red Sox, but the union shot the thing down because of the proposed restructuring of his contract. Before you knew it, poof, Alex was a Yankee. Upton's been available for months (years, really) and it wasn't until just now that they reached a trade agreement, but this time it was the player who blew things up, not the league. The Yankees may not have the exact pieces Arizona is seeking and that could prevent a trade from happening, but I do believe they have enough to at least get their attention. We can thank the Mariners for that. If New York is unwilling to pull the trigger on a trade for a 25-year-old player of Upton's caliber for financial reasons, well that's just sad.
By

Via Jon Heyman: Mark Teixeira will suit up for Team USA during the World Baseball Classic in March. He'll be joined on the team by Andy Pettitte. Robinson Cano (Dominican Republic) and Frankie Cervelli (Italy) are also scheduled to play in the tournament.

Teixeira, 32, has a history of starting the regular season slowly, so maybe the WBC will help get him on track a little earlier than usual. Then again, I feel like we say something similar before every season. Those four guys are likely to be the only Yankees to play in the tournament unless David Robertson sneaks onto the USA roster, which will be officially announced on Thursday. I suppose Josh Spence could crack the Australia roster as well. Hiroki Kuroda and Ichiro Suzuki have already announced they will not play for Japan (the two-time defending WBC champs) while CC Sabathia, Derek Jeter, and Mariano Rivera are all coming off surgeries. I believe the club can prevent them from playing. · (29) ·
2012 Record: 95-67 (804 RS, 668 RA, 96-66 pythag. record), won AL East, swept in ALCS
Top stories from last week:
Please take a second to answer the poll below and give us an idea of how confident you are in the team. You can view the interactive Fan Confidence Graph anytime via the nav bar above, or by clicking here. Thanks in advance for voting.
Given the team's current roster construction, farm system, management, etc., how confident are you in the Yankees' overall future?