By

Via Joel Sherman: Team ownership pulled the trigger on the Alfonso Soriano trade even though Brian Cashman advised against it. "I would say we are in a desperate time. Ownership wants to go for it. I didn't want to give up a young arm. But I understand the desperate need we have for offense. And Soriano will help us. The bottom line is this guy makes us better. Did ownership want him? Absolutely, yes. Does he make us better? Absolutely, yes. This is what [Hal Steinbrenner] wants, and this is why we are doing it," said the GM.

Sherman reiterates that ownership was also behind the Ichiro Suzuki re-signing while Cashman preferred to spend the money on the combination of Russell Martin and Nate Schierholtz, who was seriously considering the team's offer. Since officially taking over for George Steinbrenner in November 2008, the Hal-led regime has been behind the Derek Jeter contract, the Rafael Soriano contract, the Ichiro contract, and now the Soriano trade. Who knows what else. The trade was fine in my opinion, but I don't like that ownership has made a habit of going over the baseball ops department's head. That's generally bad news. · (129) ·

Source: FanGraphs
Well, winning Thursday's game and acquiring Alfonso Soriano was fun for a few hours. Reality slapped the Yankees in the face on Friday night as the far superior Rays completely dominated them in the 10-6 loss. By the end of the game, the infield was Brent Lillibridge, Eduardo Nunez, David Adams, and Chris Stewart. It was one of those games. Let's recap:
CC Stands For Consistently Crappy: Ninety-four pitchers have thrown enough innings to qualify for the ERA title this year, and CC Sabathia now ranks 78th with a 4.65 ERA. Tampa clobbered the big man for seven runs on nine hits and three walks in five innings, making him the only pitcher in baseball to allow at least seven runs in three straight starts at some point in 2013. That's very bad. A six-run second inning put this one to bed early, though Austin Romine deserves an assist for an awful throwing error. If the Yankees had a viable alternative, this would be a good time to stick Sabathia on phantom DL so he can straighten stuff out. He's been atrocious for a two months now.
Late Rally: The score was 10-1 at one point, so Joe Girardi did the wise thing and took out some regulars so they could rest in the late innings. The replacements put up a fight though, scoring two runs in the eighth and three in the ninth. Adams had a run-scoring single in each inning while Stewart (double), Melky Mesa (single) and Soriano (fielder's choice) drove in runs as well. They had the trying run on deck on two occasions after being down by nine runs, so that's cool. It was fun making Tampa sweat at bit. The O'Neill Theory is officially in effect for Saturday.
Fonzy's Return: Soriano's first game back in pinstripes was a forgettable one — he went 0-for-5 with a run scored. He flew out harmlessly with two outs and the bases loaded in the third, then beat out a potential double play ball with one out and the bases loaded in the ninth. I thought he looked surprisingly good in the field. Not great, but Soriano showed some decent range to his left and right. His arm is … let's just say runners won't hesitate to take the extra-base against him. Hopefully things get better from here on out, the first game is always the toughest.
Leftovers: Big ups to Adam Warren for sparing the bullpen with four innings of long relief. He allowed a three-run homer to James Loney that turned out to be pretty big, but he did his job on Friday … Romine had a single and a walk, so he continued to swing a hot bat … Lillibridge, Adams, Mesa, and Brett Gardner all had two hits apiece … Robinson Cano went 0-for-2 with a walk to drop his average below .300 (.299 now) and get his walk pace back over 80 (80.2 now) … the Yankees still (still!) have not hit a homer since the All-Star break. They've gone eight straight games without a dinger for the first time since going ten straight in 19-friggin-84. The Bronx Bombers (hah!) are the only team in baseball without a homer in the second half. Hate this lineup.
MLB.com has the box score and video highlights, FanGraphs some other stats, and ESPN the updated standings. With the win, the Rays take over sole possession of first place in the AL East. The Yankees are seven back of the division lead in the loss column and three back of a wildcard spot with two teams ahead of them. Anytime they want to start making up ground is cool with me. Ivan Nova and Chris Archer is your pitching matchup on Saturday afternoon. Give RAB Tickets a look if you want to catch the game in person.
The Yankees have signed infielder Brendan Harris to a minor league contract and assigned him to Triple-A Scranton, reports Josh Norris. The 32-year-old hit .206/.252/.355 (69 wRC+) in 117 plate appearances for the Angels earlier this year, his first taste of the big leagues since 2010. Nothing to see here really, the Triple-A squad needs some warm bodies due to injuries and call-ups.
Triple-A Scranton (6-5 win over Louisville in ten innings)
RF Ronnie Mustelier: 2-5, 1 R, 2 2B, 1 RBI — five hits in his last 13 at-bats (.385) with three doubles
DH Randy Ruiz: 3-5, 1 R, 1 2B, 1 RBI — seven hits in his last 14 at-bats
RHP Jose Ramirez: 3 IP, 5 H, 3 R, 3 ER, 1 BB, 3 K, 2/2 GB/FB — 36 of 56 pitches were strikes (64%) … 28/21 K/BB in 31.2 innings
RHP Dellin Betances: 2 IP, 2 H, 0 R, 0 ER, 2 BB, 4 K — 23 of 41 pitches were strikes (56%) … eight walks in his last nine innings
By

In his second minor league rehab game with High-A Tampa, Curtis Granderson went 0-for-3 with a strikeout. He flew out to center and grounded out to second in his other two at-bats. Granderson played five innings in left field and had to field a few fly balls and scoop some base hits in front of him. Getting comfortable at the plate is more important than his defense given the nature of the injury. He's expected to stay with Tampa through the weekend.

In the same game, Jayson Nix went 1-for-4 with a double to right field. He flew out to right, grounded out to short, and a lined out to short in his other three at-bats. He played seven innings at third base and booted a ground ball. Nix is working his way back from a hamstring problem and is much further along in his rehab than Granderson. Not sure what the plan is for him, but I suppose there's a chance he'll be ready in time to join the team before next week's trip to the West Coast. Don't quote me on that though. We'll find out soon enough. · (2) ·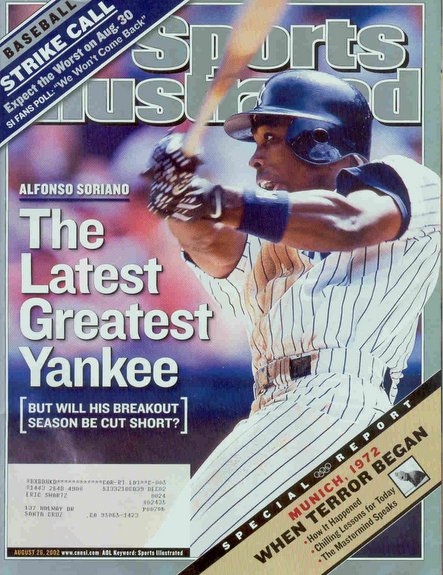 Nine years and five months ago, the Yankees traded Alfonso Soriano (and Joaquin Arias) to the Rangers for Alex Rodriguez. Today, Soriano makes his return to New York after being acquired from the Cubs for a minor league right-hander Corey Black.
The Yankees were — and still are, really — desperate for power, particularly from the right side, which is why Soriano made sense. He's a flawed player, no doubt about it, but the Bombers needed another guy who can put runs on the board with one swing of the bat. Having only one player who can do that is no way to go through life in a small ballpark in the AL East. Here's the lineup that will face right-hander Jeremy Hellickson:
LF Alfonso Soriano
1B Lyle Overbay
Soriano's return is the big story, but the Yankees really need a strong outing from tonight's starter, left-hander CC Sabathia. The team's nominal ace has a 5.19 ERA and 4.37 FIP in his last eleven starts, which includes 14 (!) homers allowed in 76.1 innings. He needs to be better and he knows it. Tonight would be a good night to start being better.
It's a little cloudy outside but the weather is fine in New York. High-70s/low-80s with some humidity and no threat of rain. Pretty good baseball weather. First pitch is scheduled for 7:05pm ET and can be seen on My9. Enjoy.
Roster Updates: Obviously, the Soriano trade is official. He will wear #12 with Vernon Wells switching to #22 … Thomas Neal was sent back to Triple-A Scranton to clear a 25-man roster spot for Soriano. The team already had an open 40-man roster spot.
Injury Updates: Alex Rodriguez (quad) did non-baseball activity today and will progress to fielding drills and soft-toss hitting tomorrow … Derek Jeter (quad) continued to hit and run the bases today. He's scheduled for a check-up and another workout tomorrow. If all goes well, he could come off the DL on Saturday, the first day he's eligible … Frankie Cervelli (hand) has some soreness and will be re-evaluated.
The Yankees aren't on the road anymore, but that doesn't mean the second half schedule gets any easier. The Rays are the hottest team in baseball and they're in the Bronx for a three-game series this weekend. New York and Tampa have split ten games this year with the Yankees outscoring their division rivals 44-38. No, really.
What Have They Done Lately?
Like I said, the Rays are the hottest team in baseball right now. They were rained out yesterday, but they took two of three from the Red Sox in Fenway Park before that and have won 19 of their last 22 (!) games overall. At 60-42 with a +68 run differential, Tampa is a half-game back of Boston in the AL East with the fourth best record in baseball.
Offense
Unlike the last few years, manager Joe Maddon has an above-average lineup at his disposal. The Rays average 4.7 runs per game with a team 111 wRC+, the seventh and second best marks in baseball, respectively. Tampa is perfectly healthy on offense, not a single regular position player on the DL.
As usual, the focal point of Maddon's offense is 3B Evan Longoria (140 wRC+). He's a monster. 2B/OF Ben Zobrist (113 wRC+), DH Luke Scott (135 wRC), OF Wil Myers (134 wRC+ in limited time), 1B James Loney (130 wRC+), 2B/OF Kelly Johnson (121 wRC+), OF Desmond Jennings (118 wRC+), and OF Matt Joyce (112 wRC+) are all above-average contributors as well. That's eight players as good or better than the Yankees second best hitter (Brett Gardner has a 112 wRC+).
The rest of the roster includes SS Yunel Escobar (90 wRC+), UTIL Sean Rodriguez (100 wRC+ in limited time), OF Sam Fuld (55 wRC+ in limited time), and the tandem of C Jose Molina (73 wRC+) and C Jose Lobaton (98 wRC+). They split time behind the plate almost 50/50. Tampa is a top ten homer-hitting team (seventh with 115), but they're just middle of the pack with 56 steals. These aren't your older brother's Rays anymore, they can hit.
Starting Pitching Matchups
Friday: LHP CC Sabathia vs. RHP Jeremy Hellickson
The Yankees caught a bit of a bad break with Tampa's rainout yesterday, because instead of facing the eminently beatable Roberto Hernandez on Sunday, they will instead face the 26-year-old Hellickson tonight. He's got a 4.62 ERA (3.85 FIP) with solid peripherals: 7.34 K/9 (20.0 K%), 2.13 BB/9 (5.8 BB%), 1.17 HR/9 (11.1% HR/FB), and 40.8% grounders. The one they call Hellboy outperformed his peripherals the last two years, but now he's underperforming them for some reason. A 68.2% strand rate (78.9% career) will do that to a guy. Hellickson's top pitch is a fading upper-70s changeup that he throws nearly 30% of the time. Low-90s two and four-seam fastballs set it up. He'll also throw a mid-to-upper-70s curveball. The Yankees have seen Hellickson a few times over the years and he's generally handled them well.
Saturday: RHP Ivan Nova vs. RHP Chris Archer
Another year, another Rays pitching prospect emerges at the big league level. This year it is the 24-year-old Archer, who has a 2.76 ERA (4.29 FIP) in ten starts. He is getting grounders (46.2%) and limiting homers (0.77 HR/9 and 7.9% HR/FB), but his strikeout (6.29 K/9 and 16.9 K%) and walk (3.84 BB/9 and 10.3 BB%) numbers leave something to be desired. Archer has shown four pitches this year, though his mid-90s four-seamer and wipeout mid-80s slider are his calling cards. He'll also throw a low-to-mid-80s two-seamer and a low-to-mid-80s changeup. It's worth noting that Archer has a massive platoon split this year, holding righties to a .223 wOBA while lefties have tagged him for a .321 wOBA. He started against the Yankees late last month and held them to one run in six innings.
Sunday: RHP Phil Hughes vs. LHP Matt Moore
Moore, 24, has a 3.17 ERA (3.56 FIP) in 20 starts this year but he's been dynamite of late, allowing four total runs in his last five starts (35.2 innings). His strikeout (8.66 K/9 and 23.1 K%) and homer (0.62 HR/9 and 6.2% HR/FB) rates are very good, but the walk (4.33 BB/9 and 11.5 BB%) and ground ball (39.0%) numbers leave something to be desired. Moore's fastball velocity has dropped off this year, but he still sits comfortably around 92-93 mph with his twojust and four-seamers. His low-80s slurve — it's more slider than curve at this point — and low-80s changeup are both legit put-away pitches. He's got nasty, nasty stuff. The Yankees have seen Moore a few times since he broke into the league in late-2011, including three times this year. I suppose the good news is that each of those three starts has gotten progressively worse: one run in eight innings in April, one run in six innings in May, and three runs in six innings in July. Hopefully that trend continues.
Bullpen Status
Maddon's bullpen is very well-rested coming into the series. Not only were the rained out yesterday, but David Price threw a complete-game on Wednesday and Moore threw a complete game on Monday. Their relievers have only had to work in just one of the last four days. Lucky them.
RHP Fernando Rodney (3.21 FIP) is the closer and has settled down after a rough start to the season. RHP Joel Peralta (3.55 FIP) is his primary setup man, and the Rays have an excellent pair of power southpaws in LHP Jake McGee (3.49 FIP) and LHP Alex Torres (1.70 FIP). Torres has been close to unhittable. RHP Kyle Farnsworth (4.60 FIP), LHP Cesar Ramos (3.19 FIP), and the steady RHP Jamey Wright (3.09 FIP) round out the relief corps.
The Yankees are in decent bullpen shape. Both David Robertson and Mariano Rivera pitched yesterday, but everyone else should be good to go. Check out our Bullpen Workload page for a look at the team's recent … bullpen workload. DRays Bay and Process Report are my go-to Rays blogs.
Got five questions for you today. If you want to send us anything throughout the week, the Submit A Tip box in the sidebar is the way to go.
Alex asks: Guys, do you think that with the haul the Cubs got for Matt Garza, the Yankees could reasonably expect to obtain a Mike Olt type of prospect for Phil Hughes? Obviously the package would be less than what the Cubs got for Garza, but using the framework, could the Yankees get a pretty solid return for Hughes?
Olt, whose stock is down quite a bit this year, ranked 44th on Baseball America's midseason top 50 prospects list. I like him less than that and think he's more of a 75-100 prospect, but my opinion doesn't matter. Teams have their own internal evaluation of every player and that's most important.
Pitchers similar to Hughes — that means a back of the rotation starter due to become a free agent — who have been traded at the deadline in recent years include Ted Lilly, Joe Saunders, Joe Blanton, Jason Marquis, Erik Bedard, and Jake Westbrook. Hughes is by far the youngest of the group, but age doesn't really matter when you're talking about a three-month rental.
The trade return for those guys ranges from a big league reliever (Saunders for Matt Lindstrom), one good but not great pitching prospect (Westbrook for Corey Kluber), four fringe prospects (Bedard), a promising young big leaguer (Lilly for Blake DeWitt), and a borderline non-prospect (Blanton). No one on par with Olt, obviously.
This is a seller's market though, mostly because more teams are in contention thanks to the second wildcard and no one wants to sell. If you have an asset like a back-end starter, you might be able to fetch more than expected. An Olt-caliber prospect is probably the best-case scenario for Hughes. I do think the Yankees are going to keep him unless they get a legit big league bat in return, however.
John asks: Who is considered — at this point in their respective careers — a better defender in left field, Alfonso Soriano or Vernon Wells?
Soriano was a complete disaster in left field when he first made the transition from second base, but he's worked really hard to improve out there over the years. Experience helps as well. UZR has rated him a bit above-average in recent years while DRS has him a bit below-average. I prefer DRS personally, but the truth is probably somewhere in the middle. I don't watch enough Cubs games to say if one jibes with the eye test more than the other.
Wells was never as good as his reputation as a Gold Glover, but both UZR and DRS agree that he's been ever so slightly above-average in the field since shifting to left three years ago. He's graded out as below-average in center for a half-decade now. I've been pretty underwhelmed with Wells' defense, particularly his range, but I suppose it is better than the typical left fielder. Defensive stats aren't precise enough to argue over fractions of a run and whatnot, and at this point I think Vernon's the better defensive left fielder. Not by a ton though.
Jeremy asks: Hey Mike, what about Paul Konerko? Tradeable, right-handed, free agent next year…
Joe had a Konerko kick for a few weeks a while back, but I would go nowhere near him. For starters, Konerko has been dealing with some nagging back problems this summer, at one point receiving six (!) injections. Back trouble for older players (he's 37) is a total dealbreaker for me.
If that wasn't enough, Konerko really isn't hitting this year. He's at .248/.315/.365 (84 wRC+) with seven homers in 295 plate appearances, though he does have a stellar 149 wRC+ against southpaws in limited time. The strikeouts are up (15.3%), the walks are down (8.2%), the power is gone (possible related to the back trouble) … lot of red flags here. If Konerko was hitting like he did last year (26 homers and 132 wRC+), I'd be all for it. At this point I'm staying far away.
Chris asks: Much has been made of teams handing out monster contracts lately, primarily because the term comes back to bite teams in the long run. Could the solution to this be not allowing teams to control players for longer but shorter? Would MLB and the players union be willing to allow free agency after six years from the draft or two years on a team's 25-man roster (whichever comes first)?
Baseball's salary structure is very … weird. Players make the least amount of money during what is usually their best years — their first six seasons, during pre-arbitration and arbitration — and the most when they're on the decline. The MLBPA would absolutely be in favor of anything that moves free agency up, which means the owners would be very much against it. They only like things that keep costs down. Small market teams would have a hard time competing if their best players could leave after two years. It would be impossible, really.
The only "solution" to prevent getting burned by long-term contracts is to not hand them out. Even if you moved free agency up, teams would still overpay for decline years. That seem inevitable. Whenever a huge contract is handed out, like seven or eight years, a lot of times the GM is assuming he won't be around for the final few years of the deal, when it tends to go really bad. Many of these contracts are handed out with the idea that the worst part will be someone else's problem. I have very little pity for clubs who get saddled with a long-term deal gone bad. They make their beds, they have to sleep in it.
Mark asks: Do the Yanks need make it priority #1 to acquire a long-term solution at third base this offseason (or before the trading deadline) as it is all but assumed that Alex Rodriguez will be banned for either 150 games or permanently starting either now or next year? Or is it another year of stop-gap temporary players and pray that either A-Rod is back at age 38/39 and that Eric Jagielo is hopefully ready by the 2015 season?
The Yankees shouldn't count on Jagielo at all when planning the future of the third base position. He was just drafted and even though he's polished and expected to climb the ladder quickly, he's still in short season ball and so very much can go wrong before be makes it to the show. It's the nature of the beast.
I think priority #1 should be finding a long-term shortstop, but third base is pretty much priority #2. This season confirmed it. They can't count on A-Rod anymore and there are no real third base prospects on the immediate horizon, so they'll have to look outside the organization. Finding that young guy to hold down the position for the next half-decade won't be easy, so they'll probably have to settle on stopgaps for the time being. Hopefully none with chronic back problems this time. Who knows, maybe Jagielo will emerge before they make any kind of trade for a long-term answer.
After days of rumors and weeks of desperation, the Yankees are finally adding some right-handed power to the lineup. New York has agreed to acquire Alfonso Soriano from the Cubs for minor league right-hander Corey Black, reports Bob Nightengale and Joel Sherman. Jon Heyman says righty Tommy Kahnle was on the table as well. The trade has not yet been announced by either team.
Soriano, 37, had full no-trade protection through his ten-and-five rights and had to agree to return to the Bronx. Nick Cafardo says the only team he was willing to accept a trade to was the Yankees. Soriano took a red-eye flight to New York last night and is expected to be with the team in time for tonight's series opener against the Rays. I assume he'll step right into the lineup on a full-time basis and not platoon. The Yankees have an open 40-man roster spot and will likely demote either Melky Mesa or Thomas Neal to Triple-A Scranton to clear a 25-man roster spot.
According to Buster Olney, the Bombers will pay $6.8M of the roughly $24.5M owed to Soriano through next season. They will pay $5M of that $6.8M in 2014. Soriano's eight-year, $136M contract comes with a $17M average annual value and an $18M salary next season. This luxury tax stuff is complicated, but by my unofficial calculation, Soriano will carry a $4M "tax hit" next year. Hopefully we get some confirmation on this at some point.
In 383 plate appearances this season, Soriano has hit .254/.287/.467 (100 wRC+) with 17 homers and ten stolen bases. That includes a .273/.310/.496 (112 wRC+) line against left-handers. After hitting just .250/.288/.302 with one homer in his first 30 games of 2012, Soriano switched to a lighter bat and hit .265/.331/.551 with 32 homers in his final 121 games. Over the last 30 days of this season, he's put up a .286/.330/.714 (178 wRC+) line with ten homers.
To give you an idea of how power-starved the Yankees are these days, Soriano has out-homered them 8-7 in July. He's hit ten homers since the Bombers last got a homerun from a right-handed batter — Jayson Nix took Yu Darvish deep on June 25th — and overall he has 17 homers this season compared to 24 for New York's righty bats. As a team, the Yankees are hitting just .235/.306/.341 (77 wRC+) with 20 homers against left-handed pitchers in 2013. They were desperate for a right-handed power bat.
Soriano is not without his warts, obviously. He doesn't walk (3.9%) and will strike out a fair amount (23.2%), though his strikeout rate isn't as bad as generally believed. It's more Nick Swisher and Evan Longoria than Curtis Granderson and Mark Reynolds. Soriano also doesn't steal bases like he once did — his ten steals this year are already his most since 2008. From 2009-2012, he stole just 22 bases in 28 attempts (79%). Soriano has worked hard to both improve his defense (though he's still no better than average in left) and his reputation in recent years. He gets rave reviews for his work ethic and clubhouse skills nowadays, especially when it came to mentoring the young players in Chicago. The Yankees love that stuff.
As you know, Soriano broke into the big leagues with the Yankees in 1999 before sticking for good in 2001. He signed with the Hiroshima Carp as a 16-year-old in 1992 and played them through 1997, at which point he "retired" from the Japanese leagues so he could sign with the Yankees for $3.1M. Soriano hit .284/.322/.502 (115 wRC+) with 98 homers and 121 steals with New York from 1999-2003, including .295/.335/.536 (128 wRC+) with 77 homers and 76 steals from 2002-2003. He finished third in the 2001 AL Rookie of the Year voting and third in the 2002 AL MVP voting, when he nearly went 40/40 (39/41). Soriano was traded with Joaquin Arias to the Rangers for Alex Rodriguez in February 2014.
Black, 21, signed for a below-slot $215k as the team's fourth round pick in last year's draft. I ranked him as the 24th best prospect in the organization before the season and the 18th best after last month's draft. Black has a 4.25 ERA (3.27 FIP) with an excellent strikeout rate (9.58 K/9 and 23.0 K%) but a poor walk rate (4.90 BB/9 and 11.8 BB%) in 82.2 innings spread across 19 starts for High-A Tampa this season, though he did spend time on the DL with an unknown injury. He's undersized — listed at 5-foot-11 and 175 lbs. — but he has a big fastball, showing 100 in the past and sitting in the mid-90s now. His secondary pitches all need work and he's likely headed for the bullpen down the road, though he has been impressive as a starter in 2013. Here are some .GIFs.
The Yankees have a ton of hard-throwing right-handed relievers in the organization, making it the one of the only areas the team has plenty of depth to use in trades. They are desperate for power at the big league level and Soriano will provide that even though his game is limited. The Cubs took Black over Kahnle because he's the better prospect, and trading a High-A pitcher likely destined for the bullpen for an upgrade to the big league lineup for a potential second half push is a move the Yankees should make all day, every day. New York still needs more offense, at least one and probably more like two or three bats, but Soriano is a start and he came at a reasonable cost.
By

Via Paul Sullivan: Alfonso Soriano is taking a red-eye flight to New York tonight. There has not yet been an official announcement of a trade nor has there even been a report that the two sides agreed to a deal, but that's a pretty great indication the trade will get done and Soriano will be with the club tomorrow. Based on various reports, the Cubs will pay more than half of the $25M left on his contract and the Yankees will send a low-level pitching prospect to Chicago. We'll find out the particulars soon enough. · (150) ·