The ultra-rare Friday matinee game screwed up our usual schedule today, so instead of posting the mailbag first thing, it had to wait until the afternoon. Anyway, I've got 14 questions in the mailbag this week. RABmailbag (at) gmail (dot) com is the email address to use if you want to send us any questions throughout the week.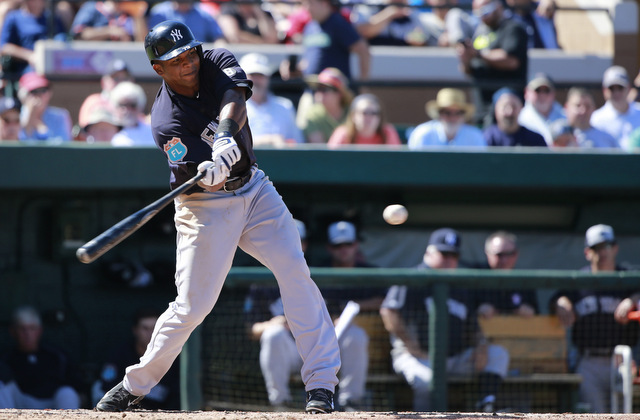 Chip asks: Ok Mike, I don't know what to make of this situation so I come to you for your expert genius. Cesar Puello was a guy I predicted I would get irrationally excited about this spring, but the longer he has stuck around and the better he has performed against actual major leaguers I feel like my excitement may no longer be irrational so what's the deal? Random guy having an awesome spring or former top prospect who got derailed due to injuries showing what he's capable of when he stays healthy?
My head says random guy having a big spring, my heart says interesting prospect who was hindered by injuries the last few years. Puello played one (1) game last season due to a back injury, and he's played a total of 263 games from 2012-15 due to injuries and a Biogenesis related suspension. (Puello is the only player suspended as a result of Biogenesis who has not played in MLB.)
Baseball America ranked Puello as the No. 77 prospect in all of baseball back in 2011, so he has natural ability. Heck, they ranked him as the No. 26 prospect in the Mets' system prior to last season. It's not like you have to look too far to see the last time he was a prospect. Here's a snippet of their scouting report from the 2015 Prospect Handbook:
He has flashed every tool but one — the feel to hit … He has plus raw power and at least average in-game juice, but a wild, impatient plate approach inhibits his ability to get to it consistently. Righthanders with good breaking stuff are especially successful at retiring Puello. An average runner with the instincts to play all three outfield positions capably, he has a plus arm that will play in right field.
Aside from injuries, I'm not sure anything has derailed more talented players than the lack of "the feel to hit." That's a tough flaw to correct, especially when you've missed as much time as Puello has over the years. He's worth a flier. Absolutely. And the Yankees should be able to give him Triple-A at-bats while Mason Williams is on the DL.
One thing to keep in mind: Puello is out of options. The Mets added him to the 40-man roster to protect him from the Rule 5 Draft years ago, and he burned through his three option years. He has a year of service time too. The Mets outrighted him last year because he was out of options and wasn't going to make the team, but then the back injury popped up, so they rescinded the outright and he spent the season on the MLB DL. Puello's not a guy the Yankees can send up and down. Once he's up, he's up.
Chris asks: Do you know if Mitchell will get MLB pay now that the Yankees said he was going to make the Opening day roster?
Yes, he will. Bryan Mitchell is on the 40-man roster and he's played in the big leagues in each of the last two years, so he's currently on the Major League DL. They couldn't send him to Triple-A and stick him on the minor league DL. Being on the DL is just like being on the active roster. Mitchell will get big league pay — the difference between the MLB minimum salary and even well-paid Triple-A players is hundreds of thousands of dollars — and accrue service time. No one wants to get hurt, but if you're a guy like Mitchell and you get hurt, you want to spend your time on the big league DL.
Rubaiyat asks: Out of all the shuttle relievers, who do you think will stick around the longest in the majors?
This season or long-term? Johnny Barbato looks like he has a chance to stick around a while this year, and I base that on one regular season appearance and a bunch of Spring Training outings, so take it with a grain of salt. I've always felt Branden Pinder is a guy who will spent a lot of time in MLB because he does throw hard and have a good slider. He didn't wow anyone last year, but the kid went up and down six times (!), and that couldn't have been easy. I'd like to see what Pinder can do when he gets an extended chance to stay on the roster. Jacob Lindgren's the other one. His slider is so good. Aside from injuries, rarely do guys with a breaking ball that good become nothing.
Andrew asks: Assuming Chapman has a Chapman type year once he comes back from suspension, what do you think he gets on the open market?
I think he has a chance to set a new reliever contract record. The current record is Jonathan Papelbon's four-year, $50M deal with the Phillies a few years ago. Papelbon was great, but Aroldis Chapman has been better …
| | ERA | FIP | K% | BB% | bWAR |
| --- | --- | --- | --- | --- | --- |
| 2009-11 Papelbon | 2.89 | 2.72 | 28.9% | 7.5% | +5.2 |
| 2013-15 Chapman | 2.05 | 1.82 | 45.3% | 11.7% | +6.5 |
… he'll be two years younger than Papelbon was at the time of his free agency, and salaries have inflated the last few years. Will teams try to ding Chapman for the domestic violence incident and subsequent suspension? Probably. They'll use whatever they can to create leverage.
A lot of great relievers will be free agents next offseason — Chapman, Kenley Jansen, and Mark Melancon, most notably — though I don't think that will saturate the market. Teams always need high-end relievers. I could see Chapman winding up with a four-year contract at $13M or $14M per season, so $52M to $56M in total money. It'll probably have an opt-out after two years or something too.
Richard asks: The BP farm rankings you linked to yesterday had the Red Sox at #5 and the Yanks at 16. Had the Yanks signed Moncada instead of the Sox, how would those rankings have changed?
Of course. Yoan Moncada is a legitimate top 15 prospect in all of baseball, maybe top ten, and guys like that are worth several spots in the farm system rankings all by themselves. Is he enough that the Yankees and Red Sox would switch spots? No way. But with Moncada, I think the Yankees would be much closer to the top ten, perhaps as high as No. 11 or 12.
Chris asks: Dwight Gooden. What was the biggest reason for his downfall: cocaine, overuse at an early age, or hitter figuring him out?
I definitely do not believe hitters figured him out. I think it was mostly overuse, and his physically issues were then exacerbated by the drug problems. Gooden threw 191 innings in the minors at age 18, 218 innings in MLB at age 19, and 276 innings in MLB at age 20. That is pretty insane. That's a huge workload even back in those days. Those 218 innings are the fifth most by a 19-year-old in MLB history. (Three of the four guys ahead of Gooden started their careers prior to 1940.) The 276 innings are the fifth most by a 20-year-old in history. Doc threw a ton of innings at a very young ago, then he did even more damage to his body with the drug abuse. I was way too young to fully appreciate Gooden's peak. He was incredible.
Brian asks: Who are your favorite non-Yankee announcers? I'm pretty lucky getting Gary Thorne down here in Baltimore and every once in a while like to switch up my mlb.tv feeds.
Thorne is pretty good. He's in the top ten announcers for me. Vin Scully is still the best in the business in my opinion. There's nothing better than chilling out at night, watching Clayton Kershaw pitch, and listening to Vin after a long day at the blog factory. Great way to unwind. The Giants (Duane Kuiper and Mike Krukow) have a good booth and so do the Mets (Gary Cohen, Ron Darling, Keith Hernandez). Keith Hernandez is great because he might say something hilariously inappropriate at any time. Example:
Len Kasper (Cubs) and Brian Anderson (Brewers) are great play-by-play men in my opinion. I also really like the Glen Kuiper/Ray Fosse booth for the Athletics. I'm not quite sure how it happened, but Dave Sims, the Mariners play-by-play guy, has really grown on me. When I first purchased MLB.tv back in the day and started watching every team, I couldn't stand Sims, but now I enjoy him. Go figure.
Ruby asks: Jack Cave was just returned to the Yankees. How common is it for a returned Rule 5 pick to become a significant major leaguer with their original club? What precedents are there with the Yankees?
It seems like it's much more common for a player to be successful after being returned as a Rule 5 Draft pick than as an actual Rule 5 Draft pick. I guess these players aren't quite big league ready when they get Rule 5ed, but a few years later, they're ready to help. Ivan Nova is the most notable example with the Yankees. The Padres took Nova in the 2008 Rule 5 Draft, returned him at the end of Spring Training, and a few years later he became a mainstay in New York.
Other players who have gone on to have big league success after being returned as Rule 5 Draft picks include Ender Inciarte (picked in 2012 by the Phillies), George Kontos (2011 by Padres), R.A. Dickey (2007 by Mariners), Alfredo Simon (2006 by Orioles), and Shane Victorino (2002 by Padres). Victorino was actually a Rule 5 pick twice. He stuck the second time (2004 by Phillies). The success rate is still not very high, but it seems like the players who are returned and get more time to work on their skills in the minors have a better chance of becoming regulars down the line.
Brandon asks: Do you think Nova can perfectly replace Adam Warren? Not sure why but I have a good feeling he's going to fill the role Warren played last year at the same level.
I don't know about perfectly, but I do think Nova has a chance to fill that role. The only questions I have are can he a) warm up as quickly as Warren, and b) back as well on back-to-back days? One of Warren's best attributes was the resiliency of his arm. He threw a few warm up tosses and was ready to go, and he was able to pitch effectively two days in a row. Can Nova do that, especially with Tommy John surgery in the not too distant past? The Yankees gave him almost an inning and a half to warm up the other night, after all.
Don asks: Beltran's ground out in the first inning got me thinking. He grounded out with runners on second and third, but got the run in and moved the runner up from second to third, a very productive out. Yet, he starts 0-1. If he hit a fly ball and had the same productive result he would be 0-0 with the sacrifice. It's understandable why a bunt would be a sacrifice because you are giving yourself up, but why the distinction between a Fly out and a ground out?
I've had this in the back of my mind for years and I've never found a satisfactory answer. Most things I've read say it's because sacrifice flies are considering intentional. The batter was trying to hit the ball in the air to score the run. A run-scoring ground out is considered a ball that was mis-hit, so to speak. I've also seen the argument that an RBI ground out is considered a fielder's choice, implying the fielder could have thrown home for the out but chose not to. I don't have a good answer for this. I'm of the belief sacrifice flies should be considered at-bats and count against batting average because the hitter had a chance to get a hit and did not. How many hitters are truly up there trying to hit a sac fly? Most of them are up there trying to get a hit, and they settle for a sac fly. The hitter's intent to give himself up is far more obvious with sac bunts.
Frank asks: I was looking at an article from Fangraphs' author Cistilli, and I noticed that Didi had a WAR of 3.1 with a wRC+89 in 2015. While Wilmer Flores only had a WAR of 1.9 and he had a wRC+95. Both are good fielders but I am a little confused about the discrepancy in WAR. Can you explain this?
It's the defense. Flores is not a good defender at all, which is why the Mets went with Ruben Tejada as their regular shortstop in the second half last year, and turned Wilmer into a bench player this year. Last season Gregorius had a +5 DRS and +7.4 UZR. Flores was at -10 DRS and -2.5 UZR at shortstop. That's the difference right there.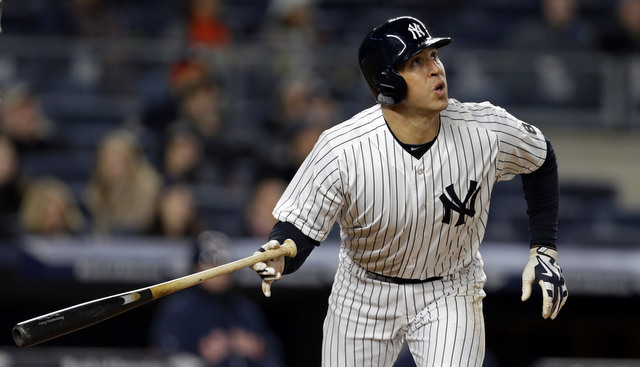 Victor asks: Do you think the Yankees consider Teixeira on 1 year deal with a club option for a 2nd year?
Assuming Mark Teixeira doesn't fall off a cliff this year — and assuming it doesn't screw up the plan to get under the luxury tax threshold — I think the Yankees would strongly consider re-signing him to a one-year contract with an option regardless of Greg Bird's status. If Bird's rehab comes along slowly for any reason, pursuing Teixeira on those terms is a no-brainer. And even if his rehab is going well, Teixeira is added depth and would give the team the luxury of sending Bird to Triple-A to knock off any rust. The Yankees aren't spending like they once did, but I think it's the big money long-term deals that scare them. A one-year deal for Teixeira, who they know very well, is something the team may be open to.
Paul asks: On a day after Nova pitches, who is most likely to be the guy to take one for the team and pitch 3-4 innings in the event of an emergency?
I have to think it's Luis Cessa right now. He got stretched out to three innings in Spring Training, so the Yankees could probably send Cessa out there for four innings right now, as long as his pitch count doesn't get out of control. Barbato and Kirby Yates are true short relievers. One or two innings at the most. Cessa is a starter by trade and he's somewhat stretched out.
Sean asks: Do we know Girardi's nickname for each guy on the 25 man roster? What % end in -y?
Oh this is a good one. Let's build a table and try to fill in the blanks.
Much harder than I expected! I guess maybe that's because there was so much bench and bullpen turnover this year. (No more Jonesy, for example.) I feel like I've heard Girardi call Shreve "Shrevey" before, but I wonder if I'm being confused by everyone joking around and calling him that.
Some guys, like Sabathia and Gregorius, don't really need nicknames. Heck, Didi already is a nickname. (Didi's real name is Mariekson Julius Gregorius.) Girardi calls A-Rod "Al" pretty much all the time. Al or Alex. So which ones am I missing? I feel like I'm blanking on a bunch of obvious nicknames here.