I don't think you could have asked for a better finish to the series considering how the first two games played out. Brandon McCarthy led the Yankees to a 3-0 shutout win over the Astros on Thursday afternoon in the fastest game in New Yankee Stadium history. This one took only two hours and seven minutes.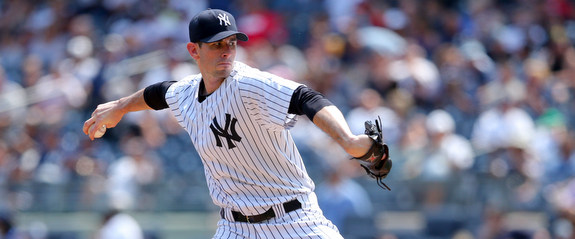 Career-High
McCarthy has been a big leaguer for ten seasons now. He was part of the 2005 World Champion White Sox team, believe it or not. He's been around for a while, and yet on Thursday afternoon he set a new career-high by starting his 26th game of the season. McCarthy started 25 games with the 2011 Athletics and 22 games in two other seasons, but that's it. Never before had he started 26 games in one big league season. He celebrated the new career-best in style.
As has been the case since he arrived in New York, McCarthy was fantastic on Thursday. He retired the first nine men he faced and then another seven in a row at one point from the fourth through seventh innings. The final eight batters he faced also made outs. The Astros put men at second and third in both the fourth (with two outs) and seventh (one out) innings, their only serious threats. McCarthy got out of the first jam with a ground ball back to himself and the second with a strikeout and a routine pop-up. Nice and easy.
McCarthy followed that seventh inning with a perfect eighth and ninth for his fourth career shutout and first since last season. He's the first non-Masahiro Tanaka pitcher to throw a shutout for the Yankees since Ivan Nova last September. All told, McCarthy held the Astros to two singles, two doubles, and no walks in his nine innings, striking out eight and throwing 106 pitches. He retired the side in order in every inning but the fourth and seventh. Houston hit ten balls out of the infield all afternoon. That's it. Fantastic outing for McCarthy and exactly what the team needed given the recent state of the bullpen.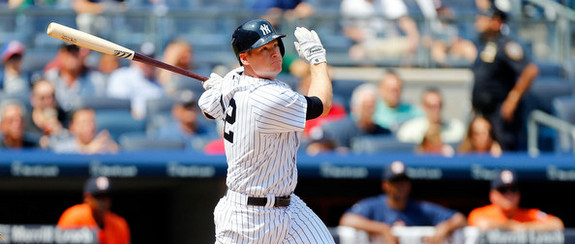 Runs. Plural.
For the first time in what felt like an eternity, the Yankees scored three runs in one inning. (They actually did it Sunday.) The second inning rally was set up by Mark Teixeira and Martin Prado, who respectively singled and doubled to give the Yankees runners at second and third with no outs. It was all Chase Headley after that. Well, almost all Headley.
First, Headley reached out and poked a double into the left field corner to score Teixeira and Prado, a nice little piece of hitting against a tough pitcher in Dallas Keuchel. It was the team's third hit with runners in scoring position of the season, give or take. After that, Headley smartly advanced to third on Francisco Cervelli's grounder to short. He waited until Marwin Gonzalez fielded and threw the ball to first before taking off and making it to third without a throw.
The third run scored on Ichiro Suzuki's sacrifice fly to center, which Dexter Fowler ran down while running in towards the infield, putting him in okay position to throw as a right-handed thrower. Headley tagged up from third anyway and beat the off-line throw to the plate. Really heads up base-running in that inning. Headley could have stayed at second on Cervelli's grounder and no one would have thought twice about it. He could have easily played it safe on Ichiro's shallow fly ball as well. Very nice inning.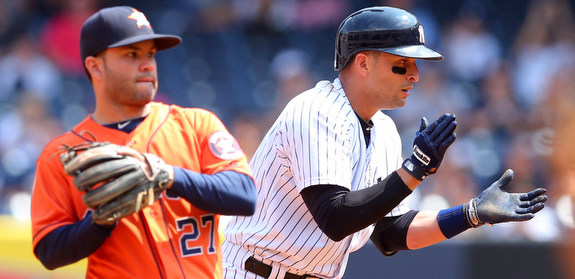 Leftovers
The best chance for the Yankees to tack on insurance runs came in the sixth, when Derek Jeter and Jacoby Ellsbury started the inning with singles to put men on first and second with no outs. Teixeira struck out, Prado grounded out to advance both runners, then Headley grounded out to end the inning. That inning and the second inning rally were the only times New York had a runner reach second base.
Teixeira was the only player in the lineup with multiple hits, and he singled twice. Both Prado and Headley doubled for the team's only extra-base hits. Jeter, Ellsbury, and Cervelli all had singles. No one walked because that's not something the Yankees do anymore. Tack on runs would have been nice at some point, but whatever. They've scored four or fewer runs in ten straight games now.
And finally, Chris Rock caught a foul ball in the seventh inning. Well, he picked it up off the ground. Didn't really catch it. He gave it to a kid. Details you just can't get anywhere else, folks.
Box Score, WPA Graph & Standings
For the box score and video highlights, head on over to MLB.com. FanGraphs has some nerdier game stats and ESPN has the up to the second standings. The Orioles are off today, so the Yankees are now nine games back in the AL East. They're four games back of the second wildcard spot after the Rays held on to beat the Tigers. FanGraphs has their postseason odds at 5.4%.

Source: FanGraphs
Up Next
The White Sox come to town for a three-game weekend series next. Shane Greene and one-time Yankees trade target John Danks will the pitching matchup for Friday night's series opener. Check out RAB Tickets if you want to catch any of the weekend games live.