Was it easy? Nah. Was it a win? Yes it was. A win is a win is a win. The Yankees won for the 16th time in their last 21 games on Friday night, beating the Orioles by the score of 5-4. The Bronx Bombers — we can call them that unironically again! — are 14-9 (.609) against AL East opponents this year. They were 37-39 (.487) within the division last year.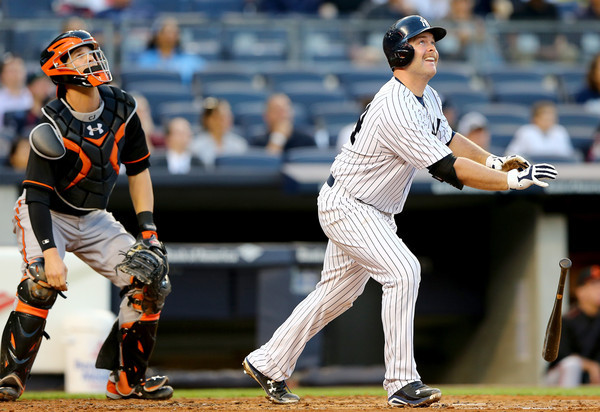 Swinging 3-0 Makes It 3-0
Exactly one week ago, Alex Rodriguez unloaded on a 3-0 pitch at Fenway Park for his historic 660th career home run. On Friday night, Brian McCann did the same, except his homer wasn't as historic. He took a healthy cut at Miguel Gonzalez's 3-0 offering in the first inning for a two-run homer to right field. A Yankee Stadium special. The kind of home run the Yankees signed him to hit.
The homer gave New York a quick 3-0 lead. Jacoby Ellsbury and Brett Gardner — who else? those two are something else atop the lineup — set the inning up with a single and a double, and A-Rod plated the first run of the night with a sacrifice fly. It was well-struck but not "hey that might get out of here" well-struck. In the span of five batters, the Yankees scored three times as many runs as they scored in seven innings against Gonzalez three weeks ago.
Ellsbury and Gardner set up another multi-run rally in the third, this time with a leadoff walk and a single. The next two batters made outs and Gonzalez again fell behind 3-0 on McCann, but he knew better this time. He walked him intentionally to load the bases for Carlos Beltran. Zombie Beltran rose from the dead and whacked a double to right-center field, scoring two runs, though McCann was thrown out at home trying to score at first.
In hindsight, that was a pretty big out at the plate. I was too busy being happy Beltran actually got a hit to care about the out at the time. That would have been a nice insurance run to have in the late innings, but thankfully it wasn't necessary. Through the first three innings, the Yankees went 6-for-13 (.462) with a two doubles, a homer, a sac fly, a walk, and a stolen base against Gonzalez.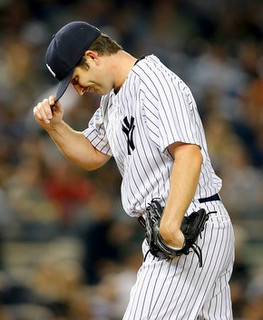 Five & Fly
This was Adam Warren's sixth start of the season, and it followed the same script as his other five starts. Pretty good the first time through the order, not as good the second time through, terrible the third time through. Warren got some help from his defense early in the game and navigated the first four innings unscathed despite putting at least one man on base in each inning.
The fifth inning is where it got messy. Warren didn't just walk the first two batters to start the inning, he walked the number eight and nine hitters to start the inning. Ouch. Manny Machado followed with a single to left to drive in Baltimore's first run. Warren rebounded to strike out Jimmy Paredes, but Adam Jones laced a single to right to load the bases. He hit it so hard Ryan Flaherty was unable to score from second.
With his pitch count rising and his command deteriorating — a classic sign of fatigue and something we've seen from Warren in his other starts this season when his pitch count crossed 85 or so — Warren was able to get Delmon Young to weak tapper to shortstop, too weak to turn the double play. The out was made at second and the second run scored, ending his night. Justin Wilson came in and struck out Chris Davis to end the threat.
Warren finished the night with two runs allowed on five singles and two walks in 4.2 innings. He struck out two and recorded ten of his other dozen outs on the infield. That's sorta cheating though — one runner was thrown out at the plate and another was thrown out trying to steal. Warren is averaging 91.5 pitches and 5.1 innings per start this year, so he's the very definition of a five-and-fly pitcher. Not terrible, not great. The Warren as a starter story.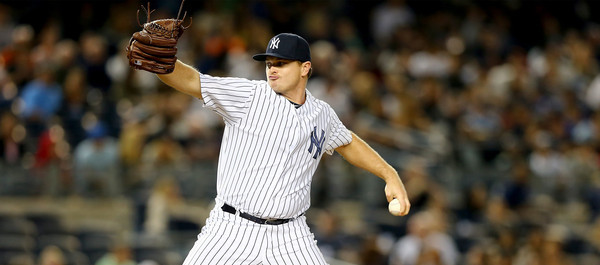 Hang On
The bloom seems to be off the Chris Martin rose. After Wilson put two men on base with two outs in the sixth, Martin came in, walked Machado on six pitches that weren't particularly close to the strike zone (Manny's a hacker), then allowed a two-run single to Paredes to make it a 5-4 game. Martin has inherited seven runners this year and five have scored. Probably not the best guy to use in a fireman role going forward.
Joe Girardi doubled down and left Martin in to start the seventh, and he rewarded his manager's faith with two quick outs before blossoming Yankees killer Caleb Joseph singled up the middle. Martin has faced eleven batters in his last three outings and six have reached base. Slump or a crash back to Earth? Girardi went for the kill with two outs and a man on first in the seventh by bringing Dellin Betances.
Betances struck out Travis Snider to end the seventh, got two ground balls and a fly out to the warning track in the eighth, then gave way to Andrew Miller. A strikeout, a pop-up, and a ground out later, Miller had his 13th save in 13 chances. Dellin and Miller this season: 33.1 IP, 11 H, 2 R, 0 ER, 16 BB, 54 K. This is good. I enjoy this. Oh, and by the way, Girardi officially named Miller his closer after the game. Never woulda guessed it.
Meeeeanwhile, the offense stopped scoring after the third inning. They had runners on the corners in both the fifth and eighth innings, but failed to capitalize. After Beltran's double, 15 of the final 19 Yankees to bat made outs, and two of the four guys who reached base did so on an intentional walk and an infield single. Coulda used an insurance run or five there, fellas.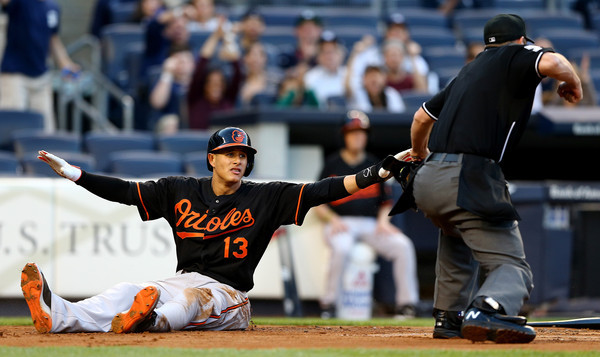 Leftovers
Each of the top six hitters in the lineup had at least one hit, and that includes Stephen Drew, who came off the bench to replace Beltran for defense in the late innings. (Drew took over at second and Chris Young went to right, replacing Jose Pirela.) The bottom three hitters in the lineup went 0-for-10 with a strikeout. New York's lineup is very top heavy. They rely an awful lot on that Ellsbury-Gardner-Rodriguez-Teixeira foursome. It would be nice if some other guys got going.
The Yankees had eight hits, five for extra bases: McCann homered, A-Rod tripled, and Gardner, Teixeira, and Beltran each doubled. A-Rod tripled off the very top of the wall in right-center. It looked the ball glanced off the glove of a leaping Adam Jones before rolling away from Snider. The Yankees have five triples this year: McCann, A-Rod, Beltran, Chase Headley, and Garrett Jones. Go figure.
Gardner threw Machado out at the plate to end the first inning — it was a really bad send, Gardner was scooping the ball before Machado even got to third — for the team's fifth outfield assist of the season. It's the first runner they've thrown out at the plate this year. Don't ask me why I looked that up. Even I'm not sure.
Box Score, WPA Graph & Standings
Here are the box score, video highlights, and updated standings. Also make sure you check out our Bullpen Workload and Announcer Standings pages. Important stuff going on there. Here's the win probability graph:

Source: FanGraphs
Up Next
Same two teams on Saturday afternoon, in the third game of this four-game series. Chase Whitley and Wei-Yin Chen will be the pitching matchup in the matinee. If Whitley wants to go out and throw a complete game, that would be swell. Check out RAB Tickets if you want to catch that game or Sunday's game live. The Yankees won't be back in the Bronx until May 22nd after this weekend.