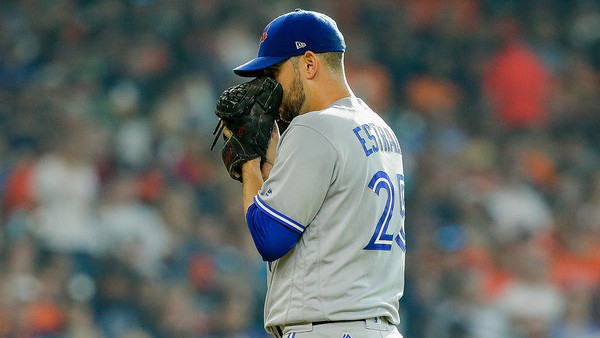 It appears the Yankees may have been a little busy on the trade waiver market the last few days. According to Jon Morosi, Blue Jays right-hander Marco Estrada was claimed on trade waivers recently, and Gideon Turk heard from a source who "implied heavily" the Yankees are the claiming team. For what it's worth, Chris Cotillo hears the claiming team was an AL East club, so yeah.
Real quick trade waivers primer: players who get claimed can only be traded to the claiming team, and players who go unclaimed can be traded anywhere. Since Estrada has been claimed by someone, the Blue Jays now have 48 hours to either trade him to the claiming team, pull him back and keep him, or dump him on the claiming team as a straight waiver claim. Jon Heyman says Toronto isn't interested in letting him go, so they'll likely pull him back.
Estrada, 34, will be a free agent after the season, and so far this year he has a 5.09 ERA (4.54 FIP) in 139.2 innings. That's not close to the 3.30 ERA (4.28 FIP) he put up from 2015-16. Estrada had been pitching better of late before getting smacked around by the Rays last night (six runs in 4.1 innings). The fact he pitched last night is a pretty good indication the Blue Jays will keep him. They wouldn't have risked an injury if trade talks were serious. Anyway, let's talk this Estrada business out, shall we?
1. Why would the Yankees claim him? Two possible reasons, assuming the Yankees were indeed the claiming team. One, they kinda need pitching. They have four starters on the disabled list right now: Masahiro Tanaka (shoulder), CC Sabathia (knee), Michael Pineda (elbow), and Luis Cessa (rib cage). Sabathia is expected back this weekend and Tanaka shortly thereafter, but still. There's never a bad reason to add pitching depth. Estrada hasn't pitched well, but he's familiar with the AL East and that performance means he might've come cheap.
And two, the Yankees are blocking another team from getting Estrada. Claiming him on trade waivers means the Blue Jays can't trade him to any of the Yankees' top postseason competitors, specifically the Red Sox and all those teams in the wildcard race. Maybe they don't want him to go to the pitching needy Astros so they don't have to worry about facing him in October. Estrada making it all the way to the Yankees on trade waivers means all the teams behind them in the wildcard race passed, however. Still, now those teams don't even have a chance to acquire him. Any clubs that need pitching will have to look elsewhere.
My guess is, if the Yankees did indeed win the claim for Estrada, they made it with the intention of blocking him from going elsewhere. I don't think they really want him, even with all the pitching injuries. The Red Sox are without David Price for who knows how long, Doug Fister has been getting hit hard, and Eduardo Rodriguez has been on-and-off the disabled list all year. Basically every team in the wildcard race needs a starter too, so yeah. I think the Yankees were making sure Estrada didn't go to one of their pitching needy competitors. That's all.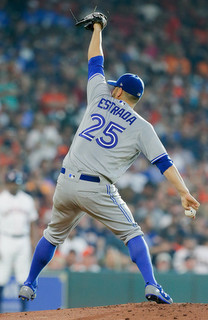 2. So much for payroll being "frozen." Now, that all said, you don't claim a player on trade waivers unless you're willing to take on his contract. You have to be prepared in case the other team decides to salary dump the player as a straight waiver claim. It happened to the Yankees with Jose Canseco in 2000. They claimed him to block him from going to the Red Sox and boom, the (Devil) Rays dumped him in their laps as a waiver claim.
Estrada is owed the remainder of his $14.5M salary this season, which works out to roughly $4M or so. For the Yankees to make the waiver claim, they have to be okay with that $4M hitting their payroll. Remember, they pay an extra 50% on every dollar right now due to the luxury tax, so that $4M is really $6M to the Yankees. Hal Steinbrenner has reportedly informed Brian Cashman payroll is "frozen" for the rest of the year, though the Estrada claim would suggest otherwise (ditto the Jay Bruce trade rumors). They're willing to take on money.
3. Would it make sense to claim other pitchers too? Sure. I mean, it depends on the pitcher, but yeah. The Yankees might've been more comfortable claiming Estrada than other pitchers because he's not that expensive, and because they know he can pitch in the AL East. Other impending free agent pitchers who could be trade waiver targets include, uh, Andrew Cashner and Jhoulys Chacin? Maybe Scott Feldman? There's not much out there. Estrada is (probably) the best of a bad lot, and if the Yankees did indeed claim him, now no one else can get him.
4. What about claiming other players? Sure, again, and it depends on the player, again. The Yankees could still use another bat, particularly a left-handed hitter, yet they declined to claim Bruce or Curtis Granderson. An infielder who could play second base would be another possible target. A backup catcher? Yeah, that'd work, though the Yankees sure do seem to love Austin Romine. Ultimately, trade waiver claims are made on a case-by-case basis. You don't just claim every starter because you're willing to claim Marco Estrada, you know? I'm sure the Yankees will consider every available bat and hey, maybe they've claimed a few already.
* * *
The Yankees have not made a significant August trade in several years now — their last notable August deal was getting Chad Gaudin from the Padres for cash in 2009 — and at this point, there's little reason to expect that to change. They didn't get Bruce and they're reportedly uninterested in Granderson. Greg Bird and Starlin Castro are on the mend, and those seem like the bats the Yankees will add for the stretch run.
We don't know for sure whether the Yankees actually claimed Estrada on trade waivers, but the signs do point in that direction, and it does make sense. They were likely blocking him from going to another team, and if the Blue Jays decided to stick the Yankees with the remainder of his contract, they'd take him because they have four starters on the disabled list. Yeah, the money might be inconvenient, but it's not a deal breaker. Ultimately, the Blue Jays figure to keep Estrada, and I'm sure that's what the Yankees expected all along.