By

The Yankees have signed former All-Star closer Heath Bell to a minor league contract, according to Chad Jennings. The struggling Mark Montgomery was demoted from Triple-A Scranton to Double-A Trenton to clear a roster spot. He's walked 18 in 29.1 innings this year.

Bell, 36, had a 7.27 ERA (4.52 FIP) in 17.1 innings for the Rays before being released earlier this year. He spent some time in Triple-A with the Orioles after that (4.22 ERA and 3.24 FIP in 10.2 innings), but eventually opted out of his contract when they didn't add him to the MLB roster. Triple-A Scranton currently has six pitchers on the disabled list and they simply need some arms to abuse the next few weeks. Bell will be that guy. · (31) ·
The Yankees are coming off a pretty awesome three-game sweep of the Mariners in Seattle, and now they head down to the Bay Area for three games against the AL-best Athletics. These are the Yankees' final three West Coast games of the regular season. Oakland won two of three in the Bronx last week.
What Have They Done Lately?
Since that series in Yankee Stadium, the A's took two of three from the Orioles and lost two of three to the Angels. They still own the very best record in the league at 40-26, and their +130 run differential is the best in baseball by a mile. The Giants have the next highest at +59. That's what happens when you score the most runs (336) and allow the fewest runs (206) in the game. The A's are a powerhouse.
Offense
Like I said, Oakland leads baseball in runs scored. They're excellent on a rate basis as well, averaging 5.09 runs per game with a team 111 wRC+. Manager Bob Melvin is currently without OF Josh Reddick (75 wRC+), who is on the disabled list with a knee injury. He is not eligible to be activated this weekend. Other than that, the A's are healthy.
OF Yoenis Cespedes (125 wRC+) is the team's biggest name player, but 3B Josh Donaldson (140 wRC+) and 1B/OF Brandon Moss (155 wRC+) are their most productive regulars by a rather large margin. Donaldson does come into the series riding a 1-for-28 (.036) slump, but for some reason that doesn't make me feel any better about facing him this weekend. The catcher platoon of C John Jaso (133 wRC+) and C Derek Norris (151 wRC+) is insanely productive. You can run on them though — runners are 41-for-47 (87%) in stolen base attempts against the duo.
OF Coco Crisp (129 wRC+) and SS Jed Lowrie (92 wRC+) are pretty much the club's only two other regular players. The rest of the lineup is based on platoons and matchups. OF Craig Gentry (81 wRC+), C/OF Stephen Vogt (113 wRC+ in limited time), 1B Kyle Blanks (155 wRC+ in limited time), and IF Alberto Callaspo (78 wRC+) are all useful when used properly. IF Nick Punto (99 wRC+) has been solid, IF Eric Sogard (44 wRC+) less so. As we saw last week, this lineup is rather relentless. If nothing else, they make the pitcher really work for his outs.
Pitching Matchups
Friday: RHP David Phelps (vs. OAK) vs. RHP Sonny Gray (vs. NYY)
Believe it or not, the Athletics have only two homegrown players on their entire roster. The 24-year-old Gray is one of them. He has emerged as the staff ace since making his debut late last year, and this season he owns a 2.83 ERA (3.47 FIP) in 13 starts and 86 innings. His strikeout (7.53 K/9 and 20.3 K%) and walk (3.24 BB/9 and 8.8 BB%) numbers are not eye-popping, though he does excel at getting ground balls (55.3%) and keeping the ball in the park (0.63 HR/9 and 9.4 HR/FB%). He doesn't have a platoon split either. Gray works in the low-to-mid-90s with his two and four-seam fastballs, and will occasionally mix in an upper-80s cutter. A power low-80s curveball is his moneymaker. It's nasty. He'll also throw some mid-80s sliders and changeups per start. The Yankees did not face Gray in New York last week.
Saturday: RHP Hiroki Kuroda (vs. OAK) vs. LHP Scott Kazmir (vs. NYY)
Kazmir, 30, has brought his career back from the dead these last two years following all sorts of arm problems and a stint in an independent league. He has a 2.20 ERA (2.94 FIP) in 13 starts and 82 innings with solid to excellent peripherals across the board: 7.68 K/9 (21.9 K%), 1.87 BB/9 (5.3 BB%), 0.55 HR/9 (6.3 HR/FB), and 49.3% grounders. It's worth noting that while his platoon split is kinda small, Kazmir has been quite a bit better at home (.237 wOBA) than on the road (.268 wOBA). The O.co Coliseum is a good place to pitch. Kazmir sits in the low-90s with his sinking two-seamer and will occasionally hump it up to 94-95. We saw a little of that last week. He still throws his low-80s slider but has since added an upper-70s changeup and mid-70s curveball to his repertoire. Kazmir struck out ten and held the Yankees to two runs in 6.1 innings a week ago.
Sunday: LHP Vidal Nuno (vs. OAK) vs. RHP Jesse Chavez (vs. NYY)
The Athletics have a knack for finding productive pitchers in weird places. Chavez, 30, was literally purchased from the Blue Jays two years ago, and he's since gone from long man to starter because of the injuries to Jarrod Parker and A.J. Griffin. Through 13 starts and 80 innings, he has a 3.04 ERA (3.59 FIP) with very good strikeout (8.33 K/9 and 22.0 K%) and walk (2.36 BB/9 and 6.3 BB%) rates. The ground ball (44.9%) and homer (1.01 HR/9 and 11.3 HR/FB%) numbers are a bit less impressive. Chavez does not have a big home/road split like Kazmir, but lefties (.339 wOBA) have had much more success against him that righties (.247 wOBA). As a starter, Chavez sits in the low-90s with his two and four-seam fastballs, and a tick below that with his cutter. A low-80s changeup and mid-70s curveball are his two secondary pitches. The Yankees managed to push across four runs in six innings against Chavez last week.
Bullpen Status
Melvin's bullpen is led by closer LHP Sean Doolittle (1.18 FIP), who has 44 strikeouts and one walk in 31 innings. That is kinda nuts, especially since he was a first baseman as recently as early 2012. (Doolittle is the other homegrown player.) RHP Luke Gregerson (2.54 FIP) handles most of the setup work now that RHP Jim Johnson (4.04 FIP) has flopped. Former Yankees property RHP Dan Otero (3.39 FIP) will also see high-leverage innings. New York had him for about three days between waiver claims last spring.
The rest of the bullpen includes LHP Fernando Abad (2.42 FIP), RHP Ryan Cook (4.27 FIP), and long man LHP Jeff Francis (5.05 FIP). The Athletics were off yesterday, so their bullpen is as fresh as can be in mid-June. Masahiro Tanaka and Chase Whitley took the ball deep into the game the last two nights, so the Yankees' bullpen is decently rested as well. Check out our Bullpen Workload page for recent reliever usage, then head over to Athletics Nation and Beaneball for the latest and greatest on the best team in the game.
By

CC Sabathia could begin throwing off a mound as soon as next week, Joe Girardi told reporters yesterday. He has been playing catch for several days now. "CC's been playing catch. He did a little bit of flat ground yesterday and hopefully when we get home next week I can possibly get him on a mound," said Girardi to Brendan Kuty.

Sabathia, 33, has been out with what Brian Cashman called a "degenerative condition" in his right knee for a little more than a month now. He was pretty bad (5.28 ERA And 4.73 FIP) before getting hurt, though who knows how much the knee contributed to his struggles. Cashman said Sabathia is not expected back until sometime in July at the earliest, so while getting back up on a mound represents progress, he still has a long way to go before rejoining the rotation. · (43) ·
Got nine questions and seven answers for you this week. If you want to send us anything, mailbag questions or links or comments or whatever, use the Submit A Tip box in the sidebar.
Scott asks: I'm sure this has been asked a million times but how about Cole Hamels? It is a pretty big contract but money isn't an issue. Cliff Lee is hurt and the Phillies are pretty bad. He has had some injury issues but what would it take?
Hamels started the year on the disabled list with a shoulder issue, but he has a 3.07 ERA (2.80 FIP) in ten starts and 67.1 innings since being activated, so he's been as good as ever. There is still $103M or so left on his contract through 2018, so he could be a cheaper alternative to upcoming free agents like Max Scherzer and Jon Lester. The only problem is that you'd have to trade players to get him. The Phillies aren't exactly hurting for cash either. If they trade Hamels, it won't be for salary relief only. The shoulder issue is a little scary, especially because he has had some other shoulder problems in the past, but I do think Hamels is worth keeping in the back of your mind as a Scherzer and Lester alternative over the winter. I don't think the Phillies are going to go into sell mode at the deadline no matter how bad things get.
Erick asks: We all know Ichiro won Rookie of the Year and MVP. Has anyone ever won Rookie of the Year and Cy Young? I know it's dreaming since pitchers nowadays rarely get mentioned as MVPs, but MVP, CY and ROY for Tanaka? How crazy would that be?
Fernando Valenzuela is the only player in history to win the Rookie of the Year and Cy Young awards in the same season. He did it back in 1981. Jose Fernandez came kinda close last year, when he won the Rookie of the Year and finished third in the Cy Young voting behind Clayton Kershaw and Adam Wainwright. Tanaka obviously has a very good chance to win both awards this season with the obvious caveat that he still has about 20 starts to go. Sweeping the Rookie of the Year, Cy Young, and MVP awards would be completely ridiculous. Ridiculously awesome.
Dan asks: At this point, it's honestly worth wondering if the Yankees should be buyers or sellers. Is one bat really enough to put this team over the top? I don't think so. If they became sellers, who (if anyone) would they be able to move? Hiroki Kuroda, Ichiro Suzuki, and Brett Gardner is pretty much it, right?
To be fair to Dan, this question came in a few days ago, before the sweep of the Mariners. Things obviously felt quite different then.
Anyway, they aren't going to sell. They're the Yankees. They're close enough to both the division lead (3.5 games back) and a wildcard spot (tied for the second spot) that they'll go for it and try to add pieces at the trade deadline, especially after spending all that money over the winter. One bat probably isn't enough to put them over the top, but a bat and a starter and improved performance from Carlos Beltran and Brian McCann might be.
In the highly unlikely event they do sell, I think Kuroda, Gardner, and David Robertson would be their most attractive trade chips. Kuroda has a no-trade clause but would probably waive it to go back to Los Angeles, either the Dodgers or Angels. His family still lives out there. Gardner and especially Robertson would make sense for several teams. Ichiro could draw some interest but the return wouldn't be anything great. That's really it. Not much available for this team to realistically sell before the deadline.
Joey asks: Assuming the NYY either acquire a starter or Michael Pineda comes back and can contribute, who goes first between Chase Whitley, Vidal Nuno, and David Phelps? Whitely gives the least distance but seems to be the best of the bunch, Phelps seems to be best in a reliever role. Thoughts?
Dustin asks: What is with Joe Girardi always pulling Whitely out of the game early? Has he never thrown 100 in a game before?
Going to lump these two together. First, no, Whitley has never thrown 100 pitches in a game before. His career high is 91 pitches in the game against the Cardinals a few weeks ago. Remember, he was a reliever up until the end of last year. He's thrown more than 60 pitches in an outing only 13 times in his entire five-year career. Whitely never got the chance to learn how to turn a lineup over a third time in the minors and Girardi has been careful with him in those situations at the MLB level, and rightfully so. I would have liked to have seen him get a chance to finish off that eighth inning last night, but otherwise I don't think there's anything wrong with how he's handled the righty.
At this point in time, I think Nuno would go back to the bullpen whenever Pineda or CC Sabathia comes off the disabled list. Phelps has had three really rough outings in a row but I think the Yankees are more comfortable with him in the rotation. Remember, the only reason Nuno was the first guy to move into the rotation was timing — he made a spot start following a doubleheader and happened to line up perfectly to start again when Ivan Nova blew out his elbow. Phelps has more experience as a starter at the MLB level and his stuff is better. Nuno feels like the guy to go back to the bullpen in my opinion, but that could change by time Pineda or Sabathia actually get healthy
nycsportzfan asks: Hey Mike, I was wondering if you thought the Yanks could make one big trade at the deadline to find a hitter and pitcher? Examples are Aaron Hill and Wade Miley from D'Backs, Andrew Cashner and Everth Cabrera from Padres, and Charlie Morton and Neil Walker from Pirates? Could Yanks have enough to make a similar deal to those I mentioned happen? Kill two birds with one stone type thing.
I think the most realistic scenario for a trade like that would be Hill and Brandon McCarthy from Arizona. I haven't heard anything about Miley being available, which makes sense since he is under team control for another few years and McCarthy will become a free agent after the season. I can't see the Padres trading Cashner and I don't think the Pirates would move Morton (just signed an extension) or Walker (local Pittsburgh guy). Ben Zobrist and David Price would be the best case scenario, but that ain't happening. Maybe Alex Rios and Colby Lewis? Luis Valbuena and Jason Hammel would actually be a real nice fit. Valbuena can play second and third and is hitting .288/.394/.456 (136 wRC+).
Sandro asks: When the Yankees drafted Aaron Judge last year, he was touted as a potential center fielder with huge power. At 6'7″ 230, he has a similar body type to another slugger, Giancarlo Stanton. Is this comparison too hopeful?
Yes. Stanton was a third year big leaguer when he was Judge's age. Also, Judge has big power, but it's not Stanton power. Stanton has true 80 power (on the 20-80 scale). Just let Judge be himself. It's unfair to compare him to Stanton. They have very little in common aside from being physically huge outfielders.
Jack asks: Oppenheimer was quoted that with each of the first two picks they were within "one or two picks" of picking a position player, instead of the two pitchers they actually took. Looking at rounds 2 and 3 the only position players picked 1 or 2 picks before the Yankee picks were Matt Railey (Rd3) and Aramis Garcia (Rd2). What do you think of those 2 instead of the two the Yankees picked?
Danny asks: Any of their 2014 draftees enter Yankees top 20 prospects?
Going to lump these two together. Here's the full quote from scouting director Damon Oppenheimer, in case you missed it (via Chad Jennings):
The Yankees first five picks were pitchers, but that wasn't deliberate
"It really was just coincidence because we were real close, within a pick or two, of a position player both with the first pick and the second pick. So it could have gone either way real quick," Oppenheimer said.
Missouri HS OF Monte Harrison and Georgia HS OF Michael Gettys were selected 50th and 51st overall, respectively, a few picks before the Yankees took Mississippi State LHP Jacob Lindgren with the 55th selection. (Garcia was 52nd.) Oregon State OF Dylan Davis and Railey were taken 87th and 89th overall, again respectively, right before the Yankees grabbed Connecticut HS RHP Austin DeCarr with the 91st pick.
I think Oppenheimer was referring to Harrison and Gettys specifically because they were considered first round talents who slid for whatever reason. The Yankees seem to love their toolsy and athletic high school position player prospects and those two definitely fit the bill. I would have preferred either over Lindgren because they offer way, way more upside than the typical 55th selection. Alas, it was not meant to be. As for the third round, I don't really have a preference for Davis or Railey over DeCarr. Davis did not have a good spring by top college player standards at all (.283/.338/.430). Without spending too much time thinking about it, give me DeCarr over the other two.
The signing deadline is Friday, July 18th, so I'm going to post my annual post-draft top 30 prospects list the following week (here's the pre-draft list). I haven't put too much through into it yet, but Lindgren is a safe bet to crack the top 20. DeCarr might. He is a lock for the top 30 though. Central Michigan RHP Jordan Foley will get consideration for the top 30, ditto Florida HS RHP Garrett Cave and Connecticut HS 3B Will Toffey if they sign. That's about it. With no first round pick and a draft class geared more towards probability than upside, not many guys will jump into my top 30. The international signing period will be a different story.
By

1:15am: Joe Girardi said it's a minor issue and they expect Ellsbury to play in Friday's game.

12:42am: Ellsbury left the game with right hip tightness, the team announced. He was not in Monday's lineup because the hip was bothering him, but the game was rained out.

10:06am: Jacoby Ellsbury left tonight's game for an unknown reason in the middle of the seventh inning. Replays showed him talking to Joe Girardi and trainer Steve Donahue between innings. Ellsbury crashed into the wall making a catch earlier in the game, and Wally Matthews notes he had an ice pack on his left knee following yesterday's game. Hopefully it's nothing serious. Losing him for any length of time would be rather devastating. · (11) ·

Source: FanGraphs
That was a fun series. The Mariners came into the Bronx and swept the Yankees earlier this year, and this week the Yankees returned the favor with a sweep of their own in Seattle. Thursday night's 6-3 win clinched it. Let's recap the club's third straight win:
Ace Whitley: Chase freakin' Whitley, man. What a beast. As I noted on Twitter, he is basically pitching like Michael Pineda, only with way more ground balls. Whitley held the Mariners to two runs in 7.2 innings on Thursday, striking out six and walking zero. I know he's a recently converted reliever and all that, but I don't get why he was lifted at only 82 pitches. He threw 87 last time out. Don't you have to get him up to 95 or so? Especially since the Yankees had a four-run lead with the bases empty and two outs in the inning? Whatever. Whitley's a damn stud. What a story.
Two At a Time: The last time lefty Roenis Elias started against the Yankees, Jacoby Ellsbury took him deep for a leadoff homer. Ellsbury took him deep again on Thursday, this time with Derek Jeter on base for a two-run jack in the first. I love early runs. Two innings later, Alfonso Soriano's bat rose from the dead and drove in two with a double into the left-center field gap. Jeter and Ellsbury scored. An inning after that, Jeter sliced a single to right to plate two more runs. Roberts and John Ryan Murphy scored on that hit. The six runs are the most the Yankees have scored since the final game of the Cardinals series two and a half weeks ago. Geez.
Bullpeners: Matt Thornton came on in relief Whitley to face Robinson Cano and, of course, he walked him. Kyle Seager followed that with a fly out to end the inning. Lefties have a .342 OBP against Thornton this year, which is entirely too high for a guy whose only job is to get lefties out. Shawn Kelley faced three batters in the ninth, allowed two doubles, then gave way to David Robertson. It was Kelley's first appearance since coming off the disabled list. Robertson struck out two to close out the win.
Leftovers: Ellsbury's homer extended his hitting streak to 16 games. He later left the game with tightness in his hip … Jeter had three hits and a walk. He went 7-for-12 (.583) with two walks in the series … everyone in the lineup reached base at least once except Brett Gardner and Yangervis Solarte … Ellsbury, Gardner, and Ichiro Suzuki all made nice jumping catches at the wall to take away extra-base hits … the Yankees swept a three-game series for the first time this season.
MLB.com has the box score, FanGraphs the nerd score, and ESPN the updated standings. The Yankees are now heading south to Oakland for a three-game weekend series against the Athletics. David Phelps and Sonny Gray will be the pitching matchup for Friday's opener.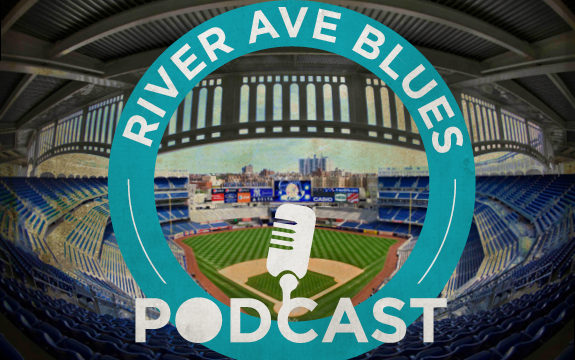 Guest: Jason Wojciechowski of BeaneBall, an A's blog, and Back of the Bullpen, a general baseball podcast. We're talking about the upcoming A's series and how they have turned players like Brandon Moss and Josh Donaldson into stars.
To open the show Jay and I are running down some general items, including the recent series against Seattle and some frustrations with the team.
Mike joins us a bit later to talk about the draft, particularly about the Yankees' strategy and how it fits with their intentions during the international signing period. And of course we're talking Rob Refsnyder.
Spoiler: We don't talk potential trade targets at all. Not once. A disappointment, I know.
iTunes link: here. Wanna leave us a review? It would be much appreciated.
Remember to email in your questions for the next show, podcast at riveraveblues.com.
You can also give us a call us at 716-393-5330 and leave a voicemail. We'll play it on air and answer it. It'll feel more radio-like that way.
Podcast: Play in new window | Download (Duration: 57:04 — 26.1MB)
The video above is highlights from yesterday's Double-A Trenton game, including Frankie Cervelli's latest rehab game. Here are some other notes:
C Gary Sanchez, who was benched yesterday for disciplinary reasons, had a closed door meeting with the coaching staff according to Nick Peruffo. "Gary is out of there for a couple of days until we decide he deserves to play again, plain and simple," said someone on the staff. This isn't the first time they've had to discipline him — Sanchez was demoted to Extended Spring Training a few years ago because he refused to catch a bullpen session, among other things.
OF Slade Heathcott will once again have his knee scoped, VP of Baseball Ops Mark Newman confirmed to Josh Norris. Heathcott had surgery on the knee over the winter and it hasn't been right since. The kid can't stay healthy. Sigh.
On the bright side, Newman told Norris that 3B Eric Jagielo (ribcage) is about ten days away from being activated off the disabled list. C Luis Torrens (shoulder) and SS Abi Avelino (unknown) are two weeks ago. These are Newman timetables though, so who knows.
Triple-A Scranton (5-4 loss to Columbus)
1B Jose Pirela: 1-4, 1 K, 1 SB
LF Zoilo Almonte: 2-4, 1 R, 1 HR, 1 RBI, 1 K — 12-for-32 (.375) with three homers in eight games since being sent down
DH Kyle Roller: 2-4, 1 R, 1 2B, 1 K
3B Scott Sizemore: 1-4, 1 R, 1 HR, 2 RBI, 2 K — second homer in his last three games
2B Rob Refsnyder: 0-4, 2 K — snaps his multi-hit game streak at eight
C Austin Romine: 1-3, 1 R, 1 K
LHP Jeremy Bleich: 6 IP, 4 H, 4 R, 4 ER, 3 BB, 5 K, 1 HB, 8/1 GB/FB – 47 of 81 pitches were strikes (58%) … after parts of five seasons, he finally made it out of Double-A
RHP Danny Burawa: 2 IP, 2 H, 1 R, 1 ER, 0 BB, 2 K, 3/1 GB/FB – 20 of 31 pitches were strikes (66%)
For only the second time this season, the Yankees are in position to sweep a three-game series. They won the first two games against the Pirates before dropping the finale a few weeks ago. That's it. That's the only other time this year they won the first two games of a three-game series. The Yankees last swept a series of at least three games at the very end of last season, taking three meaningless games from the Astros.
To get that elusive first sweep of 2014 tonight, the Yankees will have to beat left-hander Roenis Elias, who fanned a career-high ten in seven innings in the Bronx back in April. A little payback would be nice, but the win is the priority. The Yankees need to start bunching a few of those together. Here is the Mariners lineup and here is the Yankees lineup for the series finale:
It is cloudy, cool, and drizzling in Seattle, so the Safeco Field retractable roof might be shut. First pitch is scheduled for 10:10pm ET and can be seen on YES. Enjoy the game.