OF Tyler Austin left Extended Spring Training in Tampa and is on his way to Double-A Trenton, according to his mother's Twitter feed. Yes, his mother's Twitter feed. Austin's missed a chunk of last season with a wrist problem and it slowed him down again in camp. He was behind the other position players, so he stayed back in ExST to prepare. Glad he's back so soon.
Triple-A Scranton's doubleheader was rained out. They will make up one game as part of a doubleheader tomorrow and the other as part of a doubleheader on June 26th.
Double-A Trenton (6-5 win over New Hampshire, walk-off style)
CF Mason Williams: 2-4, 2 R, 1 2B, 1 RBI, 1 BB — walk-off single … he's off to a nice start
2B Rob Refsnyder: 0-3, 1 BB, 1 K — still looking for his first hit of the year
3B Rob Segedin: 2-3, 1 R, 2 RBI
C Gary Sanchez: 1-4, 1 2B, 1 RBI — has two hits this year, and they're both doubles
DH Ben Gamel: 1-4, 2 K
RHP Zach Nuding: 6.2 IP, 5 H, 3 R, 2 ER, 3 BB, 7 K, 9/1 GB/FB — 60 of 95 pitches were strikes (63%)
SwP Pat Venditte: 1.1 IP, 2 H, 1 R, 1 ER, 1 BB, 2 K — 18 of 29 pitches were strikes (62%)
Yes, it is only two games, but man these last two games were a lot of fun. The Yankees got their first looks at Masahiro Tanaka and Michael Pineda, two 25-year-old right-handers who are expected to anchor their rotation for the next few years. Both pitched well, especially after rocky second innings. Their combined pitching line: 13 IP, 11 H, 4 R, 3 ER, 0 BB, 13 K against a good Blue Jays lineup. The outcomes of the two games are almost secondary. Tanaka and Pineda look like legit rotation building blocks.
Anyway, here is your open thread for the night. MLB Network will air a game, though who you see depends on where you live. The Final Four is on plus the Nets, Devils, and (hockey) Rangers are all playing tonight as well. Talk about those games, this afternoon's loss, Tanaka, Pineda, or anything else right here. Have at it.

(Video of Pineda's start is not embeddable for whatever reason. Here's the link.)
By

Via Jack Curry: The Yankees do not appear to have any interest in Ike Davis. The Mets have made it no secret they are open to trading their first baseman, but they have turned down a bunch of offers these last few months according to Andy Martino. The Yankees lost Mark Teixeira to a right hamstring strain and the 15-day DL on Friday.

Davis, 27, is currently riding the bench as Lucas Duda gets an extended audition at first. He hit .205/.326/.334 (90 wRC+) with nine homer in 103 games last year, and was so bad in the first half that he was shipped to Triple-A for a month. Davis hit .227/.308/.462 (111 wRC+) with 32 homers as recently as 2012. He has big lefty power and patience, two things the Yankees love, plus he has at least one option left and can go to Triple-A. Davis would made sense as a depth player and reclamation project for the Yankees. · (14) ·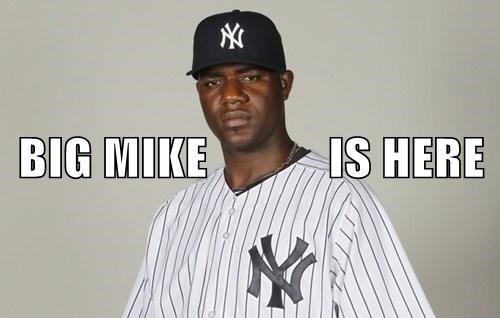 The Yankees got their first look at Masahiro Tanaka last night and things went very well following a rough first two innings. This afternoon they will finally get their first look at Michael Pineda, who has not thrown a meaningful pitch these last two years because of shoulder surgery. Both Hector Noesi and Jesus Montero have flamed out (obligatory they're still young, yadda yadda yadda) and Jose Campos has yet to escape Low-A ball. It's been 802 days since the trade. 802!
Pineda is finally ready to help the Yankees. He pitched well in Spring Training but, most importantly, he looked healthy. His delivery was free and easy, the ball came out of his hand well, and his slider was allergic to bats. He checked every box in camp. Regular season baseball is a different animal though, and I'm sure he'll be a little nervous even though he's pitched in the big leagues before. After missing this much time, he probably feels like a rookie again. Either way, Big Mike is finally here.
In case you missed it earlier, Mark Teixeira has been placed on the 15-day DL with a right hamstring strain. Austin Romine was called up and Frankie Cervelli will see some time at first base. Joe Girardi told Dan Barbarisi that David Robertson is not available this afternoon after working back-to-back days, so Shawn Kelley is the closer du jour. Wouldn't be surprised if Matt Thornton gets the call for the final few outs if lefties are due up. Here is the Blue Jays lineup and here is the Yankees lineup:
SS Derek Jeter
DH Brian McCann
C Frankie Cervelli
2B Dean Anna
RHP Michael Pineda
It is really cold and drizzling in Toronto, so I assume the Rogers Centre roof will be closed for the game. First pitch is scheduled for 1:08pm ET and can be seen on YES. Enjoy.
By

11:07am: As expected, Teixeira has been placed on the 15-day DL. Joe Girardi confirmed it isn't a bad strain, but enough that they don't want to play shorthanded.

11:05am: The Yankees have called up Austin Romine, meaning Mark Teixeira and his stained right hamstring are likely headed to the DL. Frankie Cervelli will reportedly work out at first base along with Kelly Johnson. · (48) ·
I can't remember the last time I looked forward to a regular season game as much I did Friday's. Maybe Jesus Montero's debut a few years ago? I'm not sure. The Yankees got their first look at Masahiro Tanaka on Friday and he helped them to a 7-3 win in the series opener against the Blue Jays.
Masahiro My Hero
The start was not good. Tanaka began his Yankees career by serving up a homerun on his third Major League pitch, a hanging splitter to Melky Cabrera leading off the first inning. Not ideal. Tanaka rebounded to retire the next three batters, including strikeouts of Jose Bautista and Edwin Encarnacion. The Blue Jays pushed across two runs in the second inning with ground balls — one through the right side of the infield, one up the middle, and one through the left side. Mark Teixeira also made an error when he threw the ball away trying to get a force at second.
The first time through the lineup, the Blue Jays scored three runs and put four of nine men on base. After that, Tanaka allowed just two base-runners and retired 16 of the final 18 men he faced, including eight in a row at one point. We've been hearing about his makeup and all that for months, but we saw it in action in this game. Things were going poorly early on, but Tanaka didn't get rattled at all. He settled down, got a groove, and cruised for his final five innings.
Tanaka's final line was those three runs (two earned) on six hits and no walks in seven innings. He struck out eight (including Bautista twice) and got eight ground ball outs compared to five in the air. Sixty-five of his 97 pitches were strikes, including 13 swings and misses. Here is the pitch breakdown, courtesy of Brooks Baseball:
45 fastballs, 29 strikes, two swings and misses
23 sliders, 15 strikes, three swings and misses
12 splitters, nine strikes, six swings and misses
11 curveballs, eight strikes, one swing and miss
six cutters, four strikes, one swing and miss
Outside of sheer dominance, this was probably the next best thing. Tanaka showed the ability to shake off a bad start to the game and still give the team a quality outing, against a good lineup at that. It's obvious he's no Kei Igawa, right? If you were worried about that, you don't need to be anymore. Hell of a first impression. Tanaka was pretty much as advertised and that's very, very good. Can't wait to see him in five days.
Hooray Replay!
The Yankees jumped all over Blue Jays starter Dustin McGowan in the first inning, scoring two runs on five hits, all within the first six batters. Ichiro Suzuki struck out and Yangervis Solarte fouled out with the bases loaded, so they didn't do as much damage as they could have in the inning. Such is life. Two runs is better than no runs.
Two innings later, the first official use of the new instant replay system in Yankees history contributed to a two-run rally. Ichiro appeared to beat out an infield single with two outs, but first base umpire Dana DeMuth called him out. Joe Girardi challenged — after the team's video people gave him the thumbs up, of course — and the call was overturned. Solarte made the Jays pay by following the replay with a two-run double on a ball that I thought was a pop-up off the bat. It just kept going and going and going until it clanked off the wall. Hooray technology! It certainly helped the Yankees in this one.
The $153 Million Man
What a game for Jacoby Ellsbury. New York's new leadoff hitter went 3-for-4 with two doubles, a walk, and two stolen bases, plus he robbed Dioner Navarro of a base hit with a nice sliding catch to end the sixth. The one out he made was a line drive back to the pitcher that Steve Delabar knocked down and threw over to first. Ellsbury took over the game and we've seen what that's like from the other side. It's much more fun when he does it wearing a Yankees uniform, no doubt about it. Great game by him.
Leftovers
Dellin Betances' control problems reared their ugly head as only three of his 13 pitches were strikes. He walked two of three batters faced. Matt Thornton retired both men he faced before that (struck out the only lefty) and David Robertson retired all three men he faced after that. Would have been nice for Betances to get those last three outs, but he was very wild and Girardi couldn't take his chances. So it goes.
In case you missed it earlier, Teixeira left the game in the second inning with a right hamstring strain. Apparently he caught a spike in the turf while going after a foul ball. There is no word on the severity and if he has to miss more than a few days, the Yankees will be in some trouble. They don't have a true backup first baseman on the roster and their Triple-A options (Russ Canzler, basically) aren't great either.
The Yankees scored insurance runs in the eighth (Gardner single) and ninth (Solarte double). Gardner went 2-for-4 with a walk and stolen base while Solarte went 2-for-5 with two doubles off the wall. Something tells me he's going to get another start on Saturday. Kelly Johnson went 2-for-5 with a triple, Ichiro went 3-for-5 with two infield singles, and Carlos Beltran, Brian McCann, and Teixeira all singled in a run. Dean Anna went 1-for-4 with a walk in his first career game, so congrats to him. Sixteen hits and four walks overall. Total team effort.
Because the first challenge was successful, Girardi got another one and he used it in the eighth to challenge Delabar's play on Ellsbury. The replay confirmed he was out, but I liked the challenge there because there was a man on base and a chance to put together a big inning. That late in the game, it was unlikely to be needed later. I'd rather see Girardi roll the dice on a play like that than not use it.
The Yankees still have not hit a homerun yet this season. It's the first time they failed to hit a homer in the first four games since 1990, when they didn't hit their first longball until their eighth (!) game. I sure hope this team doesn't wait that long to hit a dinger. I've been waiting for 'em all winter.
Box Score, WPA Graph & Standings
MLB.com has the box score and video highlights, FanGraphs some other stats, and ESPN the updated standings. The Yankees went from last place to third place today, so that's cool.

Source: FanGraphs
Up Next
Same two teams on Saturday afternoon, in the middle game of this three-game set. Michael Pineda will finally make his first start for the Yankees, more than two years after the trade that originally brought him to New York. He'll be opposed by knuckleballer R.A. Dickey.
By

11:20pm: Teixeira may go for tests when the Yankees return to the New York on Monday, Joe Girardi said after the game. Right now nothing is planned. That's … good news? I guess.

8:54pm: Teixeira left the game with a strained right hamstring, the Yankees announced. No word on the severity though. The Yankees don't have a backup first baseman, not even in Triple-A, so they have a problem on their hands if Teixeira has to miss more than a few days.

8:28pm: Mark Teixeira left tonight's game for an unknown reason. Replays showed him grabbing his right hamstring after fielding a foul ball, so it doesn't appear to be his surgically repaired wrist. Still no official word yet though. It is the same hamstring he hurt during the 2010 ALCS. Stay tuned for updates. · (51) ·
Baseball America published a list of the youngest players at each level (no subs. req'd). Who is youngest player in MLB? Bryce Harper, even though he is now in his third big league season. Crazy. OF Ramon Flores is the fourth youngest player in the Triple-A International League, C Gary Sanchez is the sixth youngest in the Double-A Eastern League, and C Luis Torrens and 3B Miguel Andujar are the second and tenth youngest players in the Low-A South Atlantic League, respectively.
Triple-A Scranton was rained out. They're going to play a doubleheader tomorrow. Donnie Collins says RHP Chase Whitley will start the first game, RHP Graham Stoneburner the second game. This will make it each to get both C John Ryan Murphy and C Austin Romine a game behind the plate.
Double-A Trenton (7-3 loss to New Hampshire)
OF Mason Williams: 1-4, 1 BB – threw a runner out at third
2B Rob Refsnyder: 0-5, 2 K
C Gary Sanchez: 1-5, 1 R, 1 2B, 1 K
LF Ben Gamel: 0-3, 1 R, 1 BB, 2 K
LHP Jeremy Bleich: 4 IP, 5 H, 5 R, 5 ER, 1 BB, 7 K, 1 HB, 4/1 GB/FB — 50 of 82 pitches were strikes (61%) … not sure how starting will work for him, but he's in the rotation because they need some arms early in the season
RHP Branden Pinder: 2 IP, 2 H, 0 R, 0 ER, 1 BB, 3 K
For most of the winter, we didn't even know if Masahiro Tanaka would be made available. We heard the Yankees wanted him early in the offseason, but MLB and NPB decided to revise the posting system, and no one could be posted until that was compete. It took weeks and at one point it appeared there would be no agreement. Eventually it all got sorted out and Tanaka became available.
After months of rumors, the Yankees and Tanaka agreed to a record seven-year contract worth $155M. The team has to pay another $20M to the Rakuten Golden Eagles on top of that. It isn't just the largest contract ever given to an international player (by $87M!), it was the fourth largest pitching contract in baseball history at the time. Brian Cashman tried to downplay expectations by saying Tanaka could be a solid number three starter this year, but c'mon, you don't give a guy that much money without expecting an immediate impact.
Tanaka's ascent to the top of the Yankees' rotation officially begins tonight, when he makes his first start of the season. Spring Training was a success and he has handled everything well by all accounts, but now it's time for him to show why so many teams were willing to sink nine-figures into him. Despite all of his experience and success in Japan, I'm sure there will be some nerves in his first MLB start. How could there not be? He's only human.
Joe Girardi told Dan Barbarisi the flight up from Houston was one of the bumpiest of his career — he called it the "knuckleball express" — so it's good Tanaka flew ahead of the team earlier this week. The rest of the Yankees weren't so lucky. Derek Jeter is getting a scheduled day of rest after playing three straight games, which is a good idea given his injuries and the turf. The struggling Alfonso Soriano is sitting as well. Ichiro Suzuki and Yangervis Solarte are each getting another start after being yesterday's offensive heroes. Here is the Blue Jays lineup and here is Joe Girardi's lineup:
RF Ichiro Suzuki
2B Yangervis Solarte
SS Dean Anna
RHP Masahiro Tanaka
It has been pouring in Toronto all day, so the Rogers Centre roof will be closed. At some point the Yankees will play a game outdoors. I think. First pitch is scheduled for 7:30pm ET and can be seen on YES locally and, depending on where you live, MLB Network nationally. Enjoy.
By

Via George King: The Nationals do not have interest in either John Ryan Murphy or Austin Romine in the wake of Wilson Ramos' injury. Ramos had surgery to remove the hamate bone from his left wrist and will be out 4-5 weeks. Former Rays backstop Jose Lobaton will handle starting duties in the meantime.

Since Ramos is coming back relatively soon, Frankie Cervelli doesn't make much sense for Washington. He is out of options and can't go to the minors, and they already have two quality catchers in Ramos and Lobaton. The Nationals don't have any spare infielders to move for a catcher anyway. They insist they're going to hold onto Danny Espinosa. Oh well. · (7) ·