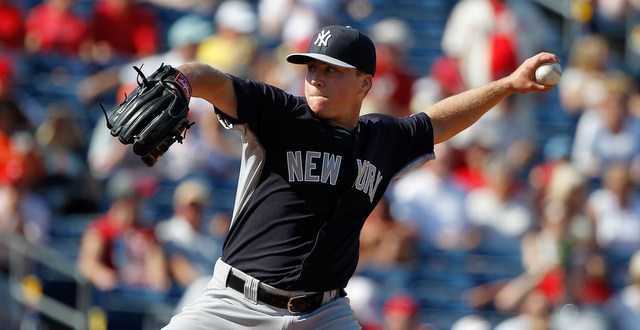 A little more than one month into the regular season, lefty relief prospect Jacob Lindgren has dominated with Triple-A Scranton, pitching to a 1.65 ERA (1.60 FIP) in 16.1 innings. He's struck out 31.4% of batters faced and gotten a ground ball on 75.6% of balls in play. His numbers since being the Yankees' top draft pick (second round) last year are mind-boggling: 40.2 K% and 78.3 GB%.
The 22-year-old Lindgren has dominated minor league hitters the same way he dominated college hitters with Mississippi State. The Yankees selected him with the 55th overall pick last year, and when you select a reliever that high, you're taking him because you expect him to have an impact and soon. I'm not sure Lindgren is another Andrew Miller, that's a lofty comparison, but he's not far off either. He's a lefty with a great slider who can get both lefties and righties out.
And yet, despite his pro ball dominance, Lindgren remains in Triple-A while the big league team cycles through guys like Chris Martin, Chasen Shreve, Esmil Rogers, and Branden Pinder. I thought Lindgren belonged on the Opening Day roster and last month I said the Yankees are going to have to call him up soon just to challenge him so he can continue his development. That is still true now, I'm not backtracking, but I am going to play devil's advocate and make a case for leaving Lindgren in Triple-A a little longer.
From 2004-08 — a five-year sample close to the present but far enough away that we know how these guys turned out — a total of ten college relievers were taken in the first, supplemental first, or second round. Like Lindgren, they were all expected to be fast-moving back-end of the bullpen guys. Future closers and setup men with the future coming very soon after the draft. Here's the list:
| | Drafted | MiLB IP before MLB debut | MLB IP and WAR |
| --- | --- | --- | --- |
| Bill Bray | 1st 2004 (MTL) | 78.2 | 197.1 and 2.4 (retired) |
| Huston Street | supp. 1st 2004 (OAK) | 26 | 606 and 14.0 (and counting) |
| Craig Hansen | 1st 2005 (BOS) | 12.2 | 93.2 and -1.9 (out of baseball) |
| Joey Devine | 1st 2005 (ATL) | 26 | 88.1 and 2.0 (out of baseball) |
| J.B. Cox | 2nd 2005 (NYY) | 219 | N/A (out of baseball) |
| Chris Perez | 1st 2006 (STL) | 85 | 379.1 and 4.4 (and counting) |
| Casey Weathers | 1st 2007 (COL) | 191 (and counting) | N/A |
| Eddie Kunz | 1st 2007 (NYM) | 68.1 | 2.2 and -0.2 (out of baseball) |
| Josh Fields | 1st 2008 (SEA) | 176.2 | 98.2 and 0.0 (and counting) |
| Daniel Schlereth | 1st 2008 (ARI) | 31 | 93 and 0.0 (and counting) |
This list doesn't include Brett Cecil, a 2007 first rounder who was a reliever in college the Blue Jays tried to convert into a starter.
Two of those ten reached their ceilings as legitimate late-inning MLB relievers: Street and Perez, and Perez is already pretty close to washed up, so his success didn't last very long. Eight of the ten got to MLB but most of them had little to no impact — only five of the ten are still active! — and that's the risk with relievers. If they fall short of their ceilings, they have very little value.
Not counting Cox (got hurt in the minors) and Weathers (hurt and control issues), the average is 63 innings in the minors before their MLB debut for those college relievers, and that is skewed a bit by Fields, who had control issues for a few years before figuring it out. Four made it to MLB in fewer than 41 innings, Lindgren's career total, but only Street had staying power among those four.
The common thread here: most of those relievers were called up within a year of being drafted and thrust into intense late-inning roles. Both Hansen and Devine were up with the big league team weeks after being drafted, Street made the team out of Spring Training the following year, and Schlereth was up the following May. They're the most extreme examples.
Hansen was a September call-up but the other three were asked to be late-inning guys right away. Heck, Devine was the Braves postseason roster in 2005, a few weeks after being drafted. Perhaps it was too much, too soon? Making the jump and adjusting to the MLB level is really hard. Making that jump with the pressure of being a high draft pick and then being asked to pitch high-leverage innings right away is an awful lot to take in at once.
Street is one of the very few who was able to have all that dumped on his plate and still thrive. Chad Cordero did the same thing way back in 2003 before blowing out his arm. They're the exception, not the rule, yet that's what the expectation seems to be for relievers taken high in the draft. Get to MLB and dominate right away. It hasn't worked all that often, however, and I'm sure the Yankees have this in mind with Lindgren. This quote from scouting director Damon Oppenheimer last summer sticks out (emphasis mine):
"I kind of leave those decisions for other people. My job's just to bring the talent into the system. But we just think as a group that he does have the capability of moving through the system hopefully quickly. Whether he's good enough to go pitch in the big leagues right away, somebody else will make that decision. But he's obviously advanced. He's obviously gotten out really good hitters. There's some history with guys doing this, but there's also some history with guys getting to the big leagues as relievers too quick and it doesn't last. We'd like to get impact and longevity from him, not just something that's real quick."
Do the Yankees want Lindgren in the big leagues dominating right now? Of course. But they also want Lindgren to have a long career and that's the priority. They want him to be the next Huston Street, not the next Craig Hansen or Daniel Schlereth. And if that means leaving him in the minors longer than fans originally expected to make the transition as painless as possible, then they seem willing to do that. It might not work! But they're trying.
Like many of those 2004-08 college relievers, Lindgren has the stuff to get big league hitters out right now, less than one full year after being drafted. Pitchers can survive on stuff alone if necessary, but there's more to being a successful long-term big leaguer than stuff. Kids making the transition from college to pro ball have to learn how to deal with the day in, day out grind, how to prepare to pitch every day and not just on the weekends, and learn how to cope with failure as much as anything.
Personally, I think relievers — especially slider happy relievers like Lindgren — are so unpredictable and tend to have such short shelf lives that I'd like to see the Yankees get as much out of Lindgren as possible before things go south, whenever that is. If the team feels the best way to maximize Lindgren's career is to take it slow and keep him in Triple-A longer than his performance warrants, that's fine too. The track record of college relievers being rushed to MLB is pretty terrible and the Yankees are trying to avoid adding another name to that list.