By

Got some updates on a pair of Cuban free agents. First, Jesse Sanchez reports the Giants have agreed to sign OF Daniel Carbonell. The Yankees were said to have some interest in him, but not enough to make an offer. Sanchez says Carbonell received a three-year contract worth $3.5M, which tells you teams valued him as an extra player. If there's one thing the Yankees don't need, it's more fourth outfielder types.

In other news, Ben Badler reports RHP Raciel Iglesias has been granted an extension to sign by MLB. Because of the league's silly rules, he would have had to sign by yesterday to avoid being subject to the international spending restrictions. He can now sign for any amount before July 2nd. As I wrote in this mailbag a few weeks ago, Iglesias is a pure reliever who some teams believe can help as soon as the second half. There have not yet been any reports linking him to the Yankees or any other team. · (5) ·
The Yankees just wrapped up a nine-game road trip through two time zones and return home this week with five wins in the bank. It was a good trip, not a great trip. Stealing one of those last two games from the Athletics would have been awesome, but they are the best team in baseball. What are you going to do? Considering the injury-riddled rotation and mostly sputtering offense, winning five of nine works fine for me.
The road trip was not at all good for infielder Yangervis Solarte, who had four total hits in the nine games. All four came in back-to-back games in Kansas City. Solarte went hitless in his final 19 at-bats on the trip, though his recent slump extends further back than that — over the last calendar month he's hitting only .208/.269/.313 (60 wRC+) in 105 plate appearances. That's just bad. That's what you'd expect from … well, a journeyman infielder who signed a minor league contract.
Despite the slump, Solarte is still hitting .274/.347/.420 (113 wRC+) on the season, which is a reminder of just how excellent he was a few weeks ago. I don't think anyone realistically thought he could maintain the 144 wRC+ he posted through April or even the 131 wRC+ he posted through May. That's Josh Donaldson/Hanley Ramirez production. I'll be more than thrilled if Solarte manages to produce at a 113 wRC+ clip from here on out.
Sort through his day-by-day graphs page on FanGraphs and you can see Solarte's gradual return to Earth pretty clearly. The AVG, OBP, SLG, BABIP, and wOBA graphs are all moving in the wrong direction, the walk rate slightly less so. The strikeout, K/BB, and ISO graphs show little change. They've held steady even through this slump and that's encouraging. The one graph that stood out to me was the batted balls. Check it out: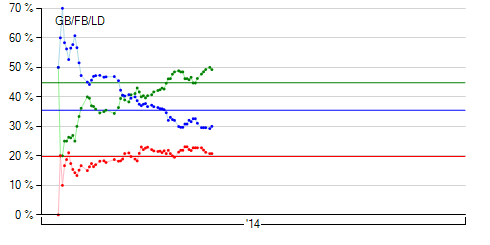 The green line is ground balls, the blue is fly balls, and the red is line drives. Solarte's ground ball and fly ball rates have been moving in opposite directions, which is sorta weird because his ISO has held steady. Usually when a hitter stops hitting the ball in the air, he stops hitting for extra bases. Maybe it's just a small sample thing. Solarte isn't fast and won't beat out many infield singles (he has three infield hits all season, including this one), so it makes sense that the increase in ground balls has led to decreased production overall.
One thing that has impressed me about Solarte — really more than anything — is his approach. His 11.6% strikeout rate is much better than the league average (20.3%) and his 9.6% walk rate is a touch better than average (8.0%) as well. He has swung at only 27.9% of pitches outside the strike zone, a tick below the 29.3% average. Has that changed at all during the slump? Here are Solarte's plate discipline stats broken down into ten-game chunks because ten is a nice round number:
| | O-Swing% | Z-Swing% | O-Contact% | Z-Contact% | Zone% |
| --- | --- | --- | --- | --- | --- |
| Games 1-10 | 27.1% | 59.2% | 78.3% | 95.2% | 45.5% |
| Games 11-20 | 34.4% | 56.3% | 74.2% | 93.3% | 47.1% |
| Games 21-30 | 21.8% | 66.7% | 73.7% | 95.7% | 44.2% |
| Games 31-40 | 20.9% | 52.2% | 66.7% | 97.2% | 44.5% |
| Games 41-50 | 29.3% | 53.3% | 82.4% | 95.0% | 56.4% |
| Games 51-62 | 33.7% | 52.3% | 83.9% | 97.8% | 48.9% |
Solarte has gradually swung at fewer pitches in the strike zone as the season has progressed, and lately he's offered at more pitches out of the zone as well. That's not really a good combination. Swing at strikes and lay off balls is a pretty good rule of thumb. Furthermore, Solarte has not only swung at more pitches out of the zone these last 22 games, but he's made more contact with those pitches as well. Unless you're a total freak like Vlad Guerrero, it's really tough to made hard contact with a pitch out of the zone. Usually the hitter is reaching and either grounding out weakly or popping the ball up.
As Joe wrote two weeks ago, it is very rare for a player to make his MLB debut at age 26 and stick around for a few years. At least rare among non-Cuban players. Dan Uggla and David Eckstein have both done it, and Solarte is more Eckstein than Uggla in terms of his high-contact, low-power playing style. Every little slump makes you wonder if this is the end — for what it's worth, Solarte has hit much better at Yankee Stadium, so coming back home this week could help jump start his bat — but Solarte has rebounded each previous time. A little less hacking at pitchers' pitches would help get him back in line this time. That might not be his only problem right now, but it is part of it.
By

Maybe not a Yankee, but there's no way to deny the grace and respect in which Mr. Padre played the grand ol' game.  While the league was obsessed with juiced up homer hitters, Gwynn continued to put up his high average and on base numbers season after season.  Cancer once again has robbed us of a brilliant athlete and a good man.  Sorry about 1998, but I am sure the Hall of Fame was a pretty great consolation prize.  Thanks for everything. · (37) ·
One of the many reasons the Yankees failed to reach the postseason last year was the lack of help from the farm system. Outside of Adam Warren, who was a low-leverage swingman, no one came up from the minors and was able to contribute when the opportunity for playing time presented itself. David Adams and Austin Romine didn't hit, and others like Zoilo Almonte and Vidal Nuno quickly went down with injuries.
This season has been a little different, thankfully. Dellin Betances has emerged as one of the very best relievers in baseball and a key late-inning piece in Joe Girardi's bullpen. John Ryan Murphy had a successful stint as Frankie Cervelli's injury replacement and Jose Ramirez is being a given a chance to contribute out of the bullpen right now. Others like Rob Refsnyder and Jose Pirela could get looks in the coming weeks.
Given all the pitching injuries, I think you could argue Chase Whitley has had the most impact out of the team's homegrown players in 2014. It's either him or Betances, though the rotation would be in much worse shape without Whitley than the bullpen would be without Betances. That's what I think. Either way, both guys have been a big help and this is the type of production the Yankees weren't getting from their system a year ago.
Whitley, 25, has a 2.51 ERA (2.58 FIP) in 33.2 innings and six starts this season, the 15th through 21st starts of his five-year career. It's a really small sample, yeah, but I think it's remarkable he's done so well in a starting role (in MLB!) after being a reliever just about his entire life. Girardi has been careful with Whitley, limiting how often he's faced the lineup a third time and keeping his pitch count tight after so many years in the bullpen, which can be annoying but is understandable.
Now, with all due respect to Whitley and the job he's done, I think it's important to add some context to his performance. He's made six starts and the best lineup he's faced has been the Twins and their team 99 wRC+. That was also the only start Whitley has made at home in hitter-friendly Yankee Stadium. (He held Minnesota to one run in five innings.) The Cardinals have a 92 wRC+ while the Mets, Cubs, Royals, and Mariners are bottom six offenses (81-87 wRC+ range).
Whitley's two best starts have been his last two starts, when he held the Royals and Mariners to two runs in seven innings and 7.2 innings, respectively. As a team, the Royals have an 83 wRC+ in Kansas City while the Mariners boast an MLB worst 73 wRC+ at home in Seattle. Those are some favorable pitching conditions and Whitley did exactly what he was supposed to do in those games. I don't want to take anything away from him, pitching is hard, it's just important to fully understand what's been going on.
The Yankees open a three-game series with the Blue Jays tomorrow night and Whitley is scheduled to start the second game. Toronto will be, by far, the best lineup he has faced in his short time as a big leaguer. They lead baseball with 92 homers — Whitley's allowed just one dinger this year, a no-doubter by Logan Morrison last time out — and have a team 112 wRC+, also the best in baseball. Jose Bautista and Edwin Encarnacion are elite sluggers, Jose Reyes and Melky Cabrera high-end contributors, and Adam Lind is in the middle of his best season in forever. It's a tough assignment.
Now here's the thing: Whitley will face the Blue Jays on Wednesday, then he's scheduled to face them again in Toronto next Monday. The Jays have a 116 wRC+ as a team at home, so it's more or less a lineup full of David Ortizes (117 wRC+) whenever they're in Rogers Centre. The Man in White has been putting in some overtime this season, I guess. Whitley is not only going to face the best hitting team in baseball next time out, he's going to face them in back-to-back starts. It'll be the first time a team sees him twice.
Whitley has effectively replaced Michael Pineda, giving the Yankees high-end performance in short, workload-controlled starts. He's done it against a favorable schedule so far, but you can only pitch against who the schedule says you have to face. These next two starts against the Blue Jays will be the toughest test of Whitley's brief career and, given where they sit in the standings, the Yankees need him to be sharp so they can climb back into the division race. The cakewalk against the Mariners, Mets, Royals, et al is over. Whitley's about to be introduced to AL East baseball.
Record Last Week: 4-2 (26 RS, 22 RA)
Season Record: 35-33 (275 RS, 302 RA, 31-37 pythag. record)
Opponents This Week: Mon. OFF, vs. Blue Jays (three games, Tues. to Thurs.), vs. Orioles (three games, Fri. to Sun.)
Top stories from last week:
Please take a second to answer the poll below and give us an idea of how confident you are in the team. You can view the interactive Fan Confidence Graph anytime via the nav bar above, or by clicking here. Thanks in advance for voting.
Given the team's current roster construction, farm system, management, etc., how confident are you in the Yankees' overall future?

Source: FanGraphs
Well that was not how I hoped the generally successful nine-game road trip would end. The Athletics pounded the Yankees on Sunday afternoon, sending them back to New York on the heels of a 10-5 loss. That score is deceptively close too — the Yankees scored their final two runs with two outs in the ninth. They still won five of nine games on the trip overall (with one rainout). Let's recap:
For the box score and video highlights, get over to MLB.com. For some other stats, FanGraphs is the place to go. ESPN has the updated standings. The Yankees return home and open a three-game series against the first place Blue Jays on Tuesday night after enjoying an off-day Monday. Masahiro Tanaka and rookie Marcus Stroman will open the series. Check out RAB Tickets if you want to catch any of those games live.
Let's start with some notes:
Triple-A Scranton (11-3 loss to Columbus)
1B Corban Joseph: 3-4, 1 R, 1 HR, 1 RBI
LF Zoilo Almonte: 1-4, 1 K – threw a runner out at second
3B Scott Sizemore: 2-4, 1 R, 1 2B – 6-for-8 in the last two days after a 4-for-32 (.125) skid
DH Kyle Roller: 0-4, 1 K
2B Rob Refsnyder: 2-4, 1 R, 1 3B, 2 K — 4-for-20 (.200) with seven strikeouts so far … he struggled when he first got to Double-A as well
RHP Joel De La Cruz: 4 IP, 7 H, 4 R, 4 ER, 3 BB, 2 K, 7/1 GB/FB, 1 E (pickoff) — 48 of 78 pitches were strikes (62%) … 95/31 GB/FB so far this year
RHP Heath Bell: 1 IP, 3 H, 3 R, 3 ER, 1 BB, 1 K, 2/0 GB/FB – 19 of 29 pitches were strikes (66%)
RHP Preston Claiborne: 0.1 IP, 2 H, 4 R, 3 ER, 2 BB, 1 K — half of his 22 pitches were strikes
Happy Father's Day to all you dads out there. Hope you've had a kick-ass day. The ESPN Sunday Night Game is the Angels and Braves (Santiago vs. Minor), plus Game Five of the NBA Finals is on as well. Talk about whatever you like right here. Have at it.
The Yankees have won five of the first eight games on this road trip (with one rainout), so this afternoon's series finale with the Athletics is the difference between an awesome 6-3 trip or a pretty good 5-4 trip. Grab a win, fly home feeling good, enjoy the off-day tomorrow. Sounds like a plan. Here is the Athletics lineup and here is the Yankees lineup:
It's cloudy and cool in the Bay Area, but there is no rain in the forecast, so they won't have any trouble getting this afternoon's game in. First pitch is scheduled for 4:05pm ET. You can watch the game on YES. Enjoy.

Source: FanGraphs
If you knew nothing about baseball and decided to watch Saturday night's game out of boredom, I'm pretty sure it would have turned you off from the sport forever. There wasn't much offense, both teams played bad defense, Hiroki Kuroda was very wild, and play was delayed 38 minutes because the lights at the O.co Coliseum wouldn't turn on. The Yankees lost 5-1 to end their four-game winning streak.
New York's lack of offense — they had three hits and three walks, and the final 15 men they sent to the plate made outs — had more to do with the Athletics' pitching staff being really good than their offense being bad, I thought. Scott Kazmir was pretty sharp and the Dan Otero/Scott Doolittle combination is quietly one of the best in the game. The Yankees scored their only run on a throwing error by shortstop Andy Parrino. They had another runner thrown out at the plate on the contact play.
Kuroda, on the other hand, was as wild as I've ever seen him as a Yankee. He threw two pitches to the backstop, bounced a bunch of 55-footers, and was generally all over the place. It's surprising he managed to throw 55 strikes out of his 93 total pitches. Kuroda had no idea where the ball was going at all. A two-out rally in the second and some terrible defense in the fifth led to four runs in 4.2 innings. Kelly Johnson picked up a weak grounder that appeared to be rolling foul and John Ryan Murphy allowed two passed balls. Everyone can now use that inning to justify sending him down for Frankie Cervelli next week.
MLB.com has the box score and video highlights, FanGraphs some other stats, and ESPN the updated standings. That might have been the worst game of the year in terms of watchability. The Yankees wrap up their ten-game turned nine-game road trip on Sunday afternoon, when they send Vidal Nuno to the mound in the rubber game against righty Jesse Chavez.
Minor League Update: Here is the scoreboard for Saturday's games. Here's the box score for the High-A Florida State League All-Star Game. 2B Rob Refsnyder went hitless again, C Peter O'Brien homered, OF Aaron Judge had two hits, LHP Manny Banuelos threw three scoreless innings in the rain-suspended game, and RHP Luis Severino struck out eight in six innings. C Gary Sanchez remains glued to the bench for disciplinary reasons.