The improbable run to the postseason has hit bump in the road. The Yankees dropped their second straight game Monday night, this one 8-2 to the Dodgers in the series opener. The Orioles lost and the Tigers won, so those two teams are now tied for the second wildcard spot. The Yankees remain two games back with 19 games to play.
Bad Matchup
Bryan Mitchell had a bad night that would have been slightly less bad with a little more luck and defensive help. The Dodgers were able to find some holes with ground balls in the first inning, during which they scored their first run on a failed double play ball. The play developed slowly. Starlin Castro's flip to second was a little slow and Ronald Torreyes need a moment to avoid the take-out slide before throwing to first, so Adrian Gonzalez beat it out. So it goes.
The big blow, the one that put the game firmly on the side of the Dodgers, was Aaron Judge's error in the second inning. Chase Utley hit a two-out bases loaded rocket into right-center field that Judge very nearly ran down, but the ball clanked off the end of his glove and fell in. I thought it was a tough error. He went a long way for that ball and nearly made the full extension catch at full speed. But, the ball Judge's his glove, so an error it is. Either way, two runs scored to give the Dodgers a 3-0 lead. Corey Seager then pulled a ground ball just out of the reach of Castro to make it 4-0.
I first-guessed the decision to send Mitchell out for the fifth because the lefties were giving him such a hard time. Yes, there was some poor luck and shoddy defense in there, but there were also a lot of comfortable swings. Mitchell doesn't have a changeup and has to use his cutter to neutralize lefties, and it obviously wasn't working Monday. Sure enough, Mitchell went out for the third, gave up two more hits to lefties, then was pulled. Predictable outcome is predictable.
All told, Mitchell was charged with six runs — only two were earned thanks to Judge's error — on eight hits in 2.1 innings. He struck out two and got only three swings and misses out of 47 pitches. Lefties went 6-for-12 against him and it would have been 7-for-12 had the Judge error been called an Utley triple. Some things didn't break Mitchell's way — he was charged with the sixth run when Chasen Shreve allowed an RBI infield single to Howie Kendrick — but he wasn't fooling the lefties either. Bad matchup led to bad results.
Two Token Runs
The Yankees made some very loud contact against Dodgers rookie Jose De Leon. Castro absolutely walloped a long solo home run into the second deck in left field in the second inning, cutting the Dodgers' lead to 3-1. Then, in the fifth inning, after the Dodgers stretched the lead to 6-1, Aaron Judge exit velocity-ed the crap out of an even longer solo homer into the left field bleachers. That ball was well-struck. Check it out:
Goodness. You live with the strikeouts — to his credit, Judge only has four strikeouts in his last five games and 16 plate appearances, which is manageable — because he can do
that
when he connects. At 115.2 mph, Judge's home run was the single hardest hit ball by a Yankee this season, home run or otherwise. Long solo homers are still solo homers, so Judge's blast only cut the Dodgers' lead to 6-2.
Gary Sanchez smashed a hard-hit ball of his own later in the fifth inning, though it hooked foul. The Yankees were starting to get to De Leon, which is why Dodgers skipper Dave Roberts pulled him after the fifth at only 83 pitches. Amazing to see a manager be proactive when there are warning signs rather than get cute and go batter-to-batter. The Yankees only had three hits and two walks against De Leon in his five innings. Luckily two of the three hits left the yard.
Ain't No Lie, Blei Blei Blei
Shreve replaced Mitchell in the third inning and allowed that annoying RBI infield single to Kendrick before closing out the frame. Girardi then went to lefty long man Richard Bleier to start the fifth, and Bleier gave the Yankees four innings of no effs given relief. Four innings, no hits, no runs, one walk. He also hit Utley with a pitch, which I'm sure Chase had coming to him for something.
Bleier struck out three and his nine other outs were ground balls. He didn't allow a single ball to be hit to the outfield in his four innings. Pretty awesome. Bleier did exactly what the Yankees needed him to do, and that was soak up innings and not let the Dodgers tack on runs. The offense never did get back into the game, but that's not Bleier's fault. He was pretty awesome. James Pazos and Ben Heller, who allowed garbage time solo homers to Yasiel Puig and Justin Turner, were decidedly less awesome.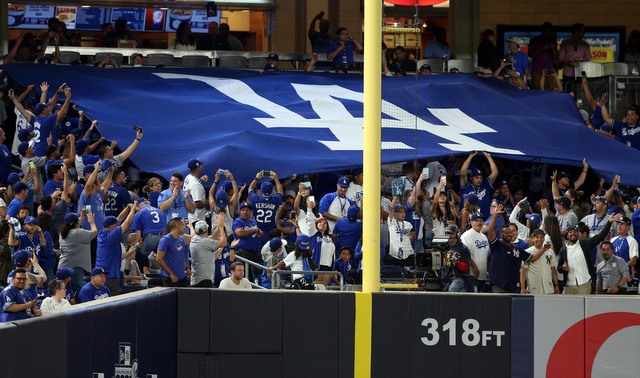 Leftovers
The Dodgers schooled the Yankees with their own move. Kendrick stole second in the second inning, and as soon as Sanchez made the throw, Josh Reddick broke for home from third. Sanchez's throw was well wide of the bag and sailed into center field, but it didn't really matter. Reddick broke as soon as the ball was out of Sanchez's hand, and it was going to take a perfect throw back to the plate to get him. Rookie mistake. Eat the ball and let them steal second with two outs.
Torreyes went 1-for-4 and the single was his third hardest hit ball of the night. He hit a line drive to left-center that Joc Pederson managed to run down in the third, and two innings later Torreyes did the exact same thing, except this time left fielder Andrew Toles ran it down. Two really nice catches robbed Torreyes of extra bases. That's a deceiving 1-for-4 right there.
Tyler Austin went 0-for-4 with four strikeouts and is now 0-for-9 with eight strikeouts since his walk-off home run. It looked like he was starting to find it, then poof, it was gone. Judge went 1-for-4 with the homer and two strikeouts. The Yankees had five hits total, including two by Castro. They had only three at-bats with runners in scoring position all night.
Box Score, WPA Graph & Standings
ESPN is the place to go for the box score and updated standings. MLB.com has the video highlights. Make sure you check out our Bullpen Workload and Announcer Standings pages. Here's the over early win probability graph:

Source: FanGraphs
Up Next
Game two of this three-game interleague series. The Yankees and Dodgers will be back at it Tuesday night. Veteran lefty CC Sabathia and rookie lefty Julio Urias are the scheduled starters. Chances Urias has as good a career as Sabathia? I'll say … 5.648%. Anyway, there are only eight home games left this season (eight!), so if you want to catch any of them live, head on over to RAB Tickets.