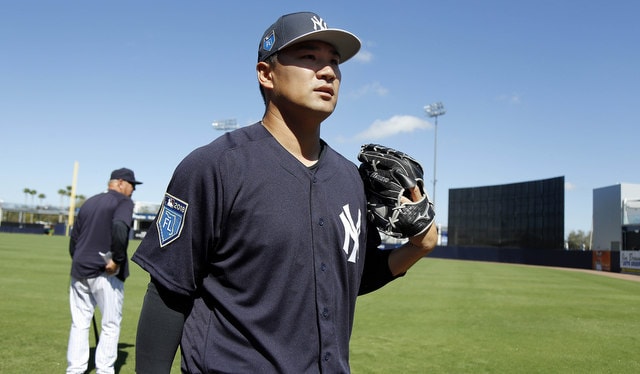 The Yankees are on the road this afternoon to take on the Tigers — seems like they're playing the Tigers every other day this spring, doesn't it? — and Masahiro Tanaka is making his third Grapefruit League start. The first went poorly, the second went fine. Tanaka's a veteran. He knows what he has to do to get ready for the regular season.
Opening Day is one week and five days away now, so we are rapidly approaching the point where players say they like to get locked in. They'd all rather finish strong than start strong in the spring. Starting well and carrying it through to Opening Day ain't easy. Hopefully we start to see some guys get into midseason form over the next 12 days. Here is the Tigers' lineup and here is the Yankees' lineup:
2B Tyler Wade
3B Brandon Drury
1B Greg Bird
CF Aaron Hicks
DH Miguel Andujar
C Erik Kratz
SS Ronald Torreyes
LF Shane Robinson
RF Estevan Florial
RHP Masahiro Tanaka
Available Pitchers: RHP Cody Carroll, RHP Raynel Espinal, RHP J.P. Feyereisen, LHP Caleb Frare, RHP Domingo German, RHP Joe Harvey, and LHP Stephen Tarpley. Espinal, Frare, Harvey, and Tarpley are up from minor league camp for the road trip.
Available Position Players: C Francisco Diaz, C Jorge Saez, 1B Tyler Austin, IF Abi Avelino, IF Diego Castillo, OF Trey Amburgey, OF Jeff Hendrix, OF Alex Palma, OF Zack Zehner, and UTIL Jace Peterson. Avelino, Castillo, Amburgey, Hendrix, Palma, and Zehner are all up from minor league camp.
Another great day for a Spring Training ballgame. Sunny and warm in Lakeland today. This afternoon's game will begin at 1:05pm ET and you can watch on MLB Network. There is no YES broadcast and for whatever reason the MLB.tv schedule doesn't list today's game. If it's on television there has to be an MLB.tv stream, right? I guess we'll find out. Enjoy the game.
Update: The game is on MLB.tv. So there you go.