Got a dozen questions in the mailbag this week, the last one before the All-Star break. As always, you can send us questions or comments at RABmailbag (at) gmail (dot) com.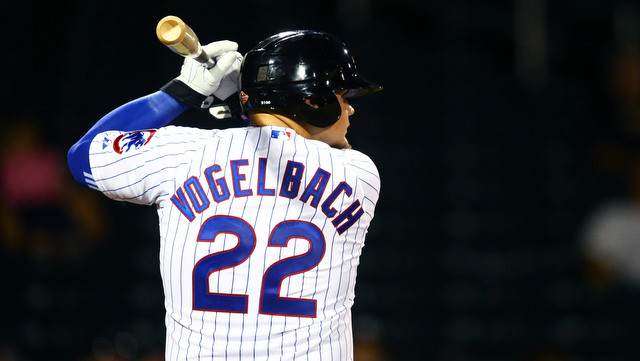 Matt asks: Given the increased discussions about the Yankees being "sellers" at the deadline, is there any chance that the team takes a look at the Cubs' Dan Vogelbach? Would a Vogelbach for Miller trade be realistic? (And yes, my trade proposal sucks—sorry if this has been asked already elsewhere!)
Vogelbach is the most likely to be traded prospect in all of baseball. Defensively, the kid is basically present day Alex Rodriguez. He's a bad defensive first baseman who fits best at DH. The Cubs move everyone around to different positions and they haven't even bothered to try Vogelbach, who is listed 6-foot-0 and 250 lbs., in left field. With Anthony Rizzo entrenched at first base and no DH spot in the NL, Vogelbach has no long-term place with the Cubs.
Now, his defense may stink, but boy, Vogelbach can hit. The lefty hitter owns a .301/.413/.536 (152 wRC+) line with 15 homers, a 15.4% walk rate, and a 19.6% strikeout rate in 81 Triple-A games this year. Last year he hit .272/.403/.425 (140 wRC+) in 76 Double-A games around oblique and hamstring problems. MLB.com's scouting report praised Vogelbach because "(rather) than selling out for home runs, he controls the strike zone, makes consistent contact and uses the entire field."
The Yankees have the DH spot available as well as a long-term opening at first base, at least until Greg Bird shows he's back to normal following shoulder surgery, so yes, Vogelbach does seem like someone who could interest them. There's no way I would trade Miller straight up for Vogelbach though. I'm not even sure I'd take Vogelbach as the second piece for Miller. Vogelbach for Aroldis Chapman is more realistic, but even then I'd want more. The kid can hit, but at the end of the day we're talking about a 23-year-old DH. If he doesn't hit, he's useless.
Matt asks: I noticed when the International League All-Stars were announced the team included 4 Yankees: Green, Sanchez, Judge, and Gamel. This got me wondering, when was the last time the Yankees had 4 All Stars at the AAA level? Particularly, 4 All-Stars who have a change to legitimately contribute at the MLB level in the near future? It seems like the type of thing that would've been impossible to imagine a few years ago.
Unlike the other minor leagues, which stay within themselves and play division vs. division in the All-Star Game, the Triple-A All-Star Game is International League vs. Pacific Coast League. The Yankees and Blue Jays lead the way with four International League All-Stars each this year. Here are New York's Triple-A All-Stars over the years:
2016: Ben Gamel, Chad Green, Aaron Judge, Gary Sanchez
2015: Kyle Roller, Austin Romine
2014: Jose Pirela
2013: Chris Bootcheck, Thomas Neal
2012: Juan Cedeno
2011: Jesus Montero, Jorge Vazquez, Kevin Whelan
2010: Jonathan Albaladejo, Jesus Montero, Eduardo Nunez
2009: Shelley Duncan, Austin Jackson, Zach Kroenke
2008: Justin Christian
2007: Shelley Duncan
Okay, I've gone back far enough. To answer Matt's question: a long time. It's been a long time since the Yankees last had four Triple-A All-Stars, nevermind four Triple-A All-Stars who were legitimate big league prospects. That 2010 class is the closest by default. Most of the guys listed above are journeymen filling out the roster.
Being selected to a Triple-A All-Star Game hardly means the player is destined for a productive big league career. For example: almost everyone listed above. It's still cool to see the Yankees not only have legitimate prospects in Triple-A, but legitimate prospects playing well enough to make the All-Star team. That's pretty awesome.
Joe asks: Who are the rule V candidates of note for this offseason?
The Yankees have some big time prospects eligible for the Rule 5 Draft this offseason, including Judge and Jorge Mateo. Miguel Andujar and Luis Torrens too. The first three guys will definitely be added to the 40-man roster. I can't imagine Torrens will be though. He's nowhere close to ready for MLB duty, even as a sparsely used backup catcher. Some team might pick Torrens, but I doubt he'd even make it through Spring Training. This is one of those situations where the best way to keep him is to leave him unprotected, because you know he'll be offered back.
Others eligible for the Rule 5 Draft after the season include Jake Cave, Tyler Webb, Brady Lail, Dietrich Enns, Kyle Higashioka, and Cale Coshow. Cave's an interesting one because he's been a Rule 5 pick once before, which means he can elect free agency rather than return to the Yankees if he doesn't stick with his new team. I'm curious to see what the Yankees do with Cave and all their other upper level lefty hitting outfielders. They can't all of 'em. Does the Rule 5 Draft stuff make Cave trade bait? My guess right now is Judge, Mateo, Andujar, Webb, Higashioka, and Cave (assuming he isn't traded) get protected. No one else.
Update: Higashioka will be a minor league free agent after the season. Forgot about that. My bad. He'll still be Rule 5 Draft eligible if he signs a minor league contract with the Yankees or any other team though. The Yankees could add Higashioka to the 40-man roster to prevent him from hitting free agency.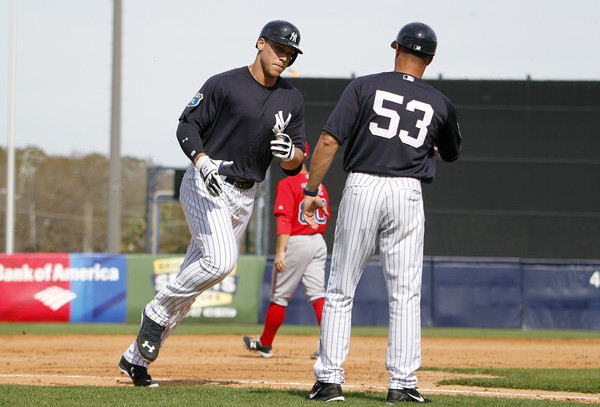 Adam asks: Why are the Cardinals not mentioned as a potential trade partner when looking at where guys like Miller or Chapman could be sent? They would seem to have a need in their bullpen and while their farm system has been ranked around the same as the Yankees' they always seem to do a good job of player development.
Trevor Rosenthal is having a shockingly bad season — he went into yesterday with 22 walks and a 5.28 ERA (4.17 FIP) in 29 innings  — while other bullpen veterans like Jonathan Broxton, Kevin Siegrist, and Seth Maness have been hurt and/or ineffective. Korean important Seung-hwan Oh (1.67 ERA and 1.69 FIP) has been awesome and is manager Mike Matheny's only reliable late-innings reliever right now.
The Cardinals are not catching the Cubs in the NL Central, no one is, but they remain in the wildcard mix. The bullpen is an obvious place to upgrade. We should definitely be talking about them more as a possible trade partner. Here's their MLB.com top 30 prospects list, if you want to look that over. I love righty Jack Flaherty, have since the 2014 draft (he was said to be unsignable, but the Cardinals were able to buy him away from UNC), and I'd want him in any trade involving one of the big three relievers. Catcher Carson Kelly and (injured) lefty Marco Gonzales are also personal faves.
Mary asks: Why doesn't MLB have something similar to the NFL draft scouting combine? I realize that some teams are still playing such as in the College World Series, but what about moving the draft a little later and having a scouting combine for teams to get a look at the players in that kind of environment? Do you think it will ever happen?
There has been talk about doing something like this for the top 200 draft prospects per the MLB Scouting Bureau. Those guys are already subject to performance-enhancing drug tests. The scheduling is difficult because, like you said, the college baseball season is still going on. Plus the high school season usually ends a few weeks before the draft, so you'd be expecting kids to come in when they're not in midseason form.
I'm not sure how much useful information teams can gain from a scouting combine anyway. Are they going to change the scouting reports they've been building for years just because a guy hits few batting practice homers or runs a 4.4 40? If so, a combine might do more harm than good. Baseball's much different than football. At the NFL combine teams are looking at players who will be on their roster next year. Baseball draft picks are years away.
Daniel asks: I know its way too early, but care to guess the Yankees starting 9 position players and top 3 SP for Charleston next year? There seems to be at least 10 actual position player prospects in the 3 rookie league teams alone.
Thanks to the 2014-15 international free agent haul and the last two drafts, it looks like the 2017 Low-A Charleston River Dogs will be the most exciting minor league affiliate we've seen in a very, very long time. Here's an extremely preliminary roster:
Catcher: Luis Torrens
First Base: Drew Bridges (?)
Second Base: Hoy Jun Park (repeating the level)
Shortstop: Wilkerman Garcia
Third Base: Dermis Garcia
Outfield: Estevan Florial, Blake Rutherford, Isiah Gilliam, Leonardo Molina
Starting Pitchers: Drew Finley, Nick Nelson, Austin DeCarr, Jeff Degano (?)
First base is the only position where it looks like the River Dogs won't have a really good prospect, assuming Park is held back. (Nick Solak will almost certainly start with High-A Tampa.) I suppose the Yankees could move Gilliam back to first base, the position he played as an amateur, but he's doing well in the outfield right now. Those four outfielders will do the "rotate among the three outfield spots plus DH" thing the Yankees have going on in Triple-A Scranton right now.
Obvious caveat: a lot can change over the next nine months. Guys will get hurt, traded, held back in Extended Spring Training, all sorts of stuff. As it stands right now, it looks like that group of players will head to Charleston next season. I'm sure the actual finished product will be different, perhaps substantially so.
Anonymous asks: I know you're pretty high on Tyler Wade, & your recaps often mention how he's holding his own offensively at a young age in AA, but have you noticed his soaring error total lately? He's up to 19(!) as of 7/4. I know minor league error totals can be high, but is there any concern here?
Wade is now up to 20 errors in 81 games: five in 27 games at second and 15 in 54 games at short. Last season Wade made 35 errors in 124 total games, so he's more or less on the same pace. I don't worry too much about minor league error totals though because these are minor leaguers. They're still learning the game and they're going to make mistakes. Also, the fields aren't as well-groomed as MLB fields, so there are lots of tricky hops and things like that.
MLB.com's scouting report says Wade has the "quick feet and hands to go with solid arm strength" necessary for shortstop, so the tools are there. Is he going to be a Gold Glover? Probably not. But he can play the position. Wade has close to no power — it's 30 power, not true 20 power on the 20-80 scouting scale — but he's a lefty hitter who makes contact (16.2 K%), knows the strike zone (12.8 BB%), can run (16-for-20 in steal attempts), and can play short. He's doing all of that as a 21-year-old in Double-A, where he's more than three years younger than the average Eastern League player. That's a really good prospect. If I were another team with a hole at shortstop, I'd be looking to trade for Wade to be a stopgap the next few years.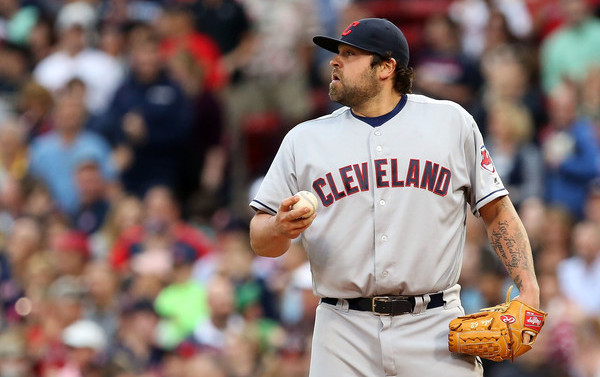 Dustin asks: Now that he's DFA'd by the Indians, should the Yanks bring Joba back?
My initial reaction was nah, why bother? Joba Chamberlain hasn't been all that good for about five years now. That said, the bar he has to clear is "better than Anthony Swarzak," so yeah. Maybe it is worth it. Joba had a 2.25 ERA (3.82 FIP) with a 22.0% strikeout rate and a 13.4% walk rate in 20 innings with the Tribe after pitching to a 4.28 ERA (4.36 FIP) from 2012-15. Has anything changed? Did he learn a new pitch or improve his command, anything like that? Glossing over the numbers, the answer seems to be no. Same old Joba. There's nothing wrong with bringing him back on a minor league deal, but when it comes to the MLB roster, I say roll with Nick Goody and Johnny Barbato first.
Jeff asks: Chase Headley is slashing .297/.369/.494 with a 129 wRC+ since he hit his first HR on May 12th. Do you think this is sustainable for him, or just an outlier similar to his 41 wRC+ prior to this run?
Another outlier, and that's coming from a Headley fan. The real Headley is somewhere between the 41 wRC+ and 129 wRC+, though closer to the latter. A year ago Headley hit .259/.324/.369 (91 wRC+), and ZiPS pegged him for .251/.328/.392 (98 wRC+) this year. That's pretty much exactly who I think he is. A bit below league average offensively and above-average defensively. Headley's been awesome the last few weeks. I expect him to level off and settle in a little south of league average in the second half.
Steve asks: How bout a buy-low candidate in someone like Patrick Corbin either at the trade deadline or in the off season? I think I remember at one point he was included in one of your articles as the type of pitcher the Yankees go for with his peripherals. Also, do not exactly trust the D-Backs to be putting him in the best position to succeed based on their track record. Interesting candidate or not worth the trouble?
I've always liked Corbin and felt validated when he had his breakout 2013 season (3.41 ERA and 3.43 FIP). Then he blew out his elbow the next spring and needed Tommy John surgery. Go figure. Corbin, 26, had a 3.60 ERA (3.35 FIP) in 85 innings after returning last year, but so far this year he has a 4.90 ERA (5.05 FIP) in 101 innings. His strikeouts (16.9%) are down while both his walks (8.2%) and homers (1.51 HR/9) are up. That's … bad.
Corbin's stuff has bounced back well from Tommy John surgery. He's still throwing in the low-90s and using his slider and changeup as much as ever. It's not uncommon for location to be off following elbow surgery, though it seems Corbin's command was fine a year ago. He's also going to be a free agent after the 2018 season, so he wouldn't be a super long-term rotation addition. Corbin's someone who is worth a deeper analysis outside a mailbag setting. For now, I'll call my interest "limited."
Dave asks: Does a suspension of this type (i.e. a violation of team policy as opposed to, say, a drug suspension) hurt Mateo's trade value?
I don't think so. Other clubs will cite the suspension ("makeup concerns") as a reason to talk down Mateo's value when negotiating with the Yankees, but has his value as a player changed? No. Mateo's still the same guy on the field, and teams have shown time and time again they will put up with a player who is a jerk (or worse) as long as he can play, and Mateo can play. If no club is willing to pay full price to get Mateo, that's fine, the Yankees can keep the dynamic top 25-ish overall prospect.
Alex asks: My question is do you think it's the right decision for Judge to hit in the AAA HR derby? Will it mess up his swing right as he's getting hot and starting to strike out less?
We hear about this every year. One or two players who participate in the Home Run Derby slump in the second half, and inevitably it gets blamed on the Derby rather than just baseball being baseball. Pick eight players at random and chances are one or two of them will have down second half. That's just baseball. If one night of glorified batting practice screws up Judge's swing so much that he can't hit the rest of the season, then he's not going to amount to much anyway. The Home Run Derby is a total non-issue to me.