By

Left-hander Manny Banuelos played catch today and had no problem with his sore/fatigued arm, according to Matt Kardos. He will start in five days and be held to either two innings or 35 pitches. Good news, obviously. Seems like Banuelos just ran into a little bit of a dead arm after missing close to two full years following a pair of elbow injuries, including Tommy John surgery. · (4) ·
Cole Tucker | SS
Background
Tucker attends Mountain Pointe High School in Phoenix and was the starting shortstop for the gold medal winning Team USA at the 18U World Cup in Taiwan last fall. He's been very good at several national showcase events this spring. Tucker is committed to Arizona.
Scouting Report
Tall and wiry at 6-foot-3 and 165 lbs., Tucker is a switch-hitter who is more advanced and has a better swing from the left side of the plate. He does have bat speed from both sides, however, and he's more of a contact-oriented gap-to-gap hitter than a power guy. Given his frame, he could certainly add strength and grow into some pop. Tucker runs well and has everything he needs to remain at shortstop long-term — quick first step, strong arm, good hands — there's just some concern he'll outgrow the position. Just about everything I've read about him referred to him as a gritty, hard-nosed player.
Miscellany
In their latest rankings, Keith Law (subs. req'd), MLB.com, and Baseball America ranked Tucker as the 62nd, 70th, and 83rd best prospect in the draft class, respectively. Switch-hitting shortstops are rather hard to find, but even if he has to drop switch-hitting, Tucker would still remain on the strong side of the platoon. The Yankees have a nice collection of shortstop prospects in the low minors (Abi Avelino, Tyler Wade, Thairo Estrada), but teams always want depth at the position. Their first pick is in the second round (55th overall).
The Yankees just wrapped up a two-game series against the Cubs on Chicago's north side, and now they move down to the south side for a four-game set against the Cubs. Chicago week continues with the team's first non-interleague series in two weeks. Hooray for the DH.
What Have They Done Lately?
The White Sox dropped last night's game to the Royals but still took two of three in the series. They have lost eight of their last 13 games and are 23-25 with a -11 run differential overall. That leaves them in fourth place in the top heavy AL Central.
Offense
After a scorching hot start to the season, the White Sox have slowed down offensively in recent weeks, but they still sport a team 101 wRC+ and an average of 4.88 runs per game. The Yankees catch a big break because 1B Jose Abreu (140 wRC+) was just placed on the 15-day DL with an ankle problem. He leads baseball with 15 homers. The Yankees will miss Abreu this week after missing Ryan Braun against the Brewers and Josh Hamilton against the Angels. Lucky. The ChiSox also lost OF Avisail Garcia (128 wRC+) to a season-ending shoulder injury a few weeks ago.
Even without Abreu, the White Sox still have a premier power hitter in 1B Adam Dunn (143 wRC+). SS Alexei Ramirez (126 wRC+), 3B Conor Gillaspie (128 wRC+), C Tyler Flowers (113 wRC+), and OF Dayan Viciedo (123 wRC+) have all been very good as well. Gillaspie missed some time with an injury earlier this year. All four of those guys were pretty bad just last season, so they've turned it around in a big way early on. 1B Paul Konerko (48 wRC+) is a shell of his former self and started the year on the bench, though Abreu's injury has pushed him into the lineup full-time at the moment.
2B Gordon Beckham (98 wRC+) has been okay this year, though neither IF Marcus Semien (66 wRC+) nor UTIL Leury Garcia (63 wRC+) has done much with the bat. OF Adam Eaton (92 wRC+) now hits leadoff after OF Alejandro De Aza (41 wRC+) hit in that spot the last few seasons. OF Moises Sierra (22 wRC+) was claimed off waivers from the Blue Jays a few weeks ago to help cover for Garcia's injury. Backup C Adrian Nieto (107 wRC+) is a Rule 5 Draft pick who made the jump from High-A this year. The White Sox can still hit a little, but there's no doubt the Yankees catch a break by missing Abreu.
Pitching Matchups (Pitcher GIFS is down temporarily)

Thursday: RHP David Phelps (vs. CWS) vs. LHP Chris Sale (vs. NYY)
Chris Sale, 25, will be activated off the 15-day DL later today and make this start. He missed a little more than a month with a flexor strain in his elbow. I guess we can't complain with Abreu on the shelf. Sale had a 2.30 ERA (2.32 FIP) in 27.1 innings with an excellent strikeout rate (9.55 K/9 and 27.9 K%), an excellent walk rate (2.30 BB/9 and 6.7 BB%), and an excellent home run rate (0.33 HR/9 and 4.2% HR/FB) before getting hurt. He gets a good amount of grounders (45.5%) and demolishes lefties (.063 wOBA). Righties (.262 wOBA) are a little more successful.  A low-to-mid-90s two-seam fastball sets up his upper-70s slider and low-80s changeup. There is always a little uncertainty when a pitcher makes his first start off the DL — Sale did strike out eleven in four shutout innings in his only rehab start — but when healthy, Sale is one of the five best pitchers in all of baseball. He's a monster.
Friday: RHP Hiroki Kuroda (vs. CWS) vs. LHP John Danks (vs. NYY)
You might remember a few years ago that most of his here at RAB talked constantly about trading for the 29-year-old Danks. Then he tore his shoulder capsule and everything changed. The southpaw has a 5.64 ERA (5.10 FIP) in nine starts and 52.2 innings this year with mediocre to bad peripherals: 7.01 K/9 (17.3 K%), 4.44 BB/9 (10.9 BB%), 1.37 HR/9 (10.8% HR/FB), and 37.7% grounders. Both righties (.375 wOBA) and lefties (.340 wOBA) have had their way with him. Danks throws his two and four-seam fastballs in the mid-to-upper-80s post-torn capsule with his cutter a few ticks below that. An upper-70s changeup is his top secondary pitch, though he will throw a handful low-70s curveballs per start as well. Danks was very good a few years ago, but the shoulder injury changes everything. He's replacement level now.
Saturday: LHP Vidal Nuno (No vs. CWS) vs. RHP Scott Carroll (No vs. NYY)
Carroll, 29, spent parts of eight seasons in the minors before getting his first call to the big leagues earlier this month. His first two starts were very good (two runs in 7.1 innings, two runs in six innings), but the last three have been disasters (six runs in four innings twice, six runs in five innings the other). Carroll has a 6.49 ERA (5.48 FIP) in 26.1 innings with the same number of walks as strikeouts (3.08 per nine and 6.9%). He has gotten ground balls (51.0%), given up some homers (1.03 HR/9 and 9.7% HR/FB), and been smacked around by both righties (.379 wOBA) and lefties (.453 wOBA). Carroll does throw five pitches and they're pretty much the exact five pitches you'd expect a career minor league journeyman to throw: upper-80s two and four-seamers, low-80s changeups, low-80s sliders, and mid-70s curves. This is essentially a matchup of seventh or eighth starters.
Sunday: RHP Masahiro Tanaka (No vs. CWS) vs. RHP Andre Rienzo (vs. NYY)
The ChiSox have really had to dip into their farm system for arms due to injuries this year, a rarity for them. They've consistently been the healthiest team in baseball over the last few seasons. Unlike Carroll, the 25-year-old Rienzo is one of the team's better prospects, and so far this season he has a 4.00 ERA (5.56 FIP) in 36 innings. The peripherals — 6.25 K/9 (16.0 K%), 4.00 BB/9 (10.3 BB%), 1.50 HR/9 (13.3% HR/FB), and 40.5% — aren't anything special, and lefties (.347 wOBA) have hit him harder than righties (.270 wOBA). Rienzo throws three fastballs in the upper-80s (two-seamer, four-seamer, cutter) as well as an upper-70s curveball, plus he'll mix in a few low-80s changeups. I've gotta say, these are some interesting pitching matchups this week. Not all of them in a good way either.
Bullpen Status
ChiSox manager and former Yankees third baseman Robin Ventura just lost closer RHP Matt Lindstrom (4.70 FIP) for several months with a severe ankle injury. I'm not sure who will step into the ninth inning, but it won't be ex-Mets closer RHP Frank Francisco (9.88 FIP); Dan Hayes says he will be designated for assignment today to clear a roster spot for Sale. RHP Ronald Belisario (2.91 FIP) and LHP Scott Downs (3.46 FIP) have been handling setup duties.
RHP Jake Petricka (3.95 FIP), RHP Zach Putnam (2.91 FIP), RHP Daniel Webb (4.27 FIP), and former Yankee RHP Hector Noesi (4.19 FIP) are also in the bullpen. Noesi has a 6.21 ERA in 162.1 innings since being traded away. I have no idea what happened there. He was pretty good in 2011. Blame the Mariners, I guess. RHP Javy Guerra is Chicago's roster but has not yet pitched. Check out our Bullpen Workload page for the status of the Yankees' bullpen, then check out South Side Sox for everything you need to know about the ChiSox.
Pitching Matchups Update: According to Jackson Alexander, Carroll has been moved to the bullpen now that Sale is back. Sale with start tonight, Noesi tomorrow, Danks on Saturday, and Rienzo on Sunday.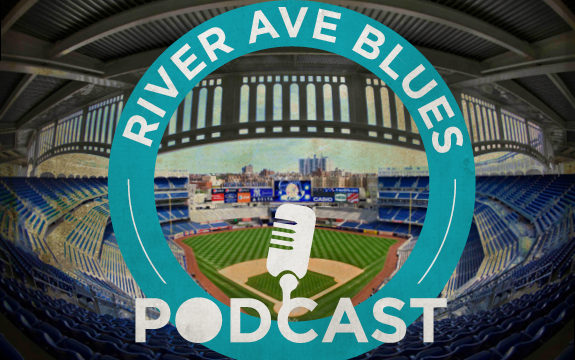 Guest: Dave Brown of Yahoo's Big League Stew. He knows his White Sox, and is one amusing dude. He's on Twitter @AnswerDave, and you can check out his Big League Stew page.
But lemme tell you, it was a relief to see a win yesterday after 17 innings of futility against the worst team in the majors. Jay and I talk a bit about the series, and some more about Jeff Samardzija.
The other Chicago team isn't all that great, but Dave really sheds some light on the positives and what we can look forward to in the series.
iTunes link: subscribe here
Or you can subscribe to the RSS feed.
You can find us on Stitcher.
There are also plenty of iOS and Android apps that will grab the pod.
Podcast: Play in new window | Download (Duration: 41:41 — 19.1MB)

Source: FanGraphs
The Yankees were three outs away from being swept (in a two-game series) by the Cubs on Wednesday afternoon, but then the Cubs remembered they're the Cubs. A ninth inning rally tied the game at two and a 13th inning rally gave New York a 4-2 win. They grabbed victory from the jaws of defeat. That's always a blast.
I didn't see Wednesday's game because it was inconveniently timed, but I did watch the highlights of the game-winning rally, so let me say: Preston Claiborne's bunt turned the season around. He moved the runners to second and third with one out in the 13th, eventually allowing Brendan Ryan to score on a wild pitch. Future Cub John Ryan Murphy (probably) singled in an insurance run. Ichiro Suzuki's potential double play ball in the ninth led to a Darwin Barney error, which allowed the game-tying run to score. The Yankees were held without an extra-base hit for the first time this season, and they're the last team to do that.
Chase Whitley allowed just one run in 4.1 innings (71 pitches) before getting yanked, which is something of a problem. The Yankees really need to get some more length out of their starters. Limiting Whitley and Vidal Nuno to 80-ish pitches every fifth day is a good recipe for a worn out bullpen. Anyway, literally every reliever pitched, including five outs apiece for Dellin Betances, Matt Daley, and Claiborne. The relievers combined for a dozen strikeouts in 8.2 innings. It got a little hairy at different times, but they worked through it.
MLB.com has the box score and video highlights, FanGraphs some other stats, and ESPN the updated standings. The Yankees are done with the Cubs but they will remain in Chicago and open a four-game series with the White Sox on Thursday. Chris Sale will unfortunately come off the disabled list to start the series opener while David Phelps get the ball for the Bombers.
This is your open thread for the evening. The Mets are playing, plus there are NBA and NHL playoff games going on. Talk about those games, this afternoon's game against the Cubs, or anything else right here.
By

Michael Pineda threw a 30-pitch bullpen session this afternoon and reported no discomfort in his strained back/shoulder, according to Meredith Marakovits. They will determine the next step — either another bullpen session or throwing to hitters — after they see how he feels tomorrow. "I don't know exactly when the date (for the start of a rehab assignment) is going to be," said Joe Girardi to Chad Jennings.

Pineda, 25, started a throwing program last week and this was this third bullpen session. Girardi has already said he will need longer than the original 3-4 week rehab time to return to the team, and given their usually conservative approach, I wouldn't be surprised if Pineda threw another bullpen before facing hitters again. The important thing is that he's making progress. Pineda went from great story fifth starter to key piece of the rotation in the blink of an eye. · (2) ·
3B Eric Jagielo is day-to-day after leaving last night's game with an injury, according to Nicholas Flammia. "We'll go day-by-day from there," said Jagielo to Jake Seiner. "Tomorrow, we'll reevaluate and see how I feel. It was in my right side. Not my oblique, but in the back rib area."
Both Triple-A Scranton and Low-A Charleston had a scheduled off-day.
Double-A Trenton (9-0 loss to Harrisburg)
CF Mason Williams: 1-2, 1 2B, 2 BB — hasn't hit at all, but his 24/22 K/BB in 39 games is pretty good
LF Ben Gamel: 0-4
C Peter O'Brien & DH Tyler Austin: both 1-4 — O'Brien didn't go deep, but he did pick a runner off first with a snap throw
2B Rob Refsnyder: 0-4, 1 K
RHP Caleb Cotham: 6.1 IP, 6 H, 7 R, 7 ER, 4 BB, 5 K, 1 WP, 11/1 GB/FB — 62 of 106 pitches were strikes (58%) … yay grounders, boo everything else
LHP Cesar Cabral: 0.2 IP, 1 H, 2 R, 2 ER, 3 BB, 0 K, 0/1 GB/FB — only 11 of 30 pitches were strikes (37%) … last 50 batters faced: nine hits, 14 walks, eight strikeouts, three hit batsman, 16 ball-in-play outs
One night after Masahiro Tanaka suffered his first regular season loss in nearly two years, the Yankees are giving the ball to rookie Chase Whitley for his second MLB start. It's his 16th career start overall, which shows you how desperate the team is for pitching right now. Whitley was solid his first time out but he clearly ran out of gas in the fifth inning. Expect to see another few innings of bullpen this afternoon.
The Cubbies will have lowercase-a ace Jeff Samardzija on the bump in what is essentially a firsthand audition for the Yankees. They need pitching and, with Cliff Lee's elbow acting up, Samardzija figures to be the best available starter at the trade deadline. This start won't change his trade value much (unless he gets hurt), and if you're trying to figure out what it'll take to land him, just look at last summer's Matt Garza trade and adjust up a bit. Here is the Cubs lineup and here is the Yankees lineup:
SS Derek Jeter
RHP Chase Whitley
It's cloudy and on the cool side in Chicago, but there is no rain in the forecast. They won't be playing through rain drops like last night. This afternoon's game is scheduled to begin at 2:20pm ET. You can watch live on YES locally and MLB Network nationally, depending on where you live. Enjoy the game.
By

Shawn Kelley has been shut down after waking up with more stiffness in his back, according to the various reporters with the Yankees. Tests did come back clean, but they have halted his rehab and will proceed slowly.

Kelley was set to play catch this week, pitch in a minor league rehab game within the next few days, then rejoin the team either over the weekend or early next week. Back issues have a way of lingering, so this might be more than a few extra days. Adam Warren and Dellin Betances will remain David Robertson's primary setup men for the time being. · (21) ·