The day started with a wonderful celebration of Willie Randolph's career and the usual Old Timers' Day fun, not to mention a surprise Monument Park plaque for Mel Stottlemyre, and it ended with a blowout 14-3 win over the Tigers. Pretty awesome day all around. The Yankees have won four straight and are now 20-11 with a +46 run differential at Yankee Stadium in 2015. Home sweet home.
Simon Says: Score Runs
Games like this are the toughest to recap because I don't even know where to start. We all know what happened. The Yankees scored a ton of runs and they did it in every way possible. With singles, with homers, with sac flies … even with a hit-by-pitch. Six different Yankees drove in a run and eight different Yankees scored a run. The end result: 14 runs on a season-high 18 hits. They also drew six walks and struck out just five times. Pretty great game. Here are some points I want to highlight:
(1) Brett Gardner hit for the cycle. Well, sorta. He hit for the cycle in four at-bats spanning Friday to Saturday. Gardner homered in his last at-bat Friday, then on Saturday he tripled in his first-bat, doubled in his second at-bat, and singled in his third at-bat. That's a cycle in four at-bats across two games. Doesn't count in the record books but it's still pretty cool. Gardner went 3-for-6 in the game overall. He is 10-for-20 on the homestand. Scorching hot.
(2) Carlos Beltran hit two home runs and they couldn't have been any more different. The first was a moonshot he pulled over the home bullpen and into the right field bleachers as a left-handed batter. The second was an opposite field Yankee Stadium cheapie he reached out and poked to right field as a right-handed batter. It was the 12th time Beltran homered from both sides of the plate in one game in his career. That's one shy of the all-time record held by … wait for it … Mark Teixeira and Nick Swisher. How about that?
(3) The biggest at-bat of the game was Alex Rodriguez's three-run home run in the third inning, I think. At least that was the biggest at-bat in hindsight. The Yankees worked Alfredo Simon really hard — he threw 85 pitches to get eight outs — and they had five runs on the board already, but A-Rod's monster homer off Ian Krol turned this one into a true laugher. Five runs is a nice lead. Eight runs? That feels like game over. And it was a bomb too. A-Rod crushed the ball deep into the left field seats. Zero doubter. He drove in five runs in the game.
(4) The two-run fourth inning rally was the stupidest rally ever. Not one, but two check swing bloops fell in for base hits. Didi Gregorius, who homered earlier in the game, tried to check his swing, made contact, and the ball fell in. Chris Young did almost the exact same thing two batters later. In between, Stephen Drew hit a weak grounder to short and Gregorius managed to beat the flip to second. It was scored a hit for whatever reason. (Fielder's choice, no?) It was that kind of night. Everything went right, even the check swings.
(5) The top and bottom of the order did a lot of damage. The top three hitters went a combined 7-for-13 (.538) while the bottom three hitters went 6-for-14 (.429). The middle of the lineup did well too (3-for-10) but the top and bottom really stood out. The Yankees scored in each of the first five innings and went 4-for-13 (.308) with runners in scoring position. (I thought the RISP numbers would be better than that.) Utility infielder Josh Wilson pitched the eighth inning for Detroit — Young took him deep — and he forgot to cover first base on a ground ball, giving Brendan Ryan an infield single. The Yankees could do no wrong offensively.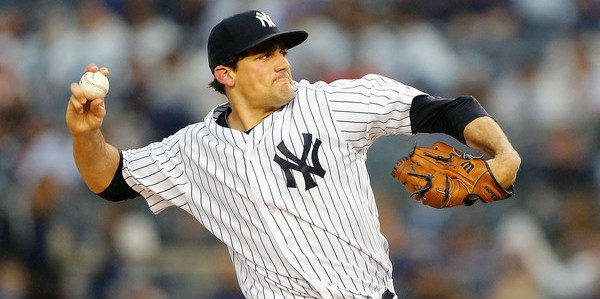 Nasty Nate
Obviously the offense is the story of the game, but it shouldn't be overlooked that Nathan Eovaldi rebounded from his disaster start earlier this week to hold the Tigers to two runs in six innings, and he wasn't even on the mound for the two runs. (Bryan Mitchell allowed a pair of inherited runners to score.) Eovaldi struck out four and held Detroit to two base-runners in the first five innings. They didn't have a runner reach second base until Rajai Davis' leadoff double in the seventh. I'm sure all the offense made life easy. Still nice to see Eovaldi rebound so well.
Mitchell made his season debut and wasn't great, though it doesn't really matter. In addition to the two inherited runners he allowed to score, Mitchell surrendered one run of his own on four hits in three innings. He gets a save for throwing the final three innings in the blowout. This was the definition of mop-up duty for Mitchell. Throw strikes and get the game over with. It was nice to see the regular late-inning relievers get a second straight day off. The Yankees needed a laugher like this for more reason than one.
Leftovers
Kinda covered everything already, right? Here are all the Old Timers' Day videos if you missed any of it. Also make sure you check out the Mel Stottlemyre plaque surprise if you haven't. What a tremendous moment.
Box Score, WPA Graph & Standings
Here are the box score and video highlights, and here are the updated standings. The AL East is so tight, geez. Also check out our Bullpen Workload and Announcer Standings pages. Now here's the win probability graph:

Source: FanGraphs
Up Next
The Yankees and Tigers will wrap up this three-game series on Sunday afternoon. Masahiro Tanaka and Anibal Sanchez will be on the bump. RAB Tickets can get you in the door if you want to catch that game or any of the other upcoming home games live and in person.