Source: FanGraphs
Gosh, what a game. And of course I missed it. Well, missed most of it. I was around for the first inning, inning and a half before I had to head out for some family time on Mother's Day. Just my luck, right? The Yankees won for the 17th time in their last 23 games on Sunday, beating the Orioles 6-2 in the series finale. Let's recap this one with an annotated box score.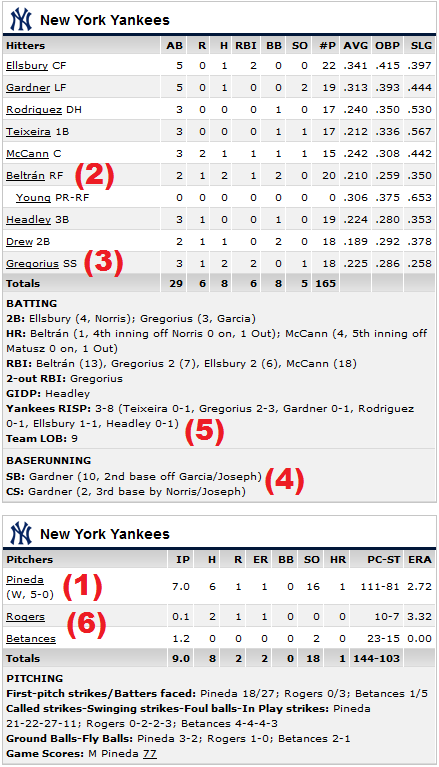 (1) Sixteen strikeouts! I don't want to spoil too much of tomorrow's Yankeemetrics post, but Michael Pineda tied David Cone for the most strikeouts by a right-handed pitcher in a single game in franchise history. (Cone struck out 16 in June 1997.) Ron Guidry of course holds the franchise record with 18 strikeouts. Here is Big Mike's 16th strikeout:
I can't remember the last time there was that much energy in
Yankee Stadium
for a non-legacy player farewell game. Pineda has kinda sorta been the staff ace since
Masahiro Tanaka
got hurt last year, but he confirmed it with authority on Sunday. He's the ace. Sixteen strikeouts, no walks, one run in seven innings on a solo homer. Total domination. Pineda has 54 strikeouts and three walks in 46.1 innings this year. That's a 29.5 K% and a 1.6 BB%, with a 53.2% ground ball rate to boot. Have mercy, Big Mike.
(Aside: Dan Barbarisi says Pineda calls strikeouts "strike 'em outs," and I think we should all call them that from now on.)
(2) Carlos Beltran hit a home run! It's his first dinger in 176 plate appearances, dating back to August 23rd of last season. It was a bit of a meatball, a hanging 85 mph slider, but that's fine. It's a pitch the hitter is supposed to crush and earlier this year Beltran wasn't doing much with pitches like that. Carlos is 10-for-32 (.313) with four doubles, the homer, two walks, and two strike 'em outs in May. It's no secret the Yankees rely heavily on the top of the order for offense. If they can start getting some production from Beltran in the sixth spot, man that would be a big help.
(3) I watched the video of Didi Gregorius' seventh inning double and I like the aggressiveness there. It took a perfect set of relay throws to get him at third base. That said, the run is the priority there. Stephen Drew broke it down too soon, and once the throw gets to the infield and it's clear he's not going to make it to third, Didi has to stop and get in a rundown so Drew could score. I don't mind going for the triple there — that ball could have taken any sort of weird bounce off the wall, it just happened to bounce right to the cannon-armed Adam Jones — but the run has to score. Priority number one. Thankfully it didn't come back to bite them.
(4) That was an incredibly dumb attempted steal of third base by Brett Gardner in the first inning. We went through this exact same situation with Gregorius in the first series of the year. Two outs, runners on base, power hitter at the plate … what's the point of going there? Just let the hitter hit. Bud Norris has been pretty crappy this year and Brian McCann had a 2-0 count. A 2-0 count! Geez, Brett. Just let the man hit next time. Norris seemed very willing to work himself into trouble there and Gardner let him off the hook.
(5) The Yankees went 3-for-8 (.375) with three doubles and two walks (.500 OBP) with runners in scoring position on the afternoon. That's really good. During this stellar 17-6 stretch, New York is hitting .243/.348/.439 with runners in scoring position. The AL average is .261/.345/.414 this year and the Yankees hit .254/.331/.372 in those spots from 2013-14. The batting average is a little low, but the on-base and slugging numbers are way, way better the last two seasons. Big time improvement from the Yankees in this area, hence the increase in scoring.
(6) At some point a number three reliever behind Dellin Betances and Andrew Miller is going to have to emerge. For a while it was Chris Martin, and lately it's been Justin Wilson, but that spot is still undecided. That's the role Adam Warren filled behind Betances and David Robertson last year. A five-run lead with six outs to go is a spot where Betances shouldn't be needed for five outs, even if he threw only 23 pitches. Maybe Wilson can take that role and run with it these next few days. Maybe Jacob Lindgren can assume that role later in the year. For now, the Yankees don't have that obvious number three option behind Dellin and Miller. Those two need to be able to sit games like this one out.
* * *
Here are the box score, the video highlights, and the updated standings. Also make sure you check out our Bullpen Workload and Announcer Standings pages. The Yankees are now off to start a nine-game, eleven-day road trip. CC Sabathia will open a four-game series in Tampa on Monday night. Righty Alex Colome will be on the bump for the Rays.