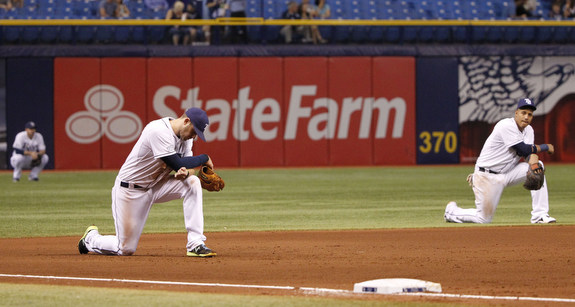 The second to last homestand of the season ends with this series, a three-gamer against the Rays. Neither team is whether they expected to be at the start of the year. The Yankees have won only five of 13 games against the Tampa this year, including only one win in six head-to-head meetings at Yankee Stadium.
What Have They Done Lately?
The Rays were off yesterday and they took two of three from the Orioles at home over the weekend. They dropped eight of eleven games before that. Tampa is 69-75 with a +8 run differential on the season, leaving them comfortably in fourth place in the AL East.
Offense
With an average of 3.85 runs per game and a team 99 wRC+, manager Joe Maddon's squad is essentially league average offensively. Actually about half-a-run per game below that when it comes to runs actually crossing the plate. Sequencing matters. OF Desmond Jennings (104 wRC+) is done for the season with a knee injury. Otherwise the Rays are healthy.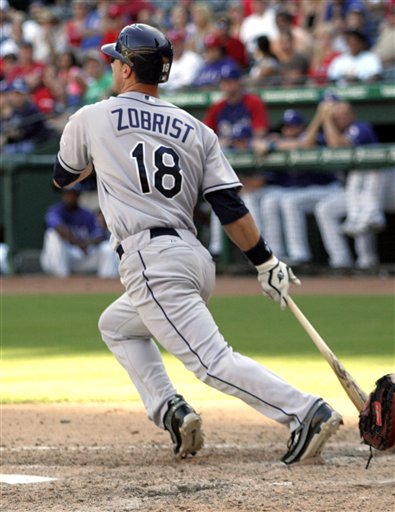 As always, Maddon's lineup is built around 3B Evan Longoria (105 wRC+), who is having a very down year by his standards. UTIL Ben Zobrist (120 wRC+) is a perpetual pain in the behind and OF Matt Joyce (115 wRC+) is having a nice year as well. OF Wil Myers (86 wRC+) came off the disabled list not too long ago and he just destroys the Yankees. They can't seem to get him out. 1B James Loney (106 wRC+) has been unable to repeat last year's success and OF David DeJesus (133 wRC+) is having a nice year around a broken hand.
SS Yunel Escobar (84 wRC+) plays everyday while C Ryan Hanigan (95 wRC+) and ex-Yankee C Jose Molina (24 wRC+) split catching duties. OF Kevin Kiermaier (125 wRC+) has cooled off following his ridiculously hot start. He is playing center field regularly now that Jennings is hurt. The always annoying UTIL Sean Rodriguez (100 wRC+) is on the bench, as are IF Logan Forsythe (82 wRC+) and OF Brandon Guyer (109 wRC+). C Curt Casali is the third catcher now that rosters have expanded.
Pitching Matchups
Tuesday: RHP Hiroki Kuroda (vs. TB) vs. RHP Chris Archer (vs. NYY)
Back-to-back rough outings (14 runs in ten innings) have the 25-year-old Archer sitting on a 3.60 ERA (3.26 FIP) in 28 starts and 167.1 innings so far this year. His strikeout (8.18 K/9 and 21.1 K%), homer (0.48 HR/9 and 6.2 HR/FB%), and ground ball (46.7%) rates are all very good, though his walk rate (3.39 BB/9 and 8.8 BB%) has jumped quite a bit from last year. It's still not bad though. Righties (.310 wOBA) have actually fared better than lefties (.295 wOBA) against him so far this year, which is odd because Archer is a mid-90s fastball/mid-80s slider guy. He throws only a handful of mid-80s changeups per start and those guys tend to have platoon splits, not reverse platoon splits. Archer has faced the Yankees twice this year, holding them to one run in 6.2 innings back in April and two runs in seven innings June. He never seems to not pitch well against New York.
Wednesday: LHP Chris Capuano (vs. TB) vs. RHP Jake Odorizzi (vs. NYY)
Odorizzi, 24, has quietly had a solid rookie season for the Rays, posting a 3.84 ERA (3.49 FIP) in 28 starts and 154.2 innings. His strikeout rate is excellent (9.66 K/9 and 25.4 K%) and his walk rate is good (3.03 BB/9 and 8.0 BB%), but he doesn't get ground balls at all (30.4%). He has somehow managed to keep the ball in the park reasonably well despite that lack of grounder (0.99 HR/9 and 8.3 HR/FB%). Like Archer, he has a reverse split (righties have a .312 wOBA, lefties .288). Odorizzi uses a four-seamer right around 90 mph to set up his mid-80s slider, which is his top secondary pitch. He'll throw a handful of mid-80s changeups and big-breaking upper-60s curveballs per start. The Yankees scored three runs in four innings when they saw Odorizzi in May, then they scored another three runs in 5.2 innings in July.
Thursday: RHP Michael Pineda (vs. TB) vs. RHP Alex Cobb (vs. NYY)
With David Price gone and Archer still finding his way, the 26-year-old Cobb has taken over as the ace of Maddon's staff. He missed time with an oblique injury earlier this season but otherwise has a 2.83 ERA (3.07 FIP) in 23 starts and 140 innings. Across the board he has posted very strong peripherals: 8.61 K/9 (23.3 K%), 2.57 BB/9 (6.9 BB%), 0.58 HR/9 (8.6 HR/FB%), and 56.4% grounders. Thanks to his knockout mid-80s changeup, lefties (.259 wOBA) have actually had less success against Cobb than righties (.296 wOBA). His two and four-seamers sit in the low-90s and he'll also throw a bunch of low-80s curveballs. The Yankees scored no runs in 7.1 innings against Cobb last month, the only time they faced him in 2014.
Bullpen Status
The Rays continue to say they are using a closer by committee, but LHP Jake McGee (1.29 FIP) has more or less taken over the ninth inning. Maddon will use him in the eighth inning on some occasions depends on the matchups. RHP Joel Peralta (3.68 FIP) and RHP Brad Boxberger (2.50 FIP) will also see late-inning work. RHP Grant Balfour (4.01 FIP) still gets some high-leverage chances despite his poor year.
The rest of Maddon's bullpen includes RHP Kirby Yates (3.67 FIP), RHP Brandon Gomes (4.87 FIP), and LHP Cesar Ramos (4.30 FIP). LHP Jeff Beliveau and RHP Steve Geltz are the extra September call-up arms. Tampa Bay was off yesterday, so their bullpen is relatively rested. The same goes for the Yankees. Check out our Bullpen Workload page for recent relieve usage then check out The Process Report for everything you could possibly want to know about the Rays.