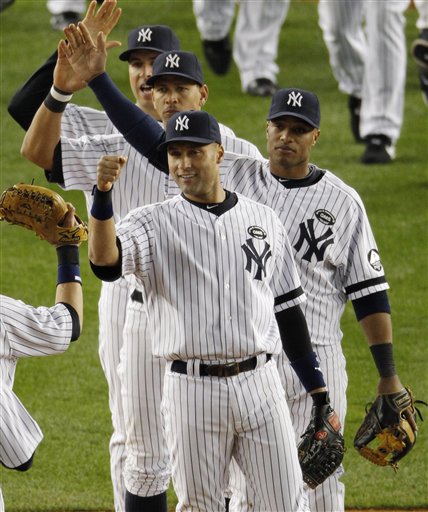 One of my favorite baseball truisms is that your best players have to be your best players if you want to succeed in the postseason, and there's no better example of that than the 2009 Yankees. Alex Rodriguez got big hit after big hit, CC Sabathia took the ball as often as possible and dominated each time out, and Mariano Rivera nailed down every win along the way. If a team's best players aren't doing what's expected of them, it's very difficult to win in a short series. Unless, of course, you're talking about the 2010 Yankees.
The Yanks more than doubled up the Twins during their three game ALDS sweep, outscoring them 17-7 (10-3 after the fifth inning). Other than the first six or so innings of the first game, the series really wasn't all that competitive, as the Bombers imposed their will on the Twinkies pretty much every step of the way. Surprisingly, they did that with minimum production from three key players: Derek Jeter, A-Rod, and Brett Gardner.
Jeter, the leadoff hitter and supposed spark plug for the lineup, reached base a total of four times in 14 trips to the plate, all on singles. His batting line was an uninteresting .286/.286/.286, and he never even reached third base, let alone score a run. In fact he only made it as far as second base twice, the first time on Curtis Granderson's bunt in Game Two, the other on a stolen base in Game Three. Jeter did single in the go-ahead run in the seventh inning of Game Two, but that was pretty much the extent of his offensive contribution during the series.
Gardner led the team in on-base percentage during the season (.383), but he only reached base a total of three times during the ALDS, picking up two singles and a walk in a dozen plate appearances. Both hits came in Game Two, the walk in Game One, and he stole just one base. So right there, you have the two key offensive cogs, the two guys that are supposed to get on base for the meat of the order, falling short of expectations.
More surprising than the lack of production out of Jeter and Gardner was A-Rod's rather quiet series. He finished the season on a torrid hot streak (.306/.375/.649 with 12 homers in his last 28 starts), but  singled just three times and walked once in the ALDS, driving in the first Yankee run of Game Two with a sacrifice fly. That's the only run he drove in during the series, and even though his mere presence in the batter's box and on-deck circle changes the game, Alex certainly didn't have the same impact in the ALDS that he did last year.
And you know what? None of that was a big deal. The Yankee lineup has no soft spots, so they were able to absorb the struggles of Jeter, Gardner, and A-Rod and not miss a beat. Granderson had five hits including a huge triple in Game One and a big double in Game Two. The designated hitter platoon of Marcus Thames and Lance Berkman combined to go 4-for-11 with a double, a walk, and two homers. Nick Swisher and Mark Teixeira put their subpar 2009 postseasons behind them and combined for a .320/.371/.680 batting line, and Robbie Cano picked up A-Rod with a .333 batting average and zero single strikeouts. When one guy struggled, two others picked up the slack.
Most teams would have been dead in the water if their leadoff hitter and cleanup man failed to produce, not to mention their top on-base guy and basestealer. The Yanks have tremendous offensive depth and a circular lineup that can hurt you one through nine, certainly strong enough to offset three poor performances in a five game series. At some point, hopefully soon, Jeter, A-Rod, and Gardner will get back to doing what they're capable of, and that should scare the crap out of the rest of the league.