They say you need five years before you can properly evaluate a draft class in baseball, though I don't totally buy that. I think teams get a pretty good idea of what they have three years after the draft, maybe even two. There are always late-bloomers, of course, but for the most part you can look back just three years later and know how much you helped yourself. But, five years is the common refrain, so I've stuck to that with my annual past draft reviews. Now it's time to tackle the 2010 draft.
The Yankees did not gain or lose any 2010 draft picks during the 2009-10 offseason. Their big moves following the World Series title were trades, specifically for Curtis Granderson and Javier Vazquez Boone Logan. The Yankees made 50 picks in 2010 and signed 29 of them, including each of their first 13 selections. They signed only two of their final 14 picks, however. Four of those 29 players are on the Yankees' 40-man roster right now and two others are on 40-man rosters with other clubs. One is in the show as of this writing. Let's review New York's draft class from five years ago. Here are our five-year look-backs at the 2007, 2008, and 2009 drafts.
The Reach
I remember saying "who in the world is that?" when then-commissioner Bud Selig announced the Yankees had selected New York HS SS Cito Culver with their first round pick, the 32nd overall selection. Culver ranked 168th (!) on Baseball America's top 200 draft prospects that year and the consensus at the time said he was a third or fourth round talent. To be fair, Culver had come on strong late in the spring and had a lot of helium in the weeks leading up to the draft. He signed for a straight slot $954,000 bonus.
The Yankees knew Culver better than any other club. Not only was he a semi-local kid from up near Rochester, but he was also on their Area Code Games team the previous summer, so they had firsthand knowledge of him as a person. The club reportedly loved Culver's makeup and perseverance — he had some family issues growing up, including his father being sentenced to nine years for arson after burning down the family house — and he was a switch-hitting shortstop with very good athleticism and defensive chops. That's a great profile in and of itself.
Unfortunately, the team's belief in Culver as a player and a person has not resulted in a quality prospect. Culver, now 22, is a career .230/.309/.315 hitter in over 2,300 minor league plate appearances, which includes a .178/.213/.237 batting line at Double-A this year. He remains a strong defender (remember this?) but had to stop switch-hitting a few years ago because it just wasn't working from the left side of the plate. Culver went unselected in the Rule 5 Draft in December and is still with the organization, though he is now basically just an organizational player.
The Yankees reached big time for Culver — for what it's worth, there was talk the Twins were ready to pop Culver with their second round pick, but I don't think that justifies the selection — and that was something we knew on draft day. The team went against the grain, and while that isn't automatically a bad thing, it didn't work in 2010. Culver is the poster boy for the "safe, signable, great makeup" phase the Yankees went through a few years ago, perhaps not coincidentally after getting burned by Andrew Brackman and Gerrit Cole in 2007 and 2008, respectively.
Tooled Up, Probability Down
The Yankees followed the Culver pick by selecting two ultra-athletic, tooled up prep players in California HS SS Angelo Gumbs (2nd round) and Florida HS OF Mason Williams (4th). Williams signed for $1.45M, which was the largest bonus the team gave to a drafted player that year. Gumbs moved to second base almost immediately after turning pro and has battled injuries and poor performance the last few years. The 22-year-old is a career .235/.285/.357 hitter in 334 minor league games, none above High Class-A. Gumbs is still in the organization but is a non-factor.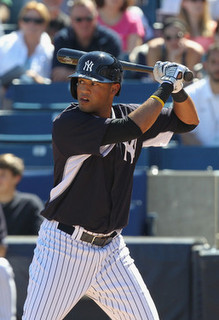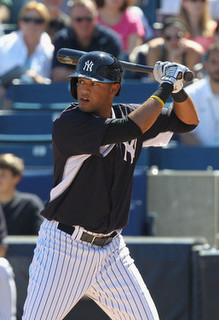 Williams, on the other hand, grew into arguably the best prospect in the farm system a few years ago. He hit .349/.395/.368 with eleven doubles and 28 steals in 68 games for Short Season Staten Island in 2011, then followed it up by hitting .298/.346/.474 with 22 doubles, eleven homers, and 20 steals in 90 games for Low-A Charleston and High-A Tampa in 2012. That landed him in a premium spot on Baseball America's 2013 Top 100 Prospects list — Williams ranked 32nd that year, ahead of Jorge Soler (34th), Chris Archer (36th), and George Springer (37th), among others.
Double-A proved to be a much tougher challenge for Williams — he hit .214/.271/.299 in 145 games at the level from 2013-14 — but that wasn't the only problem. Makeup and work ethic concerns arose, as Williams was insubordinate at times and played with such low energy that he was pulled and benched for lack of hustle on multiple occasions. Williams started out well with Trenton this year (.317/.407/.375) and has since being promoted to Triple-A Scranton, but it takes more than two good months to erase all the bad from 2013-14.
There is still some hope for Williams, who continues to show tremendous athleticism and bat-to-ball skills. The Yankees added him to the 40-man roster this past offseason to protect him from the Rule 5 Draft, and his strong showing early this year has put him back on the prospect map, at least somewhat. Williams had problems the last few years not because he lacked talent, but because he wasn't putting the work in. He's still salvageable. Gumbs isn't at this point.
Bat First, Position Second
After going for tools with Culver, Gumbs, and Williams at the top of the draft, the Yankees went for bat first prospects a little later in the draft. They selected Florida HS OF Ben Gamel in the tenth round and he's been up and down throughout his career, having some strong seasons in Single-A and a down year in Double-A last season. Gamel is hitting .313/.374/.458 with Triple-A Scranton this year and is finally hitting for a modicum of power, with two homers in 46 games after hitting ten homers in 415 games from 2010-14.
The other bat first prospect is Georgia HS C Tyler Austin, who New York picked in the 13th round. Austin has had some monster years in the minors, most notably his dominant showing at four levels in 2012 (.322/.400/.559 in 110 games), but wrist and other injuries have hampered him since 2013. He is currently hitting .213/.280/.309 with Triple-A Scranton and is healthy as far as I know, so his prospect stock has been trending down in recent years.
Both Gamel and Austin were bat first prospects with position questions. Gamel was drafted as a center fielder and scouting reports said he was likely to wind up in left field long-term, but to his credit he has worked hard to make himself a passable defender. Austin was drafted as a catcher, moved to third base almost immediately after signing, later shifted to first base, and then to the corner outfield. Like Gamel, he was drafted for his bat. The defense is secondary.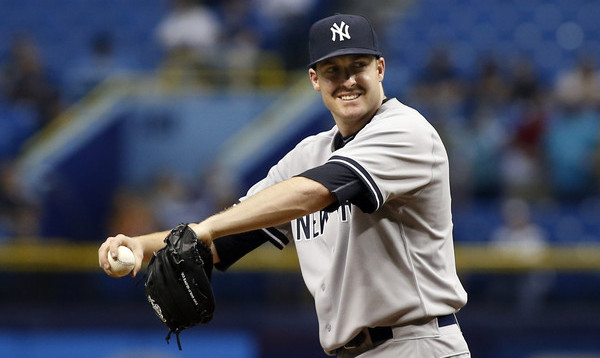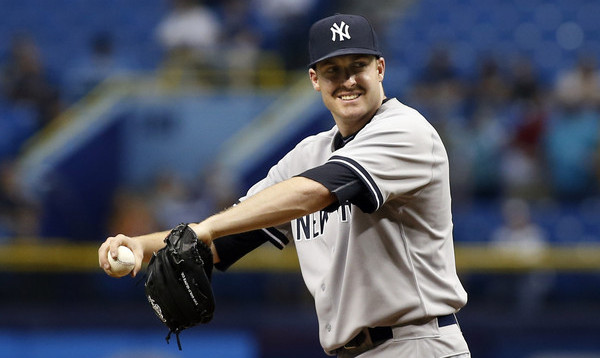 Late Round Value
Two 2010 draftees have reached the big leagues with the Yankees and they were both late-round picks: Troy RHP Chase Whitley (15th) and Tulane RHP Preston Claiborne (17th). Claiborne arrived first and helped out as an up-and-down reliever from 2013-14 (3.79 ERA in 71.1 innings) before being dropped from the roster and lost on waivers to the Marlins this past winter. He is on Miami's 40-man roster but has not pitched this year due to a shoulder injury.
Whitley was drafted as a reliever — he was actually a pitcher and a third baseman in college, but the Yankees moved him to the mound full-time after the draft — and he stayed in the bullpen until late 2013, when the Yankees tried him out in the rotation. He had success in that role and has contributed to New York as a spot starter/swingman the last two seasons, pitching to a 5.02 ERA in 95 innings. Whitley was in the team's rotation earlier this year before blowing out his elbow and needing Tommy John surgery. He and Claiborne have basically been replacement level big leaguers, which isn't a bad outcome for late round draft picks at all.
Big Velocity, Big Questions
As always, the Yankees went heavy on power arms up and down the draft in 2010. They've been doing that for years. The 2010 draft haul included Lynn RHP Tommy Kahnle (5th), California HS RHP Gabe Encinas (6th), St. John's RHP Danny Burawa (12th), St. Peter's RHP Conor Mullee (24th), and Weatherford RHP Zach Nuding (30th). All five threw very hard at the time of the draft, had work-in-progress secondary stuff, and subpar command.
Kahnle is the most successful of the bunch, though he didn't reach MLB with the Yankees. The Rockies selected him in the 2013 Rule 5 Draft and he spent all of last season in their bullpen (4.19 ERA in 68.2 innings) after reaching Double-A while still with New York. Kahnle has spent most of this season in Triple-A and was just called up a few days ago. He still throws really hard and still doesn't know where it's going on most days. The same was true at the time of the draft.
Burawa is currently in Triple-A with the Yankees and, after going unselected in the Rule 5 Draft in 2013, the Yankees added him to the 40-man roster this past offseason. He has a 1.88 ERA in 28.2 innings with the RailRiders and is still battling his command, though his stuff has actually ticked up as a pro. Burawa now sits mid-to-upper-90s with a vicious slider these days. He just doesn't always throw strikes. Since he's on the 40-man, Burawa could be called up at any time.
Mullee and Encinas have battled injuries over the years, including Tommy John surgery. (Mullee has had three Tommy John surgeries so far, including two since being drafted.) At 23, Encinas is four years younger than Mullee and thus the better prospect. He still has a live arm and is improving his command as elbow reconstruction gets further in the rear view mirror. Nuding stuck around for a few years but never did refine his secondary stuff or strike-throwing ability. He was released this past offseason.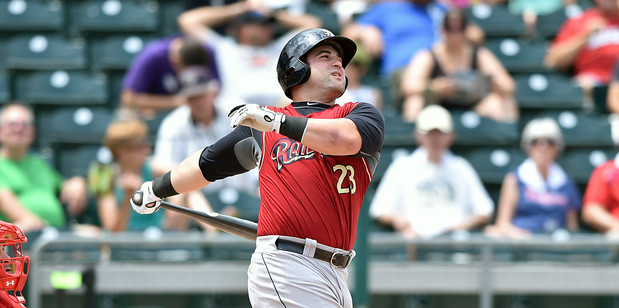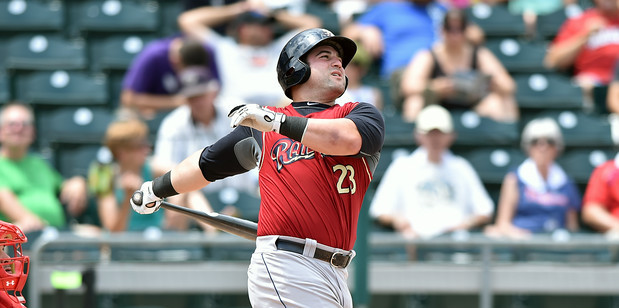 Organizational Power
The draft isn't just about prospects. Teams use the later rounds to fill out their minor league rosters because having a prospect at every position at every level simply isn't realistic. Being an organizational player is a thankless job but it is an important one in the grand scheme of things. Quality org players help the minor league affiliates win and clubs absolutely want to foster a winning environment in the minors. Once in a while one of these org players plays well enough to get a shot in the show.
East Carolina 1B Kyle Roller (8th) broke out with a 26-homer season between Double-A and Triple-A last year, and while his left-handed power is legit, there are some big holes in his swing (34.2 K% at Triple-A) and no versatility to his game. Roller is a first baseman (not a particularly great one either) and nothing else. Hard for a guy like that to crack the MLB roster. Roller is still hitting dingers with Triple-A Scranton these days (.250/.382/.440), though part of me wonders if a team in Korea or Japan will come along with an offer at some point. He's the kind of player teams in Asia tend to poach.
Unsigned, Not Really Missed
The Yankees didn't draft and fail to sign any players in the 2010 draft who went on to become high-profile prospects. The team's most notable unsigned player is Georgia HS OF Kevin Jordan, but he's not notable for what he's done as a player. Jordan was diagnosed with ANCA vasculitis, an autoimmune disorder, a year after the draft, and he eventually received a kidney transplant from his coach at Wake Forest. The medical issue derailed his once promising career. Jordan did play as a fifth-year senior with the Demon Deacons this spring though (.167/.271/.381 as a bench player).
The best current player the Yankees failed to sign back in 2010 is probably Ohio HS OF Michael O'Neill (42th), who went to Michigan for three years before being re-drafted by the Yankees in the third round of the 2013 draft. He's still in the system now and is a Grade-C prospect. Illinois HS OF Mike Gerber (40th) went to Creighton and was drafted as a college senior by the Tigers in the 15th round of the 2014 draft. He's a career .330/.398/.449 hitter in 118 minor league games, and Baseball America ranked him as the 19th best prospect in Detroit's bottom ranked farm system coming into this season. That's about it. No other notable unsigned players.
Miscellany
Tulane 3B Rob Segedin (3rd) was an interesting college bat at the time of the draft, but he hasn't developed as hoped. Injuries played a part in that. Segedin is currently in Triple-A and is an org player at this point … Tennessee HS RHP Taylor Morton (9th) and Canadian HS LHP Evan Rutckyj (16th) were intriguing prep arms who never hit on their projection. Morton retired a few years ago and Rutckyj is still chewing up innings for High-A Tampa … Barton LHP Kramer Sneed (32nd) was one of the two players the Yankees traded to the Angels for Vernon Wells two years ago … Tennessee Wesleyan LHP Fred Lewis (47th) had a nice run as an org bullpen arm before being released earlier this year. He pitched well enough in Spring Training last year that there was some talk he may make the team.
* * *
As it stands right this now, the Yankees have gotten very little from their 2010 draft haul. Whitley and Claiborne, that's it. They're the only two players from this draft to play for New York at the MLB level. Burawa is knocking on the door as well, but he's not someone who will alter the perception of a draft class. Same with guys like Austin, Roller, and Encinas. Useful players though not any kind of cornerstone.
The success of this draft class is going to come down to Williams. His last two seasons were undeniably ugly, especially since so much of it was makeup related. Williams has been better this year, and now that he's both on the 40-man roster and playing everyday in Triple-A, there's a chance he will come up at some point. He has a lot of natural ability and at one point he had the potential to be an impact two-way center fielder in the Jacoby Ellsbury mold. Does that ability still exist? The Yankees hope so. If Williams arrives as some point, this draft will look much better. Otherwise it's a dud.