As we count down the days and weeks leading up to the season, we're going to preview the 2011 Yankees by looking at each of their core players and many, many more. A new preview will go up every day, Monday through Friday, from now until Opening Day.
The Yankees currently have a few pitchers battling for two rotation spots, but it really comes down to three. For this preview we'll look at the trio.
Freddy Garcia
Best Case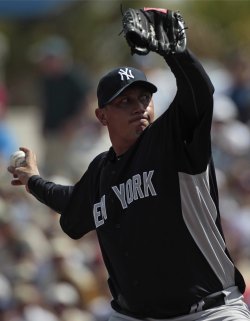 If only this were 2007. That year Garcia's best case scenario was a solid No. 2 pitcher. But he hurt his shoulder that year and threw just 58 innings. Since then he's struggled to stay healthy. The ray of hope here is that he threw 157 innings last year, which is more than he threw in the previous three years combined. He also produced serviceable numbers. That leaves some room for upside projection.
Last year Garcia had to acclimate himself to life with a sub-90-mph fastball. That's not an easy adjustment for any pitcher — we can look to Javier Vazquez as an immediate example. Now that Garcia has something of a full season under his belt with his diminished arsenal, there's a chance he can harness it and produce better results in 2011. We've already seen in spring training that he's working on all four pitches. If he mixes and matches and uses his changeup to his his advantage, there's a good chance he can top last year's results.
The Bill James projections have him at a 3.89 ERA — though a 4.57 FIP — through 148 innings. That seems like an aggressive forecast for even a best case. But since Garcia is nothing but a prayer anyway, let's peg this as his best case. The chances of it happening are maybe one in 100,000, but maybe the Yanks hit the lotto.
Worst Case
The worst case with a pitcher with Garcia's injury history always involves considerable time on the shelf. With Garcia it would probably mean getting rocked during the month of April and then getting hurt. That would inflict the maximum pain. Not only would they get just a few starts out of him, but then they'd lose the chance for him to get into a groove and compensate for those poor performances.
While Garcia looks good now, and while he pitched decently at times in 2010, he provides no guarantees for 2010. His worst case is considerable — perhaps the worst of the three, since he stands the chance to cause the most damage. He likely has a longer leash than Colon, which could backfire for the Yankees.
What's Likely To Happen
A player with Garcia's stuff and injury history is tough to peg for a likely case, because there's so much room for variance. I don't think it's likely that he starts 28 games again this year, but the Yankees don't necessarily need that. I also think that if he does make, say, 20 starts, that he has a few very good ones in him. So where does that leave us for a likely scenario?
I'd say that the most likely case is between 15 and 20 starts with between a 4.30 and 4.60 ERA. Garcia showed last year that he can survive with a sub-90 fastball and his arsenal of secondary pitches. This year he brings more experience to the table. I think that raises the bar, if only slightly.
Bartolo Colon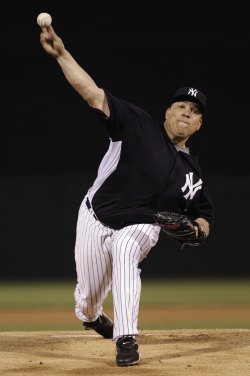 Best Case
If Colon breaks camp with the team he will have bad games. In the best case scenario he won't have so many of those bad games, and they're like four innings, five runs than two innings, seven runs. There's also the occasional start where he gets a couple of lucky hops and some solid defensive plays and keeps the other team at bay. Mix in a few five- or six-inning, two or three run performances and it becomes a decent part of a season.
How big a part of the season? Colon is 38 and hasn't been healthy since 2005. For him to make it through May would constitute a positive outcome. That would make for something like 15 starts at a 4.50 ERA — that magic number. Not bad, not great, blows some games, makes some a little easier. Marcel has him at 66 innings and a 4.36 ERA. The Yanks will take that early in the season. It could be worse. It could be…
Worst Case
Sidney Ponson circa 2006. In 2008 he might have had a 5.85 ERA, but he also had the occasional game where he'd walk more than he struck out, but only allow two or three hits and luck his way into a win. The 2006 version of Sidney Ponson was far more putrid. His best game was his first, four runs in 6.2 IP. After that it was some of the worst pitching I've had to endure since the early 90s.
If, after 16.1 innings, Colon, like Ponson, has allowed 20 runs — and has an OPS allowed of .988 — then I presume the Yankees will cut him. That's a pretty putrid case by any measure. The only way it could get worse is if they let him continue pitching. Considering the implications of doing so while competing the AL East, I have faith that they will not. Ponson's 2006 had better be the worst case, and even then I hope they'd cut it a bit shorter.
What's Likely To Happen
It's no fun saying it, but the most likely case if Colon makes the team involves him pitching a few terrible starts, a few serviceable starts, and then getting hurt. No one wishes injury on the guy, but let's be realistic. He hasn't been healthy since 2005, and it's highly unlikely that changes after five years of injury and inactivity.
Ivan Nova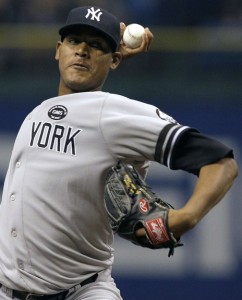 Best Case
The book on Nova is that while he pitched well last season, he struggled when facing a lineup for the third time. That's because he relied mainly on two pitches, throwing almost two-thirds fastballs and then mostly the curveball otherwise. If he works in his changeup more, and it's even an average offering, his upside becomes considerable. His best case would have him resembling a No. 3 pitcher.
If we're talking about Nova's best case, and his best case makes him a No. 3-type pitcher, then his best case also involves him breaking camp with the team, since that's how he provides the most value. That would make his season line something along the lines of 30 GS, 190 IP, 4.00 ERA. To say that would be tremendous is an understatement.
Worst Case
Nova's worst case involves him impressing enough in spring training that they part ways with Colon, and then he bombs to start the season. Then, after a month, he goes back to AAA and the Yankees implement a revolving door. No one works out, and Nova comes back, only to pitch poorly again.
This is the risk involved with any unproven pitcher. This scenario isn't particularly likely, but it's still within the realm of possibility.
What's Likely To Happen
Right not it appears as though the Yankees will build depth and start Nova in the minors. He'll make up it, of course, since the Yankees won't get through 162 games with just Colon and Garcia in the 4/5 spots. What's likely is something similar to last year, with certain improvements.
With all this in mind, I'd peg Nova's most likely case As somewhere between his Bill James and Marcel projections. That is, a strikeout rate in the mid 6s per nine, a walk rate in the high 3s per nine, a few home runs, and an ERA between 4.00 and 4.50. That might seem like a wide range, because it is. We know little about what Nova can do in the majors, so a wide range becomes necessary.