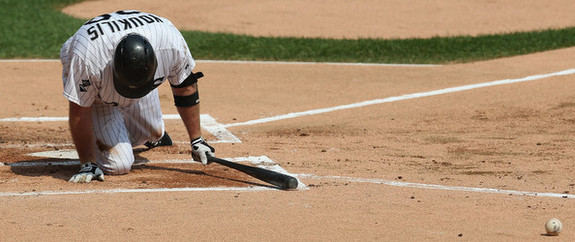 Obviously the Alex Rodriguez injury was the major story in Yankeeland this week, but their seemingly half-hearted pursuits of various free agents (Jeff Keppinger, Eric Chavez, Nate Schierholtz specifically) makes you wonder what exactly is going on in the front office. Were they unprepared for the market inflation? Is ownership scaling back spending that much already? Is something else going on? I have no idea. Anyway, some quick thoughts…
1. The Yankees made a very strong bid for Kevin Youkilis yesterday and it seems like he's deciding between that and a reunion with Terry Francona in Cleveland (on a two-year contract). He's a flawed but fine stopgap option at the hot corner, though I do believe he carries an awful lot of risk given his declining performance and injury problems. The Yankees will need a backup backup third baseman in Triple-A to help cover during the inevitable DL stint. I suppose Jayson Nix and Eduardo Nunez fill that role. If the deal does get done, I think it'll be much weirder seeing Youkilis in pinstripes than it was Johnny Damon in 2006. Youk is a Red Sox lifer.
2. The current catcher situation really scares me. Brian Cashman continues to insist they're likely to go with internal options following Russell Martin's defection to the Pirates, but that could easily be GM speak. It's not often you see a team with a well-below-average hitting catcher make it to the World Series, nevermind win the whole thing. Strength up the middle on the position player side is very important and I hate to see them punt such an important position. At the same time … what are the alternatives? There's A.J. Pierzynski (who the Yankees may not be able to afford) and that's it.
3. This report about Cashman having to get together with ownership before making any offers is just weird. Supposedly he had more authority in the past — I'm sure he still had to check with ownership for major contracts, but one-year nothings like Chavez and Schierholtz were probably at his discretion. I don't know that for certain, obviously. Just a guess — but it was stripped for at least a week. The most important week of the offseason, for all intents and purposes. I don't know what else to say about the whole thing other than it's just weird. I can't imagine Cashman is happy about having his authority scaled back after being on the job so long.