The 2013 amateur draft will be held from June 6-8 this year, and between now and then I'm going to highlight some prospects individually rather than lump them together into larger posts.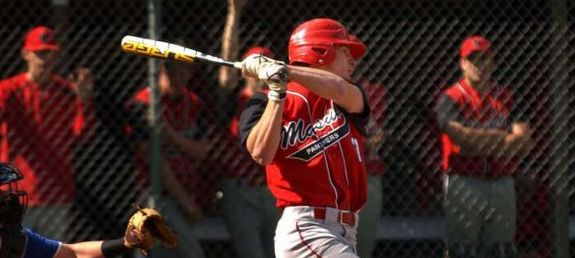 Thomas Milone | OF
Background
A Connecticut kid from Monroe, Milone is a standout player both on the baseball diamond and football field for Masuk High School. He's not an elite football prospect and is committed to play baseball at UConn. Milone made a name for himself on the showcase circuit last summer and he is not related to Athletics left-hander Tom Milone, in case you're wondering.
Scouting Report
Listed at 6-foot-1 and 190 lbs., Milone is an excellent athlete with better-than-average speed and quick wrists at the plate. He's a left-handed hitter (and thrower) who has shown pull power and improved balance this spring, but he remains raw at the plate overall. The speed and athleticism make him a safe bet to remain in center field long-term, where he is already a capable defender. Unlike most prep players who want to reduce injury risk and focus on baseball during their draft year, Milone did not quit football this spring. All of the videos on YouTube are of him playing football, so we're out of luck there.
Miscellany
Neither Baseball America (subs. req'd) nor Keith Law (subs. req'd) ranked Milone among the top 50 draft prospects in their most recent rankings, but Baseball America (subs. req'd) considered him the 45th best high school prospect in the class a few weeks ago. The high school season in Connecticut didn't start until about a week ago, so Milone hasn't had much time to showcase himself this spring. If he performs well in the coming weeks, he could climb draft boards in a hurry. The Yankees love toolsy up-the-middle players with left-handed power, so Milone is right up their alley. He could play his way into consideration for one of the team's top three selections (26th, 32nd, 33rd), but the second round (64th) would probably be ideal right now. A lot can change between now and draft day, obviously.