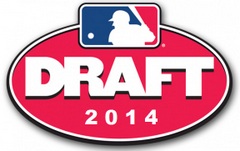 The first two days of the draft are complete, but there are still another few hours and 30 rounds left to go. Thankfully, those 30 rounds will be drafted during a rapid fire conference call with no wait between picks. It's glorious. The entire draft used to be like that. I get that MLB is trying to market the draft and increase interest, but it really isn't a made-for-TV event. A minute (or worse, five minutes) between picks is an eternity.
Anyway, Day Three of the draft is actually pretty fun. More than Day Two, at least. Day Two is more about manipulating the draft pool and selecting cheap, easy to sign players to save as much money as possible. Day Three is about drafting high upside players to use that extra money on. Sure, there will be a ton of organizational types selected today, that comes with the territory, but expect a run of prep players at some point.
Here are the Day One and Day Two threads, and here are some miscellaneous links heading into Day Three:
Here are the best available players according to Baseball America. Just about all of the top ranking high school players have huge bonus demands and are considered unsignable at this point. Guys like Virginia RHP Jacob Bukauskas and Georgia HS LHP Mac Marshall have definitively said they are going to college.
In ESPN's Day Two analysis (subs. req'd), Chris Crawford says RHP Austin DeCarr (third round) has the highest upside among AL East draftees. "[DeCarr's] stock shot up over the past few weeks after touching 96 mph with his fastball, but he was always on scouts' radars because of his ability to throw strikes with all three pitches, the best of which is a curveball that's a plus offering right now … has a chance to be a quality starting pitcher, perhaps even a No. 2," he wrote.
Within the same link, Crawford says RHP Jordan Foley (fifth round) will reach MLB the quickest among AL East Day Two draftees. "Assuming the Yankees move Foley to the bullpen, he could move quickly through their system as a reliever who can hit 96 mph on radar guns and will show a plus slider with a good amount of tilt," wrote Crawford.
"It was a tremendous honor to be drafted by the Yankees. It's the greatest organization in all of professional sports," said DeCarr to David Carty. "There's definitely a business side of baseball, you've got to understand it to the best of your ability. With the new slotting system, it has a little bit to do with the talent level, but the draft picks themselves have to do more with signability."
In case you missed it the last two days, make sure you check out this FanGraphs post by former Mariners front office staffer Tony Blengino to get an idea of what it's like inside a team's war room during the draft.
The draft resumes at 1pm ET and the conference call will be streamed live on MLB.com. Here's the audio link and here's the Draft Tracker link. There won't be a liveblog today (sorry, I just don't have the time), so do all your draft talking here. Enjoy.