Got six questions for you this week, so this is one of the longer mailbags we've had. The Submit A Tip box in the sidebar is the best way to send us anything throughout the week.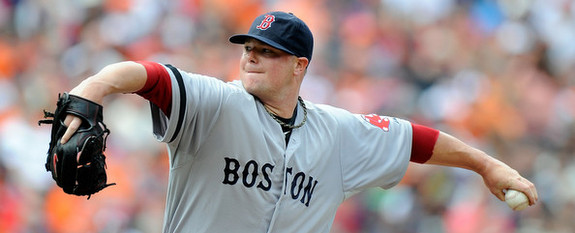 Joe asks: Any chance the Red Sox decline their team option on Jon Lester and if so should the Yankees sign him? Also what are your thoughts on Tim Hudson for them next year?
The Red Sox do have quite a bit of pitching depth going into next year, with Jake Peavy, Clay Buchholz, John Lackey, Felix Doubront, and Ryan Dempster all under contract for 2014 with youngsters like Allen Webster and Brandon Workman waiting in Triple-A. Lester, who is still only 29, had an awesome start to the season but has been terrible for more than two months now. Following last night's outing, he is sitting on a 4.38 ERA and 3.97 FIP, which isn't much better than what he did last year (4.82 ERA and 4.11 FIP)
Lester has not been a truly dominant ace since 2010 (3.25 ERA and 3.13 FIP), so I don't know if he's a guy who simply peaked early or what. He's definitely worth examining more in depth, in a non-mailbag setting. The Red Sox hold an affordable $13M option for next year, and when you consider that Ervin Santana was terrible last season (5.16 ERA and 5.63 FIP) yet still found a team willing to pick up his $13M option, I'm guessing Boston will pick up Lester's and look to trade him rather than cut him loose entirely. If they do cut him loose though, I would definitely want the Yankees to look into him. Reasonably young AL East proven lefties are a rare commodity.
As for Hudson, I'm very wary of a 38-year-old coming off a major ankle injury like that. He was good but not great before getting hurt (3.97 ERA and 3.46 FIP) and it's fair to wonder how he can rebound. Even though he's not a pitcher, we needn't look further than Derek Jeter to see how hard it can be for an older player to come back from a traumatic ankle injury. If Hudson's willing to take a low-base, incentive-heavy one-year contract with no guarantees, sure, look at him. I just wouldn't want the Yankees to sign him with the idea that he'll automatically step into the rotation.
Alex asks: If Alex Rodriguez were to get injured this year, say a pulled hammy, can he decide to start serving his suspension before the appeal is heard to get some games out of the way and miss less time next year if the suspension is reduced?
Sure, A-Rod can drop the appeal at any time and start serving the suspension right away. I don't think he would in the case of injury because he would still get paid while on the DL. He won't get paid during the suspension and that's what this is all about. Alex isn't stupid, he knows his career is probably over after the suspension. He'll try to stay around as long as possible to collect as much of his contract as he can, especially since it's front-loaded and his salary goes down the next few years.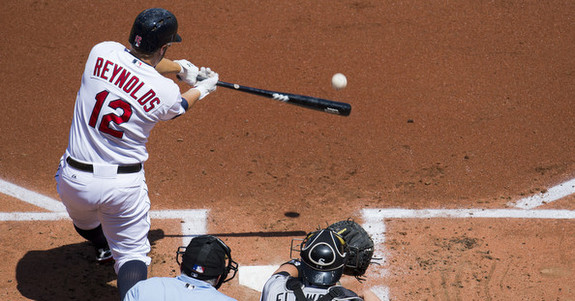 Donny asks: How about Mark Reynolds (DFA'd)? He sure has sucked since May 1st, but so has every other third basemen we have run out there this year.
I can't imagine many teams have cut their leading homerun hitter, but that's what the Indians did when they designated Reynolds for assignment yesterday. He is hitting .205/.307/.373 (93 wRC+) with 15 homers on the year, but it has definitely been a tale of two seasons. Reynolds hit .254/.340/.503 with 12 homers in his first 50 games and .173/.272/.235 with three homers in his last 49 games. He's been awful since the end of May.
That said, Reynolds is useful. Limited, but useful. The just-turned-30-year-old has hit .215/.333/.411 (111 wRC+) against lefties this year, plus he can play the two corner infield spots. "Play" the two corner infield spots, if you catch my drift. He's a bad defender and he strikes out a ton (32.0 K%), but he hits lefties and works the count very well (11.2 BB%). The Yankees could send David Adams, who is unlikely to play all that much anyway, back to Triple-A Scranton and platoon Reynolds at first with Lyle Overbay. It's probably too late for a move like this to impact the playoff push, but that doesn't mean it wouldn't be an upgrade.
Paul asks: Let's assume for a moment that the season ended today. Where would the Yankees pick in the draft, and is it a strong draft this year? I'm looking for any kind of silver lining to this season, help me out here.
The Yankees currently have the 14th best (16th worst) record in baseball, so they would have the 17th overall pick in next summer's draft if the season ended today. The Blue Jays have a compensation pick for failing to sign this year's tenth overall pick (RHP Phil Bickford), which is why it's the 17th overall pick and not the 16th. New York had the 17th overall pick in the 2005 draft (SS C.J. Henry), which they got from the Phillies as compensation for losing Tom Gordon. Before that, you have to go all the way back to 1993 for the last time they picked that high (RHP Matt Drews, 13th overall).
As for the quality of next year's class, here's what an unnamed scout said to Chris Crawford (subs. req'd) back in June:
"On paper, it's a much better crop (than 2013)," an NL scout said. "It's not the strongest group of advanced bats again, but there's so much more depth than there has been the past two years, particularly with the high school hitters and even more particularly up the middle. This year, other than J.P. Crawford, there isn't one high school shortstop I would have taken in the first round. Next year, there's about four or five that I'd consider. It's all speculation, but I feel much more confident about getting a quality player this year than the last two."
It's still way, way too early to get a firm grasp on the quality of next summer's draft class. NC State LHP Carlos Rodon is the clear favorite to go first overall right now, he's David Price-esque, but everything else is up in the air. We have to wait for the high school and college seasons to start in January and February before players start falling into place.
Brendan asks: Any chance if Gary Sanchez rakes the rest of the season in AA and then in Spring Training he makes the big league club? Or are we going to have to wait until he is 24 to see him?
He turns 21 in December, so let's not jump off the ledge worrying he'll be old when he debuts just yet. The Yankees have been relatively conservative with Sanchez so far, having him repeat Low-A Charleston last year and spending most of this year in High-A Tampa. I like that, I do think they've been a little overly aggressive at times with their top guys the last few years. I wouldn't expect Sanchez to have a realistic chance to make the team out of camp next year, though that could come in 2015. Have patience. They need a catcher in the worst way, but rushing the top prospect to fill that hole isn't the answer, especially not with J.R. Murphy in Triple-A.
Ori asks: Who is the best Yankee pinch-hitter ever? I remember Ruben Sierra being a particularly good one.
Hooray for the Play Index? Hooray for the Play Index! Here are the team's top ten pinch-hitters during the DH era (since 1973), minimum 20 pinch-hitting opportunities (34 qualifiers):
Bernie Williams is 12th with a .768 OPS and Sierra is 21st with a .646 OPS. Hassey has the highest batting average as a pinch-hitter in team history (Strawberry is second) while Johnson has the highest OBP and SLG (Strawberry is second in both).
Johnson, who played with the Yankees from 1977-79, and Strawberry are clearly a notch above everyone else here. I like that pinch-hitting was part of their role too; they weren't full-time guys who came off the bench a few times like Matsui or Giambi. They were legit part-time players who were expected to pinch-hit in key spots. Strawberry was awesome, still my all-time favorite player to this day.