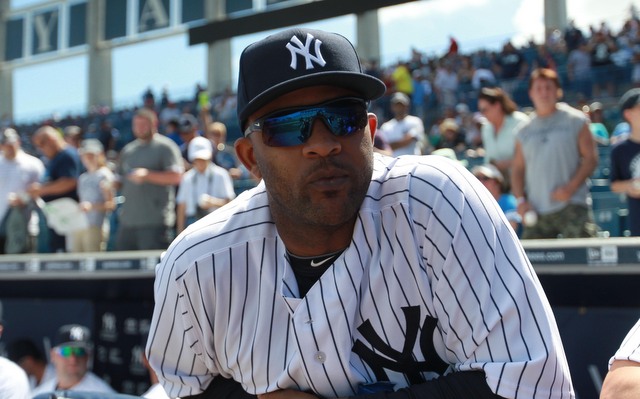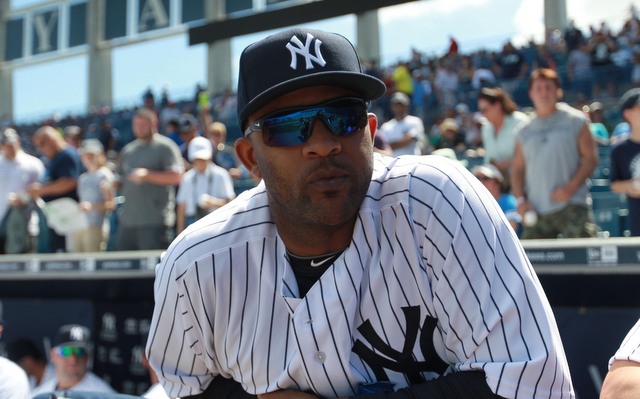 After four truly excellent seasons (3.22 ERA and 3.28 FIP) from 2009-12, we've officially entered the "oh please just let it be over already" phase of CC Sabathia's stint in pinstripes. (That makes me sad.) The big man was bad in 2013 (4.78 ERA and 4.10 FIP) and both bad (5.28 ERA and 4.78 FIP) and hurt in 2014. He's now working his way back from surgery to treat a degenerative knee condition that will require regular maintenance, specifically having fluid drained.
As the old saying goes, the Yankees took the elite years from Sabathia up front and have to live with the ugly years on the back-end of his contract. His days as a front of the rotation arm are almost certainly over and the team is now looking to salvage whatever they can from their erstwhile ace, who is signed through 2016 with a vesting option for 2017 based on the health of his shoulder. Sabathia is scheduled to make his Grapefruit League debut this evening. Now let's see what the team needs from him this summer.
Yankees Need: Innings. Lots Of Innings.
Sabathia was once the game's preeminent workhorse, averaging a mind-blowing 213.1 innings per season from 2001-13. I mean, take a second to wrap your head around that number. It's staggering. And even during his bad starts with the Yankees from 2009-12, Sabathia was still pretty good. Four runs in six innings was a bad Sabathia start. There were no "seven runs in two innings" kind of clunkers those four seasons.
In fact, Sabathia started 129 games from 2009-12, and only four times did he fail to complete five full innings of work. One of those four was the result of a lengthy rain delay at Fenway Park. Sabathia went at least six innings in 116 (!) of those 129 games as well. Heck, even though he was so very ineffective in 2013, he still averaged 6.2 innings per start. He completed five innings in seven of his eight starts last year and six innings in five of the eight.
When he's taken the ball, Sabathia has routinely pitched deep into the game. That's not really the issue. The issue is being able to stay healthy enough to start every fifth day from April through September. I think the Yankees would happily live with Sabathia averaging 5.9 innings per start (the AL average in 2014) if it means getting 32 starts out of him. Taking the ball deep into the game would be nice, but the team has the bullpen to compensate if he can't. Not missing a start is more important.
Sabathia Can: Maybe Throw Innings?
The good news is Sabathia's arm is healthy. The bad news is we are flying blind with his now three-time surgically repaired right knee. (Two meniscus procedures and the clean out last year.) Sabathia has not pitched since last May and we have no idea how that knee is going to hold up, not within an individual game and definitely not over the course of a full season. This is uncharted territory.
Sabathia has been wearing a brace during his throwing sessions this spring for extra support — from what I understand it is more of a sleeve than some sort of clunky brace — and he will continue to wear it during the season. Basically from now through the end of his career. The knee issue is degenerative and will need regular maintenance. Sabathia's a total gamer. He's shown he will pitch through injury over the years. I have no reason to doubt his effort. The knee simply might not be up for 32 starts, however.
Yankees Need: Respectability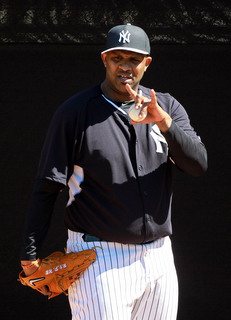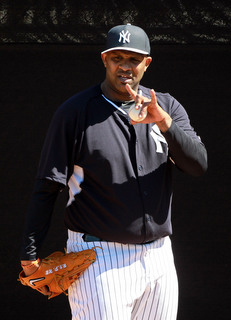 The Yankees aren't stupid. They know Sabathia's best years are behind him and aren't counting on him to be the staff ace anymore. They signed Masahiro Tanaka to be the ace last offseason and saw glimpses of Michael Pineda being that type of pitcher last year. (Obviously those two have physical issues of their own, but I digress.) The Yankees would love Sabathia to turn back into an ace but aren't expecting it at all.
Instead, the Yankees simply need Sabathia to be respectable this year. How about league average? That's a modest goal. Can Sabathia be league average this year despite playing in a hitter friendly park? I think the Yankees would consider 180 innings of league average pitching — the league average AL starter had a 3.92 ERA and 3.85 FIP last season, for what it's worth (I miss offense) — a win given the state of Sabathia's knee. Expectations are pretty low but the need to get some production from the lefty does exist.
Sabathia Can: Maybe Be Respectable?
In terms of plain ol' run prevention, Sabathia stunk the last two years. He allowed 4.87 earned runs per nine innings pitched in 257 innings from 2013-14 and that's bad. Very bad. One hundred and thirty six pitchers threw at least 200 innings the last two seasons and only eight have a higher ERA than Sabathia. Bad. Very, very bad.
If you want to squint your eyes and see some positives, they do exist. Even while pitching on that bad knee early last season, Sabathia did post very good strikeout (9.39 K/9 and 23.0 K%), walk (1.96 BB/9 and 4.8 BB%), and ground ball (48.3%) rates. If you strike out a lot of guys, limit walks, and get hitters to beat the ball into the ground, you should fare pretty well, especially now that the Yankees have such a strong infield defense. Hopefully Sabathia can do that stuff again this summer.
On the downside, Sabathia was incredibly homer prone (1.96 HR/9 and 23.3 HR/FB%) last year. That's almost unsustainably bad, even in tiny Yankee Stadium. Then again, Hit Tracker classified eight of the ten homers Sabathia allowed last season as either "plenty" or "no-doubt," meaning they were not cheapies, so who knows. Maybe Sabathia's true talent level at this point of his career is nearly two homers per nine innings with a quarter of his fly balls leaving the yard? I'm not sure anyone is really that bad though. Home runs are hard to hit.
It has now been two full seasons since Sabathia was last even an average big league starter. The prospect of a healthy knee gives us hope he will rebound and be, well, respectable this coming season, but we haven't even seen him pitch in a Grapefruit League game yet. We have no idea how his location looks, no idea if he slider is moving the way it's supposed to move, no idea if his changeup is changin' up. The combination of age, wear-and-tear, and the knee injury make it damn near impossible to project Sabathia's performance this year. This is a total wait and see situation.
Yankees Need: Leadership
With Derek Jeter retired and Alex Rodriguez persona non grata, Sabathia is the elder statesman in the clubhouse. He's been with the team longer than Carlos Beltran and has accomplished more in his career than Mark Teixeira. Sabathia is one of those "instant respect" guys as a former Cy Young winner and World Series champ, not to mention his oh so obvious willingness to leave it all out on the field. Players notice that. The Yankees will count on Sabathia to lead the clubhouse this summer and be a mentor to a surprisingly young pitching staff.
Sabathia Can: Be A Leader
Sabathia doesn't need to be healthy to be a leader. He just needs to be around. Chad Jennings shared this story the other day and I think it's important:
Tanaka is the best pitcher on this team, but it's hard to be in the Yankees clubhouse and not see CC Sabathia as the clear ace. Pitchers still look to him for advice. They look to him for leadership. And the big man provides. I have no clue whether he can be a great big league pitcher again. I don't even know if he can be a solid No. 3. But I don't think his role in the clubhouse has changed from what it was three years ago. Even veteran guys will gather around near his locker to talk to him about anything and everything.
The Yankees have a very young pitching staff, especially now that Chris Capuano is hurt. (The second oldest pitcher on the projected Opening Day roster is Andrew Miller, who turns 30 in late-May.) Pineda and Nathan Eovaldi are pups and even Tanaka is still relatively young, having turned 26 in November. When these guys need guidance, they're going to turn to Sabathia. Considering how popular he's been in the clubhouse since the day he arrived in New York, we know CC will be there to help.