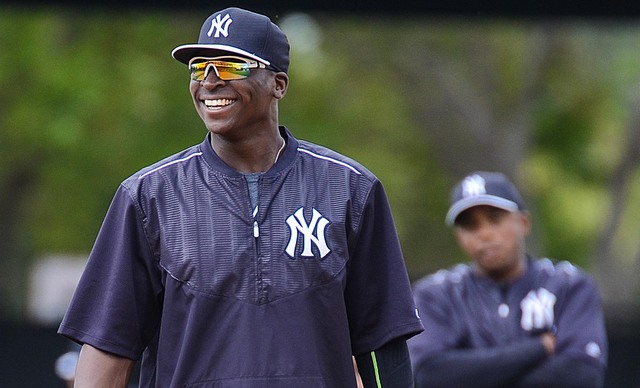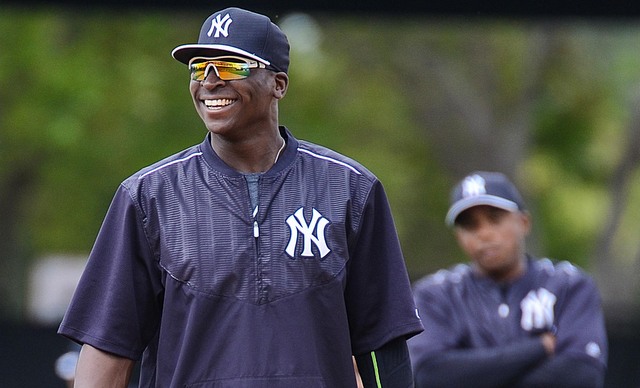 I don't know if it was their top priority this winter, but finding a new starting shortstop was a very important item on the Yankees' offseason shopping list. Derek Jeter retired and with no shortstop prospects on the cusp of MLB, that meant they had to go outside the organization. Free agency had some okay solutions and the trade market is always a bit of a mystery, so eh.
After reportedly making several trade offers for multiple shortstops earlier in the winter, the Yankees found their new shortstop in early-December, sending Shane Greene to the Tigers in a three-way trade that brought Didi Gregorius to New York. The Yankees had been trying to acquire Didi since at least the 2013 Winter Meetings, so it wasn't a total surprise when they acquired him.
"They turned me down 10,000 ways over and I had to go through a third team," said Brian Cashman to Chad Jennings last week. "I went through a number of different teams who when I was dealing with them who told me, 'I tried to get him, too.' I tried to get him at the deadline. I obviously tried to get him over the winter. A number of failed attempts. And then other teams were conveying back to me their failed attempts."
The Yankees also re-signed Stephen Drew to play second base this winter, and while he is a natural shortstop, he is not considered any sort of threat to Gregorius. The Yankees didn't trade Shane Greene to get Gregorius only to pull the plug after his first slump. Didi will get a long look this year and have a chance to solidify himself as the club's shortstop of the future. Let's look at what the Yankees need from him and what he can realistically provide.
Yankees Need: Above-Average Defense
Let's not kid ourselves here. Gregorius is a glove first player and the Yankees acquired him first and foremost because of his work in the field. Jeter was a tremendous player, but he stunk defensively, especially later in his career, and the Yankees clearly prioritized improving their infield defense over the winter. This is a pretty simple and straight forward request: Gregorius has to make all the plays he's supposed to make plus some a Yankees' shortstop hasn't made in a long time.
Gregorius Can: Play Above-Average Defense, I Think
There's a disconnect between the scouting reports and stats when it comes to Didi's fielding ability. He came to the Yankees will a reputation for being a strong gloveman, but it could just be the infield version of Nichols Law, meaning he's so bad at the plate his defensive reputation got inflated. Here are some scouting report tidbits from Baseball America (subs. req'd) over the years.
2011: "He has a 65 arm on the 20-to-80 scouting scale that allows him to make any throw, often without needing to set his feet. His above-average speed and quick feet give him good range as well, though his hands are still somewhat erratic. Many of his errors come from a lack of focus and a tendency to rush plays."
2012: "Gregorius is a quality athlete whose best attribute is his arm, which rates a 65 on the 20-80 scouting scale thanks to its strength and accuracy. He's a plus defender with good range and a quick first step. His hands are his biggest drawback defensively and contributed to his 21 errors in 80 games in 2011."
2013: "He has smooth actions, plus range and a sniper rifle of an arm. His arm rates as a 70 on the 20-80 scouting scale, allowing him to make plays from deep in the hole that other shortstops can't."
The scouting reports say Gregorius has defensive tools, yet UZR (-3.6), DRS (0), Total Zone (-7), and FRAA (-4.0) all say he's been average or (mostly) worse in his 1,521.1 career innings at short. Inside Edge data shows Gregorius has been above-average at making difficult plays and below-average at making routine ones, which lends some credence to that whole "many of his errors come from a lack of focus and a tendency to rush plays" nugget from Baseball America's 2011 scouting report.
When it comes to a player who has just about one year worth of MLB time at a position, I'm going to trust the scouting reports over the stats every time. Defensive stats are a wonderful tool but they are still very much a work in progress, and one year is not a big enough sample to say anything definitive. Gregorius might really be below-average! We're going to find out this year. Until then, I'm sticking with the scouting reports that say he's a strong defender.
Yankees Need: To See Some Improvement Against Lefties
In 724 career plate appearances, the 25-year-old Gregorius is a .243/.313/.366 (84 wRC+) hitter overall, including .262/.332/.411 (102 wRC+) against righties and .184/.257/.233 (33 wRC+) against lefties. If he performs like that against right-handed pitchers going forward, I think the Yankees would be thrilled. (His career spray charts against righties suggest Didi will benefit from Yankee Stadium.) They would be even more thrilled if Gregorius makes some strides against southpaws and shows he can be an everyday player long-term, not just the heavy side of a platoon as a left-handed hitter. Some sort of progress against lefties is a must in 2015.
Gregorius Can: Try To Improve Against Lefties
Didi has only 180 career plate appearances against southpaws at the MLB level and that's not much, but those same scouting reports that praise his defense also note he's struggled against left-handed pitchers throughout his career — "Being a lefthanded hitting shortstop is another positive in Gregorius' favor, though he has struggled against lefties throughout his career," said the 2012 write-up — so this isn't a new trend.
The Yankees have already mentioned platooning Gregorius with Brendan Ryan, but that's just silly. (Ryan has a 56 wRC+ against lefties the last three years!) If the club wants to shelter Gregorius and sit him against the toughest of lefties, the David Prices and Chris Sales of the world, then fine. But it shouldn't be an outright platoon. The only way Gregorius is going to improve against lefties is by facing them. If he rides the pine against good but not great southpaws like Mark Buehrle, Wei-Yin Chen, and Wade Miley, then what the hell is the point?
Yankees Need: Some Excitement
The Yankees are a pretty boring team, wouldn't you say? Masahiro Tanaka starts, Michael Pineda starts, and Dellin Betances appearances were by far the most exciting part of last year's team. By far. Every once in a while Frankie Cervelli would pump his fist or do something goofy, but that was it. We couldn't even laugh at Eduardo Nunez's helmet falling off every damn time he ran to first because he had been sent packing. So Didi, the Yankees and everyone else beg you to please inject some life in this group.
Gregorius Can: Play With Energy
Gregorius has a reputation of being a high-energy player though I'm not sure how true that really is because I haven't seen him play all that much. Hopefully it is true. Everyone can play with energy though, especially a 25-year-old shortstop, so hopefully Gregorius is the kind of exciting, fun to watch player the Yankees have sorely lacked in recent years. If the Yankees are going to miss the postseason again, I would at least like them to be watchable.
(Just FYI: My alternate title was "In Which Didi Stands For Di-fense and Di-velopment.")