Now that the 2016 season is complete and the dust has settled, it's time to begin our annual season review series. This year was a complicated one. That's for sure.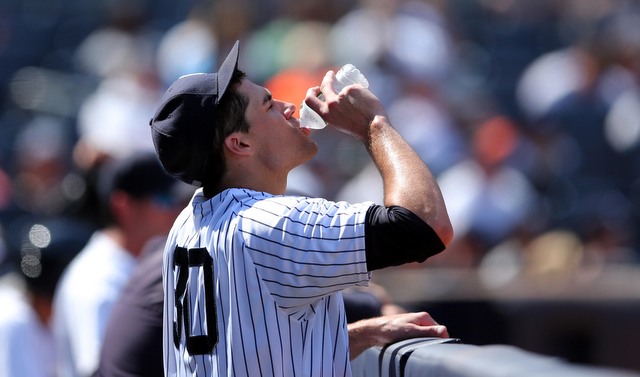 A year ago the Yankees started their rebuild with an unusual strategy. With only a few big league ready prospects of their own, the team went out and acquired out-of-favor young players with other organizations. The hope was they could buy low on talented players and unlock their potential. So far it's worked with Didi Gregorius. He's been pretty awesome as Derek Jeter's replacement.
The Yankees imported Nathan Eovaldi from the Marlins as part of this on-the-fly rebuild, and his first season in pinstripes was eventful. He struggled early in the season, dominated after picking up a splitter with an assist from pitching coach Larry Rothschild, then finished the season on the shelf with elbow inflammation. This season followed a similar script, albeit at the extremes.
The No. 3 Starter
In hindsight, Spring Training should have been a red flag. Eovaldi struck out ten and walked eight in 14.2 Grapefruit League innings during the spring — he had a 20/3 K/BB in 18.2 innings last spring — after missing time with a groin problem. The vast majority of Spring Training stats mean absolutely nothing. This year, Eovaldi's inability to locate in March was a harbinger of things to come during the regular season.
The Yankees slotted Eovaldi in as their No. 3 starter to start the regular season because that's the kind of production they hoped to receive. He had a 3.43 ERA (2.86 FIP) in his final 14 starts and 84 innings of the 2015 season, and the new splitter was a tangible reason for the improvement. The Yankees were hoping to get that guy full-time this season. That didn't happen. Not even close.
Eovaldi allowed five runs in five innings to the Astros in his first start of the season, and also gave up two home runs. That was ominous. Eovaldi allowed ten home runs total last season. Right out of the gate he gave up two this year. Four runs in 6.2 innings against the Blue Jays followed seven days later, including two more home runs. That's four home runs in his first 11.2 innings of the season. It took Eovaldi 28.2 innings to allow four homers last year.
Following those two tough starts to the season, Eovaldi did settle down and pitch well through the end of May. His best start of the season came on April 25th in Texas, when he allowed two hits in seven scoreless innings. Eovaldi lost the no-hit bid in the seventh inning.
Through ten starts and 60.2 innings, Eovaldi had a 3.71 ERA (3.56 FIP) with very good strikeout (22.9%), walk (6.0%), and ground ball (54.3%) numbers. Bet you don't remember him being that good! It's true though. It happened. For the first ten starts of the season Eovaldi was pitching like the No. 3 starter the Yankees hoped he would become.
Now, the bad news: those ten starts included seven home runs, which worked out to a 1.04 HR/9 (13.7 HR/FB%). That's not Eovaldi. He had a 0.58 ERA (7.8 HR/FB%) last season and a 0.63 HR/9 (6.6 HR/9) the year before. Eovaldi came into the 2016 season with a career 0.63 HR/9 (7.1 HR/FB%) in 614.1 innings. That's not a small sample. He'd displayed a legitimate skill for suppressing home runs. That skill disappeared in 2016.
The Well-Earned Demotion
Things went south for Eovaldi as soon as the calendar flipped to June. He allowed at least four runs in each of his next six starts, including at least five runs in five of those six starts. His pitching line in those six starts: 30.1 IP, 45 H, 31 R, 31 ER, 12 BB, 19 K, 12 HR. Ouch! That 3.71 ERA (3.56 FIP) on June 1st turned into a 5.54 ERA (5.11 FIP) on July 1st. It went downhill and fast.
At that point the Yankees did the only thing they could do: they moved Eovaldi to the bullpen. It had to be done. He went to the bullpen and Chad Green took his spot in the rotation. Eovaldi made three relief appearances prior to the All-Star break, the best of which came in Cleveland on the final day of the first half. He allowed just one hit in 4.1 scoreless innings in relief of an ineffective Masahiro Tanaka.
The Yankees insisted they still believed in Eovaldi as a starter, and they put their money were their mouth is in the second half. Green was sent to Triple-A and Eovaldi returned to the rotation after the All-Star break, and the early returns were promising. He allowed ten runs total in 25 innings in his first four starts back. Opponents hit .204/.267/.387 against him. That'll play. Eovaldi looked good.
An Abrupt End to 2016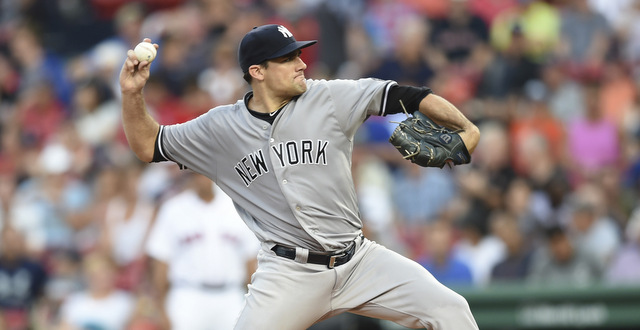 Eovaldi's first four starts back in the rotation were promising. He was missing bats again, and while the ball was still flying out of the park, Nate was doing enough of everything else to remain effective. It was a difficult season up to that point, and it looked like it might have a happy ending. Alas.
On August 10th at Fenway Park, Eovaldi retired all three batters he faced in the first inning on a ground ball and two fly balls. He did not pitch again the rest of the season. His velocity was down that inning — he averaged 93.7 mph with his fastball, well below his 98.0 mph season average — but otherwise there was no indication Eovaldi was hurt as he walked off the mound. It was a surprise when he wasn't in the game to start the second inning.
The Yankees initially called the injury right elbow discomfort, and a battery of tests eventually revealed the full extent of the damage: a torn flexor tendon and a partially torn ulnar collateral ligament. Eovaldi told reporters the MRI showed the flexor tendon was torn right off the bone. Ouch. Soon thereafter he had surgery to repair all the damage, which involved his second career Tommy John surgery. Eovaldi is out until 2018.
So, after all of that, Eovaldi finished the regular season with a 4.76 ERA (4.98 FIP) in 124.2 innings spread across 21 starts and three relief appearances. His walk (7.6%) and ground ball (49.6%) rates were fine, though his strikeout rate (18.5%) was a tad low, plus there were all the homers (1.66 HR/9 and 18.7 HR/FB%). Gosh, the homers. So many homers. Twenty-three total. That's after allowing 24 total from 2014-15.
Another New Pitch
Yet again, Eovaldi adopted a new pitch at midseason and it helped him have some success. Last year the split-finger fastball emerged and allowed Eovaldi to pitch effectively for two months or so. This year Eovaldi added a cutter at midseason, after being demoted to the bullpen. Check it out (via Brooks Baseball):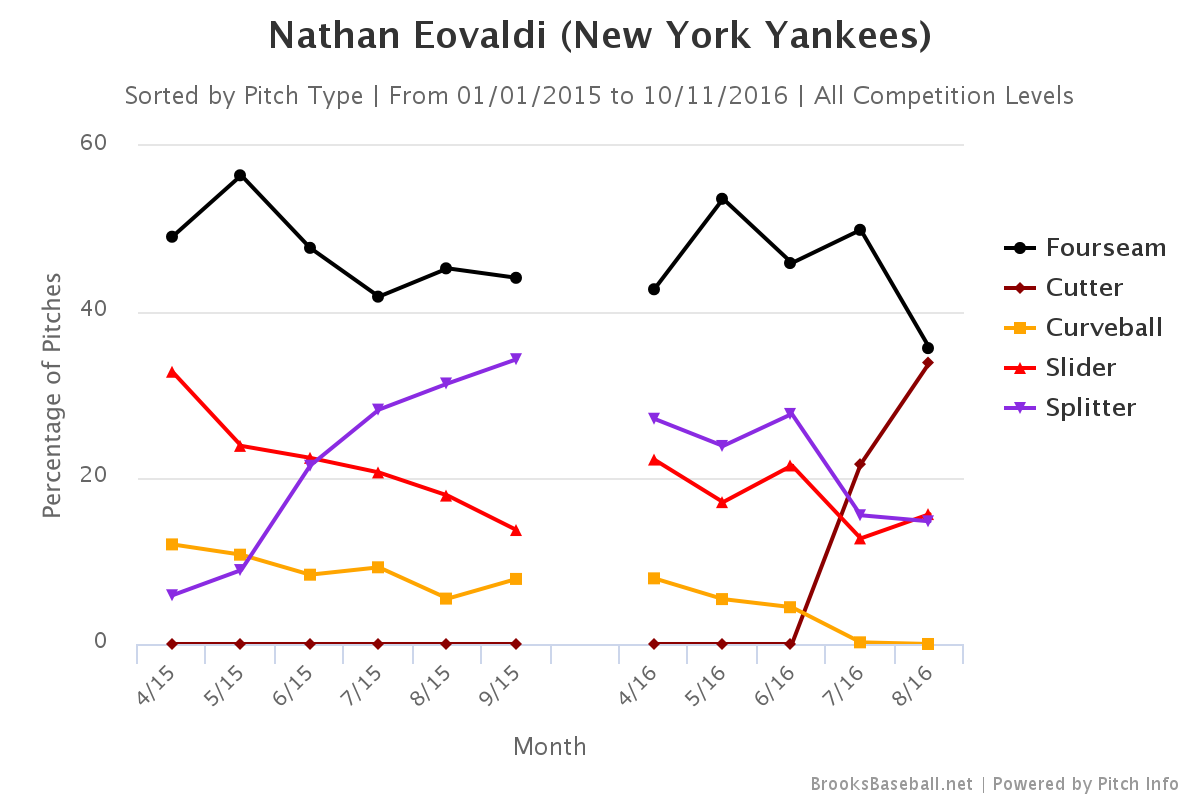 The splitter came out of nowhere last year and the cutter came out of nowhere this year. Did the cutter cause the elbow injury? It's certainly possible, though I feel like we hear that about with every new pitch. Who knows? Something as severe as a flexor tendon tearing off the bone and a partially torn UCL was probably the result of wear and tear building up over a long period of time, not a guy throwing a handful of new pitches. (Eovaldi threw 148 cutters in 2016. That's not that many.)
If nothing else, the splitter and cutter tell us Eovaldi is a tinkerer. He's trying to get better and he takes to instruction. The splitter helped him have success for a while and the cutter kinda did too. Did they contribute to his elbow exploding? Like I said, it's possible. I just don't think we can say that with any certainty, especially since Eovaldi already had Tommy John surgery once before. At this point Eovaldi is a fastball/splitter/slider/cutter pitcher. It'll be interesting to see if he comes back with that repertoire in 2018.
Outlook for 2017
Next season was supposed to be Eovaldi's contract year. Instead, the injury ensures he will be non-tendered this offseason, when his stock is at an all-time low. MLBTR projects a $7.5M salary in 2017 and there's just no way you can pay that to a guy who won't pitch and will become a free agent after the season. It's a total waste of money. The Yankees will cut Eovaldi loose at some point. Cruel game, this baseball.
The Yankees have not yet spoken to Eovaldi about their plans going forward, though that'll happen soon. The club has a history of signing injured pitchers to two-year contracts (Jon Lieber, David Aardsma, Andrew Bailey, etc.) and nursing them back to health in year one with an eye on the reward in year two. Eovaldi seems like a candidate for such a deal. Kris Medlen and Mike Minor recently signed two-year contracts worth $8M or so under similar circumstances, so I guess that's the starting point.
Either way, Eovaldi will not be a factor for the Yankees next season, even if they re-sign him. He'll be rehabbing from a very serious injury — the second Tommy John surgery rehab takes much longer than the first — and getting him back at the start of 2018 would be the best case scenario. It might take even longer. That bites. A year ago the splitter had Eovaldi looking like a possible long-term rotation piece. Now his future in MLB is very much up in the air.