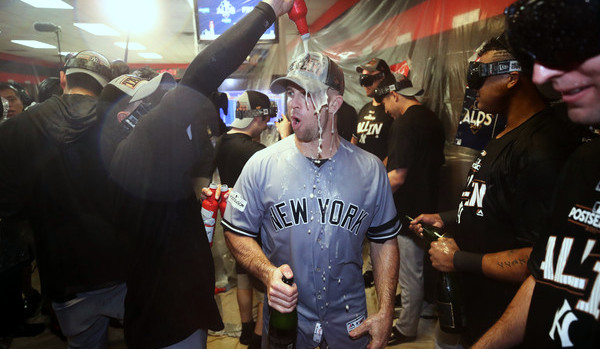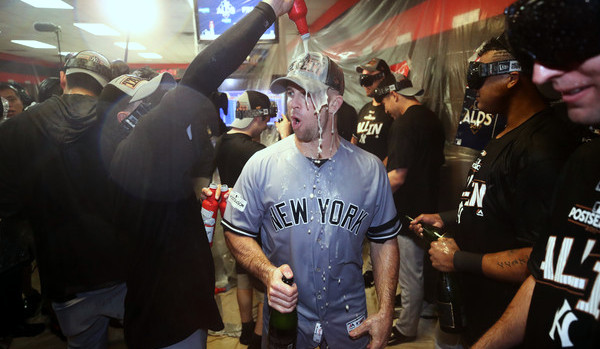 How's this for a rebuilding season? The Yankees erased an 0-2 series deficit in the ALDS and clinched a spot in the ALCS with last night's Game Five win over the Indians. What a remarkable comeback. Not gonna lie, I thought they were done after Game Two. I really did. Shows what I know. Anyway, here are some thoughts following that memorable ALDS win.
1. The Yankees just beat the best team in the American League — the Indians led the league with 102 wins and had baseball's best run differential at +254 during the regular season — in the ALDS even though their best player was a non-factor and they lost the first two games. Amazing. Heck, the Yankees could've won that series 4-1 given the way Game Two played out with the non-challenge. Baseball is weird and the best team doesn't always win a short series, but man, if you had any doubt about these Yankees being a bonafide contender, they're answered now. They gave away Game Two. Gave it away. And they still rallied from down 0-2 in the series. They went two-to-toe with the best team in the league, got punched in the face in Game Two, then got back up and won the series anyway. I think this is now year three of the Fighting Spirit gag, but man, it has never been more appropriate. This team never goes down without a fight.
2. Speaking of the Yankees' best player being a non-factor, yeesh, what an ugly series for Aaron Judge. He went 1-for-20 with 16 strikeouts in the five games and had three four-strikeout games. Like I said, yeesh. I suppose the good news is Judge did rob Francisco Lindor of that two-run home run in Game Three, so he did make an impact in the field. Also, the one-hit was that two-run double against Trevor Bauer in Game Four, which actually drove in the game-winning run. Still, a brutal series for Judge. And the Yankees won anyway! I wouldn't count on that happening again though. The Yankees need Judge to get back on track as soon as possible, and I think he will get back on track, the same way he did after his slump after the All-Star break. The Indians have a fantastic pitching staff and Cleveland buried him with elite breaking balls. The Astros have a very good pitching staff, though it's not as good as the staff the Indians run out there. Example: Cleveland's third starter was Carlos Carrasco and Houston's is Brad Peacock. Yeah. Awful series for Judge. He needs to be better in the ALCS.
3. Man, what a ballplayer Didi Gregorius has become. Gregorius hit the two home runs last night and also started that big fifth inning double play, after David Robertson replaced CC Sabathia. And don't forget about his game-tying three-run home run in the Wild Card Game either. I was a Didi doubter. I was. I knew he'd play the hell out of shortstop, but I wasn't sure he'd ever hit enough to be a starter on a championship caliber team, and now here he is hitting third for an ALCS bound club, and swatting dingers (plural) against the likely Cy Young winner. Gregorius has become a really good hitter in addition to being a great defender, plus he's so damn likeable and such an important player in the clubhouse. Joe Girardi called him the captain of the infield the other day. Two years ago Didi was the only player under 30 in the Opening Day lineup. For real. He was the first real member of the position player youth movement, and he's gotten better and better each season. It's been a lot of run to watch. He is a very worthy heir to Derek Jeter's throne at shortstop.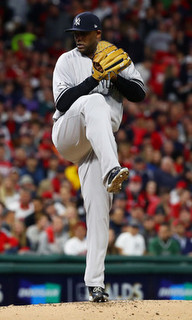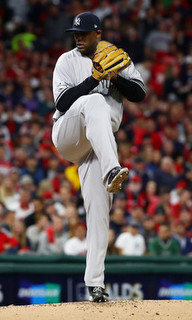 4. The Yankees held the Indians to five hits or fewer in four of the five ALDS games. Every game except Game Two, which went 13 innings. The bullpen allowed six runs in 20 innings in the series, and five of the six runs came in Game Two. So, aside from that ugly Game Two meltdown, the pitching staff kept a very good Indians offense in check. Masahiro Tanaka and Luis Severino were brilliant in their starts, and Sabathia pitched well in his two outings even if he didn't pitch all that deep into the game. When Sonny Gray is your least effective postseason starter, you're doing pretty great. The pitching staff was incredible in the ALDS and they had to be, because the offense overall wasn't that great. Only 21 runs in the five games, with eight of them coming in Game Two. This has been an under-the-radar story, I believe. The Yankees had one of the top pitching staffs top to bottom during the regular season, and now that they're into the postseason, they can lean on their top arms a little more, making them even more dangerous. The story of this series was great pitching just about each game, and timely hitting. And the Indians making seven errors and allowing six unearned runs in Games Four and Five combined. Thanks for that.
5. So Corey Kluber isn't healthy, right? Something is up and I think that's one of the reasons they pushed him back to Game Two rather than have him start Game One. You just don't see a pitcher that good — again, Kluber is likely going to win the Cy Young this year — have a postseason series that bad. He gave up four homers in 6.1 innings. Come on. "I don't feel like I need to get into details right now. I was healthy enough to go out there and try to pitch," said Kluber to Travis Sawchik following last night's game. Hmmm. Brian Cashman told Adam Kilgore he is "not sure Kluber was right. I'm sure something is going on there." Whatever it is, the Yankees took advantage. Beating up on Kluber twice in the ALDS is pretty much the last thing I expected. The Yankees got a little lucky here. It seems Kluber isn't 100% physically, which cost him location and cost his team on the scoreboard. I'm glad the Yankees were able to make him pay.
6. The Yankees will probably announce their ALCS pitching rotation later today, and if they want to, they could start Tanaka and Severino on normal rest in Games One and Two, respectively. I think the Yankees want to hold Tanaka back until Game Three though give his massive home/road splits this season:
Home: 3.22 ERA  (3.45 FIP)
Road: 6.48 ERA (5.35 FIP)
It wasn't a coincidence Tanaka started Game Three at home in the ALDS rather than Game Two on the road. So I think the Yankees will go with Gray in Game One, Severino on normal rest in Game Two, then Tanaka and Sabathia in Games Three and Four. That would line Tanaka up to start Game Seven. Sabathia started the winner-take-all Game Five in the ALDS. Would the Yankees start him in Game Three of the ALCS to line him up for a potential Game Seven start? That would mean pushing Tanaka all the way back to Game Four. Eh. I don't think you can line it up so Tanaka makes just one start in the ALCS. He's too good. Alright, so all that said, I think the ALCS rotation ends up being Gray, Severino, Tanaka, and Sabathia in that order. We'll probably get a definitive answer later today.
7. So what's going to happen with the DH spot going forward? The DH spot went 0-for-16 with eight strikeouts in the ALDS. Including the Wild Card Game, the DH spot is 0-for-20 in the postseason. Yikes. That's a big problem. The Yankees have a DH without the H. Dallas Keuchel is starting Game One of the ALCS for the Astros, and since he's a finesse left-hander, I'd absolutely start Matt Holliday at DH. If you're not going to start Holliday against Keuchel, a southpaw who won't blow him away with velocity, then he serves no purpose. There's no reason to have him on the roster in that case. Holliday can stay with the team and hang out in the dugout, and that's cool because his veteran presence matters, but what does he contribute on the field that he needs to be on the roster? I say give him a chance against Keuchel, and if he shows basically any signs of life, run him out there against Justin Verlander in Game Two. Jacoby Ellsbury and Chase Headley aren't getting the job done and I think it's time for something new.
8. I'm glad the non-challenge in Game Two can go away now. We can stop talking about it. It was ugly, Girardi admitted he made a terrible mistake, and the team picked up him. "This one's for Joe. I'll be honest with you. I told him, we got your back 100%," said Todd Frazier to David Lennon after last night's game. Girardi even took the ultra-rare step of going to the team and apologizing for the mistake. That never happens. Did you watch the FOX Sports 1 postgame last night? Alex Rodriguez, David Ortiz, Keith Hernandez, and Frank Thomas were on the show saying that is unheard of it, and that it showed a lot of character and that Joe really cares. The Yankees overcame that gigantic blunder and won the series anyway, and when they come back to New York for Game Three early next week, I hope Girardi gets a huge ovation during the baseline introductions. He deserves it. People make mistakes and that was a very bad one that nearly cost the Yankees their season. The players went out and picked Joe up though. They care and Joe cares, and I care that they care.