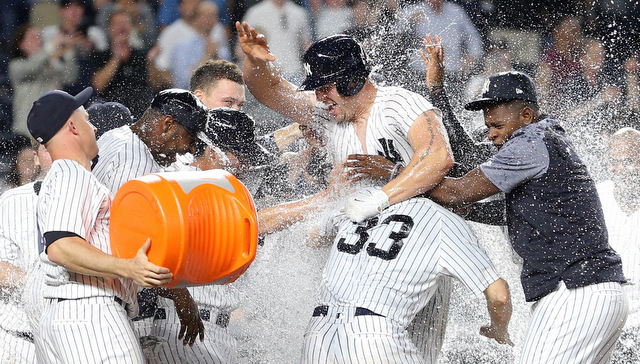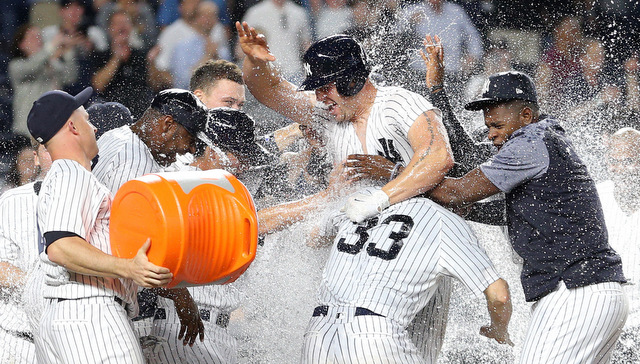 So far this season the Yankees have used 43 different players — 23 position players and 20 pitchers — which is the seventh most in baseball. The Mariners lead the way with 47 players and both the Indians and Diamondbacks have been lucky enough to use only 35 players. The Yankees used their fair share of shuttle arms in the first half, though position player injuries also forced them to dip into their farm system more than expected.
We've already covered most of those 43 players as part of our Midseason Review. Now it's time to wrap things up and cover whoever has been left behind. Among them is one regular because I am bad at scheduling. Time to finish off the Midseason Review.
Matt Holliday: As Advertised
When the Yankees signed Holliday in November, he came billed as a good clubhouse guy and a professional hitter with some bounceback potential given his exit velocities and things like that. Nothing was guaranteed, of course. Holliday did turn 37 in January and he very easily could have been at the end of the line. The Yankees bet $13M on a rebound and so far he's been worth every penny.
Holliday, as the team's regular DH and occasional first baseman, is hitting .262/.366/.511 (132 wRC+) with 15 homers in 68 games so far, and he's the No. 1 reason the Yankees have the most productive DH spot in the baseball.
Yankees: 137 wRC+
Mariners: 129 wRC+
Indians: 127 wRC+
Oddly enough, Holliday's strikeouts are way up this year. His 25.7% strikeout rate is on pace to shatter his previous career high (19.6% as a rookie in 2004). I think there's a chance Holliday is selling out for power, which might partially explain the strikeouts. Holliday has also been pretty streaky. That's alright though. He's been productive more often than not, and day-to-day consistency in baseball is a myth anyway.
Beyond the on-field production, Holliday has also been a positive on all the young players the Yankees are incorporating into their lineup. Aaron Judge went out of his way to praise Holliday at the All-Star Game media day Monday. Here's what Judge told Brendan Kuty about Holliday earlier this month:
"I just pick his brain on what he does," Judge said he often asks Holliday. "'What are you doing in a situation, with a certain pitcher? What are you doing with this guy? He's a sinkerball pitcher, what do you try to do with those guys?' I've picked up a couple little things."

"He's just really committed to his plan," Judge said. "That's one thing I've noticed. I'll talk to him (in the early afternoon) and I'll say, 'Hey, what are you doing this game? What are you trying to do against this guy?' Every single time I ask him, 'What are you working on?' He'll say he's trying to stick to his plan and drive the ball to right field. That's why he's so successful. He just sticks to it, no matter the situation."
An illness, which was recently confirmed as Epstein-Barr, has had Holliday on the shelf since June 24th and holy cow did the Yankees miss his bat these last few weeks. He did play a pair of rehab games last weekend and is tentatively scheduled to rejoin the Yankees for the second half opener tomorrow. That's huge. Holliday has been everything the Yankees could have expected and more.
The Extra Position Players
Among all the random position player call-ups the Yankees have made this year, whether it was an injury fill-in or a one-day audition, the leader in plate appearances is … catcher Kyle Higashioka. He served as the backup catcher in April when an injury forced Gary Sanchez to the 10-day DL and Austin Romine into the starter's role. Higashioka went 0-for-18 and started only five games. If that changed your opinion of him, you're thinking too hard.
Another April injury fill-in was veteran Pete Kozma, who served as the backup while Didi Gregorius was hurt and Ronald Torreyes started at shortstop. Kozma went 1-for-9 with the Yankees and had nothing resembling a signature moment. The Yankees lost him to the Rangers on waivers when Gregorius returned and Kozma is still on their bench because Jurickson Profar played his way down to Triple-A.
Last month the Yankees finally got sick of Chris Carter and finally called up Tyler Austin, who missed the start of the season after fracturing his ankle with a foul ball early in Spring Training. Austin mashed with Triple-A Scranton before the call-up, hitting .300/.366/.560 (151 wRC+). He came up, went 2-for-13 with a home run and six strikeouts at the plate, then landed on the 10-day DL with a fairly significant hamstring strain. The Yankees can't have nice things at first base.
The final two position players both played only one game in the big leagues this year, for very different reasons. After Holliday landed on the disabled list, the Yankees called up third base prospect Miguel Andujar for a day, and he went 3-for-4 with a double in his MLB debut. He became the first player in franchise history to drive in four runs in his big league debut.
The Yankees sent Andujar down to the minors the next day because they didn't have regular at-bats to give him and there's no point in making the kid sit on the bench. Andujar is really breaking out in the minors this year — he's hitting .302/.336/.476 (121 wRC+) between Double-A and Triple-A — but he needs to work on his third base defense, so that's what he's doing. I'm glad the Yankees have resisted the temptation to move him to first to plug a short-term hole.
The other one-game position player in the first half was outfielder Dustin Fowler who gave us, hands down, the saddest moment of the season. In the first inning of his first big league game, Fowler crashed into the side wall in foul territory chasing a pop-up, which ruptured his right patella. It was an open rupture, meaning it broke through the skin. Yikes. Fowler had emergency surgery that night and is done for the season.
Fowler came up to replace Andujar after hitting .293/.329/.542 (137 wRC+) down in Triple-A Scranton. The Yankees called him up before Clint Frazier. They like him that much. Fowler's injury is so sad. I feel terrible for the kid. The good news is he is expected to make a full recovery in time for Spring Training. Plus he's on the big league disabled list collecting service time and big league pay, so his bank account is doing better. But still, you know Fowler wants to play. What a terrible and sad moment.
The Extra Pitchers
For the first two months or so of the season, the Yankees did away with the bullpen shuttle. The days of calling up a new reliever every day to make sure Joe Girardi had a fresh arm in the bullpen were over. The Yankees stuck with their guys. Then the bullpen melted down and started blowing leads left and right, and the Yankees started shuttling guys in and out regularly. Such is life. The shuttle returned last month.
The one shuttle reliever who made the Opening Day roster is Bryan Mitchell. Back-to-back rough outings (seven runs in 2.2 innings) earned him a demotion to Triple-A at the end of April. He came back up briefly at the end of May and again at the end of June. So far this season Mitchell has a 5.06 ERA (4.02 FIP) in 16 big leagues innings and a 3.60 ERA (2.27 FIP) in 35 Triple-A innings. He'll be back at some point in the second half, I'm sure of it. Mitchell's time to carve out a long-term role with the Yankees is running out though.
Luis Cessa, who was in the running for an Opening Day rotation spot, has made three starts and three relief appearances for the Yankees this year. The three starts came when CC Sabathia was on the disabled list and they did not go well (eleven runs in 13.2 innings). The three relief appearances were better (two runs in eleven innings). The end result is a 4.18 ERA (4.50 FIP) in 23.2 innings. I like Cessa — I seem to the be the only one who likes Cessa — and hope we see more of him going forward.
Four shuttle relievers have made their MLB debut this season: Gio Gallegos, Domingo German, Ronald Herrera, and Tyler Webb. They've combined for the the following line: 31 IP, 32 H, 20 R, 18 ER, 16 BB, 30 K. Replacement Level 'R Us. German showed the most potential among those four. By far, I think. He also returned from Tommy John surgery a little more than a year ago and needs to pitch, not sit in the big league bullpen as the eight reliever. He's in Triple-A where he belongs. Also, Ben Heller spent a day with the Yankees. He faced three batters: grounder, walk, walk-off single off his butt. He does have a 2.68 ERA (3.11 FIP) in 37 Triple-A innings though.
* * *
The Yankees have used 43 players this season and over the last four years they've averaged 56 players per season, so recent history suggests we're going to see several new faces in the second half. New faces from outside the organization or the farm system. Probably a little of both.