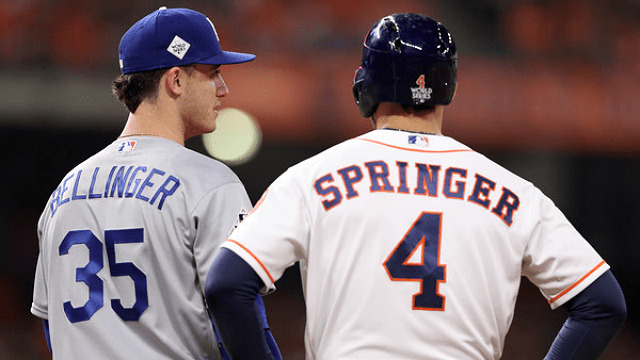 We're just one day from the end of the offseason and the long-awaited beginning to the journey for the 2018 Yankees. That means it's time to wrap up our season preview series. Shout-out to Mike and Domenic for their great work over the last month.
So for the final post in this set, take this as a chance to shake off the otherwise myopic focus on the everyday issues for the Bombers and an opportunity to look into the wider expanse of baseball as we check out the rest of the league.
NL East
Who will win? Nationals.
Who could surprise? Phillies (Maybe Mets?).
Who will disappoint? What's left of the Marlins.
Players to watch? Bryce Harper and Ronald Acuna Jr.
There are two givens in the National League East: The Nationals will be good and the Marlins will be awful. The Nationals go into this season on the precipice of destruction yet perhaps also glory. All of that rides on the status of Bryce Harper, whose contract is up after the season and therefore makes the Nationals' 2018 that much more important. The team doesn't lack reinforcements around him with Max Scherzer, Stephen Strasburg and an actual semblance of a bullpen, not to mention Adam Eaton and Anthony Rendon on offense.
On the flip side, the Marlins … ugh. If you aren't a baseball glutton such as myself, please avoid watching this team. Sure, prospects and the Home Run Machine and a few former Yankees, but this team isn't worth the time.
In between, the Phillies seem on the brink of opening their contention window, particularly after adding Jake Arrieta and Carlos Santana this offseason. Add them to a young core of Rhys Hoskins, Scott Kingery and Aaron Nola and you really might have something if you can get past a lack of pitching depth.
The Mets have the talent to win 90+ games with their rotation mostly healthy for now, but we'll see how long the crosstown rivals can put it together. As for the Braves, they're waiting for their exciting crop of pitchers to reach the majors, which likely won't be this season. In the meantime, enjoy Ronald Acuna and everything he could be (and Freddie Freeman if you haven't forgotten about him).
NL Central
Who will win? Cubs.
Who could surprise? Brewers.
Who will disappoint? Usually the Reds.
Players to watch? Marcell Ozuna and Luis Castillo.
Count me as someone who was quite impressed by the Cubs' offseason. They saw their main weakness in the rotation and bullpen and added Yu Darvish, Brandon Morrow and Steve Cishek. You could do a lot worse. Their core from the 2016 World Series is still intact minus Arrieta, but Darvish and Jose Quintana make up for his absence.
The Cardinals and Brewers are prime wild card candidates. Each, like the Yankees, acquired a member of the Marlins' 2017 outfield with Marcell Ozuna and Christian Yelich, respectively. The Cards have a rotation that can carry an average-ish offense and make up for a below-average bullpen and should be wild card favorites. I'm less sold on the Brewers with their rotation, but they should be exciting despite projections.
The Reds and Pirates remain mired at the bottom of the division. The Reds' rotation remains a brutish hellscape, though now it has a glimmer of hope with Luis Castillo. No, not that Luis Castillo. The one who can throw 100 mph and drop some nasty offspeed stuff. Pittsburgh has plenty of issues after trading Andrew McCutchen and Gerrit Cole and it will be tough to round back into playoff form. A lot rides on the development of Tyler Glasnow and his towering frame.
NL West
Who will win? Dodgers.
Who could surprise? Padres? This division doesn't have too much surprise in it.
Who will disappoint? Giants. Definitely the Giants.
Players to watch? Jon Gray and Archie Bradley.
Fresh off making it to Game 7 of the World Series, the Dodgers appear ready to book another run this year before spending big after getting under the luxury tax. However, there are some red flags, namely starting Matt Kemp in left field (why!?!) and a little less pitching depth than last season. Still, Clayton Kershaw is there and Cody Bellinger could provide a thunderous encore to his rookie season.
There's a clear middle class to this division, the two participants in the 2017 NL Wild Card Game. The Diamondbacks replaced J.D. Martinez with Steven Souza Jr. and are doubling down on a rotation that carried them to the NLDS. Archie Bradley still anchors the bullpen and Paul Goldschmidt remains wildly underrated. Colorado will have to make up for surprisingly meh offense at Coors Field with a young pitching staff. They added to their bullpen, though it will be up to Jon Gray and co. to really make this team go.
At the bottom, there's the Giants and Padres. The Padres are on the upswing with Eric Hosmer in tow and a boatload of prospects set to debut in the next few seasons. The Giants? In a post-Madison Bumgarner injury world, it's time to recalibrate expectations. Their offense is old and hardly world-beaters, but it's their rotation that concerns me. Bumgarner and Jeff Samardzija are hurt and they couldn't afford that. Derek Holland is in the initial rotation for them and Ty Blach is facing Kershaw on Opening Day. Good luck with that!
AL Central
Who will win? Indians.
Who could surprise? White Sox.
Who will disappoint? Tigers, Royals.
Players to watch? Byron Buxton and Yoan Moncada.
This appears to be the weakest division in baseball, but it's strong at the top. Don't overlook the Indians! In our Yankees-centric bubble, the Red Sox and Astros are the most talked about competitors, yet the Indians remain formidable. That entire pitching staff is still legit and their offense is nothing to sneeze at. In that division, they should ride to 95+ wins.
The Twins shouldn't be a surprise, but they're a prime wild card contender. Their pitching staff got a needed boost with Lance Lynn and Addison Reed, though it's hardly great. What's notable is their offense, which added Logan Morrison and still has Byron Buxton, Eddie Rosario and Miguel Sano.
And then there are the three rebuilding teams. The White Sox's pitching staff is a series of question marks, prospects and has-beens, but their prospect pool is either on the cusp or in the majors. Grab the popcorn and get ready to watch Yoan Moncada and Michael Kopech. The Royals are a shell of their 2015 selves and would be an easy choice for last place if you couldn't say the same thing about the Tigers, a team set for many years of rebuilding. I guess Miguel Cabrera can still hit some?
AL West
Who will win? Astros by a lot.
Who could surprise? Athletics.
Who will disappoint? Rangers.
Players to watch? Shohei Ohtani (duh) and Dee Gordon (Matt Olson too!).
The Astros are going to be so freaking good. So so good. Carlos Correa, Jose Altuve, Justin Verlander, George Springer. Ugh, so much talent there and that's just the tippy top. The only thing as exciting as the Astros is the potential Shohei Ohtani in Los Angeles. I know he's had a rough spring. Even so, watching someone venture into two-way territory is must-watch and he's doing it on the same team as Mike Trout and Andrelton Simmons. I'm in!
The Mariners have an aging core and a team that, if fully healthy, could peak as a wild card team. But Erasmo Ramirez and David Phelps are already hurt (yes, they were/are counting on both) and Felix Hernandez has a lot of innings on his arm. I'm still down to watch Dee Gordon try centerfield and get my fix of age-35 Robinson Cano.
The Athletics have some interesting pieces, namely Matts Olson and Chapman. Olson hits the ball a mile and Chapman plays some gnarly third base and should be a Gold Glove favorite. Their rotation is weak/young, but I'm excited by the team's offensive potential. The Rangers, on the other hand, just don't have too much that interests me. However, I will sign up to watch all the Joey Gallo dingers and Adrian Beltre-ness the team will provide.