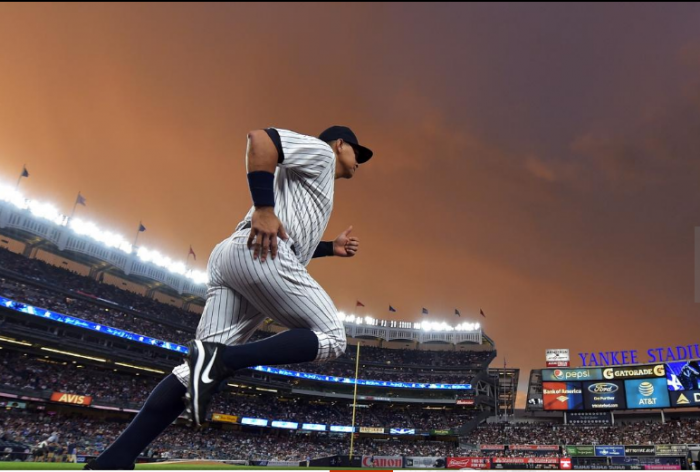 Saying Bye-Rod
The Yankees made sure that Mr. Alexander Emmanuel Rodriguez's farewell game in pinstripes would be a memorable and winning one, as they sent the controversial slugger off into the sunset with an exhilarating comeback victory on Friday night against the Rays.
A-Rod's final game with the Yankees (and perhaps his career) marks the final act of one of the most confounding and polarizing, yet also brilliantly talented, players in the history of this sport. Earlier this week we detailed a few of his many baseball superlatives; now here are two more numbers that put his complicated and fascinating tenure with the Yankee franchise into perspective.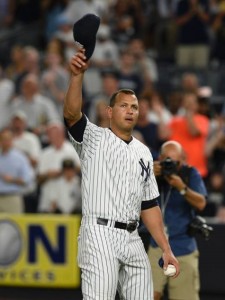 Rodriguez enters the pinstripe record books with a batting line of .283/.378/.523 across 12 seasons in the Bronx. Among the hundreds of players that have compiled at least 200 plate appearances with the Yankees, only four others have reached each of those thresholds in batting average, on-base percentage and slugging percentage: Mickey Mantle, Joe DiMaggio, Lou Gehrig and Babe Ruth.
Although A-Rod has frequently been chastised for his purported lack of clutch hitting in the playoffs, there is this stat to consider: A-Rod had four career game-tying or go-ahead hits in the ninth inning or later in the postseason, the most among all players in major-league history.
With the adrenaline pumping, A-Rod kicked off his last game in style, sending a 96 mph fastball from Chris Archer into right-center field for a first-inning RBI double. It was his first hit on pitch of more than 95 mph since June 7, a single off Angels reliever Cam Bedrosian.
Dellin Betances struck out the side in the ninth inning, recording his 100th, 101st and 102nd strikeouts of the season. This is the third year in a row he's racked up at least 100 strikeouts, becoming the third reliever in American League history with back-to-back-to-back 100-K campaigns. The others are Dick Radatz (1962-65) and Duane Ward (1989-92), who both put together four-season streaks of at least 100 Ks.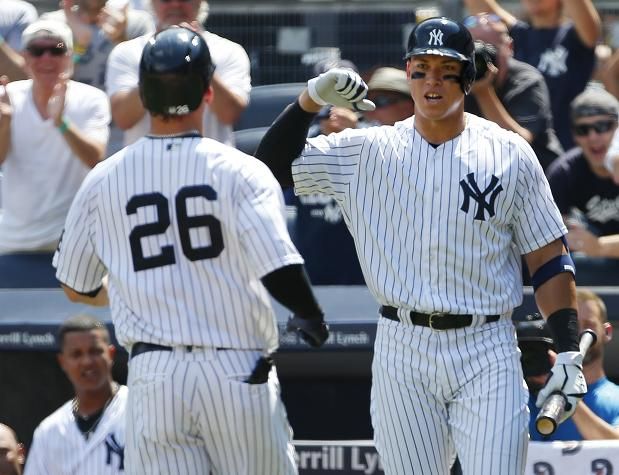 New Kids in the Bronx
These are certainly not your father's Yankees anymore. On Day One of the post-Alex Rodriguez Era, it was clear that the franchise's much-hyped youth movement is in full swing.
The team called up highly-touted prospects Tyler Austin and Aaron Judge before Saturday's afternoon contest and Joe Girardi immediately wrote their names on the lineup card, Judge in right field and Austin at first base. They were the first Yankee teammates to make their big-league debuts as starters in the same game since John Ellis and Jim Lyttle on May 17, 1969 against the Angels.
The two Baby Bombers wasted little time in earning their True Yankee pinstripes. Batting seventh and eighth, the duo electrified the Yankee Stadium crowd early with back-to-back solo homers in the second inning, fueling an offensive explosion that resulted in a fun-to-watch and rousing 8-4 win.
With those two blasts, Austin and Judge completed a stunning and unprecedented feat, becoming the first teammates in baseball history to each homer in their MLB debut in the same game. Before they went deep, only three other Yankees had ever homered in their first career at-bats in the bigs: Andy Phillips in 2004, Marcus Thames in 2002 (on the first pitch from Randy Johnson!) and John Miller in 1966.
Austin added a stolen base to his historic debut, becoming the first AL player to homer and steal in his first major-league game since Bert Campaneris (Kansas City A's) in 1964; he is the only Yankee to accomplish the feat since at least 1913.
Starlin Castro, Aaron Hicks and Didi Gregorius soon joined the home run party on this hot and humid day, sending the ball over the fence in the fourth, fifth and seventh innings, respectively.
That gave the Yankees five players age 26 or younger with a longball, the first time in franchise history they've had that many under-27 guys go deep in the same game. Only three other teams have ever done this in the regular season over the past century: the 2016 Cubs, 2013 Astros and 1996 Brewers (the Cubs also did in Game 3 of the NLDS last year).
Even more impressively, each of the five youngsters also added another hit, making the Yankees the only MLB team in last 100 years to have five different players under the age of 27 with at least two hits and a homer in the same game.
Judge, jury and … homers!
The Yankees emotional ceremony-filled weekend ended with a thud on Sunday afternoon. They were creamed by the Rays, 12-3, snapping their four-game win streak and pushing them further back in the wild card race.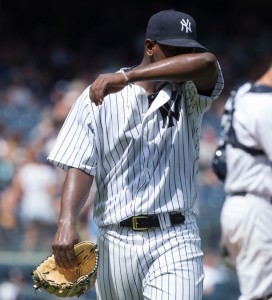 Luis Severino got hammered for seven runs in 3 2/3 innings, falling to 0-8 with a 8.58 ERA as a starter this season. That is the longest losing streak as a starter to begin a season by a Yankee since Fred Talbot lost his first eight starting decisions in 1968.
Even more depressing, the Yankees have still yet to win a game with Severino on the mound as the starting pitcher. Over last 100 years, this is the only time that the Yankees have lost the first nine games of a season started by a pitcher.
His fastball command was inconsistent and his changeup again was non-existent, though his slider was nasty at times, as he racked up seven strikeouts.
That bizarro performance produced a crazy pitching line that no major-league pitcher had recorded in nearly a decade. The last guy to allow at least seven earned runs and strike out at least seven batters in an outing of fewer than four innings pitched was Kenny Rogers in 2008 for the Tigers.
The lone highlights of the game were provided by the bats of the newly-christened Baby Bombers as Aaron Judge and Gary Sanchez both homered in the loss. Judge became just the second player in franchise history to go deep in each of his first two major-league games, joining the immortal Joe Lefebvre (1980).
Sanchez's two-run shot left his bat at 102 mph; he now has an average exit velocity of 91.6 mph this season, the highest among all Yankees with at least 10 batted balls in play.