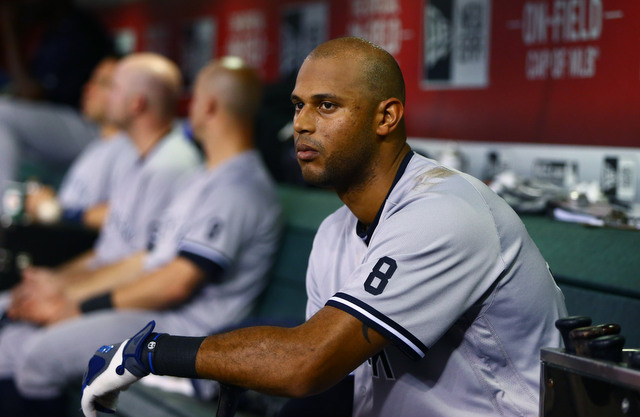 Two years ago the Yankees started their youth movement with an interesting strategy. They targeted talented young players who had fallen out of favor with their current organizations, and bought low on them in trades. That's how they landed Didi Gregorius and Nathan Eovaldi. Dustin Ackley too. You win some, you lose some.
The Yankees employed a similar strategy last offseason — you could argue the Aroldis Chapman deal falls under that umbrella, though he was an established veteran at the time of the trade — and it landed them switch-hitting outfielder Aaron Hicks in a trade with the Twins. John Ryan Murphy went to Minnesota. Hicks was slated to serve as New York's heavily used fourth outfielder. He would rotate around the three outfield spots and given the veterans rest. It never worked out.
Stuck On The Bench
The Yankees stunk in April. They were bad. Really bad. They won only eight of their first 24 games, mostly because they couldn't generate offense. The Yankees scored only 82 runs in those 24 games, or 3.42 per. Yikes. Because runs were so hard to come by, Joe Girardi stuck with his veteran outfielders. The trio of Brett Gardner, Jacoby Ellsbury, and Carlos Beltran started 15 of those first 24 games. Hicks started eight of them.
In those eight games, the now-27-year-old Hicks went 2-for-26 (.077) with no extra-base hits and only two walks. I guess the good news is he only struck out three times, so he was putting the ball in play. It was only a matter of time until the hits dropped in, right? Right??? Well, I guess so. From May 4th through May 25th, Hicks hit .258/.319/.403 (91 wRC+) with two homers in 73 plate appearances and 21 games. His first homer as a Yankee was kind of a big one.
Hicks was able to get regular playing time during that three-week stretch thanks to injuries to Alex Rodriguez (hamstring) and Ellsbury (hip). Beltran shifted to DH and Hicks took over in the outfield. When he wasn't playing regularly — I mean doing more than replacing Beltran for defense in the late innings — he didn't hit. When he played regularly, he did hit. Coincidence? Eh, maybe. I don't think so.
Once Ellsbury and A-Rod returned, Hicks went right back to the bench. From May 26th through July 22nd, the final day of the "Alex Rodriguez, Everyday Player" era, Hicks started 27 of the team's 50 games, so he was basically a half-time player. Beltran's hamstring injury in June helped open some playing time there, so it stands to reason that if Beltran had stayed healthy, Hicks would have played even less.
Hicks hit only .197/.261/.301 (48 wRC+) in the first half and Girardi pretty clearly grew frustrated with his lack of production. "Hicks needs to relax, too, I think, to get going. He's a kid that's used to playing every day. He's played a lot but he hasn't played every day," said the manager in June. It was a Catch-22. Hicks wasn't playing because he didn't hit and he wasn't hitting because he didn't play, in theory.
Finally, A Chance To Play
After the Yankees traded away Beltran at the deadline, Girardi made an effort to get Hicks into the lineup more often, even after Aaron Judge had been recalled. Hicks started 23 of the team's 28 games in August while playing all three outfield spots. Gardner's sore ankle opened up some playing time as did the club's sudden willingness to sit veterans for younger players. Gardner and Ellsbury both saw time on the bench in August.
Hicks went down with a hamstring injury of his own in late-August and was unable to return until late-September, when he season was nearly over. He played every day down the stretch because Beltran was gone and Judge went down with his oblique injury. Following the trade deadline, Hicks was very close to an everyday player, and during that time he hit .271/.333/.424 (105 wRC+) with five homers in 129 plate appearances and 37 games around the hamstring injury.
One of those five homers was a thoroughly satisfying go-ahead two-run homer against the Blue Jays on September 26th, the final road game of the season. Benches cleared (twice!) earlier in the game because of the J.A. Happ/Luis Severino retaliation silliness, and Mark Teixeira had just tied the game with a ninth inning blast against Jason Grilli. Hicks went deep a few batters later to give New York the lead. He crushed a hanger, clapped loudly because he knew it was gone, then trotted around the bases.
Teixeira and Hicks pimping clutch ninth inning homers against the Blue Jays. What a time to be alive.
That strong finish in August and September brought Hicks' final season batting line to .217/.281/.336 (64 wRC+) in 361 plate appearances, which is still bad. Really bad. I'm one of those folks who thinks Hicks would thrive with more playing time, but still. You can't do that, dude.
Take a look at Hicks' offensive production as the season progressed. It's easy to see when he got regular at-bats (May, then August and September) and when he was used sparingly off the bench (the rest of the season):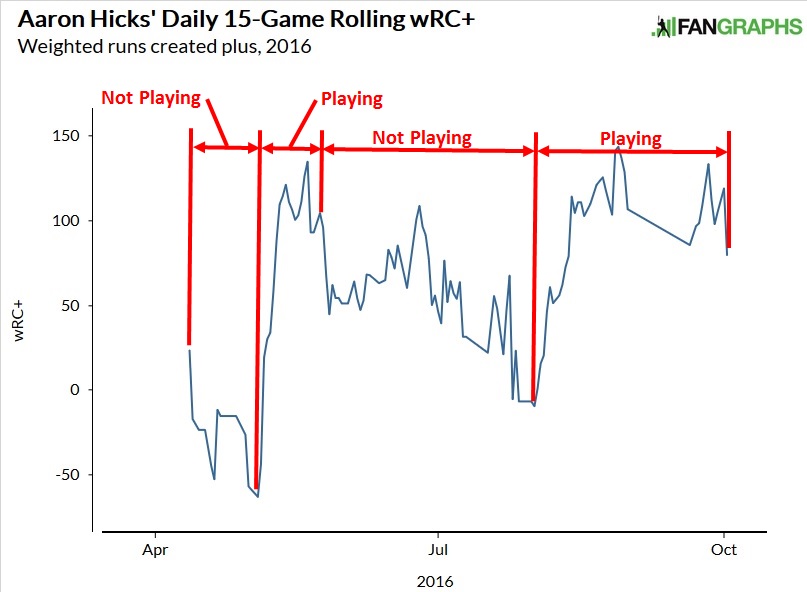 Hicks came to the Yankees as a switch-hitter with a reputation for being better against left-handed pitchers. The exact opposite was true in 2016. He hit .249/.318/.373 (86 wRC+) against righties, which is barely adequate, and .161/.213/.271 (25 wRC+) against lefties, which is terrible. Hicks didn't hit his first home run against a southpaw until June 24th, the team's 72nd game of the season, and he didn't get his second until August 5th, their 109th game. Yikes.
There is no other way to slice it: Hicks was awful this past season. Inexcusably so, really. He was primed for a breakout season and instead fell flat on his face. The only thing keeping the trade from being a disaster is Murphy somehow being worse than Hicks this year (4 wRC+!). Maybe regular playing time would have helped. I think it would have. But that's not an excuse. Hicks had his role and didn't adapt to it. He would have received more playing time had he earned it, but he didn't.
A Good Defender Who Looks Bad
Back during his days as a prospect — Hicks was a really good prospect once upon a time, he was on Baseball America's annual top 100 list four times and peaked as high as 19th — the scouting reports said Hicks was an exceptional defensive player. Baseball America called him a "gliding runner" who "possesses plenty of range" and is capable of "providing premium defense in center" in 2013, the last time he was prospect eligible. Everyone loved his glove.
This year we saw a player who took some circuitous routes in the outfield but generally made every catch. There were a few instances in which he broke back instead of breaking forward (and vice versa), but again, he made the catch. DRS (+4), UZR (+4.8), Total Zone (+9), and FRAA (+1.6) all rated him as above-average in the field. And yet, those bad first steps are unsettling. Even if he makes the catch, they just look bad, you know?
There is one aspect of Hicks' defense that is an undeniable strength: his arm. It's one of the best in baseball, easily. In fact, Hicks uncorked the fastest outfield throw in the Statcast era back in April. To the action footage:
Hicks had only three outfield assists this season, two fewer than Ellsbury (!), but that's terribly misleading. Runners rarely tested his arm. It's a Yadier Molina arm in the outfield. Runners don't bother trying to stealing against Molina because his arm is so strong. This year runners didn't even bother to try to run on Hicks because they know he has a cannon. He shut the running game down without even making throws.
Hicks in RF: 62.1% hold rate (47.0% league average)
Hicks in CF: 53.6% hold rate (44.3% league average)
Hicks in LF: 69.2% hold rate (63.5% league average)
Hold rate is exactly what it sounds like. It's the rate at which runners stayed put despite having the opportunity to take the extra base on a ball hit to the outfield. Like a runner on second not moving to third on a fly ball. Or a runner not going first-to-third on a single to right. That sort of thing. Hicks held runners at a rate far better than the league average at all three outfield positions. His arm is so great he rarely has to use it. It's the ultimate compliment. Runners don't even challenge him.
Outlook for 2017
Gosh, I don't know. I could see any one of a number of things happening with Hicks next season. I could see him starting the year as the fourth outfielder again. I could see him starting in left field if Gardner is traded. I could see him starting in right if Judge struggles in camp. I could see him in a platoon. I could see him getting traded. The possibilities are endless.
I wouldn't necessarily call 2017 a make or break year for Hicks, but he's entering a very critical phase of his career. He just turned 27 and it's time to turn his obvious natural gifts into consistent production. The Yankees hope it happens it with them. It might not. Either way, Hicks has played parts of four seasons in the show now and he has close to 1,300 big league plate appearances under his belt. It's time to take that next step.