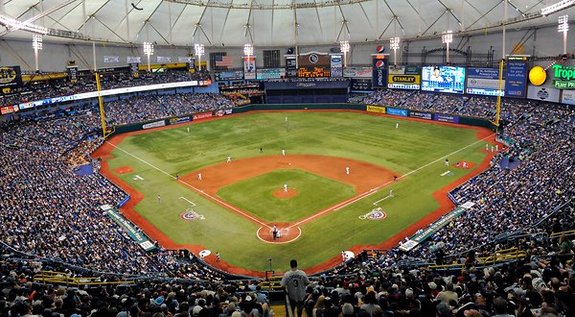 Thirteen games in 13 days. That's all the Yankees have left this season barring a damn near historic run to the postseason. For them to have any shot at the playoffs, this series against the last place Rays is a must-sweep. One game a time though. Get a win tonight and snap the five-game losing streak. Let's start there. Here is the Rays' lineup and here is the Yankees' lineup:
The internet tells me it's cloudy and grossly humid in St. Petersburg, but it'll be a cool 70-something degrees inside Tropicana Field. Tonight's game will begin at 7:10pm ET and you can watch on YES. Enjoy.
Roster Move: As you can see from the lineup, Hicks (hamstring) was activated off the disabled list. He'd been out close to three weeks. No other move was required because rosters are expanded.
Injury Update: Jacoby Ellsbury (knee) is still sore but he said he's hopeful he will play tomorrow. He's available to pinch-hit tonight … Chase Headley (back) is not available at all. His back locked up on him in Boston. The Yankees play their next seven games on turf, so if Headley does return to the lineup this week, it might only be as the DH. We'll see.
News: The Yankees announced they will honor Teixeira with a pregame ceremony prior to the final game of the season, on Sunday, October 2nd.