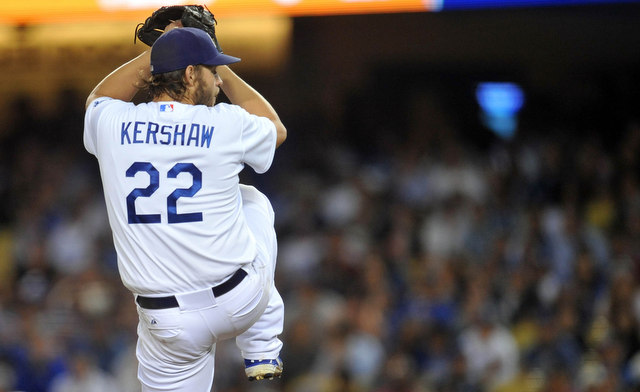 Today the Yankees will play their final game of the season against a non-AL East team. They're also going to face the best pitcher in the world. I suppose the good news is Clayton Kershaw is not at full strength right now. This is his second start back from a two-and-a-half month DL stint due to a back injury.
Kershaw threw only three innings and 66 pitches last time out, and he looked pretty rusty as well. The expectation for today is something like five innings and 80 pitches, apparently. That's better than facing Kershaw at full strength, but Kershaw at like 75% is still better than about 90% of pitchers out there. Gonna be tough. Here is the Dodgers' lineup and here is the Yankees' lineup:
LF Brett Gardner
CF Jacoby Ellsbury
C Gary Sanchez
2B Starlin Castro
3B Chase Headley
SS Didi Gregorius
RF Rob Refsnyder
DH Austin Romine
1B Tyler Austin
RHP Michael Pineda
It's a little cloudy in New York today and there's actually a tiny little bit of rain in the forecast later this evening too. It doesn't look like it'll be anything too heavy though. Maybe just a quick shower. This afternoon's series finale is scheduled to begin at 4:05pm ET and you can watch on YES. Enjoy.
Injury Update: Brian Cashman said Aaron Judge (oblique) will very likely miss the rest of the season. They don't have the results of today's MRI yet, but it sure sounds like they're not counting on him coming back. Sucks … in case you missed it earlier, Mason Williams was called up to effectively replace Judge on the roster.