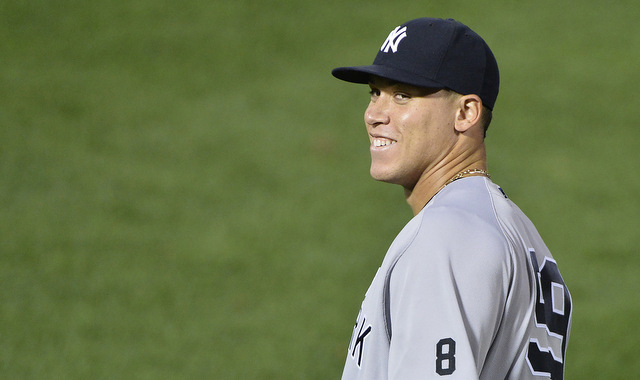 The first few weeks of the Aaron Judge era have been … interesting. Interesting's a good word. Judge hit a ball over the windows of the center field restaurant in his first at-bat, and he went deep the next day as well. We've also seen him rob a near home run without even leaving his feet. He just reached up and caught it. And, of course, we've seen strikeouts. Lots and lots of strikeouts.
Through 20 big league games Judge is hitting .169/.249/.338 (54 wRC+) with three homers and 35 strikeouts in 73 plate appearances. That's a 47.9% strikeout rate. Judge went 0-for-3 with three strikeouts yesterday and is now in a 2-for-25 (.080) skid with 18 strikeouts. Yikes. Last week I said Judge should to be more aggressive on fastballs in the zone, and since then his at-bats have only looked worse and worse.
As ugly as Judge's strikeouts have been, a stretch like this is hardly unprecedented. Trevor Story struck out 34 times in his first 20 games earlier this season. Giancarlo Stanton struck out 33 times in his first 20 games too. Heck, Stanton went 1-for-21 (.048) with 17 strikeouts during a six-game span earlier this year. Strikeout heavy batters are prone to ugly slumps like this, and Judge is indeed strikeout prone. Always has been, probably always will be.
Because Judge is doing this at the start of his career, it raises all sorts of questions. When Stanton falls into a slump and starts striking out a bunch, he gets the benefit of the doubt because he's an established player. We've seen him snap out of similar slumps in the past. Story's strikeouts earlier this year were completely glossed over because he was hitting a home run every other at-bat, it seemed. Everyone focused on the dingers.
Neither of that applies to Judge. He's not established and he's not hitting home runs regularly. Is he striking out so much because he's overmatched by big league pitching? Is he being too aggressive? Too passive? Could it really just be a slump? Judge had a pretty nasty slump in Triple-A back in May, remember, plus he struck out a ton when he first got to Triple-A last year. It's not like he's never done this before. He's just never done it in MLB.
The Yankees are in charge of overseeing Judge and helping them through these early-career struggles. And by the Yankees I mean Joe Girardi, the coaching staff, and even the other players. Everyone. It's a team, not a group of individuals. There's some level of responsibility up and down the organization. The club has to balance what's best for Judge and what's best for the Yankees overall, and those aren't necessarily the same things.
"I think he's handled it pretty well," said Girardi to Chad Jennings yesterday when asked about Judge's strikeouts. "He's going through a tough time and mechanically, I think he's a little bit off. We're trying to get him back on track. We got to help him get through it, that's all. We got to help him fight through it. We know he was the ability and we believe he can do it."
The Yankees are, improbably, still hanging around the wildcard race. They're 3.5 games back with 26 games to go, which makes this Judge stuff all the more difficult. If the Yankees were, say, 15 games out and cruising to 90 losses, they could let him play as much as they want. But with a postseason spot not completely out of reach, they have to find a balance between Judge's development and putting the best team on the field.
Right now it doesn't seem the best possible lineup includes Judge. His defense is an asset — he made two very nice plays yesterday, one on a dive forward and another at the wall — but enough to overcome all the contact-less at-bats? I don't think so. The Aaron Hicks injury leaves the Yankees short an outfielder, though they still have Rob Refsnyder, Tyler Austin, and Eric Young Jr. available. Mason Williams figures to be along soon enough too.
At this point scaling back on Judge's playing time has to be under consideration, even though he's a young player and young players generally need all the at-bats they can get. Sometimes it makes sense to give them a breather though. I'm not saying sit Judge indefinitely. Not at all. But maybe let Girardi pick his spots with the kid the rest of the way. There are two big factors to consider here.
1. Confidence. Judge is human. A massive human who wields a baseball bat like a toothpick, but a human nonetheless. His confidence has to be down right now. You'd never know it by talking to him — Judge is definitely a gentle giant, he's stoic and relentlessly positive — but it's only natural. Fail at something this much and I think anyone would be a little down on themselves.
"I just feel like, if I stick to what I'm doing, everything is going to work out," said Judge to Jennings yesterday. "There's a little learning curve wherever you go, at every level. You just try to make that adjustment as quick as you can. For some people, it takes a little long. For some people, a little shorter. Just try to make that adjustment."
I'm not a big believer in confidence potentially derailing a player's development — if a guy's confidence crashes that hard, he probably wasn't going to make it anyway — but it's not something that can be ignored either. You want Judge in the right frame of mind so he can make whatever adjustments he has to make. He's not going to tell you his confidence is down, so it's up to Girardi to look for signs (body language, etc.) and take action.
2. Opposing pitcher. This is kind of a big deal. The Yankees are facing Cy Young candidate Aaron Sanchez and his filthy mid-90s sinker that runs all over the place tonight. It wouldn't be a bad idea to sit Judge against Sanchez. That seems like a bad matchup. But Alex Cobb and Matt Andriese this weekend? Turn him loose. Give Judge a chance to get comfortable against pitchers who aren't going to blow him away, then take it from there. Hope he experiences some success and builds on that, you know?
If you're drawing conclusions about Judge's career and potential based on these first 20 games, just stop. It doesn't work like that. This goes both ways too. Judge isn't a bust because he struck out a bunch these last few weeks and Gary Sanchez isn't a Hall of Famer because he won AL Player of the Month in his first month as an everyday player. Judge's and Sanchez's long-term potential didn't change in August. Only the perception of it did.
Judge's adjustment period has been more difficult than I think anyone expected. His at-bats are getting cringe-worthy, and when there's a two-strike count, you almost want to look away. The Yankees have to come up with a plan to get Judge through this slump while also putting the team in the best chance to win these last few weeks, and while that won't be easy, it will be crucial. Judge is of great importance to the Yankees long-term.