The Yankees made it official prior to last night's game, announcing Adam Warren has moved back into a bullpen role after the team used a six-man rotation for a week or so following Ivan Nova's return. "It's a tough decision because he's pitched so well but it's what we need to do," said Joe Girardi to reporters. Warren led the non-Nova starters with a 3.59 ERA (110 ERA+) at the time of his demotion, by the way.
The move is not at all surprising. The Yankees are unwilling to take the ineffective CC Sabathia out of the rotation — "That's not something that we're considering at this moment. We're going to continue to give him every opportunity to work through this for the foreseeable future," said Brian Cashman to Wally Matthews — and Warren has had success in a relief role before, so back to the bullpen he goes. It was an easy move and completely expected.
I don't agree with the decision to move Warren into the bullpen for a few reasons, first and foremost because he's still reasonably young (27) and I'd like to find out if he can be a long-term rotation fixture, not just a stopgap. The Yankees have been desperately waiting for a young starter to emerge basically since Nova debuted, and here they might have one. Now we won't get to find out whether Warren can be a long-term part of the rotation.
Even though I don't agree with the move, it's time to play devil's advocate and look at some reasons why Warren is better off in the bullpen, and why the Yankees are better with him in that role. There are two sides to every story. Time to look beyond the "Warren doesn't deserve to lose his rotation spot" angle.
Workload Concerns
Might as well start here since this is the easiest. Warren has already thrown 85.1 innings this season, more than he threw last year (78.2) or the year before (77). Furthermore, Warren averages 3.93 pitches per plate appearance. That's the tenth highest rate in baseball and well above the 3.80 P/PA average. Measuring Warren's workload through his raw innings total is a little deceiving because his innings tend to be long innings, at least longer than league average.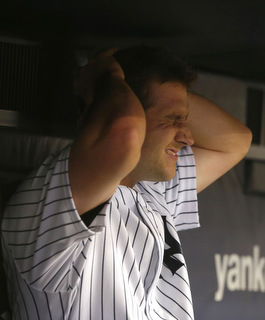 Warren's career high is 155 innings set back in 2012. He threw 155 innings that year and 152.1 innings the year before that, so pitching deep into the season won't be a new experience for him. And Warren's not some 21 or 22-year old prospect either, the Yankees can turn him loose more easily than they could someone like Luis Severino. That said, fatigue is always possible. You don't run marathons at ages 23-24, scale back to jogging a few miles a week from ages 25-26, then jump right back into a marathon at age 27. I mean, you can try, but your body won't like it.
Regardless of whether you agree with their tactics, the Yankees have shown they will do whatever they can to control workloads and keep their pitchers healthy. Warren is older, yeah, but he's also under team control through 2018 and they have plenty of reasons to try to keep him healthy. He's on pace for 175-ish innings this year and he might run into a wall at some point in the second half, and if he does, his chances of injury increase. Pitching leads to injuries in general. Pitching while fatigued is even more dangerous.
"My arm has felt great, but it's only half the season," said Warren to Chad Jennings. "I was talking to somebody about this last night; the inning issue is tough, because you usually don't know how much is too much until it's too late and you get hurt. I am glad that they're looking after my health and trying to take care of me. That means a lot to me. But how do know how many innings you can throw? It's hard to say."
Regression Coming?
I've come to hate the word regression because it's become a lazy substitute for actual analysis, but dammit, sometimes you actually have to use it, and this is one of those times. Warren has pitched very well overall this season (3.48 ERA and 4.10 FIP) and yet there are still some reasons to think he won't continue to perform this well as the summer marches on. He's a … dun dun dun … regression candidate.
Starting with the basics, Warren's strikeout rate is not good at 16.1% (MLB average is 20.1%), and that's especially true against lefties: Warren has struck out just 12.2% of the left-handed batters he's faced this season. That's really bad. Really, really bad. Warren's walk (7.8%) and home run (0.84 HR/9 and 8.9 HR/FB%) rates are right in line with his career averages (8.1% and 0.90/10.1%), but his ground ball and fly ball rates are trending in the wrong direction: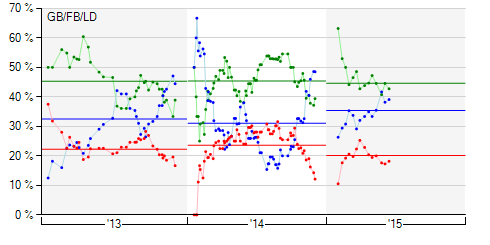 The green line is Warren's ground ball rate and the blue line is his fly ball rate, so he's been getting fewer grounders and more fly balls of late. Fly balls aren't necessarily a bad thing, they go for hits less often than ground balls (but go for extra bases more often!), but Warren has also given up more hard contact as the season has progressed — he went from a 23.5% hard contact in April to 25.6% in June. So it's not just more balls in the air, it's more hard-hit balls in the air. Not good!
Assuming Warren's performance will take a step back as his workload increases seems like a decent bet, I mean that happens to many pitchers each year, and the league will also get more looks at him as well. Both the Red Sox and Orioles have already seen Warren twice this year and had more success the second time, for example. (At the same time, the Rays and Tigers have seem him twice and Warren was more successful the second look, so who knows.) The general inability to miss bats and the increase in the number of hard-hit air balls are legitimate red flags however, especially as the workload grows.
Bullpen Upgrade
The Yankees didn't send Warren to Triple-A. It's not like they dropped him from the roster. They sent him to the bullpen, where he was quite effective the last two years in different roles. He had a 3.39 ERA (4.32 FIP) as the long man in 2013, which made him the Tom Seaver of long relievers. Last year Warren had a 2.97 ERA (2.89 FIP) in kind of a bullpen handyman role. He was a setup man, a multi-inning middle reliever, occasionally a long man, and heck, he even picked up three saves. Whatever Girardi needed, Warren did it.
Warren came out of the bullpen in a high-leverage spot last night, and he figures to take over as Girardi's primary right-handed setup man until Andrew Miller returns from the DL. The Yankees have been looking for a righty reliever to do what Warren did last year, and now Warren will again fill that role. Chasen Shreve and Justin Wilson have been fine setup relievers. Add Warren to that mix and the bullpen has a little more balance and much more depth. Pair Warren with healthy Miller, and the Yankees might actually have that superbullpen they were dreaming about coming into 2015.
* * *
As I've said, I think the Yankees made a mistake by taking Warren out of the rotation, but what's done is done. His workload going forward is definitely something to monitor, and there are some red flags in his contact rates and quality, so there are a few reasons to think his performance as a starter was going to get worse as the season progressed, not better (or even stayed the same). Plus he'll be a huge asset in relief. The bullpen is definitely stronger now than it was without Warren. There are absolutely some benefits to the move even if the demotion is completely undeserved.