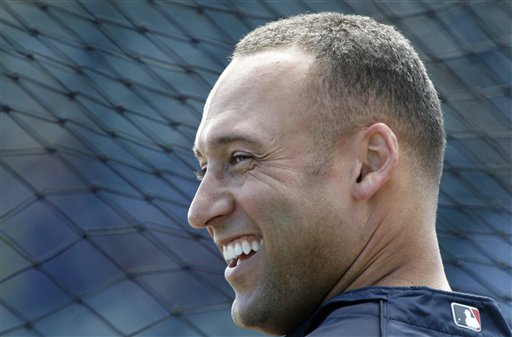 As the season draws near, the big story isn't whether or not the team can successfully defend their World Championship, but how the Derek Jeter's contract situation will play out after the season. And they say Yankee fans are too focused on the now. We've already discussed it ad nauseum here, addressing issues like the possibility that Jeter will ask for six years, or an ownership stake, and that extending him now would be a mistake. Mike Vaccaro came up with another angle today, saying that the Captain's next contract has already cost them a shot at their shortstop of the future.
As you probably remember, the Yanks had their more than fair $8.5M offer to Cuban shortstop Adeiny Hechevarria rejected over the weekend because the 20-year-old had concerns about how he would fit into the organization with Jeter entrenched at his favorite position. He instead headed north of the border to Toronto, who paid him $10M and offered him a crystal clear picture of how he fit into the organization's future.
Of course, in the grand scheme of things I doubt Jeter's presence mattered. Chances are Hechevarria would have taken the extra $1.5M from the Blue Jays regardless of who the Yankees had at shortstop. After improving his defense considerably the last two years, there's no immediate need to move Jeter off of the only position he's ever played as a professional, so the need for a fill-in is lessened, at least at the moment. There's always the chance of a Roberto Alomar fall from grace, but it would be a shock to everyone if things played out like that, Jeter and the Yankees included.
I'm not going to fret about Jeter's inevitable extension costing the Yanks a chance at Hechevarria, there's more than one way to find a shortstop of the future after all. And besides, this was a rather unique situation. Players with the kind of profile and hype as Hechevarria are the exception, not the rule. The organization seems to be making nothing but smart baseball decisions these days, so I"m confident they'll find a more than adequate way to replace Jeter at short when the time comes. Whether that's through the draft, or a temporary stop-gap solution, or a big money free agent signing, I don't know. I would be surprised if they get caught off guard and end up having to run Ramiro Pena out there 150 games a year.
The Yankees and Jeter will reach an agreement on a new contract after the season, I'm 99.9999% sure of it, and chances are they're going to overpay him (possibly grossly) for past contributions. It's not an ideal situation, but the Yankees are one of the few teams able to overpay a homegrown star like that, plus the negative PR that would come from anything but a new deal would be staggering. Jeter knows this, and he also knows that New York is the best place for him, both in terms of marketability and where he is at this point of his career.
Photo Credit: Gene J. Puskar, AP