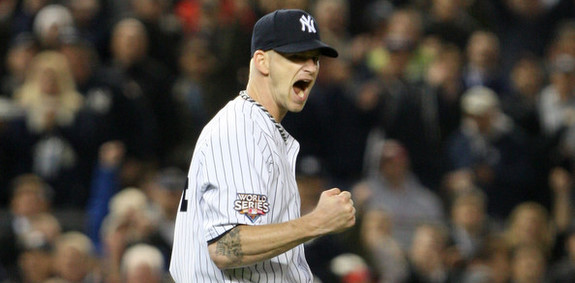 The Yankees said goodbye to A.J. Burnett over the weekend, eating a big chunk of the $33M left on his contract in order to send him to the Pirates. He seemed like a nice enough guy but was one of the most frustrating pitchers to watch that I've ever seen, and while we appreciate his contributions to the 2009 World Championship, none of us are going to lose sleep over his departure. It's just the way it is.
A.J. did have some fine moments as a Yankee, though over the last two seasons the team had a knack for giving him zero run support whenever he did throw a gem. Of the 12 times he threw at least seven innings and gave up no more than two runs since the start of 2010, the Yankees lost four times. That's just not supposed to happen with this offense and bullpen. Anyway, we're going to look back at Burnett's five greatest starts as a Yankee using a simple metric called Game Score. Wikipedia has the nuts and bolts, if you're interested. Fifty is an average Game Score, and the highest ever recorded was Kerry Wood's 20-strikeout game (105). Anything above 75 or so is pretty stellar.
Game Two of the 2009 World Series does not make this list; it was the eighth best start of Burnett's three years in the Bronx with a Game Score of 72. That said, it was easily his biggest moment as a Yankee given the pressure and everything riding on that game. As you'll notice, four of Burnett's five best games came back in 2009, which isn't surprising given how awful he's been over the last two years.
5. July 27th, 2009 @ Rays (box) (video) (RAB recap)
Pitching Line: 7 IP, 2 H, 1 R, 0 ER, 2 BB, 5 K, 114 pitches
Game Score: 74
The Yankees were in cruise control by this point of the season, already well on their way to clinching the AL East title in late-July. The lineup gave Burnett an early three-run cushion by starting the second inning with a single, a double, and a triple off Jamie Shields, allowing their right-hander to pitch around baserunners in the first (walk), second (walk), and third (single) innings. A.J. was perfect in the fourth and fifth before allowing a run to score on an Evan Longoria ground ball double play in the sixth.
The Phils – Coke and Hughes – were both unavailable that night, so the bullpen was pretty thin. Joe Girardi sent Burnett back out for seventh with his pitch count already over the century mark, but he got three outs on just ten pitches. He gave up only two ground ball singles (one towards third and the other between first and second), though he did allow one other baserunner when B.J. Upton reached base on a wild pitch following a strikeout. The offense blew things open late and the Yanks sailed to an easy win.