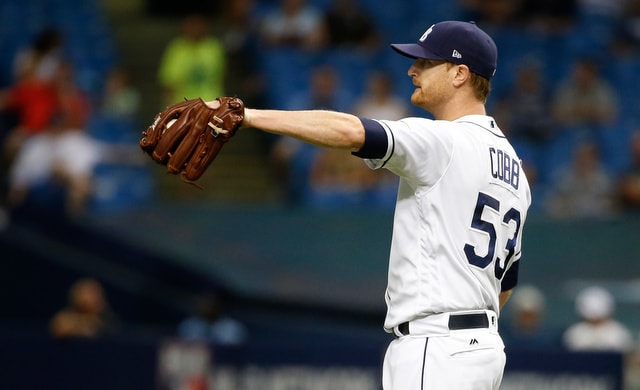 Opening Day is only two weeks and three days away now, and the final few notable free agents are starting to land contracts. Over the weekend Mike Moustakas (one year, $6.5M), Lance Lynn (one year, $12M), and Jake Arrieta (three years, $75M) all agreed to deals that are undoubtedly smaller than they hoped coming into the offseason. It was a tough winter for free agents.
The Yankees signed only one free agent to a guaranteed Major League contract this offseason (CC Sabathia) but they were connected to a bunch. Moustakas, Lynn, Yu Darvish, Neil Walker, Alex Cobb … the Yankees seem to check in on everyone at some point. They just didn't actually sign anyone aside from Sabathia, even with $22M in payroll space remaining under the $197M luxury tax threshold. That's a pretty nice chunk of change.
The Yankees are reportedly planning to set aside $10M of that $22M for midseason additions, though the way things are going right now, they could end up taking all $22M into the season. There simply aren't enough quality free agents still available. The way I see it, there are only three free agents worth a guaranteed contract still on the market:
Alex Cobb
Greg Holland
Neil Walker
Yeah, the Yankees could throw a million bucks or two at someone like R.A. Dickey or Trevor Cahill, but those guys don't move the needle much, if at all. Cobb, Holland, and Walker are potential impact players and they would chew up a sizeable chunk of that $22M in payroll space, should the Yankees reel one of them in. A few thoughts on this.
1. Holland doesn't make any sense for the Yankees. Holland had a 3.61 ERA (3.72 FIP) last year — it was a 6.38 ERA (4.99 FIP) in the second half — in his first year back from Tommy John surgery, and it's not unreasonable to think he'll be better this year as he gets further away from elbow reconstruction. He still might only be the Yankees' seventh best reliever though. Giving precious luxury tax payroll dollars — not to mention forfeiting two draft picks and $1M in international bonus money — to another reliever with his bullpen doesn't make sense to me. Not the best use of limited resources.
2. Walker is still kinda sorta maybe a fit. The Yankees reportedly discussed a deal with Walker before the Brandon Drury trade, and they could still bring him in to play second base. Tyler Wade is the presumed starter at the position right now, and while I am a pro-Wade guy, the safe bet is Walker being the more productive player in 2018. The Yankees could throw him a few million bucks, use Wade as a super utility guy, and enjoy the depth. Unlikely? Yes. Possible? Yeah, sure. If the Yankees are really eager to spend some of that $22M, Walker remains a possibility.
3. Okay, so why would Cobb come to New York? Clearly, Cobb is the Yankees' best option among the remaining free agents. They've been looking for a starter all winter and he is now by far the best available starter. Lynn set the market for Cobb, not Arrieta. He's looking at a one-year contract in the $12M range. Maybe he can secure multiple years now that supply and demand is working in his favor, but it seems unlikely.
Aaron Boone named Jordan Montgomery his fifth starter a few days ago but he left some wiggle room there — "I viewed it as he was a front-runner for that spot … When I look at him I look at him as one of our starters," said Boone to George King — and besides, plans can change. Signing Cobb and stashing Montgomery in Triple-A is a perfectly reasonable plan to me. The more pitching depth, the better.
The question isn't whether Cobb is a fit for the Yankees. It's whether the Yankees are a fit for Cobb. If he ends up taking a one-year contract, why would he come to Yankee Stadium and try to build value going into free agency next winter? Yankees Stadium is not a pitcher friendly. It's not impossible — Hiroki Kuroda joined the Yankees on a one-year deal back in the day — it just seems like Cobb would have other options that better suit him.
The Yankees could, of course, blow him away with an offer and make the Yankee Stadium thing moot. Because payroll dollars this season are finite, any "blow you away" offer would presumably be a multi-year deal. Eh. Are the Yankees really going to wait all this time to get Cobb at the discount only to give him multiple years? Seems to defeat the purpose. In that case they could've signed him weeks ago to ensure he had a normal Spring Training.
I have some concerns about Cobb, specifically last year's decline of his trademark splitter. And as I said in the chat last week, I keep going back and forth on him. He'd help because he's a quality big league starter, but I wouldn't lose any sleep if the Yankees miss out. Same with Lynn. I dunno. At this point, I think it's obvious Cobb is the best place for the Yankees to spend some of that $22M in payroll space. That doesn't make him a must sign, however.
4. What about in-season additions? Luxury tax hits are pro-rated when you acquire a player during the season, so that $22M equals a lot of wiggle room come the trade deadline. Right now the Yankees can take on $22M in contracts and stay under the luxury. At the halfway point of the season, they could add $44M in contracts because the pro-rated tax hit would be $22M. That is the overly simplified math, but that's the idea.
Baseball uses a 186-day calendar now, so that $22M works out to $118,279 per day, basically. On Opening Day, the Yankees would be able to add $22M in contracts and still stay under the luxury tax threshold. On the second day of the season, it would be $22,118,279. On the third day it would be $22,236,558. On the fourth day it would be $22,354,837. So on and so forth. That adds up quickly. The $22M in luxury tax space would allow the Yankees to take on significant salary at the trade deadline (Cole Hamels? Jeff Samardzija? Danny Duffy?).
* * *
At this point, the Yankees are running out of places to spend their money in free agency. Signing Holland seems like it would be spending money for the sake of spending money. Walker at least makes some sense for the roster. Cobb makes the most sense of all, and he might try to avoid Yankee Stadium if at all possible. (My guess is he winds up with the Brewers or Mariners.) There aren't any other free agents out there worth committing real dollars too at this point.
We've all been waiting (and waiting) for the Yankees to spend some of their remaining luxury tax payroll dollars, but it hasn't happened yet, and with each passing day it seems less and less likely to happen. They very well might take all that luxury tax space into the season to set themselves up for a splash at the deadline, and hey, that's great. The more salary you take on in a trade the less you have to give up in prospects, in theory. Right now, if the Yankees don't sign Cobb, there doesn't seem to be anyone else worth signing. Bank that money for the trade deadline.