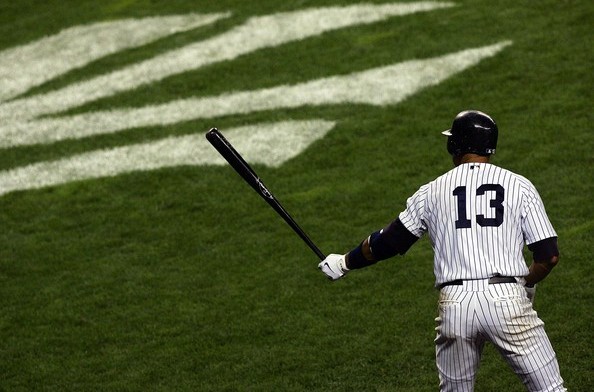 I still remember exactly where I was when I found out the Yankees acquired Alex Rodriguez. There aren't many baseball moments I remember vividly, but that's one of them. I was still in college and I was out at dinner with the girl I was dating at the time. We were at Applebee's (classy!) and one of the televisions at the bar was on ESPN. The trade scrolled across the ticker. That's how I found out A-Rod was a Yankee. (I'm pretty sure I've told that story before.)
Now, more than 12 eventful years and 1,500 games later, the A-Rod era is coming to an end. Alex will play his final game as a Yankee tonight — likely the final game of his career as well — after winning one World Series, two MVPs, and more regular season games than I care to count in pinstripes. This past calendar year is the first time Alex was something less than immensely productive as a Yankee.
This is a bittersweet day. A-Rod is one of my all-time favorite players and I'm sad to see him go. At the same time, he's at the end of the line, and the Yankees are better off without him going forward. This goodbye had a chance to get really ugly. I wouldn't call the last few days pleasant, but things have gone about as well as we could have hoped. Rodriguez is getting something of a grand send-off today.
The Yankees do indeed have a pre-game ceremony planned. They asked fans to be in their seats at 6:50pm ET, and tonight's game is not scheduled to start until 7:35pm ET. I would be surprised if the Yankees announced they are retiring No. 13 — they haven't even announced they're retiring No. 2 yet — or giving Alex a plaque in Monument Park, but who knows. I'm sure it'll be fun either way.
After the ceremony, the Yankees will play the first of three games against the Rays. A-Rod played his first ever game as a Yankee against the (Devil) Rays, you know. That was back in 2004, during that two-game trip to Japan. He went 1-for-4 with a double. That was a long, long time ago. Here is tonight's Rays' lineup and tonight's Yankees' lineup:
DH Alex Rodriguez
RF Aaron Hicks
LHP CC Sabathia
The weather in New York positively sucks today. It is disgustingly hot and humid, and there's some rain in the forecast pretty much all night. Hopefully it holds off for A-Rod's final game the way it did for Derek Jeter's final game two years ago. The game will air on YES locally and FOX nationally. Enjoy.