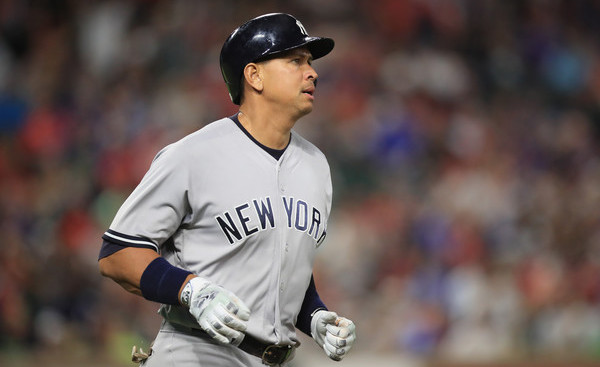 The Yankees placed Alex Rodriguez on the 15-day DL with a right hamstring strain this afternoon, the team announced. Left-hander James Pazos has been called up to fill the roster spot on what I assume is a temporary basis. No 40-man roster moves are required or anything like that.
A-Rod left last night's game after coming up lame running out a ground ball in the fifth inning. Here's video of the injury. Rodriguez was replaced by pinch-hitter Dustin Ackley in the eighth inning, and the Yankees sent him for an MRI this morning. There's no word on the severity of the strain just yet. Is this a two weeks thing or a two months thing?
The fact the Yankees called up a reliever — they're two days into a 20 games in 20 days stretch — indicates they will play Ackley and Aaron Hicks more going forward, with the veteran regulars rotating in and out of the DH spot. Despite his slow start, I'm ready to see what Hicks can do on an everyday basis. I say run him out there full-time with A-Rod out.
The Yankees could and likely will call up another position player like Rob Refsnyder or Ben Gamel (or Aaron Judge or Nick Swisher) and get back to a normal four-man bench at some point during this 20-day stretch. For now, having the extra left-hander in the bullpen will be nice against the lefty heavy Orioles and Red Sox this week.
Rodriguez is only hitting .194/.275/.444 (100 wRC+) on the season overall, but he's gone 7-for-20 (.350) with three home runs in his last six games, so he was heating up. The Yankees need all the offense they can get right now. A-Rod missed a few games but was able to avoid the DL after tweaking his oblique taking swinging in the batting cage between at-bats last week.