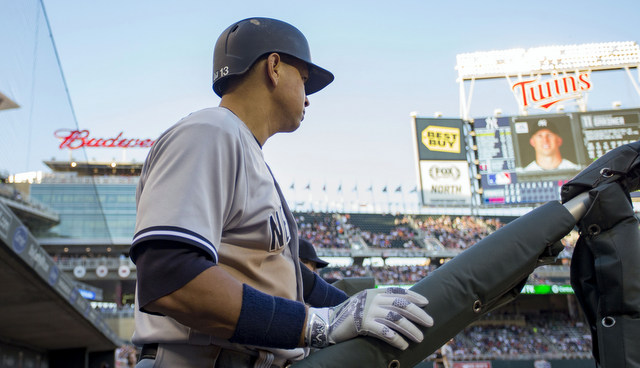 Though both just ended, the NBA and NHL playoffs can seem interminable. Despite the general excitement of playoff hockey–how do people watch that with a rooting interest and not die of a heart attack? My god–and playoff basketball, the postseaon s for both sports drag from April to June. But then we look at baseball and realize that barely half the season gets played in that same amount of time. And while it's relatively short in baseball terms, a lot can change both on the team and individual level.
Back in April, Alex Rodriguez was struggling to catch up to fastballs, a trend that was contrary to what he'd done in 2015. The first three months of the season have given history a chance to repeat itself, as A-Rod is back to his 2015 form in terms of his results against certain pitch types.
Any pitches this year with even a modicum of movement have absolutely abused Alex and his bat, on the occasions he's managed to make contact with. So far this season he has whiff/swing rate of 42.11% on sliders and 38.46% on curveballs. The struggle to make contact isn't apparent on just moving slow pitches, as against cutters, Rodriguez is whiffing on 47.83% of his swings. The only pitch he makes less contact per swing against is the changeup–48.48% whiff/swing.
Against harder stuff like fastballs and sinkers, Alex's made more contact, keeping his whiff/swing rates at 29.03% and 18.75% respectively. Additionally, he's done his damage against those pitches, smacking them for line drives 33.33% and 24.32% of the time he puts either in play. Against fastballs, he's hitting .290 with a .174 ISO; against sinkers, the marks are .250 and .325. Seven of his eight home runs (three against fastballs, four against sinkers) have come against those two pitch types; the other came against a changeup. That home run against the change up is one of just two extra-base hits Alex has against offspeed pitches the entire year. The other, a double, also came against a changeup. He has just four hits against either curveballs or sliders, with all of them coming against sliders. None have gone for extra bases.
So after prodding this dark spot on the X-Ray, what can Rodriguez do to improve? We could easily say he should be more aggressive and try to attack fastballs early in the count. But, there's evidence he's already done this. His walk rate is a career low 5.9% and he's seeing just 3.7 pitches per plate appearance, a change from last year when he was seeing 4.04 P/PA. Any other advice I could offer as an outside observer–shorten your swing! Just take more breaking balls!–is much easier said than done. However, in baseball as in life, the simplest answer is often the right one and it just might be that Alex is too old now and he can't recognize the spin of a non-fastball anymore. If that's the case, there's no much to do but hope he keeps running into the occasional fastball.