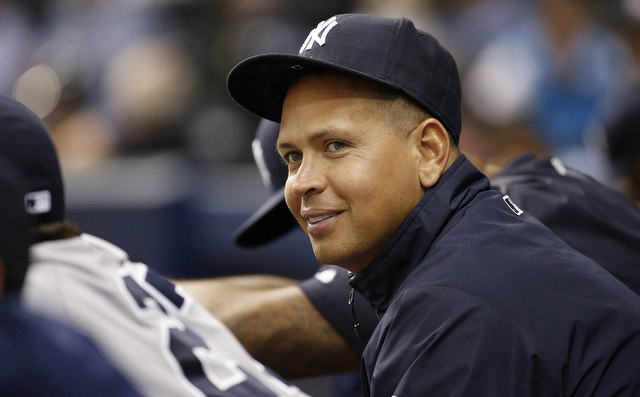 What a difference a year makes, huh? Last season Alex Rodriguez was coming back from his 162-game Biogenesis suspension and no one knew what to expect. How would a soon-to-be 40-year-old with two surgically repaired hips perform after missing a full season (close to two full seasons, really)? Quite well, it turns out.
A-Rod hit .250/.356/.486 (129 wRC+) overall with 33 homers in 2015, which was truly best case scenario stuff. I think each and every one of us would have happily signed up for that before the season. Rodriguez did slump in the second half like most Yankees, but, overall, he was a middle of the order force and a big reason why the team managed to qualify for the postseason.
This season has been a much different story. Rather than come to Spring Training as a complete unknown, Rodriguez came to camp with the Yankees counting on him to provide power and a steadying middle of the order presence. It hasn't happened. A-Rod owns a .204/.252/.356 (56 wRC+) batting line with nine homers in 234 plate appearances around injuries and benchings.
The Yankees have not so gradually started scaling back A-Rod's playing time. For a few weeks they benched him against righties, and these days they bench him against pretty much everyone, so much so that Gary Sanchez is expected to be called up today to DH against lefty Steven Matz. Alex can't play the field at all, and now if he's not trusted enough to start against lefties, what purpose does he serve? None. He serves no purpose.
It's no surprise then there's been talk the Yankees may release A-Rod at some point in the second half. The team denies it because what else are they supposed to do? "I know it's been tough on him. But he's been a pro and working his tail off," said Brian Cashman to reporters earlier this week. Now that Carlos Beltran is gone and the Yankees are in sell mode, chatter about cutting Alex is only going to grow louder. What's the right thing to do?
The Case for Cutting A-Rod
This is the easy one so we might as well start here. The case for cutting A-Rod comes down to two things: his lack of production and his lack of flexibility. He's hitting .198/.276/.367 (71 wRC+) in 446 plate appearances since August 1st of last year, so this isn't a small sample. For a DH, those numbers are putrid. There's a minimum acceptable standard on offense and Alex ain't meeting it, especially relative to position.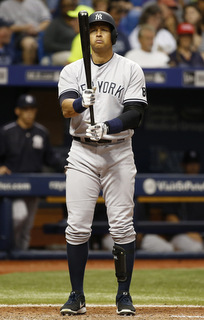 Defensively … well there's not much to talk about. A-Rod hasn't played even one out in the field since last May, and although he's been working out at first base lately, there's no indication the Yankees will actually use him there. Rodriguez almost got into a game at third base in San Diego a few weeks ago, though that was an emergency situation in the late innings. It didn't happen. The game ended before he could return to the hot corner.
A DH who can't hit or play the field in something more than an emergency is useless. It's a dead roster spot. Cutting A-Rod frees up a roster spot and playing time for one of the many kids the Yankees have in Triple-A. We're not talking about Shelley Duncan types here. Sanchez figures to be the catcher of the future. Aaron Judge figures to be the right fielder of the future and Tyler Austin is looking to carve out a role as well. Moving on from A-Rod creates an opportunity for players who will part of what we hope is the next great Yankees team.
The Case for Keeping A-Rod
This is a much tougher argument to make, and honestly, I'm not sure I can do it. I'm going to try though. Here are three reasons it may be wise for the Yankees to hang on to Rodriguez in the second half.
1. A-Rod could always get hot. The Yankees traded Beltran, by far their best hitter, at the deadline in one of their "seller" trades. Their best hitter is now, uh, Didi Gregorius? Maybe Brian McCann? That's not so great. Despite his down year, A-Rod is still insanely talented, and with Beltran gone, the DH spot is wide open. Alex still has the ability to get hot and carry a team for a few weeks, and the Yankees are going to need someone to create runs. I'm not sure Rodriguez can bounce back at this point, but I've bet against him before and he's made me look silly pretty much every time.
2. He's closing in on 700 homers. Right now A-Rod is sitting on 696 career homers, meaning he's only four away from becoming only the fourth member of the 700 home run club. That is pretty incredible. It's historic. It really is. We may never see another player reach 700 homers in our lifetime. It's also very marketable. I don't know the numbers, but I'm willing to bet attendance and ratings are down this season, and A-Rod's pursuit of 700 homers could help the Yankees sell some tickets and improve ratings down the stretch. They would actually have to play him regularly for the chase to be interesting, of course.
3. He can be a mentor to the team's young players. A-Rod has long had a reputation for being a leader in the clubhouse and a great mentor to young players. He's a preparation and workout freak, and he makes sure the young guys put in the work that is necessary to excel at the MLB level. "I'm a teacher at heart," he told Joe Lemire yesterday.
Alex is one of the most talented players in baseball history, and seeing someone that talented do that much prep work really drives home the point of just how hard it is to be a good big league ballplayer. Coasting on talent isn't an option. The Yankees have a lot of young players on the cusp of the show and, with Beltran gone, A-Rod is someone who can take them under his wing and show them the ropes. He may not hit anymore, but Alex's leadership has value that can't be quantified.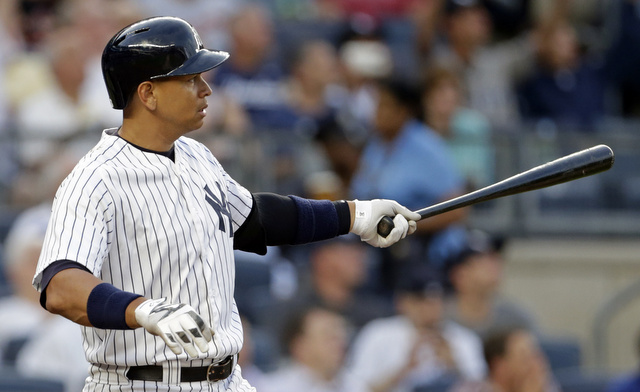 Is the 700th home run pursuit and leadership enough to keep A-Rod on the roster? It may not seem so to you and me, but the Yankees could feel otherwise. They know much more about his intangible value as a marquee player and mentor than we ever will. All we see is the on-field performance, which this year means a total lack of production. Like I said, a DH who can't hit or play the field occasionally is not worth a roster spot.
My guess is yes, the Yankees have indeed kicked around the idea of releasing A-Rod, but they're not ready to commit to that just yet. Rosters expand four weeks from tomorrow, and I think the team will ride it out with Alex until September 1st, when it'll be more easy to carry the wasted roster spot. If he smashes his 700th home run between now and then and mentors some young players, great. They'll reassess his place on the roster in the offseason.
Make no mistake though, if A-Rod were Joe Schmo and not a guy with a huge contract approaching a historic milestone, he'd be long gone by now. Teams usually don't stand for this type of production, or lack thereof. A-Rod's still on the roster because of what he's done in the past and the money still owed to him through next year, and that's generally not a good reason to keep a player around. Not when there are young players in Triple-A ready for an opportunity.