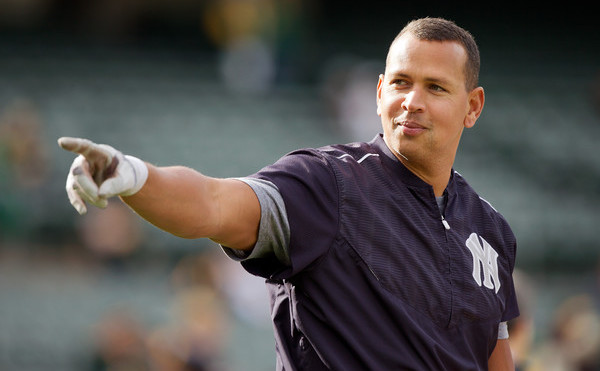 After three weeks on the shelf with a hamstring injury, Alex Rodriguez is back in the lineup this afternoon. I wouldn't say the Yankees have missed him — they went 13-7 during his absence and both Carlos Beltran and Aaron Hicks hit well — but it's good to have A-Rod back nonetheless. He hit three homers in the six games before the injury and he went deep in a rehab game last night. Hopefully Alex picks up where he left off.
As for the Yankees, their six-game winning streak came to an end last night, but that was bound to happen at some point. The important thing is that it doesn't snowball into a losing streak. The Yankees start a ten-game, four-city road trip tomorrow, so a win today to close out the homestand and clinch the series would be pretty great. Here is the Blue Jays' lineup and here is the Yankees' lineup:
CF Aaron Hicks
RF Carlos Beltran
DH Alex Rodriguez
1B Austin Romine
LHP CC Sabathia
It's a very nice day in New York. Warm and sunny with no clouds in the sky. Pretty great weather for a ballgame. This afternoon's game will start at 4:05pm ET for some reason. You can watch on YES. Enjoy.
Injury Updates: Chasen Shreve has been placed on the 15-day DL with a shoulder problem. That's not good. He's currently being evaluated He's been diagnosed with an AC joint sprain. Shreve received a cortisone shot and will not pick up a baseball for seven days … Mark Teixeira (neck) received a cortisone shot and will miss three more games. Yesterday's MRI did not show anything different from the MRI he took last month.
Roster Moves: The Yankees called up lefty Richard Bleier to replace Shreve in the bullpen. Shreve was placed on the DL and Rob Refsnyder was sent to Triple-A Scranton to clear 25-man roster spots for A-Rod and Bleier. The team has not yet announced a 40-man roster move to accommodate Bleier.