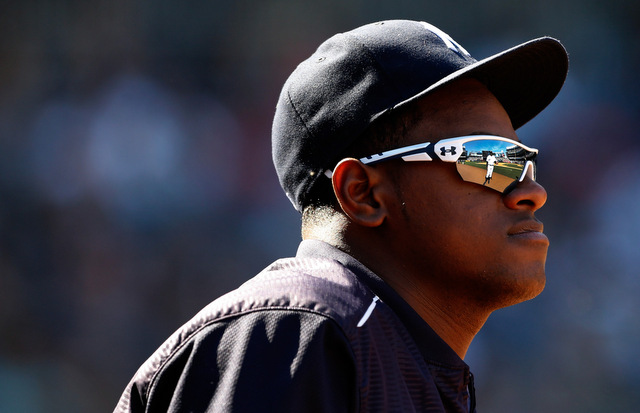 I have to admit, I'm a little surprised the Yankees are giving Luis Severino the start tonight. I know he dominated in long relief last time out, but pitching in relief against the crappy Mets is a very different animal than starting against the Red Sox in Fenway Park. The BoSox are hitting .302/.369/.493 as a team at Fenway this year. Severino is facing a lineup of Victor Martinezes tonight (.302/.357/.490).
Yesterday's off-day allowed the Yankees to delay Severino's start until Friday, when he would have had a more friendly matchup (Rays at home), but nope. He's going tonight. This is going to be Severino's biggest test (by far) since returning from Triple-A a few weeks back. Hope it goes well. Here is the Red Sox's lineup and here is the Yankees' Alex Rodriguez-less lineup:
LF Brett Gardner
CF Jacoby Ellsbury
1B Mark Teixeira
DH Brian McCann
2B Starlin Castro
SS Didi Gregorius
3B Chase Headley
C Gary Sanchez
RF Aaron Hicks
RHP Luis Severino
The internet tells me it's clear and cool in Boston this evening, so it should be a nice night for a ballgame. Tonight's series opener is scheduled to begin at 7:10pm ET, and you can watch on YES locally and MLB Network nationally. I'm guessing every game will be on national television this week because of A-Rod. Enjoy the game.
A-Rod Update: Alex will start Thursday's game and may pinch-hit tonight and tomorrow as well, Joe Girardi said. A-Rod told reporters he was "disappointed" to see he wouldn't start today or tomorrow. Lame as hell. I wanted to see him play all four of these games this week. Those seven or eight at-bats someone else won't get aren't a huge deal.
Roster Move: In case you missed it earlier, the Yankees have signed lefty specialist Tommy Layne to a big league contract. He's in the bullpen and available tonight. Richard Bleier was optioned to Triple-A Scranton to clear a roster spot … also, the Yankees claimed Blake Parker off waivers from the Mariners. He'll be added to the roster once he officially reports.