With Spring Training fully underway, it's time to begin our season preview. We're going to change things up a bit this year, focusing on various aspects of the team rather than individual players. You'll see most players in multiple posts, but the concepts will all be different.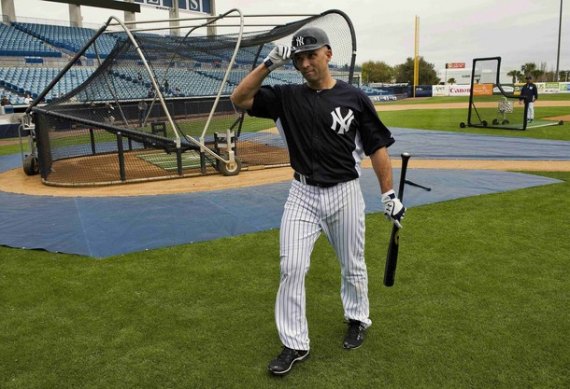 A full-time DH is something we've grown accustomed to. From Jason Giambi to Hideki Matsui to Nick Johnson to Jorge Posada, the Yankees have entered each of the previous six seasons with a guy whose only job was to hit. Yet in recent years those plans have gone awry. Last year Posada became a platoon player when his futility as a right-handed hitter became evident. Johnson got hurt within the first month of 2010. Matsui missed 63 games in 2008 with knee troubles. Giambi's injury history runs pages, including a big chunk of the 2007 season.
This year, they're trying something different. While they brought in Raul Ibanez, he's by no means the full-time DH. He'll fill a platoon role, taking reps mostly against right-handed pitchers. Against lefties, however, not only will Ibanez sit, but the lineup as a whole could see some interesting changes. The Yankees can afford to do this, because they've employed useful part-time players. They should make the Yankees more flexible in 2012.
Raul Ibanez
For most of the off-season, the idea of Raul Ibanez on the Yankees wasn't even considered. They already had a full outfield plus a DH, and a reunion with Andruw Jones seemed probable. Combine that with Ibanez's poor 2011 season, at age 39, and the idea was a complete non-starter. That is, until the Yankees swapped their young DH for a young pitcher. That opened up a roster spot, which started the discussion about which left-handed bat would best fit. From the start, though, the Yanks had their eye on Ibanez.
The hope, apparently, is not only that he can bounce back at age 40, but also that a role that pits him primarily against right-handers will help bolster his production. After all, from 2001 through 2010 his OBP never dipped below .342 against right-handed pitchers, and his SLG never dipped below .442. In 2010 he hit .277/.366/.455 against righties. Still, his numbers last year, .256/.307/.440 in 402 at-bats, don't bode well for his future. Not for a guy who turns 40 in early June.
Still, in Ibanez the Yankees have a low-cost option to whom no one is attached. That is, if he pulls a Randy Winn the Yankees can simply give him the Randy Winn treatment, DFAing him in May if it comes to that. (And who knows, by that point Johnny Damon might still be available.) Given his age and performance, it's tough to expect much from him.
Andruw Jones
Last year, it appeared that Jones was on his way to being 2011's Winn. In 2009 and 2010 Jones started strong, but his production started to dip in May. In 2011 he never even got that head start. By the All-Star break he was hitting .195/.278/.356 in 97 PA. The lack of production combined with the minimal playing time portended an imminent release — perhaps after the Yankees acquired a replacement on the trade market.
Jones made some adjustments, thanks to a call from his mom, and tore through the second half. He started 31 games, got into 41, and hit .291/.416/.612 in 126 PA. This year he's back, as he says, to take someone's job. That could come in handy, should Ibanez falter.
It's tough to set reasonable expectations for Jones at this point. His numbers started to decline precipitously at age 30, after he he produced two of his best-ever offensive seasons at ages 28 and 29. But his numbers have been back on the rise as he enters his mid-30s. By all accounts he's a man on a mission, trimmer than ever and ready to go with a repaired left knee. Even if he is healthy and ready, can his performance scale? He had only 222 PA last year. How will he fare with double that?
Eduardo Nunez
It seems that the biggest controversies arise over part-time players. Is Eduardo Nunez a future starter? Is he inadequate, given his defensive miscues, for even a reserve role? Yankees fans debate Nunez far more than his playing time warrants. In his current role of backup middle infielder, he suffices. He's not without his shortcomings, but that's precisely why he's a reserve.
With both Derek Jeter and Alex Rodriguez spending time on the DL last year, Nunez did get a fair share of playing time, 338 PA in 112 games. In that time he predictably produced below-average numbers, though not horribly so; a .265/.313/.385 line amounted to an 84 OPS+. He showed some pop at times, socking over 30 percent of his hits for extra bases. Some improvement, both on offense and defense, in his age-25 season, could go a long way.
The only issue for Nunez is the same one he had last year: playing time. A big chunk of his playing time came during two spans: first when Jeter was on the DL, and then when Rodriguez was on the DL and Eric Chavez had not returned. His biggest opportunity for playing time could come against left-handed pitching. If Jones is in for Brett Gardner in left, that still leaves the DH spot vacant. Rodriguez, or even Jeter on occasion, could slide into the DH spot, leaving some playing time for Nunez.
Eric Chavez
The Yankees enjoyed Chavez's presence last year, enough so that they brought him back when it seems fairly unnecessary. During the winter the Yankees talked about getting Nunez more playing time, but Chavez only eats into that. While he does provide a left-handed look off the bench, something they might not have if Ibanez has been in the lineup that day, his overall role remains difficult to decipher.
Basically, Chavez's role is Rodriguez insurance. If he needs days off against righties, then maybe Chavez gets more playing time. But how many days off is Rodriguez really going to get if he's healthy? It seems, then, that Chavez is there in case Rodriguez gets hurt — which is not an ideal role for him, since he himself gets hurt frequently enough. He might be a nice player to have around, but it's hard to envision his role on the 2012 Yankees.
Francisco Cervelli
Cervelli is what he is: a backup catcher. There's really not much more to say than that. He has some defensive issues, sure. Just as he over-exaggerates his fist pumps, he over-exaggerates his pitch framing. He's not very proficient at picking off base runners. But he's not quite a terrible hitter. In 2010, pressed into semi-regular duty, he hit .271/.359/.335. In 2011, as Russell Martin's primary backup, he hit .266/.324/.395. Those aren't standout numbers, but they're only slightly below average. Many, if not most, teams wish they had a backup catcher who could produce that kind offense.
* * *
In the last few years we've seen the Yankees put a greater emphasis on their bench. This allows them to be a bit more flexible. It affords veterans days off without the team losing too much production. It also allows them to use players in their optimal roles. That is, they can platoon players who need it, because they have a complementary player. Given the general state of the Yankees' starting offense, the bench might make only a one- or two-win difference in any given year. But in the dogfight that is the AL East, that can play a large role in the end-of-year standings — even more so now that winning the division is that much more important.