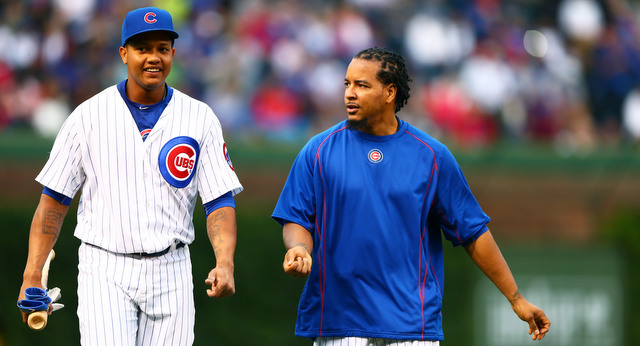 The Yankees and Red Sox continue their three-game series later tonight. So, until then, here are some spare links I had lying around to hold you over.
Start the Starlin Castro rumor mill
According to Jon Heyman, several executive are speculating the Yankees will pursue Cubs shortstop Starlin Castro due to his connection to Jim Hendry, currently a special assistant with New York who was the Cubs GM when the team signed (and called up) Castro. Just to be clear, Heyman is passing along speculation, not a hard rumor that the Yankees are pursuing Castro.
Anyway, I wanted the Yankees to acquire Castro in the offseason to play shortstop, so of course he is hitting .249/.282/.323 (63 wRC+) on the season. (Reminder: Don't ever listen to me. I'm awful.) Castro is still only 25 though, and he did hit .292/.339/.438 (115 wRC+) just last year, so it's not like there's nothing to like here. There's about $43M left on his contract through 2019 with a club option for 2020.
Castro is seen as a change of scenery guy — the Cubs surely want to put Addison Russell at short — but he's not a shortstop, his defense is terrible, so maybe the Yankees look at him for second base. If so, the move would probably wait until the offseason. I doubt they'd throw him to the wolves defensively and make him learn second on the fly a la Stephen Drew last year. Either way, my guess is we'll hear lots more about the Yankees and Castro in the coming weeks and months.
The real cost of A-Rod's 3,000th hit ball
Last week, the Yankees agreed to donate $150,000 to Pitch In For Baseball in exchange for Alex Rodriguez's 3,000th hit baseball. Noted ballhawk Zack Hample caught the ball and leveraged it into a big fat donation for a charity he supports. Good for him. Of course, there's much more to this story. Hample told Shawn Anderson the Yanks gave him a ton of other stuff in exchange for the ball as well:
"The Yankees have given me all the things they initially offered, such as meeting A-Rod, doing a press conference at Yankee Stadium, being interviewed live during the game on TV and the radio, and receiving signed memorabilia and free tickets, including tickets to this year's Home Run Derby and All-Star Game in Cincinnati." Hample told The Hall exclusively. "I will also have opportunities to write for Yankees Magazine, get a special behind-the-scenes tour to the most restricted areas of the stadium that no one in the public gets to see, get to meet the players, and more. There are certain things I've been asked not to talk about, so I need to respect that."
Geez, that was one mighty valuable baseball, huh? Give Hample props for holding out for the donation rather than taking all that cool free stuff and running. That's probably what I would have done.
2015 Draft signing updates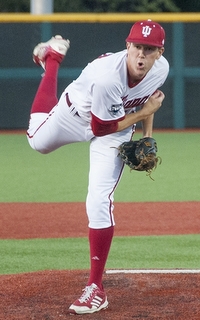 The signing deadline for the 2015 draft is next Friday, and the Yankees recently signed both UC Santa Barbara C/RHP Paddy O'Brien (24th round) and Indiana RHP Christian Morris (33rd). Morris announced his signing on Twitter while O'Brien is currently listed on the Rookie GCL Yanks2 roster. No word on their bonuses but I assume they didn't receive more than the $100,000 slot for picks after the tenth round. O'Brien was a catcher in college who the Yankees are apparently going to try on the mound because he has a strong arm.
By my count the Yankees have signed 33 of their 41 draft picks, which is an unusually large number. Teams usually sign something like 25-30 picks each year. The Yankees will make it 34 of 41 when they sign UCLA RHP James Kaprielian (1st) next week — Jim Callis backed up Heyman's recent report and says Kaprielian will get an overslot bonus in the $3M range — which I'm confident will happen. The Yankees have a bit more than $3M to spend before getting hit with penalties and there's nowhere else to spend it — the late-round overslot candidates probably aren't going to sign at this point — so that money either goes to Kaprielian or Hal Steinbrenner.
Rangers sign Andy Ibanez
Earlier this week the Rangers signed free agent Cuban infielder Andy Ibanez to a minor league contract worth $1.6M, reports Jeff Wilson and Jesse Sanchez. Ibanez, 21, was cleared to sign way back in February but took his sweet time picking a team. The Yankees had him in Tampa for a private workout in May and were reportedly interested, though they were unable to offer him anything more than $300,000 once the 2014-15 international signing period ended a few weeks ago. Ibanez is a light hitting second baseman who was expected to get upwards of $15M, though it sounds like teams didn't value him that highly. You have to think he would have topped $1.6M easily if clubs felt he was as good as the public scouting reports.
Cuban OF Guillermo Heredia cleared to sign
According to Ben Badler and Jesse Sanchez, 24-year-old Cuban outfielder Guillermo Heredia has been unblocked by the Office of Foreign Assets Control and declared a free agent by MLB, so he can sign with any team at any time. Heredia is not subject to the international spending restrictions because of his age, so the Yankees and any other team can offer him any amount.
Listed at 5-foot-11 and 180 lbs., Heredia is considered a good defensive center fielder with speed and a strong arm. Badler (subs. req'd) ranked him as the 11th best prospect in Cuba last August and said he has "similarities to a righthanded-hitting version of Red Sox center fielder Jackie Bradley," which isn't exactly a ringing endorsement these days. Heredia will work out for scouts soon.