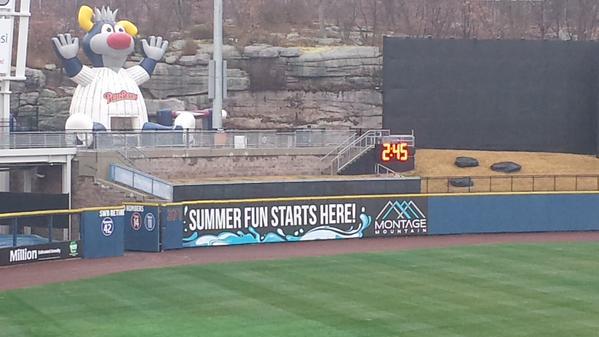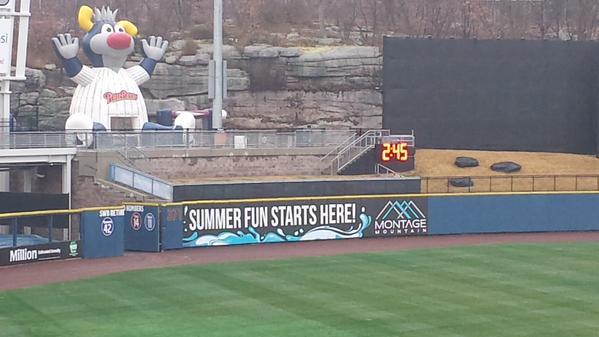 The Yankees open the 2015 regular season tomorrow, and a few days later the minor league season will get underway as well. Triple-A Scranton, Double-A Trenton, High-A Tampa, and Low-A Charleston all begin their seasons this coming Thursday. Here are some minor league notes to hold you over until then.
Opening Day assignments for top prospects
The full minor league rosters have not yet been released and won't be a few days, though Josh Norris was able to get his hands on Opening Day assignments for most of the Yankees' top prospects. The list:
Norris says the assignments could change slightly before the start of the season, but for the most part they're set. Sanchez is going back to the Thunder to continue working on his defense with coaches and ex-catchers Michel Hernandez and P.J. Pilittere, which I don't love, but there's nothing I can do about it. I assume Avelino, Katoh, and Mateo will rotate between second, short, and DH like Avelino, Katoh, and Wade did last year before Avelino got hurt. I'm little surprised Mateo is going to Charleston — he's played only games in 15 rookie ball, that's it — but the Yankees have never been shy about aggressively promoting their best teenage players. Otherwise these assignments are fairly straight forward. No major surprises.
Notes from the backfields in Tampa
Both Keith Law (subs. req'd) and Jeff Moore (no subs. req'd) recently posted a collection of notes after watching minor league games on the backfields all around Florida. Law got a look at Mateo, saying he likes "how well he keeps his hands inside the ball" and added he "liked the potential of the hit tool but was hoping to see more polish on both sides of the ball." The polish will come. It's only Spring Training and Mateo is still just a 19-year-old kid.
Meanwhile, Moore saw Judge, Bird, and RHP Bryan Mitchell. "What's impressive is (Judge) seems to get a little better each time I see him. The at-bats have gotten tougher and more advanced, with a better plan each time out," wrote Moore. He also said he sees Bird as "a potential regular first baseman" and his "power is very real, more real than he gets credit for." As for Mitchell, Moore says his fastball/curveball combination "screams reliever, and possibly a darn good one."
Law still ranks Judge 23rd in latest Top 50 Prospects list
Last week, Law released an updated ranking of the top 50 prospects in baseball (subs. req'd). There are only very minor changes from his top 100 list in February, with the most notable being the addition of Red Sox IF Yoan Moncada, who slots in at No. 16. Even with Moncada joining the list, Judge stays in the same No. 23 spot because he jumped over Rockies RHP Jon Gray, who hasn't looked like himself this spring. Judge remains the third outfielder on the list behind Twins OF Byron Buxton and Cubs OF Jorge Soler. Law is the high man on Judge based on all this spring's other top 100 lists. That's cool with me.
Yankees spent $17.83M on international players in 2014
According to Ben Badler, the Yankees spent a ridiculous $17.83M on international prospects last year, easily the most in baseball. They spent more than the number two (Rays, $6.11M), three (Red Sox, $5.63M), and four (Astros, $5.42M) teams combined and more than the bottom ten teams combined ($16.9575M). Just to be clear, this is for the 2014 calendar year, not the 2014-15 signing period.
The Yankees handed out three of the five largest, six of the 14 largest, and 12 of the 40 largest signing bonuses to international prospects during the 2014 calendar year, according to Badler. We still don't have a final number for the total bonuses the Yankees handed out during the 2014-15 signing period, but the total investment is clearly going to be north of $30M between bonuses and penalties. Most of that $17.83M last year was spent on July 2nd, the first day of the 2014-15 signing period. Now the Yankees just have to turn these kids into big leaguers and tradeable prospects.
Yankees release nine more minor leaguers
The Yankees have released seven more minor leaguers according to Matt Eddy: OF Yeicok Calderon, RHP Tim Giel, OF Robert Hernandez, RHP Stefan Lopez, RHP Matt Noteware, 1B Dalton Smith, and IF Graham Ramos. Dan Pfeiffer says OF Adonis Garcia was released as well, and OF Adam Silva announced on Facebook he was also released.
First things first: no more Yeicokshots!, sadly. Hernandez was signed in January, so his stint with the organization didn't last long. Lopez led NCAA in saves in 2012 and had some potential, but he fell in love with his fastball so much in college that he lost all feel for his slider and became a one-pitch guy. The Yankees signed Giel, Noteware, and Ramos as undrafted free agents within the last two years to help fill out minor league rosters. That's about it.
Old Timers' Game coming to Triple-A Scranton
And finally, the Triple-A Scranton/Wilkes Barre franchise is holding an Old Timers' Game on June 21st, reports Donnie Collins. The event will raise money for Parkinson's disease research. "I expect the ballpark to be sold out — and standing room only. That's the goal," said RailRiders' co-managing partner to Grant Cagle to Collins. A bunch of ex-Yankees will be in attendance — not sure who, exactly — to play in the Old Timers' Game and/or mingle with fans during a meet-and-greet and autograph session. That should be fun.