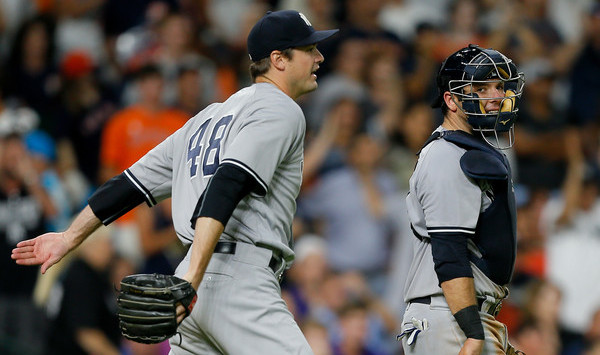 Last night the Yankees finally broke through and improved to three games over .500 for the first time this season. Tonight they're trying to move to four games over .500, which is a bit of a conundrum for #TeamSell. Aroldis Chapman has been dealt and that's great, but there are others on the roster who are more useful to the Yankees as trade chips than players in the second half. Anyway, here is the Astros' lineup and here is the Yankees' lineup:
LF Brett Gardner
CF Jacoby Ellsbury
DH Carlos Beltran
C Brian McCann
1B Mark Teixeira
SS Didi Gregorius
2B Starlin Castro
3B Chase Headley
RF Aaron Hicks
LHP CC Sabathia
It is hot, humid, and raining on and off in Houston this evening. I assume the Minute Maid Park roof will be closed. Tonight's game will begin at 8:10pm ET and you can watch on YES. Enjoy the game.
Roster Move: Adam Warren has arrived and is available tonight. Chasen Shreve was optioned down to Triple-A Scranton to clear a 25-man roster spot, the Yankees announced. There's no need for a 40-man roster move because Warren takes Chapman's spot. Also, Anthony Swarzak is wearing No. 41 now. Warren has his old No. 43 back.