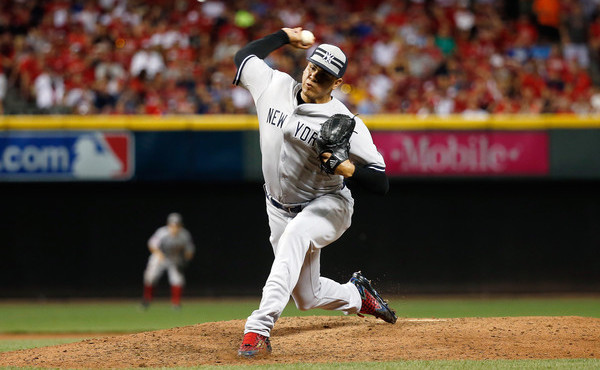 In his eight seasons as Yankees manager, Joe Girardi has made it pretty clear he likes having defined roles for his relievers. He likes having a set eighth inning guy plus a set seventh inning guy whenever possible. Every manager makes weird moves from time to time, but considering the Yankees have by far the best bullpen WPA during those eight seasons, Girardi's reliever management is among the best.
Next season Girardi will have another elite reliever at his disposal. The Dellin Betances/Andrew Miller tandem was as good as it gets in 2015, and now the Yankees have added Aroldis Chapman to the mix following this week's trade. Those three are among the five best relievers in the world by almost every objective measure. Chapman's off-the-field history is pretty ugly. On the mound, he's untouchable.
"Given the circumstances that exist, the price point on the acquisition has been modified. We felt this was an opportunity to add a big arm to our bullpen," said Brian Cashman during a conference call following the trade. The Yankees were able to get Chapman without trading a significant prospect and without subtracting from their big league roster. In pure baseball terms, it was a fantastic trade.
It remains to be seen how Girardi will deploy his new end-game arms, though I'm guessing Chapman will replace Miller as the closer. Miller doesn't seem to care, and really, there's no wrong answer. As long as both are pitching in high-leverage spots, it's fine. Girardi's a good bullpen manager. I trust he'll have his best relievers on the mound in the most important situations as often as possible.
Beyond the ninth inning, the addition of Chapman allows Girardi to be more flexible with Betances. He was already pretty flexible with Dellin, using him for four or more outs when the situation called for it, and now he'll have even more freedom in the middle innings. Girardi can use Betances for two innings today knowing he can rest him tomorrow while still having Miller and Chapman available. That sort of thing.
Dellin's workload the last two seasons and the compounding effect of all those high stress innings does worry me going forward. It's not cause for panic or anything like that, but Betances has thrown a lot of intense innings these last two years. They take a toll. Adding Chapman does figure to help lighten the load on Betances next year because there are more elite relievers to soak up the innings. Justin Wilson was great, but he's not Chapman.
A reliever throwing two innings at a time is not a bad thing in and of itself. Doing it as often as Betances has done at times over the last two years is when it can be a problem. Pitching is inherently dangerous. Pitching while fatigued is even more dangerous. Girardi can still use Betances for multiple innings, but now he'll have an easier time giving him that extra day of rest when necessary.
In all likelihood, Girardi will use one guy in the seventh inning (Betances?), one guy in the eighth (Miller?), and one guy in the ninth (Chapman?). That's what his history suggests. Maybe he'll match up with Betances and Miller from time to time, but assigning innings is his thing. If he's open to it, the addition of Chapman gives Girardi a little more freedom to use Betances in the middle innings while still giving him the proper rest.