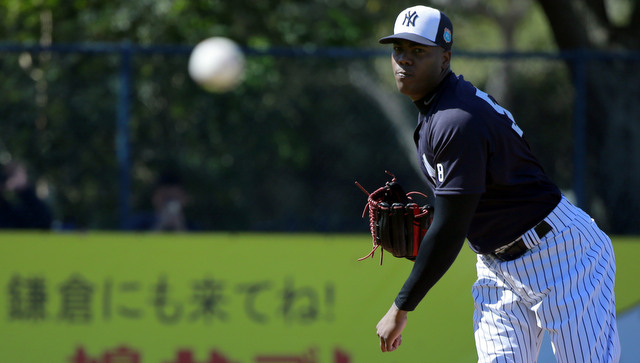 According to Billy Witz, Aroldis Chapman would not be allowed to play while waiting for the appeal of his suspension under the domestic violence policy. No suspension has been announced but it could come any day now. Chapman said yesterday he plans to appeal any discipline.
Now just because Chapman would have to serve his suspension while waiting for the appeal does not mean the appeal would be a waste of time. The suspension could be shortened, in which case I assume he would be retroactively credited with service time and salary, and each game equals roughly $70,000 in Chapman's pocket.
Players who appeal performance-enhancing drug suspensions or on-field behavior suspensions (charging the mound, etc.) are allowed to play while waiting for their appeal to be heard. I guess the goal with the domestic violence policy is to make sure the player can't drag the process out any long than it needs to be.
Witz says in addition to a suspension, Chapman could be entered into a treatment program that would possibly require him to relinquish his guns or even find a new place to live so he's no longer near his girlfriend. If he doesn't comply with the treatment program, he could suspended even further.
Commissioner Rob Manfred has indicated any suspension for Chapman would likely be announced before Opening Day, but that's not a guarantee. Manfred told Mike Berardino he expects "some action" on Chapman's case in the next couple of days, whatever that means. Jose Reyes and Yasiel Puig are also being investigated under the domestic violence policy.
The Yankees seem likely to lose their new closer for some length of time. Maybe a week or two, maybe a few months. Who knows? No player has ever been suspended under the domestic violence policy. There's no precedent.