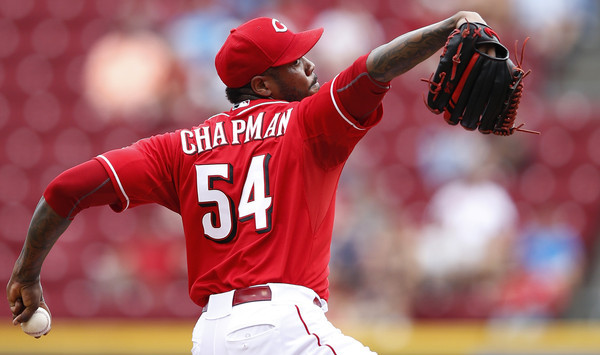 Earlier this week, the Yankees sent four non-top prospects to the Reds for super closer Aroldis Chapman. Chapman's off-the-field history is kinda ugly, but he's an impact player on the mound, and the Yankees are willing to look the other way for the sake of winning. That makes them like every other pro sports team these days.
The plan is to have Chapman join Andrew Miller and Dellin Betances in the bullpen according to Brian Cashman, though a trade is always possible. We all know that. Miller's name has popped up in trade rumors all winter and I expect that to continue in the weeks leading up to Spring Training. No reason to think they'll end.
But what if the trade doesn't involve Miller? I have a hard time thinking the Yankees would trade Betances, though I suppose it's always possible, but I was thinking of Chapman specifically. Could the Yankees have acquired Chapman with the idea of flipping him for the young starter they've been trying to get all winter? This caught my eye yesterday:
Sources: #Marlins also tried to acquire Chapman. #Reds preferred #Yankees' offer.

— Ken Rosenthal (@Ken_Rosenthal) December 29, 2015
What would the Marlins want with one year of Chapman? Who in the world knows. That team never really seems to have a plan. The appeal of having a big name Cuban player in Miami is pretty obvious though, plus maybe the Marlins think they can re-sign him after the season. They do spend big on occasion and Chapman lives in Miami. I guess it's not impossible.
The Marlins have some young starters to offer — Justin Nicolino, Jarred Cosart, Jose Urena, and Adam Conley jump to mind — and perhaps they've indicated a willingness to move one for Chapman. Or heck, maybe Chapman can be part of a Jose Fernandez trade. Package Chapman with, say, Aaron Judge and Jorge Mateo and a fourth piece, and maybe the Marlins budge with their ace. I'm just spitballin' here.
This doesn't have to be limited to the Marlins either. The Nationals reportedly had interest in Chapman after news of his domestic violence incident broke, so they're a potential suitor. Would the Cubs have interest? They're said to be looking for a reliever and might not have been able to get Chapman before because of the whole intra-division thing with the Reds. The Rangers? Angels? Mariners? What about the Mets?
A four-player package led by Eric Jagielo and Rookie Davis wasn't going to net the Yankees any kind of stud young starter. Prospects are suspects until they do something in the big leagues. So instead the Yankees changed the shape of that trade value, so to speak. Both the package of four prospects and Chapman are worth X, but there's more of a market for an elite reliever than a package of prospects. They're still trading X, but now have more suitors to work with. Make sense?
I don't think the Yankees acquired Chapman with the idea of flipping him elsewhere, but I wouldn't rule it out either. Miller has been on the market all winter but there are reasons to keep him, namely his awesomeness and affordable contract. The Yankees were able to get Chapman at a discounted price, and now could be in position to both keep Miller and trade an elite reliever for a starter.