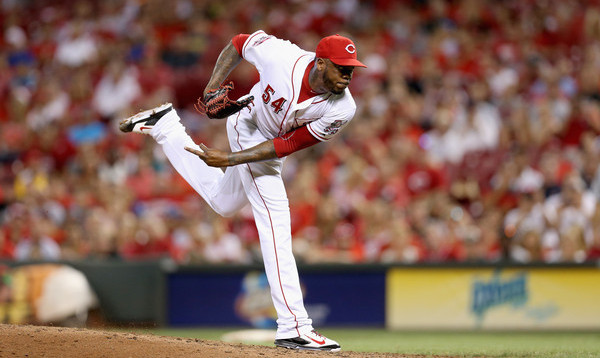 Prior to yesterday's deadline, the six eligible Yankees filed for salary arbitration. The six: Dustin Ackley, Aroldis Chapman, Nathan Eovaldi, Didi Gregorius, Ivan Nova, and Michael Pineda. A total of 156 players around the league filed for arbitration. Here's the full list.
Filing for arbitration is nothing more than a formality, and I'm not even sure why the league requires players to do it anymore. Players no longer have to file for free agency. They just became free agents. At some point, maybe in the next Collective Bargaining Agreement, players will just go to arbitration and not have to file. Whatevs.
The deadline for teams and eligible players to file salary arbitration figures is this Friday. I'm not sure what time exactly, but it's usually in the late afternoon, at the end of the business day. The two sides can still negotiate a contract of any size after filing salary figures. Here are the 2016 salary projections from MLBTR:
Ackley: $3.1M (second time through arbitration)
Chapman: $12.9M (third)
Eovaldi: $5.7M (second)
Gregorius: $2.1M (first)
Nova: $4.4M (third)
Pineda: $4.6M (second)
The Yankees haven't been to an arbitration hearing since beating Chien-Ming Wang back in 2008. Since then they've managed to sign all of their arbitration-eligible players prior to the filing deadline. There's no reason to think that'll change this year. Chances are those six will have new contracts by Friday.
Eovaldi and Pineda stand out as extension candidates given the team's lack of controllable pitching beyond 2017, but there are reasons to pass too, namely the arm injuries they suffered in the second half last year. Gregorius is also an extension candidate, though he's under team control through 2019 anyway, so no rush.
According to Cot's, the Yankees currently have $190.6M in guaranteed contracts on the books for 2016. That covers only eleven players. The six arbitration-eligible players will bump that up to $223.4M for 17 players. Then the Yankees have to pay all the pre-arbitration guys (Dellin Betances, Luis Severino, etc.) plus the rest of the 40-man roster.
Add on the $12M or so each team has to pay towards player benefits and the Yankees are looking at an Opening Day payroll in the $240M range for luxury tax purposes. The team closed out last season with a $241.15M payroll.