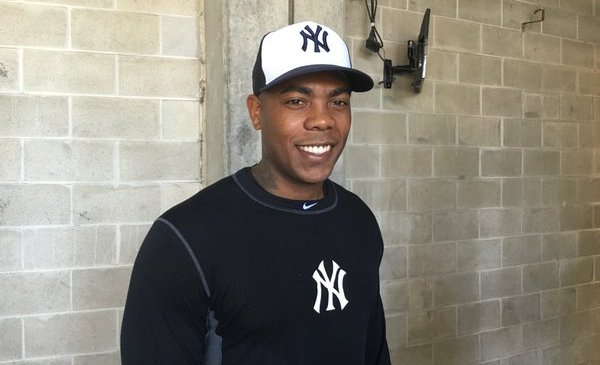 There is still "no firm timetable" for MLB to announce any discipline for Aroldis Chapman stemming from October's domestic dispute incident at his house in Miami, reports Anthony McCarron. No announcement is expected within the next few days. "It's out of my hands," said Chapman reporters this morning. He also confirmed he will appeal any suspension.
A few weeks ago commissioner Rob Manfred said he would like to resolve any matters covered by the domestic violence policy — Jose Reyes (for this) and Yasiel Puig (for this) are also under investigation like Chapman — before the regular season, though that wasn't a promise. This could theoretically linger into the season. I hope note. Let's get this over with already.
Chapman is being investigated for allegedly shoving and choking his girlfriend. He admitted to police he fired eight shots from a handgun in his garage. No arrests were made the night of the incident and Chapman will not be charged with a crime. The domestic violence policy explicitly says players can be suspended even without an arrest or criminal charges, so it seems like Chapman is facing some kind of ban. I've seen rumors of a 15-game suspension floating around.
Brian Cashman admitted the Yankees only acquired Chapman after the Reds lowered their asking price in the wake of the domestic dispute, which is icky. Chapman was set to be traded to the Dodgers when news of the incident broke, then Los Angeles backed away. Cincinnati had little leverage and basically took whatever they could get to rid themselves of the headache.
Chapman, 27, had a 1.63 ERA (1.94 FIP) with 116 strikeouts in 66.1 innings last season. He recently signed a one-year contract worth $11.325M to avoid arbitration. Chapman will be a free agent next offseason, so it's very possible this is a one-year rental.