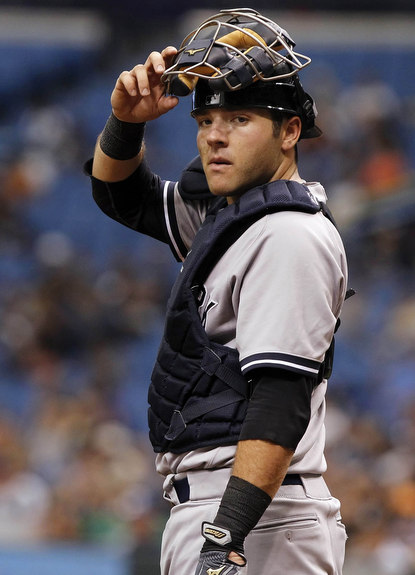 Over the last two seasons Austin Romine has become a forgotten man in the Yankees organization. He spent almost the entire 2013 season as Chris Stewart's backup (what a sentence) before falling behind John Ryan Murphy and Gary Sanchez on the catching depth chart in 2014 and 2015, respectively. The Yankees removed Romine from the 40-man roster last spring.
Now, with Spring Training less than seven weeks away, Romine finds himself in a surprisingly good spot. Relatively speaking, of course. Murphy has been traded and Sanchez may or may not need additional time in Triple-A, so the backup catcher's position is potentially up for grabs. I definitely wouldn't call Romine the favorite for the job, though he is a legitimate candidate for it, and that's something we couldn't say a few months ago.
"You look at the two catchers that we have. Sanchez is very talented, had a very good Fall League. Austin Romine I think made some huge strides last year in Triple-A and we feel good about our catching," said Joe Girardi at the Winter Meetings, a few weeks after the Murphy trade. Girardi and Brian Cashman have both been careful not to anoint Sanchez the backup catcher, and I think it's easy to understand why. It gives the players involved some extra motivation.
Romine turned 27 last month and the 2015 season was close to a make or break year for him. He's a catcher and catchers are always in demand, so he had that going for him, but once he was dropped from the 40-man roster, he was going to have to earn his way back, whether he was still with the Yankees or in another organization. Romine had a solid summer with the RailRiders (99 wRC+) and found himself back in the show in September.
Of course, Romine was only back in the big leagues because Sanchez got hurt. Sanchez pulled a hamstring running the bases about a week before rosters expanded, and when he still wasn't healthy on September 1st, the Yankees called up Romine to be the third catcher. They dropped Tyler Austin from the 40-man roster to make room for him. Hey, in an organization with Murphy and Sanchez, it was going to take a break like that for Romine to get back to the Bronx.
Sanchez's relatively minor hamstring injury has extended Romine's tenure with the Yankees. Had Sanchez stayed healthy, he would have come up as the third catcher on September 1st, and Romine would not have been re-added to the 40-man roster. He would have then become a minor league free agent after the season and gone looking for a better opportunity. Perhaps losing Romine as a depth piece means Murphy is never traded. Seems unlikely but who knows.
The Sanchez injury and the Murphy trade have given Romine a pretty big opportunity. He'll come to camp with a chance to win a big league job and that does not necessarily mean with the Yankees either. Yes, Romine will physically be in camp with the Yankees, but he'll be working to show the other 29 teams he has something to offer too. If Sanchez gets the job, Romine wants another team to want him in a trade or on waivers.
Because he's out of minor league options and has already been outrighted off the 40-man once before, it seems as though Romine is either going to make the team or leave the organization at the end of Spring Training. The Yankees can't send Romine to the minors without first passing him through waivers, and if he clears, he can elect free agency, which he would likely do simply to get a fresh start in a different organization. I wouldn't blame him.
Baseball is cruel. There was a time when Romine looked to be on track to become the catcher of the future — assuming he beat out Jesus Montero for the job, of course — but others have since jumped over him on the depth chart. A unique set of circumstances — Sanchez's injury and Murphy's trade — have kept Romine in the organization longer than expected. The result could very be a big league job in 2016, either in New York or elsewhere.